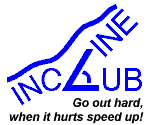 1998 Incline Club V2 LR #14
---
Incline Club V2 LR #14

Sent: Friday, February 20, 1998 3:22 PM
Subject: Long Run #14 Reminder

Just like that, the last long run of the month! Sunday, February 22, 8:00am,
the COG loop and it is looking DEEP up there!

Matt V was closest (although not there yet) on the Cross of Six game:
http://www.skyrunner.com/game/x6.htm No one else got it!

While entertaining, most of the Winter Games does not do a thing for me. But
after several nights of ice dancing/skating, downhill this and that, ski
jumps, and speed skating time trials, I turned on the games and actually
felt my heart beat. Here were 50 or so guys in the 40-kilometer
cross-country relay starting TOGETHER with the SAME conditions with NO
judges, dresses/tuxes, or degrees of difficulty. The dudes from Italy got a
12.6 second gap but the bad boy Bjorn Dhlie of Norway fought a real
opponent (not some time-trial clock) to bring the two teams even. Then in a
who-cares-about-the-clock-this-is-for-the-win move neither team took off at
the start of the fourth leg — each hoping to gain the advantage as the race
drew down to the final sprint. The race came down to 2 hundreds of a second
with Italy's Silvio Fauner ending up dejected face down in the snow after an
unsuccessful dive for the line! He knew, as the world knew, his team had
lost. He didn't get to stand around for 20 minutes with the cameras on him
while he hoped his time would hold or that the snow would melt. It was over.
The first man across the line won — plain, simple and in my eyes anyway,
SPORT!

Top 3 things needed to make running a better spectator sport.

3) Bonus points for best dressed
2) All runners must take bows in all four directions after finish
1) When a runner gets tired they must fall and/or crash into something

See you on Sunday!

Go out hard, when it hurts speed up...

Matt Carpenter
http://www.skyrunner.com
The Mining Company's December 1997
Best of the Net for Jogging/Running

The tagline is a joke but if you pull it off I promise you will win every
race you enter!
**************
>From Kevin Caffey

     While you were "long running" last Sunday, I started rehab. I got
lucky- I only partially tore my medial collateral ligament (medial side of
knee). Myers thinks it will rehab OK without surgery. I have been riding the
Stationary bike to start, but I tried stairmaster yesterday and it was fine.
I may be able to begin running SLOWLY (I refuse to call it jogging...)
sometime next week. I should be back for a Sunday run within the month if
all goes well. I was at 400 or so minutes/week prior to my flat tire, and it
looks like I may get in 250 minutes this week and climbing back towards 400
in the next couple of weeks. It isn't running, but it will have to do for
now. I am alternating 60sec/60sec speed work and 20 min tempo "runs" on the
bike to try and keep interested and on schedule. Sunday is my long
"ride/stair" workout- trying for 120 minutes if the knee is OK.. But I still
maintain this indoor shit is BORING compared to our Sunday workouts.
     Did the security guys hassle you for running around the lake during a
speed workout? I will ask around to see if someone I know in Symbios lives
up in Kissing Camels.

(Glad you won't be needing the knife! Yep, that is where security messed
with us. I have since spoken with the manager to get permission but he said
"no, can't let you do it." Also, Terrie got kicked off of Scar Mountain
(that mess behind MCI) by the Dept of Wildlife. Claims people scare the big
horn sheep — yea and the dump trucks don't!? We all know how many signs we
run through on the COG run so I imagine its just a matter of time before we
get kicked out of there too. Also there seems to be a lot of people on the
Incline on Saturdays and Sundays so I would not be surprised if that gets
shut down this year too. This big time city is getting too small time for
trail runners. They think a paved bike path is a trail!)

**************
WWW Post — Incline Club Page: http://www.skyrunner.com/incline.htm

2/15/98 14 and 1/2 today with Ben becoming the latest Incline Club member
having come to his 4th workout. Did not hear any reports of any falls. The
weather turned out nice even though it was a bit overcast. Terrie, who got a
late start on the group, reports that she got dumped on by the white stuff
above No Name Creek.

**************
Pikes Peak Passes (let me know when you get one or when you know your #)

Kevin # 1
Matt C # 2
Terrie # 3
Matt V # 4
Keith # 11
Larry T # 13
Carol # 19
Cindy # 20
Glen # 24

**************

Misc. Stats

31 different people and 2 dogs have come to the Sunday long runs.
35 different people have run up the Incline as a club workout.
42 people are on the e-mailing list.


---