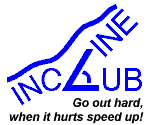 1998 Incline Club V2 LR #20
---
Incline Club V2 LR #20

Sent: Saturday, April 04, 1998 11:46 AM
Subject: Long Run #20 Reminder

Well some of you will not get this until after the run and I am sorry for
that. It is a very busy time for me right now and some things have fallen
through the cracks. Now with 50 people on the e-mail list I guess I should
get my act together.

At any rate we will/did have long run #20 tomorrow/yesterday. It is
supposed to be the COG loop but we may again do an out back to Barr Camp
depending on the snow.

See you there! 8am at the COG parking lot.

Go out hard, when it hurts speed up...

Matt Carpenter
http://www.skyrunner.com


*********
>From Gary Hellenga

I called the Crystal Park Visitor Center today to order a Family Peak
Pass, and was told that they've clarified their policy: the Family pass
is only good for persons in the holder's immediate family, not for just
any five people.  So the plan to get one of these for each 5 members of
the Incline Club won't work (unless they are actually a family).  It
appears that this information wasn't clear to all the employees of the
PP Highway, so the info I got last week (which I sent to you, and you
forwarded to all the Incline Club members) was not correct.  Please
include this retraction when you send out this week's Long Run
notification.  Sorry for the mis-information!


************

>From Ramsay Rayner

Thanks for your latest note — I have enjoyed reading about the 'long runs'
over the last few weeks.  When do you plan to start the Thurs evening
incline runs?

(Daylight savings is Sunday so we could start them next Thursday. However as
we all know winter can still show any day. We will have a group gab tomorrow
before/after the run and try to come to some consciences)

*********

Another from Gary Hellenga

If you are interested in the St. George Marathon, or know of others who
are, here's some info about how they're handling applications this year.

- Gary

Hi — we are doing things a little differently this year.  In order to
receive an application, we are asking that you send a self-addressed stamped
envelope to 86 South Main Street, St. George, UT 84770.   Applications will
be sent out in April.  We will accept applications this year that are
POSTMARKED NO EARLIER THAN MAY 8.  We will be updating our Marathon web site
in the next two weeks with more specifics, so check there for more details -
www.infowest.com/stgeorgemarathon. You can also pull an application off our
web site beginning mid April. Apps can be photocopied.

>I've gotten conflicting info about the 1998 race; some people have told
>me that entries are not yet being accepted, and others are telling me
>that the race may be filling up.  Please let me know which is correct!
>Are entry forms for the 1998 race available yet?  If so, please send me one.
>
> Gary Hellenga

************
www post
3/29/98 18 and 1/2 today. Don, Janet and Julie were the newbies. Carla, Lynn
and Matt H all came to their 4th club workout thus becoming the newest
members of the Incline Club and getting the club pin. It was amazing just
how much snow was gone after a week of great weather. Only the North facing
slopes still had snow and it was covered with a layer of crust that the
slightest force would break through. I found that if I shuffled my feet I
could stay on top while using a running stride would make you sink up to a
foot and get slowed down:-( There was one spot where I could see six foot
circles of snow cracking around me — wanting to give with each step — and I
found myself willing the snow to hold me. With a little luck we will get
some more nice weather to finish off the rest of the snow but I'm sure there
are a few good storms left.

**********

Pikes Peak Passes (let me know when you get one or when you know your #)

Kevin # 1
Matt C # 2
Terrie # 3
Matt V # 4
Keith # 11
Larry T # 13
Carol # 19
Cindy # 20
Glen # 24
Jeff # 29
Kevin C #36

**************
Misc Stats

43 different people and 2 dogs have come to the Sunday long runs.
35 different people have run up the Incline as a Thursday club workout.
50 people are on the e-mailing list.



---