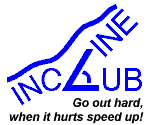 2001 Resend #8 & #9
---
Resend #8 & #9
Sent: Tuesday, January 23, 2001 3:20 PM
Subject: Resend #8 & #9
Hi all,
This is just a re-send of the last two club mails. For those that got them I am sorry for the intrusion! However I have gotten a bunch of "put me back on the mailing list" e-mails. So far all the complaints have come from AOL users. However I know of a few AOL users who did get them — ahhh cyberspace gotta love it!
At any rate, once you are an ICer you are an ICer for life:-O So just like when you had to ask to get on the mailing list you have to ask to get taken off. Otherwise I won't take you off so don't worry if you don't come to some runs — or any runs. Once and a while I will do a "purge" where I ask everyone to confirm their e-mails but that is only when I start getting a lot of bounced mail which has not happened in a long time.
Go out hard, when it hurts speed up...
Matt Carpenter
www.skyrunner.com
####
At this point Incline Club LR #8 and Incline Club LR #9 were reposted.
---