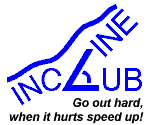 2001 Incline Club V5 LR #10
---
Incline Club V5 LR #10
Sent: Thursday, January 25, 2001 4:02 PM
Subject: Incline Club V5 LR #10
Wow — can you believe we are about to finish up January! That is what I love about our 9-month assault on Pikes Peak. The first trimester really blows through winter:-) Thanks for all the comments after the run on the new "J" pipe trail — I like it too!
####
Sunday, January 28, 8 a.m. meet at Soda Springs Park.
Run up the Barr Trail and turn left at the 1/2 mile to Barr Camp sign and head 1.25 miles over to Mountain View by the COG. Return but at .8 miles from Mountain View turn left and up to get to Barr Camp. Run down the Barr Trail, left on Bob's Road, left on LRR to "J" pipe, right to top of Incline and down Barr Trail to finish the run. 2.5-3.5 hours. If it would take longer skip Mountain View and head to Barr Camp only.
####
Fred W writes:
Got the weekly newsletter — and the good news that my gloves and mitts were found, thanks! The other good news was regarding marking Bob's Trail at Barr Trail. Appreciate it.
####
Robert R writes:
If you can put out the word that Linda lost her neck gaiter today (Navy Blue with PPRR logo on it), we'd appreciate it. We actually think it might have fallen out after the run by the table or when we were getting in the car. I was following her and didn't see her drop it along the trail.
####
Sarah HW writes:
I don't have a clue what the problem could be. I did not get the resend email either. Fred got the email and forwarded it to me. No big deal I'll get the email from Fred until AOL gets its act together. Just letting you know that there may be still be others who are not receiving.
(Matt C adds: I am still hearing that some AOL users are not getting some of the mails. I don't think I have been doing anything different than what I have been doing for the last 5 years but who knows? Of course writing about it is pointless because the people that need to know may not be getting the mail, ARRRGGGHHH)
####
Donor writes:
Free to any ICer that may need it: A washer in good working order (Our dryer went boom so we replaced them both). Well not totally free — you need to pick it up and take it away! Reply to Matt for details.
####
Sid R writes:
It's like a warm "welcome home" reading "once you are an IC'er you're an IC'er for life" (forgive my cornball expression). I sure miss being out there, just can't fit the time and commitment of the long runs into life right now. I get out there when I can, and do my best to make the most of every run. I read once that the guy, early 1900's, that set the mile record for that time only trained 5 hours a week!, but trained extremely hard in those 5 hours. My solace. Hi to all, keep the emails comin'!
####
Robert R writes:
RE: Run down the Barr Trail to finish the loop. 2.5-3.5 hours. Most should be able to get this loop in because again the trail will be more packed the farther back you are.
Heck, by the time I get there, the snow should be melted!
(Matt C adds: OK that one-liner had me laughing big time!!!:-)
####
Mike P writes:
Since everyone likes to send you their race reports, I figured that I would send you my RUN REPORT. I did the IC long run for the week this morning and this is my report: it hurt really bad and I loved it. Trail conditions: UPT: well packed. On one of the downhills, there is a bad ice flow with just a dusting of snow on top. Very slick. Watch out! LRR: my footprints and those of someone else (about a day or two older than mine from the looks) will be the only impediments to the IC's marking of the trail. Traction on the steepest parts is very sketchy. Barr Trail:
medium pack through the foresty part--translation: good traction and grrrrrrrreeeeeeeeeaaaat shock absorption. On the more exposed face, more packed and a bit icy in spots. Whole run: hard, fun, worth it. Thanks for the idea!
ps: my splits (including feed stops) SSP-UPT/LRR intersection: 1:03.32 LRR-"J BOX" : 1:17.04
"J-BOX"-SSP: 55.49
_______
Sum total 3:16.26
####
Robert R writes:
After reading the 1/11/01 e:mail with the streakers writing in, I was going to write to let you know that I had run every day this year but, heck, it had only been 11 days. Well, now we're up to 18 days (woohoo!) so I figured I better let you know before the streak ends. Actually, the longer the 'streak' goes, the harder it is to let it end.
Most of my runs have been at what would be considered a pedestrian pace compared to most ICers but, I've logged at least 30 minutes a day (so far). Most have also been on the treadmill (contrary to you, with a good TV show on, I actually enjoy running on the treadmill). I started on the treadmill at the first of the year because I had not yet had my follow-up doctor's visit for pneumonia and I wasn't too hip on running outside in the cold air.
Thankfully, the doctor said the lungs were all clear. So, last Sunday (1/14) was my first run with the club since the first club run. It was also the first time I had run downhill since November — OUCH! Quad pain has been my companion since, though it is subsiding now. The pain didn't stop me from 'streaking' so I guess the challenge has already set in.
Unlike Connilee W, I'm not 'planning' on running every day, we'll just see how it goes. Also, I don't know if I'll run at 11:40 p.m. like Keith G to keep the streak alive, but you never know. The longer it goes, I just might sacrifice sleeping for streaking.
(Matt C adds: Ok we are coming up on one month — streakers please check in!!!!)
####
Mike K writes:
I saw on the news where you got some excitement down there! (Texas fugitives) But with 2 more still on the loose that could make the mountain runs a little more interesting...
(Matt C adds: I was hoping someone in the club would spot them while on a club run and cash in on the $500K reward money)
####
Marty T writes:
After thinking long and hard about our dog, we think it would be better for her to go to a different home. We both work long hours and we have been doing some traveling. I am the only active one in the house and it's just not fair to our dog that I can't always take her out for a walk/run.
If you can pass along a note to club members that would be great! She is a Black/white Siberian Husky Born 8/21/96 she is in great shape and very healthy but requires more room and time than I can give her. If anybody wishes to contact me, than can reach me at (e-mail address removed for www posting).
####
Kevin C writes:
I'm jealous. The best I could do out here was deep mud last weekend for 2.5 hours. And cows. And cow-pies. This is NOT a good substitute for deep snow. I miss running with the IC in a big way. Enjoy the snow, and remember to be thankful for clean air, clean water, fresh snow and ELECTRICITY! I live in the one of the most "high tech" area in the world, and we can not keep power on this week. Silly really, but amusing. Thank goodness for laptops and lithium batteries. Please say hello to everyone for me. Is anyone coming down out of the mountains long enough to run Boston with me this year?
PS On the bright side, I did not have any surgery in 2000! Cool- did not miss the knife a bit.
(Matt C adds: Kevin C was an IC regular who moved away last year and from his note it should be obvious as to where)
####
Andy D writes:
I will not be at the run tomorrow because I will be out of town. I ran the Waldo-Long's Ranch Road Loop today alone. The snow and ice slowed me down from the last time I ran it. Well, I just wanted you to know that I am running even though I will not be at the workout.
(Matt C adds: Andy broke the LLR snow for us last week so if you want to blame someone for having to do the whole run know you know who;-)
####
"R" reports:
Colorado FROG Backyard Challenge
Todd M reports:
January 14, 2001
This was an adventure race designed to practice the required disciplines for upcoming winter adventure races. It was held in and around Cheyenne Canyon. Coed teams of 3 or 4 people competed and the disciplines included running/trekking, rappelling, mountain biking, orienteering and a special skills test. Teams had to finish together.
The first loop included a trail run with a rappel in the middle followed by more running back to the transition area. I think this loop took us about an hour and a half.
The second loop was a mountain bike loop with check points along the way that we had to find from our map and directions. In the middle of this loop there was an orienteering loop where we left the bikes and continued on foot through Bear Creek park searching for the orienteering check points. This became a mad dash running through the bushes and along the trails, frantically looking for the check points and checking our map continuously. Following the orienteering leg, a special skills (written) test was given before we once again got on the mountain bikes.
The second part of this mountain bike leg took us up onto Gold Camp road where we once again left the bikes behind for a scramble up the mountain to our second rappel. This rappel was on very crumbly rock with some overhanging exposure.
The final leg of the race was a scramble back down to the bikes and a ride down the Chutes back to the start/finish area. This was a tough 7+ hour race that was great practice for some of the longer races we have planned for this year. If anyone is interested in future races like this one, the website www.coloradofrog.com is a good place to check out.
----
January 6, 2001
Turquoise Lake 20 mile Snowshoe Run, Leadville, CO
Todd M reports:
This was my second time on snowshoes and I figured with some running fitness I could at least get through it. 90 people started the race and 76 finished. There is a 7 hour cut-off time for this one.
The course starts with about a mile or so of single track before hitting Turquoise Lake. On the lake there is plenty of room for passing (or being passed) and everyone gets spread out here. After the lake section (seemed like about a mile on the lake) there is some more single track followed by some service road (packed snow) climbing up to the first aid station (water only). From here the course went straight up another snow-packed road with single track at the top to the turn around. Participants are required to use the hole punch at the turn around and punch your race number.
After the turn around, a huge decent takes you right by the first aid station which is now the second aid station (later to run out of water). The next leg, which seemed like about 8 miles, was along the perimeter road around Turquoise Lake. Ups and downs all the way around the lake to near the dam at the Southeast end, before re-crossing the lake and hitting the final mile or so of single track to the finish.
All in all I had a good time and would do this race again. It is low key and there were some good raffle prizes after the event, including a free pot luck. In fact, if you didn't want to pay the $10 entry fee, you can bring a dish to the pot luck and race for free.
It took me just over 4 hours to do the race.
----
Non "R" race reports:
January 13th, 2001
Winter Series #1
Tom K writes/reports:
As you know, I've been on a 3+ month break from the running routine (Incline Club workouts/Leadville training) to let some old wounds heal. Guess what? Like an unwelcome houseguest, those nagging injuries just didn't seem to be taking the hint that it was time to leave. Is it true that real runners always have something that hurts? In any case, several weeks ago I managed to overcome my "runner's block" and decided to resume running, albeit at a somewhat more conservative level than where I left off last year. Interestingly, as I gradually get back into it with increased number of runs per week and increased mileage (modest by most Incline Club standards), the injuries seem to be on the wane. Maybe it takes pain to get rid of pain.
But, now I am starting to run again, and can now brag at having 3 Incline "*'s" by my name (modest by most Incline Club standards), guess what? Like an unwelcome houseguest who doesn't know when to leave AND doesn't know when to shut up, I've managed to overcome my "writer's block" and, through the medium of the Incline e-mail distribution (you DID say that it wasn't "SPAM" since everyone asked to be put on the list) am ready to share my deepest and most philosophical thoughts and observation while on the trail, such as:
"Man, I have to pee again. Maybe I shouldn't have had that 5th cup of coffee..."
No comments on the runs I've done so far other than Ute Pass trail hasn't gotten any shorter, and Long Ranch Road seems to have gotten longer.
Something resembling a race report:
Laura L, myself and some other Incline Club member ran the WS Race #1 a couple of weekends ago. I know Larry finished 9th overall in the Long Series (hey, he's pretty fast for an old guy), and Laura L was the first overall female in the Long Series. I'm sure there are others, but I'm too lazy to check. I finished 14'th overall (out of 15, It think) in the Long Series. I had deliberated about racing at all since I haven't been doing much in the way of running lately, but since it was "free" (I was "compted" as a volunteer — a benefit extended to all volunteers who want to help out and also race), decided to jump in and jog it. Right! The mini-blizzard that moved in shortly after we got to Fox Run Park to set up the registration had left a nice 1/4 to 1/2 inch layer of snow over the existing patches of glazed ice. So the footing was challenging. And I was racing, even before the start (only minutes to get from the registration, make myself "race ready" and get to the starting line).
I always seem to forget how difficult the course is. Part of the difficulty lies in that it loops around a couple of times. I always get the feeling that I've missed a key turn off, or that I have been inadvertently directed by course marshals to do an extra loop. You feel like it's never going to end. It's the kind of sensation where, if you have children, you imagine that they have all grown up, graduated from college, married, and have their own kids — and you haven't even reached the halfway point ("Say, was that my grandson that just came blasting by me on the last hill?"). But I don't have kids. We (Laura and I) have cats. So, after the 10,000th loop I'm imagining my cats sitting around a warm, cozy fire, getting fatter, and waiting for me to keel over so they can inherit my fortune (sorry Laura), and chew my shoe laces without impunity. I did eventually finish the race, amazingly, without falling.
Due to the hazardous conditions, there were many slips and falls, and one person ended up in the hospital with fractured ribs. It's enough to make a Fall Series Race Directory envious! Shortly after the last person in the long series finished, the snow and wind stopped, and the sun started poking through the clouds. By that time I had already forgotten the pain, and was looking forward to the next race — not that I plan to really race it or anything.
----
January 20, 2001
North American Snowshoe Championships 10K, Beaver Creek, CO
Matt C reports:
Had a most awesome experience at the North American Snowshoe Championships held this last weekend. The race was like a chess match with the different types of running involved (groomed track, singletrack, deeeeeep powder). But I am pushing it because it helps with my sponsors which this race really pushed which in turn, to be perfectly honest, helps me and the other sponsored athletes! This was the first race results I have ever seen to list the runner's sponsor next to their name in the results and every time they announced a runner they also announced their sponsors. In fact this event could really teach a lot of other runs a thing or two about putting on a race. With only 400 runners spread out over 7 events and a paltry $15 entry fee they managed to give $10,000 to breast cancer research (sponsor money not a fund raiser), $15,000 in prize money which brought out top athletes. Some of the "better" road runners dropped in force after they hit the powder. Others finished but way off pace. No matter, having them there helps legitimize the sport in the same way that we have all heard about fast road runners jumping into a mountain race, ultra or whatever and then going home empty handed. I have come to learn over the years that all the different aspects (track, road, X-country, mountain, ultra, snowshoeing etc) of running has it's top athletes and it is a shame that often runners from one form of running don't consider other forms "real" running. I heard just that claim from a 28min 10ker after he dropped out of the race Saturday. But having been there I know that was one of the most taxing type of running I have done. I also know our club has lots of runners from the different areas and I think that makes it neat! At any rate, that $15 entry also got you a free ride up the ski lift to the Nordic Ski area which I am told costs more than the entry fee on any other day, food (pizza), drinks, a live band, random drawings and free snowshoes to wear in the race if you wanted. $15 - go figure? Great sponsors can do that for an event! It was great to go to a race that realized that. I am a little upset with the local press because the left Scott Gall (sponsored by Atlas Snowshoes) out of the "report." Scott also lives in Manitou and has run with the club several times. He got second and really pushed me hard and closed the gap down to 13 seconds (top 8 were within two minutes). It should make for a good show!
For those that are interested the race will be broadcast this Saturday (27th) at 11:30 a.m. on Fox Sports Net. Here are a couple of links to race reports:
www.bcsnowshoe.com/index.cfm?do=news&pos=2&id=7
www.racingunderground.com/ssresbc20001.html
www.rockymountainrunner.com/BCreek2results.htm
####
WWW Post:
1/21/2001 47 braved another cold day that managed to turn nice. The top 26 on the workout board came eclipsing the number from this time last year when it was the top 18. The new snow on LRR made for some tuff going but it was not as bad as it could have been. Several ICers broke trail the day before including a couple from the high school contingent of the club. Today was the first run we used the new "J" path at the top of LRR as a way to get back to the Barr Trail. This is a great new trail and the banked curves make you feel like a race car:-)
####
Go out hard, when it hurts speed up...
Matt Carpenter
www.skyrunner.com
---