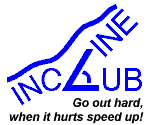 2001 Incline Club V5 LR #11
---
Incline Club V5 LR #11
Sent: Thursday, February 01, 2001 2:32 PM
Subject: Incline Club V5 LR #11
Gotta love the extra daylight!!! Nice to see the snow melting off the streets too. There for awhile every run was starting to feel like an Incline Club run! On that note — REMEMBER to adjust your long runs to the snow. This is one of the reasons we go by time and not distance! Right now you want to be in the 2.5 hour range and no longer than 3.5. Many are doing just that and it is fun to see people popping out of trails all over the mountain.
####
Sunday, February 4, 8 a.m. meet at Soda Springs Park.
Run out the Ute Pass Trail and turn right and then cross Hwy 24 and do the Waldo Canyon lollipop loop clockwise. Cross back over Hwy 24 (be careful) then go straight and head up Longs Ranch Road. Go straight at the "J" pipe to the top of Incline and down Barr Trail to finish the run. Run down the Barr Trail to finish the loop. 2.5-3.5 hours. If it would take longer just do the Waldo loop!
####
Robert R writes:
We found Linda's gaiter....in the 4Runner. Must have fell out and slipped between the seat and console.
####
Randy L writes:
I'm sorry I turned around and screamed at the bottom of the No Name Ice flow today. I hope I didn't scare anyone behind me into taking the detour.
Thanks to whoever marked the top of Bob's Road. Will we have to contact the Yellow Trail Markings Probationary Officer if a certain trend continues? However, my compliments to the chef, that was a really nice arrow.
(Matt C adds: It turns out that Larry M was the yellow arrow artist but Kees G was quick to point out that he made the second one (which many, including myself never saw so perhaps Kees needs some lessons from Larry). As far as the Ice goes many have just made the detour part of their standard run so as not to take any chances on the glacier. It only adds about 5 minutes if that.)
####
Bev Z writes:
Does anyone know of a good sports podiatrist in town (one that deals a lot with runners)? I have been hit with an injury from hell — a stress fracture in my fibula that refuses to heal (10 weeks and counting)! I think maybe my old orthotics are contributing to the problem and my current podiatrist doesn't seem to have a clue. Any recommendations would be GREATLY appreciated!!!
(e-mail address removed for www posting)
####
Streakers:
Robert R, Connilee W, Tim E and myself have ran every day in January. Let me know if you need to be added to the list! I think I no of several more but they did not send a status for the month. Also 10 people are now 1/3 of the way to getting the Incline Club award:-)
####
Tim A writes:
I don't know if I get credit for running Saturday at 8:00 or not. I was maybe three minutes late to the park, after dropping my kids off for a swim meet at Pete Field. I drove part way up Ruxton to see if I could catch someone, but I didn't. I took about an hour run, including diversions up to the Barr Trail parking area, etc, and then went back to watch my kids. Basically, I ran most of the way to 24 and back. It was cold, I had ice on my hair and eyebrows, and witnessed a small ice flow, and I drove across town twice in the snow, so it must count. (We won't discuss the drive to Curtis Road to pick up a 1/2 steer. At least we've got enough meat to last through the winter. Now if just we had some chips for the game... I'm changing into my running clothes for a jaunt to the grocery store now!)
(Matt C adds: ****Effective immediately**** If you run ANY day of the week, ANY place in the world, for ANY length of time or distance you will get a "*" a finishers medal, a pin, a T-Shirt, a new pair of shoes, and listed in the all new Incline Club results booklet!!! What? Oh, I'm sorry, it is February 1 not April 1 — darn!)
####
Deb M writes:
Yeah, I'm with AOL and not getting the club emails. I don't know what's up with that.
I'm sorry I've been missing the club runs. Stuff just keeps coming up. The couple I've been on this year have been great. It's always good to know you guys are out there, though, and that I can still show up anytime.
How's Roger surviving the cold weather? I keep thinking about him since I saw him my last run. Yvonne was telling me about his "training." Very interesting.
I hope to be back out soon.
(Matt C adds: Last time I heard from Roger we was in the Penrose Mental ward. Turns out I am not the only one he has been calling. Seems he likes to page Barr Camp and plug in random numbers for them to call.)
####
Matt C writes:
I have split the Club List in two smaller lists to see if that helps the AOL users that have not been getting the club mail. If you have NOT been getting the last couple but get this please let me know. While on the surface splitting the list should not make a difference perhaps something goes amiss after you try doing a BCC to 269 people. Of course if you have not been getting the last couple of mails and you don't get this one you will not be reading this bit anyway... ARRRGGGGHHHH part 2
####
"R" race reports:
Dave W reports:
If you can post this on the Incline Club site that would be great. Here is the url for the Sulphur Springs Trail Run in Ancaster, Ontario, Canada. There will be five distances, 10 km, 25 km, 50 km, 50 mi, and 100 mi, which I will not be running as I am going to run Old Dominion the following week end. The URL is home.earthlink.net/~dwick522/. If you go to the site and have any comments, I wouldn't mind. This is my first attempt at building a web site.
I was not going to write a report on this race as I was so disappointed in my performance. But I guess one probably learns more from failure than success. I DNF (Did Not Finish....Last) this race at 22.50 hrs Sat night(that would be 10:50pm) after completing 71.5 miles. Now that some time has passed, here is the long over due report for 9 Dec 00 Ancient Oaks 100. I learned something about running at this race, though some may disagree that I learned anything, as I plan to run more 100s this year. Something I had heard before but never took to heart but it got re-iterated again at the 14 Jan 01 (post training run Bagel gathering). And that is ...100% of running is 90% mental and 10% running. Another thing that was conveyed to me during this same time period was .... that one should approach the race as though you will win! And I will now approach races with these attitudes.
Misconception #1. I only decided to run in this race about two weeks prior to the start of the race. But because I had gotten ready for Arkansas Travellers in 6 weeks (my first 100 miler), and it had a few hills in it, and I made it in 25.5 hrs I thought that I would be able to make it thru this one. Besides it was in Florida and there are no hills or mountains there, just alligators and big wolf spiders. So what's the big deal? The race started at 0600hr, according to the atomic time keeping system that was in place. We ran the first 2.75 mile loop in about 27 minutes...hmmm probably just a might fast for me. Considering my best 5k time was 22 min., earlier that year. But whatever it was I had decided that I would slow my pace down to 30 min loops, still too fast for me to keep up for the next 97.25 miles. But I did not realize this until I'd hit about the 30 mile mark when my pace drastically started decline.
Misconception #2. I could run thru the pain. I tried to do everything the same as Arkansas but there were subtle differences. I went to this race with some new shoes of sort, purchased them about a week out from the race and had ran one or two short runs. I had run in the same model at AT 100, but they were a half size larger. My foot seemed to have grown after Arkansas. I was running in thin socks, which I had done in AT100. But my foot seemed to be sliding all over the place inside the shoe when I would step on a root (one of many). I did not take the advice of a seasoned runner and take care of hot spot as soon as one feels them coming on (The wonders of duct tape). I didn't want to stop. I also developed a knee problem that would not go away with Advil. In fact I'd limped for so long that I ended up possibly injuring my good leg. Most and all the problems and pain seemed to be on the left side of my body and it wasn't going away as it had in AT100. This frustrated me to no end and was my undoing.
Misconception #3 Just do it!! As I look with 20/20 vision in retrospect, I had no goal nor plan of attack and was not mentally ready for this race. I had taken it too lightly, after all it was flat. Easy! Well, one of the things I neglected to mention was the couple of fallen trees on the trail. Not that they made a difference as to my DNF but it was one more challenge I was not ready to overcome.
I think that I had a naive outlook on running and perhaps if I'd DNF'd in AT100 I would have had a different perspective. I will be going to Rocky Racoon 100 in Houston TX this weekend. We'll see you soon.
----
Non "R" race reports:
Tom K reports:
Laura L and I didn't do the whole (long) run at this past week's workout since we had run the next the Winter Series race on Saturday. The "Long Series #2" race was 8 miles on the Ft. Carson bike/pedestrian path. Anyway, for our "Incline" workout, we decided to just go up to the "3-mile" turnoff and back to SSP. Since I'm still getting my body used to racing again, and was feeling the effects of the previous day's race, I had planned to run up Barr at an "easy" pace, me and my Laura L, together. Laura L, however, had other plans. She kept complaining that she had not been able to run as fast as she would have liked in the previous day's race due to a side stitch, and evidently seemed determined to make up for it on Sunday's "easy" run (this, in spite of again finishing as first overall woman, with several minutes to spare between her and the next woman). So, I decided to exercise my "superior intellect" in persuading my darling speed demon to slow down a bit.
Tom K: "Hey Laura (gasp), you might want to (cough) slow down a little. You know (wheeze), you can't keep a pace like this and (belch) ever expect to finish (gaaack) a 100 miler. Gotta start (heave) training for it now. And you know the Ultra Runner's Mantra (wreeeeechcch): 'Go out slow, and when it hurts (phew), slow down so it hurts longer'"
Laura L: "What? Me run a 100 miler? Ha! I don't think so..."
So onward and upward we drove on Barr Trail, enjoying the snow, the trees, and the silence, punctuated only occasionally by those intimate exchanges of conversation only two lover birds who are also runners can share while whiling away the day together through the lovely woods on foot
Laura L: "Let me know if I'm going too slow sweetie"
Tom K: "Wheeeeeeeeezzzze"
The race the previous day was unremarkable, with the exception of the beginning. The race starts near a park, and is supposed to do this counter clockwise loop around the park one time, about 400 meters, before peeling off to the right. Well, at the start some of the lead runners immediately peeled off to the right, having evidently not heard the pre-race instructions. At that point, Larry (hey, he's pretty fast for an old guy) M whistled and yelled at the lead runners to let them know they had missed the turn for the loop as he peeled left to do the loop. This deviation took us up and over a short rise, then down a steep decline through what seemed to me to be a ditch. At this point, I started having some doubts. All I could think of was "it's 20 degF, the wind is blowing, it's snowing, and if he takes us through one f-----g creek crossing...." Yes, for a brief, terrorizing moment, the race and all it's participants were being led by, and at the mercy of "Crazy" Larry (h,hpffaog) M. But the leaders eventually caught back up, and all was right again with the race, thanks to the navigational instincts of Larry(h,hpffaog)M. And he did it (a) without GPS, and (b) without having to ask for directions.
----
Anita B reports:
The Frozen Ass Trail run took place Jan. 13th, 2001. It was the longest distance I had run,(30 miles) since Nov. 2000. It felt good to be out on the trails again, although I could tell my body hadn't been going the long distances it had been training for like last years ultras. It's good to be back running with the Incline Club again, burning off the winter chub I accumulated over the holidays.
The run itself took place in Littleton, CO., at Chatfield State Park. You had your choice of 10, 20, or 30 mile distances. The race director and his wife are both very experienced and accomplished ultramarathon runner, and put on at least one good running event every month. Their races are well-organized, no-frills, and definitely not over-crowded, especially during his longer running events in the spring, summer, and fall. Most are on trails, across rivers and streams, not to mention an occasional swamp, or beaver damn.
The Frozen Ass was no exception. We were treated to an icy, muddy swamp to run through. Of course, the race director, being the compassionate, thoughtful man that he is, treated us to two stream crossings further down the trail so that we could wash off our shoes, ankles, and in my case, calves.
It was definitely not a run for wimps, whiners, or "chronic malcontents." It was a great way to start this years ultra-running season.
####
John M passes this race info on:
26th Annual Black Canyon Ascent 10K "Colorado's Toughest 10k Road Race" Montrose, Colorado 8:30 AM — May 5, 2001
(Walk starts at 8:00 AM)
COURSE DESCRIPTION: The race starts at the entrance to the Black Canyon of the Gunnison National Park, at the intersection of U.S. Highway 50 and Colorado 347, ten miles east of Montrose. The course rises steadily for the first five miles and then changes to rolling hills for the last mile where it ends near the campground in the park. Be aware — this is a difficult race (measured distance is six miles, not 10K). The first hill is a 2000' vertical climb. The road is open to traffic, but at that time of day and year, traffic is very light. There will be two water stops on the course and at the finish. During much of the course runners are treated to breathtaking views of the San Juan Mountains. Use the rest of the day to explore the beautiful Black Canyon National Park.
(Matt C interjects: I cut most of the info here but the e-mail address is below if this has perked your interest)
INFORMATION: For more information about the SJMR running club or BCA race information, contact race director Lyle Clugg at 970/249-7376, Fax 970/249-7292 or email: (e-mail address removed for www posting).
####
WWW post:
1/28/2001 Snow 2 days ago, snow yesterday and snow today did not stop 40 people from taking off up the Barr Trail. Several got new PWs to the camp but that did not put too much of a damper on the day because we know that when the snow melts it's zooooom time! It was neat to see our foot prints on all sorts of sub trail. Some did the waterpipe Mt View loop. Others did the Mt View out/back. On the way down many headed out Bob's and either made a B-line for Barr or went up LRR to the new "J" pipe loop. A big group met for bagels after the snowfest mostly just to get warm!
####
Go out hard, when it hurts speed up...
Matt Carpenter
www.skyrunner.com
---