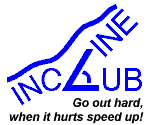 2001 Advice from the top 10
---
Advice from the top 10
Sent: Wednesday, February 14, 2001 10:12 AM
Subject: Advice from the top 10
Hello top 10 on the leader board.
Because of the crappy Ice on the Barr Trail, Larry and I discussed moving some of the runs to Rampart Range Road behind the Balanced Rock in the Garden of the Gods. We would still meet/start at Soda Springs Park and then run up El Paso. Although a dirt road, it is always in good shape because the crazy people with the guns keep it all packed down.
Basically I heard that there was a low fun factor on the last Sunday run due to the conditions. Your thoughts please?
Go out hard, when it hurts speed up...
Matt Carpenter
www.skyrunner.com
---