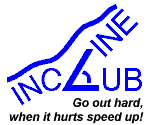 2001 Incline Club V5 LR #14
---
Incline Club V5 LR #14
Sent: Thursday, February 22, 2001 5:07 PM
Subject: Incline Club V5 LR #14
Hi there ICers,
Wow that was one big group last week — 54 — and a lot of pain was shared by all:-) Please note the new run scheduled for this weekend. We will meet at the same place and time but it is hoped that this run will be more productive and better training that dealing with the ice on the Barr Trail. Waldo seems acceptable but as many of you know the Barr Trail is going through a funk the likes of which have not been seen in many a moon! If you have not run on Rampart Range Road before I think you will like it. It is not as steep as most of our runs and therefore should allow for everyone to feel like they are going somewhere fast:-) It also has some great views of the GOG and city down below! The trick here is just to run out about 5-10 minutes more than half your goal time. This should then work out because of the downhill on the way back.
####
Sunday, February 25, 8 a.m. meet at Soda Springs Park.
Head out El Paso Blvd until turning left after crossing under Hwy 24. Take a quick right to head into the Garden of the Gods and then turn left soon after running by the Balanced Rock and do an out back on Rampart Range Road. Front of the pack should "shoot" for just before the shooting range. 2.5-3.5 hours. Turn around where needed.
####
Richard B writes:
I just want to drop a note to say I enjoyed the pain of running with the Incline Club this week. Waldo kicked my butt and it'll take most of the week to heal but I will be back next week for another beating.
####
Nancy A (was H) writes:
Today (2.18) while running with my dog Myles on East Bay Regional Trails we encountered a skunk. I was looking down at the trail concentrating on the slick, muddy footing beneath and suddenly noticed just a few steps away that Myles was investigating what appeared to be a little furball on the trail. Then I saw the tail, fluffed out and sticking straight up as the skunk whirled around. The spray was airborne and with the moisture already in the air, the smell permeated the entire area with little droplets landing on the dog and me. I noticed a yellow liquid imbedded in the skunk's tail fur and after I finally got Myles away from the skunk by yelling and flailing my arms about, noticed the gunk had landed on his shoulder, ear, and nose. Myles ran a bit and then laid down on the ground scratching and groaning trying to rid himself of the skunk gunk. He repeated the exercise a few more feet down the trail. I ran as far ahead as I could trying to beat the smell down the hill but it was already on my clothes so my escape was in vain. Now I really feel for the guy who encountered the skunk by himself and got the liquid in his face. In spite of the encounter, it was still an enjoyable run and certainly an adventure.
####
Tom K writes:
I haven't designated another pair of old shoes yet to use for winter trail running, but did refurbish the ones I have been using with new screws. Good thing. They helped a lot Sunday. But, even though I try and not put too much faith in the screws when running on hard ice, I still managed to take one good spill. This was on the turn off of Ute Pass Trail heading down towards Hwy 24. I slipped on a very visible, obvious piece of ice, and went down hard. I took the brunt of the fall on my right forearm (Ouch) which hurt pretty badly for a moment, but went away after a few moments of testing to make sure it was still in one piece. Laura and I continued with our run on the Waldo loop, Long Ranch, and Barr. I checked the arm later on and, sure enough, there were a couple of pretty good scrapes, and even a little blood (there's never a camera around when you really need one). Still, it wasn't anything to rival a Dave S or Teresa T fall injury. Nope, no competition. The rest of the run was relatively uneventful, though the spill, and presence of ice did cause us to run very conservatively coming down Barr trail. We are purposely taking these longer runs very slowly anyway, to build up a good endurance base. We do miss the socializing after the run though, getting back to Soda Springs Park after almost everyone has already gone. Baby, it's lonely at the bottom.
Regarding my request for a "club thong," Laura's response to me was something like "...you want it, you wear it." I think the tank top or shirt will be fit me better.
(Matt C adds: If you were not there during Yvonne C's club T-shirt presentation Tom K asked about a club thong. Also don't forget that 15-20 of us hang out at the bagel shop after the run to do our socializing!)
####
And now, Incline boys and girls and every thing, it's once again time for "Ask Doctor Rocket," where each week we feature a perplexing running related question that requires rocket science to answer. Ask Doctor Rocket (he's got a PhD... in Rocket Science).
Matt C asked (as he rocketed past me going up Ute Pass Trail):
"Will a thong make you go faster?"
Dear Matt,
Thank for your question. There aren't many running cults that have the resources of rocket science technology at their disposal to draw upon when looking for that extra edge in mountain racing. Rest assured, I will provide you with the best answer that rocket science can provide.
I had to delve into the NASA archives to find the answer to this question. It is a little known fact that back in the 1960's, NASA considered adding a sun tanning booth to the Apollo Lunar Excursion Module (LEM) during the design phase of this monumental effort to put a man on the moon. A space thong was initially developed and tested for use in the booth. It was made of synthetic material with special shielding properties to protect the astronaut's critical equipment from large doses of high energy atomic particles that might result during solar storms. In my research, I came across some relevant results from tests done at NASA's Langley Research Center wind tunnel to see if the thong could also survive the intensive frictional heating generated during atmospheric re-entry. This test was done because it was being considered for use as a backup accessory radiator bra for the Apollo command module in the event of an unexpected encounter of "love bugs" on I-95 upon it's return to Cape Canaveral.
It turns out that the aerodynamic efficiency gained by wearing the thong is directly proportional to the size of the surface area oriented in the direction of the velocity vector. The bigger the thong area relative to the total body surface, the more aerodynamically efficient it will make you (assuming a high ballistic coefficient). Optimal efficiency is gained for velocities in the range of Mach 18.1 to 30.2. I know of only one person in the Incline Club who can come close to touching those speeds without the aid of strap-on solid rocket boosters, and his initials are "MC." In any case, the sun tanning booth was scrapped, due to mass constraints, to allow room for propellant needed to get the LEM back off the surface of the moon and headed home. Thus, history was deprived of the first televised mooning by a man on the moon ("That's one small thong for man, two big hairy cheeks for mankind...").
By coincidence, in a bit of space tradition the astronauts on the recent Space Shuttle Atlantis mission to the International Space Station rose to a morning "wake up" tune by the mildly famous Chinese blues singer Blind Marion Jones — a blues song called "Blue Thong." It goes something like this...
Da-dum da-dum da-dum da-da-da-dum... [your standard 4/4 blues progression]
My baby done took my blue thong
Cause her red thong don't fit no mo' (Uh, huh...")
My baby done took my blue thong ("yes, yes...")
Cause her red thong don't fit no mo' ("no, no...")
If she don't gimme back my blue thong baby ("maybe, maybe...")
Mamma I'm gonna wear hers right out the do'
[break]
I buy you a brand new red thong
a green one, and orange one too
but seein you in my blue thong baby
make me wanna get right up and spew...("Ooooooooo...")
etc.
Well, you get the idea. We can only speculate on what made Blind Marion go blind. In summary, unless you can do the 100 meter dash in 10 milliseconds, or you are seeking advantage by grossing out the runners getting ready to pass you on the trail from behind, a thong will not enhance your running performance. If you other IC'ers want to get faster, I would consider attending Matt C's Thursday afternoon Incline Club workouts that will be resuming sometime in April.
Until next week, keep a thpring in your thtep, a thmile on your fathe, and a thong in your heart.
Thintherely yourth,
Dr. Wocket
Go out hard, when it hurths blatht off.
Thomas M. Kelecy, PhD
Orbital Analyst / Satellite Engineer
General Dynamics Worldwide Telecommunication Systems
Center for Research Support (CERES)
(Matt C adds: I have *accidentally* copied too much of this mail from Dr. Rocket possibly revealing his true identify;-) Several have commented to me on the column and were somehow under the impression that I was Dr. Rocket. I wish I could take credit but I only have a BS! Also this week we got a couple of questions for Dr. Rocket and he says he will get to them all!!!)
####
The Barr Trail Mountain Race is honored that all three running stores (Runners Roost, Colorado Running Company, and the Boulder Running Company) have come on board as race sponsors. As "partners in running" we think that this will make your packet pickup that much easier no matter where you live and is just good for the sport. In addition to sponsoring the race outright all three have come on board to sponsor the High School Aid Station Challenge at the $500 level. This year the race is trying to more than double the money going to the high schools to $7000 and already has 9 of the needed 14 sponsors on board including once again the Incline Club's very own Lynn, Gary and Alex H! If you have a moment head over to www.runpikespeak.com/challenge.htm to see the other sponsors of the Aid Station Challenge.
####
"S" Skipped report:
Randy L Reports:
I missed Sunday due to skiing to a hut (Vance's Cabin) with my family. So in penance I ran Monday on Section 16. Now I know a lot of you have been complaining lately about the lack of mud on our customary trails. Oh sure, there's slush and the occasional light goop, but heck, the stuff doesn't even come up over the edges of your soles. Have you ever wondered how those northern Colorado runners can get so good without Longs Ranch Road in winter? How about midwestern runners who actually put in a strong showing on Pikes Peak? The secret was revealed recently in a communique from one of our midwestern brethren, although he cleverly phrased it as a "complaint" in order to reduce competition.
As the dedicated group of adversity trainers that we are, IC runners should know that nothing beats mud to really kickstart your training. The benefits of mud are many and varied: build quad strength, improve balance, re-color clothing, and impress your spouse. Well I'm here to tell you that this winter, in an exclusive arrangement rarely seen in the Pikes Peak region, the Section 16 trail is offering a marvelous cornucopia for your training pleasure. Yes, this is really first rate mud, even better than selections I've found in Kansas, Wisconsin, and the Palmer Park horse trails. Special advantages on Section 16 include greater depth, just-right water content, and unsurpassed color. That bright red goes with almost any running outfit, and will continue to go with it for years to come. You even have your choice of mud placement: run the loop counterclockwise so the mud is at the beginning to provide a quick warmup, clockwise so the mud is at the end for maximum effect on friends and family, or for the truly inspired, make it an out-and-back.
My wife was so impressed she suggested I remove my clothing in the front yard and leave it there, I guess for the neighbors to admire. (I might note that SHE did it as an out-and-back, so who's impressed now?) I'll be sure to wear my mud/screw shoes on Sunday so you can be impressed too!
####
"R" reports: (A few of these saved some impressive running streaks:-)
Jim L reports:
I spent this weekend down in Grants New Mexico, participating in the Mt Taylor Quadrathlon. I am pretty sure I saw Matt coming in on some skis with snowshoes on his back during the viewing of the orientation video. Being a low key triathlete Ii went to Grants just to experience the quadrathlon only having x-country skied once before, and snowshoeing a couple times, the focus was definitely on having fun. The mountain was beautiful, covered in snow for the first time in a couple years, and sun was shining bright. The race started on the bike at a swift clip, the first 8 or 9 miles of the 13 mile leg flew by but then the hills, yikes, the bike portion gained 1800 feet with 2/3 of it in the last few miles. As a flatlander from flat San Antonio, anything greater than a speed bump poses a problem and then without oxygen, help! After grinding out the last few miles, the 2nd leg starts, a 5 mile trail run similar to what we see every Sunday, only this group of folks had their game faces on, not the typical smiles you might encounter on Waldo loop, the run was gravel early and then became packed snow as it climbed 1800 feet also. The 3rd leg was x-country skiing (hiking). I found out what 'skins' were, thank goodness, my only fear on the skis was that I would inflict great harm on another competitor accidentally, I think the course was 2 miles and gained 1200 feet, carrying snowshoes with you. The last leg to the summit was the snowshoe, only 1 mile and up 500 feet, the first .9 mile was relatively flat and then the last .1 mile is were the 500 foot ascent showed up or so it felt. When I reached the summit, I had always heard that people didn't take enough time to look around and take the view in, so with a desire to take it all in and to breathe a bit I stopped and looked from the top of Mt Taylor. A sign was sitting right there stating 11,301 feet, for all of you high altitude types and 14'er kings and queens, this is probably a walk in the park but for me I was elated or hypoxic, maybe both. Well the race was only half complete, time to snowshoe down, gravity tends to reward a 200 lb body going downhill, much like it punishes the same going up. Getting back to the skis was easy, getting down on the skis was scary! Again not wanting to damage fellow skiers, my snowplowing took up the whole trail and every time someone wanted to pass I was down for the count! Well no bones broke on me or by me so I reached my running shoes intact — just a bit wet from the packed snow melting into my shirt and pants. The run down was easy, relatively speaking, just like coming down Barr Trail only much more mud and slush from the sun warming it all day, and finally, the downhill bike sitting on my backside the rest of the way. What a relief to finally reach the finish line. I had an absolute blast, what a challenge. The volunteers and race committee were great and the people of Grants were really hospitable. I hope to go back next year, hopefully between now and then, some of you can assist me with some x-country ski skills. I think the altitude issue and the trail running will come in time. I know I would have been dead on the mountain if not for the Sunday runs with the club to help (special thanks to Mike F). It would be great to get more folks from the club to participate next year, they have solo, pair, and team entries. With the caliber of athletes I see every Sunday at SSP and the group I saw in Grants, no doubt that the club would do really well down there. Thanks and I thought about you folks this morning as I drove up the interstate.
ps- Lesson learned, I totally forgot about sunblock and my face got sunburned, don't forget that sunblock!!!!
----
Craig H reports:
Austin Trip Report
OK...I'll try not to let my failed PR attempt taint my race report. Overall impression of the marathon...it sucked! (oops...It's so hard to maintain your objectivity at times.) Actually I'm sure there are those that ran a great time on the course. (I just didn't meet any of them.) It is supposed to be a very fast course. And had I run within my means I think I could have run a 3:05. A sub 3:00 was just not in the cards for me on race day. Ended up with a 3:15. The race got high marks in organization and there were water stops every mile. And two GU stops if you got there early enough.
Best advice on where to stay...the Marriott or one of several hotels located right at the start line on the north side of town. Several hotels share the parking lot where the race begins. You'll avoid some nasty parking headaches and the porta john lines. Shuttle buses bring you right home. If the race doesn't please you, at least the great Mexican food should. So...two down...10 to go. Just a 14 day break before Napa Valley. Particulars below.
Cheers, Craig
Austin Motorola Marathon — 18 Feb 01
Entry Fee — $50
Course — Pretty fast course but lots of right angles. It was about a 300 foot drop with a few small uphills along the way. Absolutely nothing scenic about the course. Pretty blah.
Goodie Bag — Average.
Expo — Nothing special. Except for the Pacifico Marathon booth. A high-priced call girl seemed to be advertising for sex, beer, and perhaps a long run thrown in.
T-Shirt — I guess Motorola thought they were pretty neat...they gave you two of them. One at check-in and one at the finish line. Sorta weird.
Medal — Above average. (10th anniversary though)
Crowds — On par with Disney — lame. But at least they steered clear of the piped-in (taped) clapping. No bands or anything.
George Dubbya sightings — Zero
Elvis sightings — One (he finished about 4:00)
Start temp — Cold but the perfect type cold. Started warming quickly by 0900. Race start at 0700.
Overall impression — Lots of folks seem to PR there. Just don't plan on running with any Runner's World pace guys who have never heard of negative splits. Good event.
----
David W reports:
The Rocky Raccoon 100 mile trail race was being hosted in Huntsville State Park, TX. This was a 20.2 mile loop course over a combination of jeep trails and pine needle covered trails rambling over rolling hills. The running conditions were excellent, at the start it was about 38-40 degrees and midday about 60 degrees with no precipitation. Total elevation gain/loss for this run was 5375'. This was an excellent confidence builder for me.
Next year it is moving to Bandera, TX, 48 miles northwest of San Antonio. I am told that this will be a more difficult area to run in compared to Huntsville. The race director has added an extra two hours to the cut-off. This will be a loop course also.
I got to Texas and camped out under the stars at the start of the race. Got up, had breakfast and I took my time in getting to the start of the race, maybe a little too much time. I got to the start of the race with just enough time to drop off my dropbag, take off my wind pants and 15 sec till the start. The race started at 0600hr and all I had in my mind at the time was just to finish the race, with a cutoff of 30 hrs. My secondary goal was, depending on how I was running, to finish under 24, first things first. I was feeling pretty good at the start and I was trying very hard not start out too fast this time. As I got into the first aid station I had a pretty good feeling about the race. About 2/3 way thru the first loop I figured I was running too slow so I picked it up. I thought that I would be able to make up time later on in the race and I had time, I ran the first loop in about 3:45 hrs which was a little slower than I had wanted but that is ok. Cut-off for the first loop was 5hrs. The later portion of the first lap and beginning was time trying to get settled into my pace. Feeling fairly good about the race because I spent a major part of my time holding back, I didn't want to die. Still learning how to set my pace I guess. After completing the first two laps, knew that I would be able to complete 3 loops before dark, which according to some who ran last years run, was imperative. Loops 2 & 3 I averaged about 3:35 loops and figured that loops 4 and 5 would be slower. Runners from last years advised taking extra clothing with you when starting loop 4, as the temperature would dropoff quite quickly. Well, I guess I was just banking on what the weather was like the night before, since I had camped out I didn't actually feel the temp really drop off till late in the evening 10ish (woke up enough to zip up the bag). I figured I could make it to my second drop bag to pick up my wind breaker and some light gloves. I figured as long as I was running that would be enough. Loop 4 did go slower than the other three but not quite as slow as I had thought, 4:00 hrs. As I started loop 5, I was starting to feel the past 80 miles but I was happy, as I could walk the last loop still make it in well under 30hrs. It was around the 90 mile mark going down a slight hill that my left knee started to let me know that it was there. With 7.5ish miles to go, I sat in #3 aid station for a little bit and saw Carol S going by. "Beware of the Chair" my brain was telling me and it is only 7.5 miles walk if you have to but go. I ended up jogging the uphills and flat but walked the down hills as that seemed to be my "Achilles heel." I finished the race with a time of 22:17:45, for a 100 miler this is a PR. This is my third 100 miler and first for 2001, more to come.
----
Carol S reports:
Well, I cannot tell you how GOOD it was to be running WITH the club today, back on the trails, snowpack, hills, and all ! Just wanted to let you know that I have NOT been a slacker. Here are a few "R" reports (granted - a bit late, but here they are anyway).
Hike to the summit of Pikes Peak - Barr Trail to the summit on 12/31/00, 8 hours, with backpack and tough snow fields to cross above treeline. We had planned to do this 'hike' in 6 hours. We were pretty much on track, until we got above treeline. It took us 3 hours to get to Barr Camp, and another 1.5 hours to get to A-frame. We were following AFTER the ADAMAN club, so the snow on the trail was really packed down nicely. One side note - Timothy E (Icer) is a member of the ADAMAN club, and I saw him later, as we passed the entire club just before the 2 miles to the Summit sign. Anyway, the trail conditions began to deteriorate quickly as we proceeded up past the A-frame. We caught up with the ADAMAN club, and decided to pass them. That left our group with the honor of breaking trail for those following AFTER us.
We 'snowhacked' up to the 2-mile below the summit sign. After that, it was even slower going and a cause for more fear and intrepidation to face and overcome. For starters, we had to deal with snow cyclones. These were huge whirl winds that would overcome you with incredible force accompanied by stinging snow. When one of these would come by, I had to find the nearest rock and hug tight, to keep from being blown around. The snow conditions were also really tough. We encountered two types of snow pack:
1) The softer stuff that you posthole through. Sometimes it was ankle deep and other times it was sink up to your butt before you touched 'solid' pack.
2) The really hard pack stuff (not ice). This was the most difficult to cross, as it was very slick and smooth and hard. Most of the time these fields covered the trail, and we had to traverse them. Here's how we did it — we had to make divots in the hardpack, with the edge of our boots, and then cross by hanging on to the indents in the snowpack. These intrusions we made were often not much bigger than 3-4 inches long and ~1/2 inch wide. This situation inevitably forced me to look DOWN (bad move), and it seemed that if I lost my footing and fell, that I would slide a long ways down, and it would be a fast ride ! I though that part would have been fun, if I survived the trip. But then I thought it would be really suckie climbing back up. So, I am very thankful that this was NOT one of my experiences, as my footing held (Thank God !). The rest of the way, I just told myself to NOT look down, and keep looking where I was going to make the next divot, and take the next step.
Then we got to a place between the 1 mile below the summit sign and the 16 Golden Stairs. This was the toughest section to negotiate. At this point, I was very glad to be so familiar with the trail route, because I could not actually make out the trail at all. So, based on familiar features and position, I did know which way we had to go to get from there to the 16 Golden Stairs. The two ladies with me, were also very glad, as they became 'frozen' in place, not knowing what to do or how to proceed. One of them asked me if it had ever occurred to me that we could freeze to death and die up there. I said YES, and that's why we have to keep MOVING ! So, off we went. We finally reached the 16 Golden stairs, and from there it was just a "tough it out" until we reached the Summit.
Once we reached the summit, 2 hours behind schedule, we encountered the Rangers. They were not very happy with us, when we told them we planned to hike down the Tollroad to Glen Cove where our ride was waiting. They elected to 'evacuate' us off the mountain (yep that's what they called it - evacuation). So, we got a ride to Glen Cove in one of the Ranger's Suburbans, and we made a donation to the Pikes Peak Tollroad after they dropped us off..
All things considered, I did have a good time, and lived to tell about it. I was certainly challenged physically and mentally, in a way which I have never quite experienced before. This is certainly not something I would recommend doing by yourself, or ill-equipped, as it does have the potential to be life-threatening.
FROZEN ASS - Chatfield State Recreation area. This was actually a race I did on a Saturday, 1/13/01.(Non "R" run) I did the 30-mile event in 6 hrs: 31 min. Also there from the IC were Keith G., Anita B, AnneMarie W., and Connilee W. If there were other runners from the club, I must have missed them. Anyway, it was a very nice trail run, with a couple of water crossings, an ICE meadow to traverse, and some hills thrown in on the back part of the course just for a wakeup call. I had planned to run with the IC on Sunday, but developed a stressed TFL (Tensor Fascia Latta) and had to take it easier than the IC run would allow.
Rocky Raccoon Trail 100 — The run was the weekend of 2/03 - 2/04/01. . I have been running and training for the Rocky Raccoon Trail 100, since October. This was my first 100-miler to complete. My time was 29:06, against a 30-hour time limit. This course was fairly easy, except for the ROOTS, which were prevalent over most of the course, and often hidden by fallen leaves. This made for some technical trail running. It was especially challenging at night ! Also, David W. was there and finished with even MORE time to spare !
This course consisted of running 5, 20+ mile loops. Here's a summary for each loop.
Loop1 — Felt like a warm-up loop, pretty easy.
Loop 2 — Still felt pretty good. Halfway through the loop, I started having lower GI problems, and had to make a few pit stops
Loop 3 — Still feeling ok, but starting to feel tired and sore. The lower GI issue persisted...more pit stops. By the end of loop 3, the problem was finally under control
Loop 4 — This was the toughest loop, and took the longest to complete. I picked up my pacer, Anita B. (from the IC), and off we went. The roots were difficult to navigate at this point, in the dark (again), so it was slow going on the trail. My tummy was at the threshold of getting upset. I just started taking a lot of very deep breaths, and walked more often. My tummy finally settled down. I never did get sick, for which I was very thankful. Then the blister came up on one of my toes, at about mile 75. This was a blister under a callus. You may know how painful that is. I stopped to see if I could work on the toe to relieve the pressure, but it was not possible. So, I put my shoe back on and we started down the trail. I prayed that God would either take the pain away, or help me endure it. Within about 15 minutes, the pain completely subsided. Again, I was very thankful.
Loop 5 — Picked up my Dad as pacer on this last loop. It was a struggle to get to AID #1, but good to have Dad there, as he was a big source of encouragement. The rest of the loop, I spent moving as fast as I could. I was able to jog a good bit, but had to take frequent walking breaks. Finished with time to spare...hallelujah !
Finally at today's Incline Club run, I am starting to feel recovered. I look forward to joining you all as often as I can be there !
PS — I would encourage the ICers to check out the Alferd Packer Trail Run. It is on Saturday March 10th, up at Chatfield park in Littleton. The website for information is at www.coachweber.com. This is a very challenging trail run, tough terrain, not for whimps or whiners.
----
Steve B reports:
Ran in the USATF Cross-country National Championships in Vancouver, WA last weekend. Vancouver, WA is just across the Columbia River from Portland, OR. They held the US Armed Forces XC Championships in conjunction with Nationals. No, the military didn't get anyone on the National team!! The best we could muster was 17th in the Men's 4K, 25th in the Men's 12K, and my 11th place finish in the Master's 10K. Our Air Force team drubbed the other services though.
This was for a XC course. Grass, with some muddy sections churned up from the predictable drippy conditions in the Pacific Northwest, the course consisted of a 2K loop on the Fort Vancouver National Historical Site. Beginning with a long gradual downhill, it then looped back with two medium hills on the return. A couple of hairpin turns rounded out the , but I estimated that the effect would only increase one's 10K time from the roads by a minute or so.

I ran the 4K open as my contribution to the Air Force effort. When Eric Mack, our star athlete who had the third fastest marathon time for an American last year (2:12), and who is ranked third in the nation by the USATF, couldn't manage to get back here from Saudi Arabia (was he bombing Sadam??), I had the choice of either running the "short course" or the "long course." On my own I had signed up for the Master's 10K competition which took place an hour after the 4K short course on Saturday. The 12K was on Sunday. I decided to just go ahead and run the 4K so I could do my best performance for the Air Force team. Ain't I unselfish?!

The 4K race was hard for me. I am just not used to races these days. As you know only five weeks ago I ran a 50-miler. Though the first mile went by for me in 4:56, most of the field had left me in the dust! When I checked my final time (13:36) it was really not much faster than the pace I ran the 10K an hour later! It did feel much harder though. For the Air Force, Academy graduate Captain Nick McFalls won the Armed Services competition though he was 17th overall in 11:34. He has a lot of talent and with some good training I see him eventually running 13:20 for 5K.

Following the Open 4K came the women's 8K. Our Air Force team took second and third in the Armed Forces competition with two local Colorado Springs women: Captain Brenda Schrank, assistant cross-country coach at the Academy in second, while Captain Heidi McKenna (Shriever AFB), winner of the Fall XC series here in the Springs last year, was two seconds behind Brenda in third.

Meanwhile, I continued rehydrating and keeping in motion (treat the 4K like interval training) to prepare for my next effort--the Master's 10K.

When the gun went off I immediately decided I much preferred this race to the 4K open. I found myself gliding easily into first place briefly after the first 100 yards! No one madly sprinting for advantage. This was a race against my peers--the "old guys." About five or so with the 40 age brand tacked to the rear of their singlets forged ahead, while one with 45 (my age group) slipped in front of me. I latched on and enjoyed the welcome wind break he provided.

The second lap saw us in the same position. An Army friend cheering from the sidelines advised me to just rest behind him. I felt most comfortable gliding down the downhill stretch. By the third lap I began to notice more with the 45 affixed to their back. One tall guy broke out. I tried to follow, but managed to track him only until about halfway into the fourth lap. I felt flat and he easily opened a gap. More with the 45 age group began hovering around me like buzzards, picking me clean then moving on. We had been a pack of about six in the 45-49 age group, now we began to string out. By the end of the race I still could have thrown a stone and struck the first place finisher in the 45-49 age group--he was about 35 seconds in front of me. Regardless, I wound up sixth 45-49 and 11th overall in 35:27.

Not wanting to make excuses, I could have done better. If this were to have been a goal race I would not have run a 50-miler five weeks prior, nor would I have run a marathon three weeks after that!!!(two weeks before the XC competition). I have been struggling with a knee injury following the 50-miler which limited my training as well. I am sure that if I had not run the 4K race an hour prior and if I had not also run the ultra and the marathon I could have run under 34 minutes and would likely have finished third or better and first 45-49. Would'a, Could'a, Should'a. I know!
No Excuses!!

Going into Sunday's competition our Air Force team held a slim 28 second advantage over the Marines, and a three minute advantage over the Army. The Navy was out of contention ten minutes back. Fortunately, for the 12K we had a formidable group. Though the Navy had the first place military finisher the Air Force took the next three places, 2nd, 3rd, and 4th, as well as 8th! We had five of our finishers beating all the Marine Corps finishers but one, and our fifth place was only four seconds behind the first Marine! Like I said we them. Mark Cucuzzella, top five finisher in the Pikes Peak Ascent for the last few years, now living in Denver and in the AF Reserves, was third military.

####
WWW Post:
2/18/2001 Another big group (2nd largest for the year) of 54 people took on Waldo today. Going up a lot of the trail was snow free and it is fun to get to run fast. Many blazed loop PRs but once again LRR slowed things down with a boatload of snow. It was like running in two different parts of the world! Barr Trail is an icefest and is at the point of not being runable. In fact starting next week we will be heading out Rampart Range Road every other week until the ice melts! We will still meet an Soda Springs Park at 8 however:-)

####
Go out hard, when it hurts speed up...

Matt Carpenter
www.skyrunner.com
---