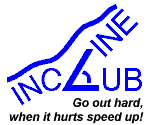 2001 Purge notice 2 of 2
---
Purge notice 2 of 2
Sent: Tuesday, May 15, 2001 2:48 PM
Subject: Purge notice 2 of 2
This is not the club mail! If you are getting this e-mail this is a final notice that your e-mail address has not been verified as being valid and therefore has been removed from the club e-mail list. If this is news to you last Thursday a notice went out about the club T-shirts and the annual (or there abouts) e-mail purge.
So far over 150 club shirts have been ordered. Yvonne C plans on putting the order in on Friday so she would need your shirt order by Thursday the 17th! Shirt ordering details can found below.
The original shirt/purge notice follows:
####
At this point Incline Club Shirts & Email verification was reposted.
####
Go out hard, when it hurts speed up...
Matt Carpenter
www.skyrunner.com
Barr Trail Mountain Race
www.runpikespeak.com
---