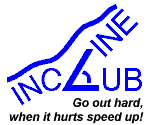 2001 Incline Club V5 TH #10 LR #29
---
Incline Club V5 TH #10 LR #29
Sent: Tuesday, June 05, 2001 12:36 PM
Subject: Incline Club V 5 TH #10 LR #29
The snow is melting fast! However there is still a bit much up there to have everybody doing Elk Park but that is changing daily. Big "*" to Rick H for going up there the day after Leadville with a shovel and working on some of the trickier sections! He also, for good luck, uncovered the Fred Barr sign to give you a marker for how deep it still is in spots!!!
####
Thursday, June 7, 5:30 p.m. meet at Soda Springs Park.
Warm-up to Hydro Street. 30 minutes of 1 minute hard, 1 minute easy up the Barr Trail. Easy down. 5 X Hydro Street hill. Cool down back to park.
Sunday, June 10, 8 a.m. meet at Soda Springs Park.
Run up the Barr Trail to the A-frame or until you reach your time limit. Head back down Barr Trail to finish the run. Or head for the top — 2.5-4.5 hours.
####
Club Shirt report:
Yvonne says that the proofs should be done tomorrow so they are getting close. However, thirty of you still need to pay for the shirts. Mail your check to Yvonne Carpenter, 36 El Paso Blvd, Manitou Springs, CO 80829. Otherwise, because the shirts will most likely be done before the checks have time to clear please bring *cash* to the Thursday/Sunday workouts!
####
Several write (or there abouts):
I am signed up/want to sign up for the GOG 10 mile this weekend but I want to keep my Incline Club streak going. What are my options?
(Matt C adds: Although the club voted to only count road races that are 13.1 miles or longer (A Sunday vote nixed the Pueblo 10 miler) the GOG10m is different in that it so close that you can take advantage of another club rule to get your star. All you have to do to get a "*" is be seen during the run by someone else on the run. Therefore just swing by the park sometime after your race and wait for someone to finish their run. Because some of us are doing summit runs people are coming back through 2pm which should leave you enough time to do the GOG 3-4 times!)
####
Kelli L writes:
A big thanks to those of you who stuck around after Thursday's workout and helped me move. Moving is always a lot of work, so to have so many people pitch-in and lend a hand, truck, body....was super. I really appreciate it, so once I get settled I'll treat the club to a post-run Sunday breakfast. There's even a comfy couch on the porch for lounging after we get pancake coma...
####
Doug L writes:
SUMMER HUT TRIP KENYAN RUNNING CAMP 2001
The dates have been set for the Year 2001 High Altitude Kenyan Running Camp. Already four campers (Rick May, Bob McAndrews, Peter Haney & Doug Laufer) have enrolled for the adventure. The plan is to spend 3 nights at the Margy's Hut beginning July 30th.
Anyone wishing to join in the fun should make reservations directly with the folks at the 10th Mountain Hut Association. Call 970-925-5775. If you are lucky Jen will take your reservations and wish you happy running. There were 12 spots open at the hut for those dates as of yesterday (5/30). Once all the campers have been identified we will plan meal and travel logistics. QUESTIONS?? Contact me at: (e-mail address removed for www posting)
####
Valerie P writes:
Since I may be doing Mt Evans on the 9th, I drove to the top and ran down and up the trail there, then put in 2+ hours of trash pick up. Apparently some sneaky blonde radioed the deed down to the Glen Cove brake check because I was awarded a "Junior Ranger" badge upon arrival! Made my day! :) (Naturally, I accepted the badge on behalf of the club :).
(Matt C adds: Again soon (most likely the 17th depending on the snow melt) we will be starting the Elk Park runs. As you may know the IC has adopted the top mile of the Barr Trail. I have free passes for the highway for those who are willing to work on the trail. However last year several took the passes and never did any work so I need to be a little more careful about how I hand them out so that the rest of us don't end up having to buy passes. In general your total for the season (6-8 runs) needs to be 5 hours which also gets you a T-shirt. You don't have to work the trail to be a club member but please don't take advantage of the free passes either.)
####
Mike D writes:
Do you know of anyone in the market for a baby jogger 20 inch wheels grape is the color only a year old? Looking to buy a twinner for our second child on the way.
####
Glenn G writes:
I lost my Pearl Izumi glove on Sunday's run. I had stuffed them in my pocket somewhere on the way down from the A-frame and Barr Camp. They are black and dark grey and do not have my name on them.
I started to retrace my tracks back up to the A-frame (the deluxe tour, as you described this week), after noticing I lost them at the Barr Camp. After a ways back up to the A-frame I turned around. After the Turquoise race the day before and having only ate once on Sat., it seemed more than I felt up to, plus my "bro" was waiting for me back down at Memorial Park.
(Matt C adds: Glenn let a couple of hikers know to be on the lookout and asked that they get dropped off at BC. However if you got to them first please let us know.)
####
Matt C writes:
The Barr Trail Mountain Race is over 80% full so don't get left out. www.runpikespeak.com/entry.htm
####
Rick H writes:
For anyone interested in running Imogene Pass Run this September 8, online registration is available at www.csbservices.com/ipr/2001/ipr-info.htm. It typically fills up within a couple of weeks. With on-line registration being available this year it will fill up fast. Registration started on June 1.
####
R Reports:
Neal O reports:
Steamboat Marathon
Steamboat Springs, Colorado
June 3, 2001
The day started out perfectly-10 hours of solid sleep the night before, incredibly good race weather and most importantly, I felt great. I thought this would be my breakthrough marathon-didn't happen. My goal before the race was to finish in the top 5. I knew there would be quite a few people ahead of me at the 1/2 marathon point and from there I would try to take on one runner at a time. I hit the 1/2 in 10th place feeling great. I don't know what happened at that point but I lost focus of what I was trying to do and got content being where I was. I could see a couple of people ahead of me that I could have passed but I never pushed the pace which my legs were definitely ready to do. I managed to pass only 2 people between the 1/2 and 20 mile point. I got passed by another at the 22 mile point so I ended up 9th in 3:13:02. The worst part of that is due to slower men's times than in years past, top 5 was VERY doable. I've always heard people say the hardest race they run is the one where they leave something out on the course. I left a lot of time, not to mention pride out there. As a result of not giving it my all, my legs are in great shape other than some minor chafing. At least I can resume hard training earlier than I had planned. I was so mentally weak-I just don't know what happened. I'd better get my act together before doing the Pikes Peak races. Mental weakness up there will kill ya!! On a more positive note, it was absolutely awesome to see Connilee come in right after me as the first woman (10th overall!!). What is that-3 wins in 2 weeks for the Incline Club?! Something is working there.
----
Connilee W reports:
Steamboat Marathon
Steamboat Springs, Colorado
June 3, 2001
General Goal: Beat my PR (3:21), place better than fifth (my place last year)
Dream goal: First place, 3:15
General strategy: Before the race, I plotted out my goal times per mile, starting out a little slower than my goal pace and hoping to pick up speed on the downhills, save energy for the end of the race (I noticed last year that a lot of women faded at the end — I passed three women in the last 3 miles alone. I wanted to make sure I was strong, not weak at that point).
The race: Dave S and Neal O gave a warm Incline Club welcome at the start....always good to see an IC'er for good luck! At the starting gun, Neal O was off to a cruising start, and behind him the pack of ponytails (the women runners). I held back to my own pace and was probably 10 or so back for the women. It was frustrating to be so far back, but I stuck to my plan and passed them one by one. By mile 13 I was in 4th place, feeling very strong, and reeling in number 3 woman. Number 1 and 2 were close together and in sight (thanks to the pacing bike that rode alongside #1 woman, they were very visible). I slowly gained on them and trailed at a close number 3 for several miles. At mile 21, I came in close and knew I could better the pace of both #2 and #1. I took a strong lead. Over the next 5 miles I widened the gap and gained another 2 minute spread on the #2 woman, and 4 minutes on the #3 woman at the finish. The last mile and a half were PAINFUL, giving me a new appreciation for the phrase "Go out hard, when it hurts, speed up!!" Boy did it hurt, but speed up I did and even ran a couple of sub-7 minute miles at mile 22 and 23. Even though I could not see #2 woman and the bike pacer informed me I was in the clear, I wanted to finish STRONG! A quarter mile from the finish, the folks who had run the 10k and 1/2 marathon, race fans, and Steamboat Springs citizens lined the street. They were incredibly encouraging and I am sure I was grinning from ear to ear as I pushed to the finish — first place woman! I am still pinching myself to make sure it is for real!
Done right: Took water at every aid station (every 3 miles) except the last one. Took a gel every hour (carried my own). Ran the tangents (we only had one lane of a two lane road, often dealing with oncoming traffic so this was especially challenging). The last 7 weeks I added a 20 minute tempo to the end of my long runs as well as speed pickups during and after my other runs. This really helped my 'kick' at the end of the race.
If you ever run Steamboat: The scenery is incredible — if you have to run on the road (all asphalt) this is a great place to be! The first half of the course has some intense downhill, making it very difficult to run the second half faster than the first.
Added bonus: My hubby Pat got a real nice buzz cut Sunday night — fulfilling a promise he'd made to shave his head IF I beat my PR.
----
Dave S reports:
Steamboat Marathon
Steamboat Springs, Colorado
June 3, 2001
Well, I guess I need to submit a report to get a star for the day.
It was really fun to see how well Connilee Walter and Neal Oseland did. Connilee ran a PR and finished 10th overall (for all runners). She WON the women's race. How cool!
And Neal finished 9th overall and 2nd in his age group. Those two really had an outstanding day, and have a neat jacket to prove it.
It's a different story for me, though. I struggled and finished more than 20 minutes slower than last year. I just sort of ran out of energy after about 17 miles, and got slower and slower after that point. I'm not sure what went wrong. I've put in more training than last year, and everything else was about the same. But oh well, I guess it just wasn't my day.
It was still an enjoyable weekend. Usually when we go to Steamboat Springs, the whole family comes, but this year the kids were working so it was a little escape for me and my wife. We explored some new territory while there. Instead of using the hot springs in town, which we've always done in the past, we went to a hot springs about 7 miles out of town called Strawberry Hot Springs. It was quite an adventure just to get there, as the last several miles are on a poorly maintained dirt road, akin to the rougher sections of Rampart Range Road. But it was worth the drive. The hot springs are secluded and rather rustic, with a mountain stream adjacent to the hot springs pools. The soak feels excellent after running a marathon.
My wife and I also checked out Fish Creek Falls. This is about 4 miles out of town, and is a magnificent water fall, that makes Seven Falls look like a puny water faucet. There are tons and tons of water coming down the cliff, and it is definitely a perfect picture taking spot. There's also a cool trail that goes up to a lake. It's 5 miles, one way, and the elevation climb is 2400 feet. I didn't have the legs for it, so we just followed the trail for about a mile or so.
Well, I guess that's about it. I'll have to figure out what went wrong and give it another try next year.
Congratulations to Connilee and Neal. They did awesome!
----
Wrap up:
Neil O (9th Overall) 3:13:02
Connilee W (10th Overall, 1st Female) 3:15:23
Dave S 5:16:11
####
Non R reports:
Sid R reports:
Turquoise Lake 20 K — Sat the 2nd
I finished the TL20K in just under 1:58. I was shooting for 2 hours, so I have to be pleased with that, considering I've done little trail or endurance running this spring or summer. I was also satisfied with the first 10K, it was the last 10K where my tank was empty.
----
John M reports:
Turquoise Lake 20 K — Sat the 2nd
The Incline Club was well represented, Larry M has the actual names and numbers but somewhere around 10 — 12 ICRs in the race.
Perfect weather, same great course, same great humbler, (10,000 ft), same hill, (1.9 miles long), same great feast at the end. The rumor was around 300 paid entrants. No corporate sponsorship this year so no shirts.
Personally, a great improvement this year. Dropped 7 minutes off last year's time and finished in 2:02:48. Training with the IC and Teresa T paid off! I was aiming at 2:00:00. I've generally been pretty beat by the last 2 miles so I held back a little from 10K to 15K. Turns out, I held back a little too much. By the time I realized the finish line was so close, I couldn't make up the time. But this is only the 6th time I've run this race so I'm still getting used to the course. Next year I'll know better.
I didn't stick around for the awards and prize drawings. Felt the need to "rehydrate." Our campsite was close enough to hear all the hootin' and hollerin' that went on for an hour after though. The only thing that I can
think of to cause that much laughter would be a Larry M/Rick H Stupid Human Trick.
----
Rick H reports:
Turquoise Lake 20 K — Sat the 2nd
The Icer's had a great turnout for the Turquoise Lake 20K at Leadville, CO on Saturday June 2. There where 16 Icer's that ran and many taking a little cash home for placing in the overall and age group divisions.
Paul D 1:18:11 (2nd Overall Male)
Dan V 1:19:10 (5th Overall Male)
Paul S 1:25:29
Rick H 1:26:43
Larry M 1:31:51 (1st 50-59 Male)
Bev Z 1:36:02 (4th Overall Female)
Eck Z 1:38:38
Jennie P 1:39:29 (1st 20-29 Female)
Val S 1:44:11
Bob Mc 1:44:17 (1st 60-69 Male)
Mike F 1:47:14
Glenn G 1:52:39
Lynn H 1:56:32
Sid R 1:57:--
John M 2:02:48
Carol S 2:17:--
####
WWW reports:
6/3/2001 A huge group of 67 (a tie for the record) were running all over the Barr Trail today. First snow was not until past the IBR Memorial a good ways after the A-Frame. Most of the traverses are well traveled now. Rick H (who had a race yesterday) drove to the top and did a lot of shovel work on the top switch-backs. After summiting 4 of us went back down and took turns helping him clear even more snow. However there is still a lot of snow left! In all, 7 of us made it to the top today.
5/31/2001 43 came for 40 minutes of evil Highway 24 Bypass repeats. It is always amazing how easy these things feel for about half the workout and then how ugly they feel for the 2nd half. Today we really worked on form and for a lot of people it made a big difference in that they set some huge PRs. Skippies and knee lifts in the grass finished off the day. After that about 12 of us got together and helped an ICer move. With that many people and two trucks we made short work of it — it is neat when the club comes together like this!
####
Go out hard, when it hurts speed up...
Matt Carpenter
www.skyrunner.com
Barr Trail Mountain Race
www.runpikespeak.com
---