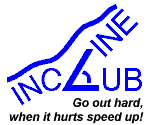 2001 Incline Club V5 TH #11 LR #30
---
Incline Club V5 TH #11 LR #30
Sent: Wednesday, June 13, 2001 1:27 PM
Subject: Incline Club V5 TH11 LR30
Howdy ICers,
Sorry for the delay. However I was waiting to put out the mail until after Yvonne and I got to see the club shirts this morning. We think they look awesome and Yvonne will start bringing them to club runs starting TOMORROW:-)
Also, there are only 26 spots left in the Barr Trail Mountain Race. If you are thinking about doing the race better head over to www.runpikespeak.com/entry.htm before it is too late!
####
Thursday, June 14, 5:30 p.m. meet at Soda Springs Park.
Warm-up to Hydro Street. 30 minute tempo run up the Barr Trail. Easy down. 5 X Hydro Street hill. Cool down back to park.
Sunday, June 17, 8 a.m. meet at Soda Springs Park.
Run up the Barr Trail to the A-frame or until you reach your time limit. Head back down Barr Trail to finish the run. Or head for the top — 2.5-4.5 hours.
(NOTE: the 24th we will start the Elk Park runs. There is still a bit much snow to safely turn everyone loose on but based on what we saw it should not be an issue by next week!)
####
GOG results:
Some very impressive IC results in the GOG 10 mile! www.pprrun.org/results/2001_gog_10M.htm. Even more impressive was the number of people who found some SERIOUS loopholes in the club "*" system which in effect kept everyone's streaks going. It worked something like this; Rick and I went to the Trading Post and watched the first 3rd of the race BEFORE we headed to the club run. A couple of the ICers we saw then reasoned that should count for the star and further turned in some of the people they saw. A DURING strategy went something like this: "I saw them at the Garden of the Gods Park, and that park IS used briefly for one of the Incline Club routes." This person even went so far as to list ICers who volunteered at the race! Another strategy was to piggy back on those who went to the IC run AFTER the race; "I saw so and so, who then went over to the park after the run and that should count for a star." OK, I always knew runners were a smart lot! Between these three strategies I think everyone should have been covered! At any rate, if you ran the Garden and got reported then you got a "g" which counts as a club run. Those that ran in the Garden and came to the club run afterwards let me know if you want your "g" turned into a "*" but they both count the same and the "g" is a good way to see who did what. If you did not get a "g" and ran the Garden (but it is not your FIRST Sunday club run or otherwise we could count everyone) then let me know.
####
Kees G writes:
Hey Matt and everybody else out there this morning. It's just a few hours later, but I wanted to write this right now. It was so cool to get cheers and hear my name for about half the race! I was running pretty hard so I didn't see who all was cheering (yes I did see you and Rick at the trading post, and Tom K and John O) but I want to thank everybody for being so cool and supportive. Now the coolest thing is that the last 4 miles or so, I was crossing paths with the people still going out. I was between 6th and 4th during that time, and I am still psyched about all the cheers I got!!! I beat the other guys and came in 4th (pretty much 1-3 were out of my reach (or is it league?) but I was 1 minute inside my goal of <1hr.) and I know those other two guys must have wondered; "who in the world I was" getting my name cheered about every 30 seconds or so! Or they might have been wondering where the "case" was. It was definitely a home game and home advantage! I can't stop being psyched about other runners cheering other runners on! I think we have a pretty cool club, thanks again everybody it did make a difference!!!
Kees, case, keys, and then for people outside the Incline Club, cornelius, corn-a-less, cornelis.
####
Fred W writes (in part):
We had a lot of very good performances from I/C'ers, they did the Club proud. One effort that might slip through without notice was turned in by Louise E, who ran 76 min., creaming those of us who regularly do our training runs with her. She may be ready to "move up."
####
Louise E writes:
Even though this doesn't count for a "*." I will give you my results. I think I did pretty good comparing to all the other years. Thanks for the tip on down-hill running. I have improved a great deal as you will see with the results of this race. I came 16th overall of the women and 4th in my age group. I was just about 11 minutes behind Kelli and Laura.
####
Tom K writes:
Long time, no write. Long time, no run. Actually, I did run for the first time (4 easy miles) this past Saturday after a nearly 2 week break to give my ankle/shin injury (tendonitis?) a chance to heal. Everything felt good during the run, and more importantly, afterwards. So, I guess Laura won't have to carry me down the aisle this Saturday after all. Anyway, I will continue to ease (for a change) back into the ambulatory dynamics, and see how things go. My expectation is that I will be back at both the Thursday and Sunday runs by next week or so. Laura also expects to start joining the Thursday afternoon runs since her bell ringing exercises are finished for a while.
Congratulations to all the IC'ers who braved the heat, hills, and hard surfaces at the Garden of the Gods 10 miler this past Sunday. Again, a great IC showing. I think I saw most all of you finish as I was working "chute duty" at the finish line. I would have rather seen the finish line from the other direction, but common sense (for a change) dictated I sit this one out.
####
Nancy A writes:
Jeff and I ran the reverse double Dipsea today (13.6 miles — 2:45!). You all would really like the Dipsea race (it's tomorrow so we warmed up the course). There are a bunch of steps — like the Incline — there's hills, there's a few flat sections. We saw banana slugs, a buck, wild turkey, a bunny, and a salamander/gecko. The miles are some of the longest that I've ever experienced — except for Barr Trail.
####
Glenn G reports that he got his gloves back:-)
####
"R" Repots:
Gary and Lynn H report:
Since Lynn and I had a climbing practice session we had to attend in Rocky Mtn National Park on Saturday, we stayed overnight at her sister's in Loveland, and jumped into the Horsetooth Mountain Trail Run Sunday morning.
This race is somewhere between 8 and 8.5 miles long, and follows a loop course through Horsetooth Mountain Park in the foothills west of Fort Collins. The elevations aren't as high as on Barr Trail, but the climbs and steepness are comparable in most spots, with some short sections being closer to the Incline's grade. It was definitely a lot harder course than I expected when I viewed the terrain from the start line!
The first 3 miles are mostly uphill, then it's up and down until the aid station at about 4.5 miles. Then there's a relatively gentle descent down a service road for a mile or so, followed by more downhill on a trail to the creek bed, then one last long uphill (relatively easy grade) before re-joining the outbound course for a screaming downhill finish. It was terribly hot out on the course, which has long sections of unshaded running, even though the race started at 7:30!
Things Done Wrong: didn't get an accurate description of the course before the run (the course map didn't show which sections were uphill, which were downhill, etc. — I made some guesses, which turned out to be very wrong!); pushed too fast at start, due to previous error; didn't hydrate enough Saturday evening; and, ..., oh yeah, didn't train!
Things Done Right: well, I ran!
This was an interesting course, and would be a good challenge for IC runners! It fills up at 175 runners; they took race-day signups this year (we were among 40 who signed up just before the race), but will not next year, since they were so far over their 'capacity', so be sure to sign up early if you'd like to do this race next year!
####
David W repots:
Old Dominion was going to be my most challenging race, with the most rise in elevation I have done to date. Friday afternoon had brought some rain showers, which worried me a little as I didn't have a spare pair of shoes and that could make for a long race. The temperature 04:00 am was perfect (+/- 65 degrees) and it was dry with clear skies at start of the race. I used a pace chart to help me get thru the race but there is a problem with using a pace chart and that is fatigue and night running is not factored in. Still relatively new in the Ultra vortex I'm still trying to figure out what is my running style. In the Ultra world "the race doesn't really begin till the 60/65 mile." I felt like I was running pretty good despite the first five or six aid station not having anything but goldfish, chocolate chip cookies succeed and water. In fact I had lost about seven pounds by the first weigh station at 34.2 mi. and still a little ahead of my pace by about a .5 hr to 40 min. And as I had thought I had lost sometime when crossing over Sherman Gap and Veach but after that did quite well after Woodstock Tower. It was downhill from there. I finished 31st of 70 finishers with a time of 23:32:00.
####
Craig H reports:
Wyoming Trip Report
My first back-to-back experiment of the year turned out very well. Better than expected in fact. On one-third of normal training, I have to admit I was a bit intimidated by two marathons six days apart. The first run on Sunday was the Wyoming Marathon. Comparing it to my previous run (Boston) it was definitely the anti-Boston. Sad, sad, sad event...but I do give the few folks that put it together credit for what they do accomplish. They definitely win the prize for most accurate race motto. ("The Wyoming Marathon...where the race director promises you nothing...and he delivers.")
It was tough to get accurate stats on the course, (elevation charts, etc.) but the course did average above 8,000 feet and included about 3,500 vertical feet along the way. Given that, I'd have been content with a 4:30 given my condition. Turned in a 3:58. Very surprised. Most folks typically ran about 25-30 minutes slower than average.
This was my first marathon trip which was not a rushed out-and-back over-the-weekend type trip. I actually took vacation between the runs and explored Yellowstone and a small part of Western Montana. Much of Wyoming is pretty barren but had TONS of buffalo all over the place...or so I thought. I thought I must have arrived just after shearing season. I was later informed they were all just cows. The Grand Tetons were really beautiful but I think I'll take Pikes Peak any day. Yellowstone was awesome. Old Faithful was right on time. (Currently every 81 minutes.) The Lower Falls that land in Wyoming's Grand Canyon were quite impressive.
For my first night in Yellowstone I had planned on camping until a torrential downpour began and I was losing daylight fast. Being an Air Force guy, with superior Air Force training behind me, my first instinct was to abort the camping idea and head to the nearest hotel...the natural inclination for a well-trained AF guy. But something possessed me. Placing extreme faith in the Army guy who lent me the tent, and praying he had his gear squared away, I began to put together a never-seen-before tent in the cold rain. Happy to report the Army guy had his gear in good order and I stayed dry that night. (Thanks Jim)
I was also reminded just how up close and personal you can get with nature on my first morning in Yellowstone. Five minutes before I ventured out of my tent, a huge brown bear strolled by 10 feet from my tent. All the other campers were watching and probably wondering if the bear likes runner meat. Saw the tracks a few minutes later and came down with "bear on the brain" syndrome for the rest of my stay in the wilderness. I doubt I'll ever be outrunning a bear... certainly not two days after a marathon anyway.
During my WY run I tried to save a little gas for the Helena, MT run the following Saturday. Guess I did. Ran a 3:28. Was REALLY surprised by that. Just kept expecting to die any minute from the week before. (Funny thing happened one the way to the finish line...I never hit the wall. Strange.) Anyway...tired of typing. The MT report out next week. Six down - six to go! Course info (warning) below.
Cheers, Craig
Wyoming Marathon — 28 May 01
Entry Fee — $35
Course — Who really knows?? Technology and Wyoming courses have not been introduced yet. Out and back course. I'm going with a start at 8600 feet down to 7800 feet and then back again. About 3500 vertical feet along the way. Dirt trail with about 5 miles or so of frontage road asphalt.
Expo — Yeah right.
Medal — Pretty slick... not bad at all really.
T-Shirt — Average.
Crowds — On the 1 — 10 scale...ZERO. Not sure I hear heard or saw a single spectator. Two of the three "aid" stations were manned by one person. The other had a gaggle of three I believe. If crowds turn you off, then this is the race for you.
Famous encounters — Just a few Incline Clubbers. :)
Start temp — Cool and overcast. Really lucked out with the WX. Got a little windy coming home though. Temperature dropped drastically right after I finished. (They've had everything from snow to 90 degrees before on race day.)
Overall impression — Hmmm...unless you're attempting the 50 States...I can't think of any real compelling reason to run this.
####
Anita B reports:
Squaw Peak 50 mile trail run, Orem, Utah, June 2
This was my second year doing Squaw Peak. I don't know which time was better; the first time when I didn't know what I was getting myself into, or the second time, where I was more familiar with the course, but knew what lie ahead. The Squaw Peak 50 mile trail run is the third most difficult 50 miler in the country. There is about 10,000 ft. in elevation +/-, and alot of it is in backcountry. Although there are aid stations, and drop bags, the course is rocky and steep, so going six or seven miles for slow , creaky duffers like myself would sometimes take me over two hours, so its a course where you really want to know what you are doing, because you can be out there alone for a long time. Anyway, the course is beautiful. If you like to be surrounded by snow capped mountains, flower covered meadows, teaming with wild life, and very little signs of civilization on much of the course, then this is the trail run for you. It is well organized, and the pre-race meeting was alot of fun. The race director had excellent sponsors, and had all sorts of really cool drawings for stuff runners really could use.
My finish time was a little slower than last year. For whatever reason,(I never had this happen to me before) at the 35 mile point, my left eye began flashing, kind of like a strobe-light. I sat down at the top of a 9300 ft. mountain for about 30 minutes( so much for doing better than last year) and it went away. When I got back up, I developed one heck of a headache, and became dizzy for the next seven miles. It got so bad that I found two sturdy sticks and used them as walking poles, until it went away. But the reason I let them go was because quite suddenly my fingers, hands, arms, face, even my tongue went numb and tingly, and I had no sensation what so ever. As if that weren't enough, my hearing went on the fritz too. For about an hour, everything sounded as if it were far away, and had an echo to it. But when you are out in the middle of nowhere, and there are bear tracks, and mountain lion tracks everywhere, with no aid station in site, what are you to do? Lie down on the trail and cry? I know I hydrated and fueled properly, so if anyone out there has any idea what all those symptoms mean, I would appreciate the input. Never the less, I crept to the finish line, and grabbed a cold piece of pizza I found lying on a nearby table. They feed you really good at this ultra, and I would recommend it to anyone looking for a challenge.
####
Non "R" Reports:
Valerie P reports:
Race: Mount Evans Ascent
Date: June 9, 2001
Goal: Run easy for a training run (didn't know what to expect for a time)
Time finished: 3:20
Great race to start the high altitude season with. Small run (~200 competitors), low key, and friendly participants. The course is relatively easy (on the road) and I was able to run almost the entire course (with a little more training, I could have done it all easily). Glad I got in 2 runs at high altitude, as I passed quite a few people during the last 2 miles. The negatives were head winds for ~1/4th the route (felt like I was running in place at times) and the road slants quite a bit during a few sections, which took its toll on the ankles and knees. Other than that, felt great and really enjoyed the race.
Things done right:
Went to the top of Pikes Peak twice before the race.
Took 4 gels.
Carried my own water (although not necessary)
Brought a wind breaker and gloves
Practiced my cadence, made the run easier.
Things done wrong:
Should have trained more
Should have pushed a little harder
(my 4 year old caught me during sections of the race and ran with me, she did good for high altitude!)
####
www posts:
6/10/2001 39 people came to the club long run today. Another 28 used the "I saw so and so on the run" loophole to get counted in the GOG 10 mile which took place just a mile or so up the street. The snow is vanishing rather fast off the top and there is now no snow until right at the 2 mile to go sign. There are several small sections of snow getting to the 1 mile and 2 big sections getting to the 16 Golden Stairs Sign. There is one bad patch getting to the Fred Barr Sign and then it is clear to the top. About 5 of us picked up trash for about an hour on the top. What was neat was that about 10 tourist joined in and helped!
6/7/2001 The streets were flooded, the rain was dumping and the lighting was popping. Add to that a tornado watch for our county and I thought for sure I would be moving up on the workout board!!! But noooo, all 9 of those in front of me showed up! In fact 30 (the smallest group of the year) came out for 30 minutes of 1 minute hard, 1 minute easy. As is often the case with Colorado weather by the time we did our warm-up conditions were perfect and by the time we finished our Hydro hills the sun was making a guest appearance. Yvonne C was exited that at least Pete T stayed home so she moved up one among the remaining 14 people with perfect attendance!
####
Go out hard, when it hurts speed up...
Matt Carpenter
www.skyrunner.com
Barr Trail Mountain Race
www.runpikespeak.com
---