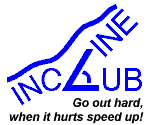 2001 Incline Club V5 TH #13 LR #32
---
Incline Club V5 TH #13 LR #32
Sent: Wednesday, June 27, 2001 9:07 AM
Subject: Incline Club V5 TH13 LR32
Where are the days going? I know we had an incredible day last Sunday and I want to thank everyone who worked on the trail after their run. That was the largest group (26 out of 59) we had working on the trail and lots of hikers and non IC runners took note. I want to also thank those of you who have been taking the time to let me know about those that might not have gotten a "*" for the club runs. As you can imagine with 59 people spread all over the mountain keeping the workout board up to date has become more like calculus. Also if you have not been to the club page (www.skyrunner.com/incline.htm) please check once and a while that I got your trail work volunteer hours (linked to near the top of the page) correct. I round the trail work time to the nearest 1/2 hour and if I gave you too much or too little time please let me know. At the end of the season Friends of the Peak reports the hours to the Forest Service. The hours also help us work out the killer deals like the free passes up the toll road. It is all on the honor system however because I really can't track when you start and stop your trail work. I do know that it is making a difference and those of us who have been doing the garbage hauls for two years now are excited about how much further we have to go to get to the trash! Thanks again:-)
####
Thursday, June 28, 5:30 p.m. meet at Soda Springs Park.
Warm-up to Hydro Street. 30 minutes of 1 minute hard, 1 minute easy up the Barr Trail. Easy down. 5 X Hydro Street hill. Cool down back to park.
Sunday, July 1, 7 a.m. meet at the Pikes Peak Hwy Toll Booth.
Carpool to Elk Park. Run over to Barr Camp then up to the top. 2 — 4.5 hours. (Some will still be leaving from Soda Springs Park at 8am)
####
Richard B writes:
I've been working the lower half of Barr trail for a few months now so I was excited at the chance to start running on the Elk Canyon trail. The starting altitude was the highest I've ever been so I was curious to see how it would affect me. The 6 mile run to Barr camp was a thoroughly enjoyable warmup for what remained — the climb to the top! Since this was my first time running on the trail after Barr camp I was excited about breaking new ground (so to speak).
Here are my lessons learned:
Having made my first climb to the summit, pacing is everything on the first half of the trail (and the 2nd half as well).

Know the trail or at least read the signs carefully (I ended up taking the bottomless pit trail for about a mile and a half. Given my stubborn will to get to the top I blew off the initial clues that I was on the wrong trail, i.e. trees fallen across the path, trail sections that are not well worn, etc)

Drink water early and often.

Watch out for toe-stubbing boulders

The last three miles really are the toughest (at least for me)

I think the Incline T-shirts show too many air molecules at the top.

The view is absolutely magnificent!

latland marathons are for wimps — PPM here I come!

Above treeline I felt like I was 100 miles from civilization until I saw the circus operation at the top. (what it must have been like right after the trail was first completed)

I encourage everyone to make the trek to the top (run or walk) — it's a life changing experience.
Thanks to Connilee (I believe it was her or an angel — I wasn't thinking so clearly past 13,500 feet) for taking the time to stop and inquire if I was all right — I had stop to sit on a rock shortly before the 16 golden stairs to catch my breath. I told her I was nearly out of water and she asked if I wanted a transfusion (Camelbak to Camelbak) and I eagerly accepted (that's why I like this club: friendly people)

####
Teresa T writes:
I would like to invite all IC'ers to Palmer Lake-Monument for the 20th annual 4th of July 4 Mile run! It is a low key, low cost, downhill run on the Santa Fe Trail from Palmer Lake Elementary School to Monument. Proceeds go to the Palmer Lake Elementary School PTO. Cost is only $12.00 and includes a cool tee-shirt for the first 275 entrants. Race starts at 8:00 am, race day registration from 6:30 am at the school. It is a point to point run (but hey, you NEED more than FOUR MILES). Kids fun run, no fee, after the race in Monument. Bring the family and stay for the parade at 10, street fair and entertainment ongoing in Monument, Kiwanis kids and adult "picnic" games in the park (Neal & I will defend our blue ribbon in the 3 legged-race...), Outdoor concert in Palmer Lake, and of course, fireworks! All of the events other than the race are FREE — come on out for a taste of a small town 4th of July! Call me at 488-2544 (daytime) for pre-registration info, or for more info on any of the other events! Join us here to the North for the Fourth!

####
Club shirt report:
Things are wrapping up on the first club shirt order. The number who have not paid is now down to 6 — 1/2 the number from last week. We spared naming them publicly and instead sent them another reminder to give them a chance to defend themselves.

####
Randy L writes:
I've signed up to run the Mt. Fuji Climbing Race on July 25th. My brother is living in Japan for a while, so this is our opportunity to visit while having an affordable place to stay, and while I'm there, how could I resist?

Fuji, 12,388 ft. is the highest point in Japan. The race begins at about (pardon my rough metric conversions) 2,500 ft., with a gain of about 9,750 ft (3,000 meters). This gives it 2,000 ft. more gain than Pikes Peak Ascent in the same distance (21 km), but starting and finishing lower. The profile starts much flatter, with over 3/4 of the gain in the last half. So I'm thinking, maybe those Thursdays aren't so bad after all. I found some statistics for the 1998 race on the web: of 1,866 male participants, 52% finished (of 126 women, 25% finished). I don't know if that was a typical year. Last year's race was cut off at the 15 km mark (timberline and top of the road) due to severe weather (Ron Ilgen of Colo. Spgs. ran that one). The record (as of 1998 anyway) is 2:36:23 for the ascent.

Interestingly, this is only an ascent race, but once finished, you still have to hike down 5,000 ft. in 6 km to reach the bus for the ride home. The race is almost entirely on trail, and from the photos I've seen, the top half is very rocky. Every collection of photos shows a section where people are queued up waiting for others climbing hand over foot. Hopefully that's just a favorite "photogenic" spot. Most accounts of climbing Fuji feature rain, wind and clouds, so I'm not counting on "Pikes Peak weather."

So anyway, with the help of all these crazy IC workouts I'm hoping for a respectable finish, as long as I can carbo load on Japanese noodles, miso soup and sushi!

####
Tom K writes (on Thursday):
Well, I survived my first Thursday training run after a 3 or 4 week break to recover from my shin thing, a warm-up to Hydro St., then a 30 minute tempo run, back down, and finishing up with 4 Hreps (I'll up it to 5 next week. Gotta come back slowly). It felt good, no problem, but I also felt like a fat, slow married man, and right about the time I turned around, my fast married wife had caught up to me. So, give Laura K her first Thursday "*." We plan to do the Sunday run via Elk Park, and will probably just go ahead and get a season pass to the highway. Are there any deals you know of for these passes? See you Sunday.

####
Tom K writes (on Sunday):
I had my first real, hard, long run since coming back from the injury. So far, so good. Laura K and I drove up to Elk Park with the rest of the Elk Park gang (taxied Gordon B). It was sunny, mild and windless when we took off down to Barr Camp, and how brilliant were those wild flowers? We made it down to Barr camp in 53/55 minutes, and saw Dave S there. From there, we ran relatively hard up to the top with a total 1-way running time from Elk Park to the top of 2:33/2:37. We each put in a little over 30 minutes of trail clean up near the top part of the trail, then another 30+ minutes lower down, for a total of 1+ hour each of trail duty. Neither Laura nor I really felt any affects, adverse or otherwise, of the altitude. I overheard some others making similar comments. Was it the high pressure? As far as trail cleanup, next week, we think we'll concentrate on the lower part of the top mile of trail which isn't getting as much attention as the upper part. By the way, thank you (Matt C) for the pass, and thank you for giving us an opportunity to give back to the trail and the mountain we use and value so much. As we were moving rocks and stashing trash, we got several positive comments from passing runners and hikers, from a simple "thank you," to "you must be with the Incline Club..." On the way down, we ran to Barr Camp "ultra-style" with Neal T, passed Carol S on her way to the top, and from Barr, Laura and I made the hard "slog" back up to Elk Park. We were thankful for the cloud cover to keep things cool, especially during the later steeper parts. Our return trip running time from the top took a "leisurely" 3 hours, for a total running time of 5 1/2 hours, in addition to the 1 hour of trail duty. Phew! We were beat, but satisfied with the great workout, and happy for the chance to spend a nice day together with each other, and with friends on the Peak.

####
Sid R writes:
Thought I would pass this along to the IC'ers. It's a homemade energy bar recipe put together by a cyclist and a nutritionist. There is a brief, but informative, discussion that follows the recipe. Seems to be well thought out by the nutritionist, and the recipe is easy enough. And, it cuts the cost of an energy bar down to about 17c! sportquest.com/recipe.htm.

####
Keith L writes:
FYI. Here's a link to the Sacramento Bee's article on the Western States 100. www.sacbee.com/sports/news/sports02_20010625.html.

####
"R" reports:
Andy D reports:
Sunday, June 24,
In my first skymarathon, I was 4th overall with a 2:34:30 and in the process I won $100. Overall, it was a very enjoyable experience and a great race. The little orange flags marking the course were quite a bit more subtle than I had imagined they would be, but they proved to be sufficient nevertheless. The only major mishap of the race involved the first 1.25 mile out and back. For some peculiar reason, the volunteer stationed at this turnaround completely neglected his duties, and everyone ended up running way farther than they were supposed to.

The Incline Club training is definitely making me much faster. In the beginning, I ran conservatively and let the leaders, as well as many others, go out too fast. I started reeling them in when the climbing began in earnest. However, it was not until the steepest part of the course that I finally caught the 5th, 4th, and 3rd place runners. I battled with this 3rd place person on the ridgeline and on the tundra downhill only to be passed when we proceeded onto the road. Obviously the training is working well

####
WWW posts:
6/24/2001 59 of us ran on the Barr Trail from three different directions. 10 or so from the bottom, 5 or so from the top and the rest from Elk Park. Elk Park is in perfect condition and as planned it was great to get to Barr Camp feeling fresh after the run over on the mostly flat trail. From there several set all-time PRs from Barr Camp to the summit. After that the biggest workdays ever put on by the IC took place with 26 of us working on our adopted section. About 10 went for the garbage detail while the rest of us worked our way down the trail clearing and moving rocks. Several of the smaller switch-backs near the top were made a good bit wider and were smoothed out and a lot of clearing was done down to the Fred Barr sign. Six people tied the club record of 31 Sundays in a row today! The snow is going fast with only 3 sections remaining. A small one at about 1.5 from the summit, a medium one at the end of the traverse under the 16 golden stairs and a medium one in the flat section before the Fred Barr sign.

6/21/2001 48 did the evil Hwy 24 bypass hill repeats for 40 minutes. People are getting their pacing down and once again many got much farther along than the last time. Skippies and kneelifts in the grass rounded out the day.

####
Go out hard, when it hurts speed up...

Matt Carpenter
www.skyrunner.com

Barr Trail Mountain Race
www.runpikespeak.com
---