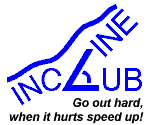 2001 Incline Club V5 TH #14 LR #33
---
Incline Club V5 TH #14 LR #33
Sent: Thursday, July 05, 2001 10:36 AM
Subject: Incline Club V5 TH #14 LR #33
What? The club mail coming out on the same day as one of the club runs!? I wish I could blame it on the 4th of July but even that was a day after this was supposed to go out — sorry!
Just like that two of the Club streak records have been broken! 5 people now have 32 Sundays in a row and 4 people have 45 club runs in a row. 12 are still working on perfect Thursday streaks. Most amazing is that only 2 "R"s have been used among these streakers!
####
Thursday (today), July 5, 5:30 p.m. meet at Soda Springs Park.
Warm-up to Hydro Street. 30 minute tempo run up the Barr Trail. Easy down. 5 X Hydro Street hill. Cool down back to park.
NOTE: Some are working on their downhill technique after the run up. If this is you I recommend only going for a hard 5-10 minute section and not the whole way down.
Sunday, July 8, 7 a.m. meet at the Pikes Peak Hwy Toll Booth.
Carpool to Elk Park. Run over to Barr Camp then up to the top. 2 — 4.5 hours. (Some will still be leaving from Soda Springs Park at 8am)
####
Matt,
I wonder if you could send out a special broadcast to the Incline Club for me. Thanks, text follows:
While backpacking in the South San Juan Wilderness this week, I lost Sam in the South San Juan Wilderness. Many of you know Sam. He's the wolfdog (Malamute/Husky/wolf) that I run with often (leaving early) on the Sunday runs. He's been missing since Monday, July 2nd, last seen near Green Lake, twelve miles from the South Fork Conejos Trailhead, 11 miles up FR250 off Colorado Highway 17, south of Alamosa. I searched for him up until yesterday (covered 40 miles yesterday alone), but have only a report of a lone "howl" from a backpacker on Tuesday night--this would likely be Sam as coyotes don't howl, and there are no wolves in the area).
There is a lot of ground he could cover in the wilderness and I am hoping to get as many people as I can to help me look for him. It is a three and half hour drive to the trailhead, but the bonus is seeing an area of Colorado that is stunning in its beauty and remote wildness. The search will be primarily at 11,500 feet on the Continental Divide. Yesterday even as I searched in frustration I was constantly in thrall with the scenery. I saw so many elk I lost count, deer, and even a bear (friendly black bear). I hope that if we can blanket the area we will locate Sam. There were few backcountry backpackers in this area even over the 4th of July week.
I am leaving tomorrow (Friday) by noon. Please call me if you can help and we can maybe carpool. If you can come for the weekend this will be a great help. Backpack in Saturday, then search Sunday. Running up the twelve mile trail (2,000 foot elevation gain 9,500 to 11,500) to Green Lake took me about two hours from the trailhead, so "car camping" is also an option. There is free primitive camping available by the trailhead or campgrounds nearby for a small fee.
Please call me if you can help,
Steve Bremner
(e-mail address removed for www posting)
(719)333-8742 (W) I will be at work today, Jul 5th
(719)265-5600 (H)
(719)330-7566 (C)
####
Richard B writes:
I didn't check my name off the list today on the star board. Also I logged 1 hour picking up cigarette butts at the summit. There must be a million butts up there. Why anyone would want to smoke at 14,110 feet is beyond me. While picking up butts, one time I stood up so fast I nearly blacked out. Gotta stop thinking I'm at 5,200 feet.
For my second time up to the summit I must say I dramatically improved my time. Not a land speed record by any means but here's my splits:
Elk Canyon trail: 55 minutes
Barr to A-Frame: 1 hour
3 miles to 2 to go: 30 minutes
2 to go to 1 to go: 30 minutes
last mile: 45 minutes.
As an added bonus, no hyper-ventilating this week and the lightning was flashing all around me and the free ride down (sitting in the back of a pickup truck)
Is this living or what?
See you all next week.
####
Fred W writes:
A great day to be on the mountain. First time on Elk Park trail and first time above the Bottomless Pit sign. Awesome scenery!
Crossing the log bridge, about a kilometer from Barr Camp, on the Elk Trail, I tripped and did a tumble — turn (thought I broke my wrist), but the only real casualty was lost sunglasses. I didn't realize they were gone until reaching Barr Camp. They are "wrap arounds," not expensive glasses, but good stick-ons when on your face, and not your hat ! Anyway, should anyone have picked them up ........ ?
I did about an hour of clean-up, mostly in the parking lot, and didn't realize where most of the trash was until Yvonne showed me. With regards to trail improvements: My biggest difficulty was climbing up over some of the boulders, short tired legs? A rock placed at the foot of the largest as stepping stones would have been an enormous help.
####
Jim F writes:
I did an hour of "new" trash pickup. Also, I was present at the Thurs workout, just late. I remember in mid 70's when 2 cars ahead of you at a stoplight was a traffic jam. I live about 2 miles east of the north entrance to the AF Academy. The I was backed up, so I tried 83. It was backed up starting at Interquest. So I backtracked to Shoup Road, went through Black Forest, came down Powers to Platte to cross town to make it to the Thurs session. Cheers. I took several minutes off on Sunday — Barr to top in about 93 minutes.
####
Mat E writes:
Wanted to let you know that I did an hour of work on the trail on Sunday. Dan T. and I picked up one bag of trash and helped haul some trash up that other people had collected. I think you were working on the lower section of the top mile and we did not see you. It is a good feeling to help maintain the trail, thanks for your organization.
####
Valerie P writes:
Just to ensure my "*" and that I get credit for picking up trash on the proper day.... ;-) I ran bottom to top then did trash clean up for ~45 min.
####
Gordon B writes:
To let you know that I worked garbage detail for 1 hour (3 large bags out) Sunday after reaching the summit.
####
Tom K writes:
Just another Sunday on the Peak.
We decided to keep this long workout less than 3 hours this week after our brush with ultrudom last week, so Laura K and I decided to just ride to the top, and do a run down to Barr camp and back. We dropped Kees, (the young) Andy D, and Dan V off at Elk Park on the way up, and reached the top around 7:30 AM where we saw Dave S (again! is he following us around?). We started down on what shaped up to be another beautiful morning on the mountain. It took me around 58 minute to get to Barr (fast for me) which surprised me a little since I had been feeling a little "blah" since the previous morning. I did manage to roll each ankle at least once on the trip down, but by now they are getting used to it, and stopped complaining after a mile or two. I did not feel quite as good on the trip back up on the piece between A-frame and the top as I did last week, and ended up walking more than usual. Still, the round trip took me around 2:35, with 3-5 minutes worth of "breaks" along the way. But I wasn't feeling any better after stopping at the top. But duty called....
After reenergizing (Endurox!), and donning my heavy duty King Sooper purchased $2.95 work gloves, I was ready for action. I started down the trail, kicking a few misplaced rocks off the path, but hoping to find more than just a token trail rearranging effort. I came upon (the young)Andy about 3/4 mile down, and he asked me to assist him in moving a few "pieces of wood" to the trail so they could be hauled up. Well, I'm sure these were in reality just 2" x 4" scrap wood, but in my post-workout semi-hypoxic delirium, they looked more like 8" x 12" x 8' beams. I mumbled something lame about not wanting to hurt a lingering hamstring injury, but dove in anyway (I wanted real trail cleanup "action") to help the young Hercules muscle the scrap wood to the trail. We laid them in a stack next to the trail for later disposal.
Along with the scrap wood, there were numerous metallic artifacts which we collected, some not giving up without a fight, and also laid it by the trail. Andy wandered off to new challenges, and I helped Dan (not V) and Matt (not C) gather a few more metal scraps from the area. At that point, I was ready to head back up to the top, so I gathered an armful of the metal scraps with my heavy duty King Sooper purchased $2.95 work gloves and began the trek back up the mountain to dispose of it. Along the way, I began wondering at the source of all the trash, and about half way back to the top, decided I was carrying about half of a Sherman tank, probably hurled over the side by the Adaman club after one particularly aggressive New Years fireworks display. I had to make 2 stops to rebalance my load, but made it to the disposal truck with little problem. On the way up, I directed other IC'ers down to get some of the remaining debris, hoping the scrap wood would be taken care of by someone else before (the young) Andy D came looking for me to help him haul them to the top. After disposing my load of scrap, I started to head back down, but ran into Kevin? carrying a HUGE plastic bag, bursting at the seams with what I determined must be the remaining half of the Sherman tank I had just hauled up. I helped him the remaining few 10s of meters to the disposal truck. About that time. Laura K returned from her trail duty, and feeling the Call of the Sofa, decided we should save something for future generations of IC trail cleanup crews. So Laura, Kevin?, Matt (Not C), Dan (not V), and Jim F in the "way back" of my (recently cleaned) Pathfinder, headed away back down the mountain. We'll be back!
The volunteer numbers:
I spent about 1 hr 15 minutes working on the trail today. Laura spent about 45 minutes, so give us 2 hours between us. Kevin?, Matt (not C) and Dan (not V) get credit for significant work, but I'm not sure of their times.
Question: What do you get when you add 1 bad marmot and 1 bad gallon of milk?
Answer: Marmot varmit.
####
Paul L writes (while signing up for the club e-mail):
Aloha! I run trails with the Hawaiian Ultra Running Team (HURT) — our famous leader is Akabill. I am preparing for my first 100 miler in January. I will be leaving Hawaii in May, 2003, and I will try my best to get stationed(I'm in the Air Force) in Colorado Springs or a "very close" base. You are all inspirational — keep runnin'...
####
And now, Incline Club boys and girls and every thing, it's once again time for "Ask Doctor Rocket," where each week coinciding with 1,000,000th occurrence of the second quarter phase of the first Galilean moon of Jupiter (Io) we feature a perplexing running related question that requires rocket science to answer. Ask Doctor Rocket (he's got a PhD... in Rocket Science).
Dear Dr. Rocket,
I have a sensitive concern about a recent injury I sustained of a rather delicate male anatomical organ: my Ego. On a recent Thursday workout, my wife of 12 days kicked my butt, finishing well ahead of me at the 30 minute turn around point (1 minute hard x 1 minute easy Barr Trail workout). Up until we were married, I could consistently beat her, in the running sense that is, but she was usually not too far behind me. But ever since we tied the knot on the orange ribbon, I have been hard pressed to keep up with her. I suspect she may have been holding out on me until the deal was done. Is it a foregone conclusion, now that I'm married, that I am destined to spend the rest of my running life either eating her dust, or face the agonizing alternative of plodding along with all of the other old, fat, slow married guys in some obscure 100 miler?
Sincerely yours,
An Old, Fat, Slow Married Guy
Dear Old, Fat, Slow, Married Guy,
Holy moldy milk-barf Batman. First Neal T gets his but kicked in a 100 miler by Teresa T, now this! But you know that old saying, "if you run long enough, eventually you will get old, fat, and slow, if not divorced."
No, it is not a foregone conclusion that, once married, guys get old, fat and slow. It is, however, a foregone conclusion that, once married, guys loose inhibitions about exhibiting certain habits when in the presence of the opposite thing (including women), such as belching, farting, and scratching themselves in obscure, delicate places (including their ego). But this is not relevant to the topic at hand, and is mentioned only in an effort to maintain the literary standards to which the 2.3 readers of this column are accustomed.
Yes, it is possible that your new wifey-poo has been holding out on you, and she could probably have kicked your butt a long time ago. This just shows that she is a patient person, has her priorities in place, and is a lot smarter than you, not to mention younger, slimmer, and faster. I must say though, you are a lucky guy to have such a woman. Most old, fat, slow, married guys would be fretting about their wives racing around to all the shopping malls and running up their credit card bills rather than whining about them racing around the trails and running up Pikes Peak.
Did you consider feeding your new wife lots of Triple Chocolate Cake at your wedding reception? But it's too late for that. So, if making her fat the conventional way is also not an option, my advice to you, married guy, is lose the Ego. TOUGHEN UP, MILK PUFF! You have to just start training harder. If you've laid off for a while, pace yourself as you up your mileage and intensity. Be smart, at least as smart as an old, fat, slow married guy can be. Remember, with age comes the wisdom of experience. You may loose your hair and teeth, but life's lessons learned will allow you to chew through those tough, Ego bruising situations, like my cat chews through my computer cords.
It is possible to come back after you are over the threshold. Just look at John Glenn, the first American Astronaut to orbit the Earth without the aid of mind-altering substances, and esteemed retired Senator of the great pig farming state of Ohio (State Motto: "We're easy to spell, butt don't mind our smell."). At the ripe old age of 77, he returned to space in 1998 on the Space Shuttle Discovery, and was able to make significant contributions to the STS-95 mission through important scientific experiments, foremost of which was testing a new "Depends" space thong for leakage during extended use in Zero-g.
So, just keep moving forward. If you persist, and you too will eventually be pretty fast for an old, fat, slow married guy. Just ask Larry M!
Your truly,
Dr. Rocket
Go out hard, when it hurts blast off!
####
"R" reports:
John M reports:
Pilot Hill Trail Run 25K, Laramie WY
Under 100 runners in this little-known, tough, scenic, race in Laramie, Wyoming. The race starts at 7,165' climbs to 8600' at the top of Pilot Hill, and returns. The course is smooth rock, cracked rock, rough rock, rough cracked rock (starting to pick up a theme here?) large loose rocks, small rocks and mixtures of different types of rocks connected by dirt. The course is a 4-wheel drive (your vehicle, not mine though) road/trail through fields of wildflowers, sagebrush, and a few pine trees. Most of it is runable but 10% is very slow going (walk!) due to the rocks. No "steep" sections but always up.
The course does cross private property at one point. A good idea, the race director added a Thank You card at the finish line to be signed by the runners to be sent to the owners.
There were 5 water/Gatorade stops, evenly spaced. 7:30 AM start was fine in theory but with the sun coming up at 5:20AM, the temperature was HOT by the time the race started. I drank 3 water bottles, one All Sport bottle, and several cups of water at each stop and was still dehydrated. Several small canyons, out of the wind, were brutally hot.
The course is nearly 100% open. This translates to awesome views of the Laramie Valley and NO shade.
I couldn't find anyone who knew for sure what the winning times were. It was not me. I came in at 2:47. Lost 3 minutes over last year's time. Due to the heat, I feel.
RD, Beverly Alexander and her crew do a great job on this race. Nice T-shirt and a finisher medal. Enthusiastic crews at the water stops. The same crew also does an 11 mile Jelm Mtn run on 15 Sep. It's an up and back, starts at 7600', 5.5 miles up to 9656' and back on "unimproved" road. Starts 27 miles SW of Laramie, near Wood's Landing. I have more entry info if it can't be found on the web.
####
Gordon N reports:
Asia's most beautiful run.
This event was the most fun I have ever had at an ultra run. The trip was a package that started on June 17 and finished on June 24 with the race taking place on Wednesday, June 20. This meant that there was plenty of time to get to know the other runners and to see a little of Mongolia and its unique culture. The tour started and finished in Ulaan Baatar, Mongolia's capital city and the race took place along the mountainous shore of Lake Hovsgul near the Siberian border. There were 31 runners entered in the 100K and 19 entered in the 42K. The run is organized to raise funds to help support conservation projects in the seriously under funded Hovsgul National Park with the hope of keeping it in its pristine state.
I expected that the remoteness of this run would attract a fairly hardcore running crowd, but at least half of the runners had never run an ultra before and some had never even completed a marathon. Most approached this race more as an adventure rather than as an athletic competition. While there were few runners who were competitive, there were many who had impressive experience with travel and international living. Americans were the largest contingent but the majority of the American runners were living in Asia or Australia. Swiss, Mongolian, English and Japanese runners were also well represented.
The race consisted of two loops. The first 42K started and finished at the run's base camp. Then those of us who were running 100K went out on a second 58K loop that also finished at the base camp. I spent a fair amount of the time during the first 42K socializing with other runners and taking it easy knowing that I still had a long way to go. The first loop was also where the majority of the courses climb was and the majority of the off trail travel. I finished the 42K in 5:41 with lots of others coming in before and after me. After a quick change of socks and shirt and taking some food I headed back out with a huge cheer from the crowd. It was at the 55K aid station that I found out that there was only one other runner ahead of me in the 100K. The runner ahead of me was a Mongolian who was running to win. At 55K he had more than a 55 minute lead on me and his winning time of 12:24 was an hour and 45 minutes ahead of second place. I was still solidly in second place at the 76K aid station, but then the mid day heat and a long section through a dense muddy forest started to sap my strength. I eventually ended in 14:21 with 4th place out of 15 runners who finished under the 18 hour cutoff. This 100K course offered about the right amount of difficulty and I attribute the low finish rate to the option of dropping out at 42K and being considered a finisher and the fact that many of the runners lacked experience with longer runs. But everyone who started covered at least the first 42K. How may marathons can say that they have a 100% finish rate?
Where most race award ceremonies are held while most runners are still exhausted from their efforts, this race awards ceremony gave everyone 24 hours to recover. Also all of the Mongolians who had worked aid stations and monitored the course were invited to join the party and Mongolians do know how to party. The first place male in the 100K and the first place male and female in the 42K were all Mongolians who I shared a table with at the awards ceremony. It appears that the Mongolian winning formula is eating huge chunks of baked Mutton chased down with plenty of straight vodka. Who was I to argue with a winning formula? I do not expect that I will ever attend a wilder awards ceremony.
The course is even more beautiful and varied than any Rocky Mountain courses that I am aware of. Due to the feedback from runners that have participated in this race, the organizers say that they are changing the label on next years race from "Asia's most remote Ultra" to "Asia's most beautiful run." Aid stations are well stocked and at reasonable intervals. Safety is at the forefront with plenty of medical staff throughout the course. Running this race is not cheap, mostly because of the airfare to Asia, but it is a race I will definitely consider doing again. If anyone thinks that they might be interested in a race like this in the future please grab me at one of the training runs and I can tell you much more about this unique experience.
####
Steve B reports:
Laila and I ran the Aspen Sky Marathon last Sunday. We started up the road towards Montezuma Mine for the 1.25 mile turnaround in good spirits. As the course started climbing in earnest I glanced at my watch and noted 10 minutes elapsed. Even at 9,000 feet I think I can run eight minute miles on the gradual slope we had so far covered. As the time increased to fifteen minutes I suspected something was amiss. At 15:45 Dan Vega and three others were on the return--I knew they were no more than 30 seconds ahead of me... Andy came next, and I knew he was only just a few steps ahead of me... I thought he was quitting... I kept going to 17:30 on my watch before I turned around. Others went much further... In short there was no one there to turn us around!
Well, might as well keep going. We all paid our entry fees... Later Dave Mackey was catching up to me (he had been with the leaders, but kept going when they turned around) and I looked back to see him heading into the woods. I yelled "that's not the course Dave." He said that the red flags were leading back there, so about four of us backtracked to follow. We both knew the course and knew this didn't make sense, but they were definitely the red flags that marked the course... After a couple hundred yards the trail disappeared though and we all retreated back to the road... Later when Dave finished the course he refused to go through the finish chute in disgust. I finished in 3:03, estimating that I had run better than 19 miles on this 16.8 mile course... Still I won the master's. But I don't think I'm going to run this race again.
Laila ran way up the Montezuma Mine road even though I told her when I passed her there was no one to turn us around... She finished in 3:47.
Andy did great--finishing 4th and "in the money." Dan Vega won.
####
John G reports:
Sunday, June 24, 2001
US Fila SkyMarathon in Aspen
First race report, first SkyMarathon, far from first finisher ... I actually finished 24th with a time of 3:36:01. I think there were only 56 competitors but even so, my goal of finishing in the top half was met.
The course was about 19 miles in length and aside from the first 5 miles and the last 5 miles it was great. The middle 9 miles went from a moderately steep jeep road to quite steep scree and small talus to a nice ridge line up to near the summit of Taylor Peak. We then retraced our steps back down the ridge and headed off across high alpine tundra. There were a couple quite steep sections here but for the most part it was a gradual descent and really fun to run.
The first few miles of the race were added on so that the course would meet the minimum SkyMarathon requirement of 17 miles. It was supposed to be 1.25 miles up a rather undistinguished jeep road and then back to the start where the "real" race would begin. Problem was, there was nothing to indicate when to turn around. As I was still running up toward the "turnaround" I remember seeing Jonathan C running in my direction and with no one in sight behind him. Either he had a huge lead or .... turns out Jonathan turned around about where was intended. Most of the other runners, including myself, ran a mile or so beyond the intended turnaround. Hence, 19 miles for a 17 mile race.
The last 5 miles were downhill jeep road similar to Rampart Range but a little steeper and rockier. I was glad to be through it.
This was all in all a good race that I would run again ... and a finishing time that was helped immensely by the quality of the Incline Club workouts.
####
Jonathan C reports:
As one of my goal races for the year, I was looking forward to see if the training was making any improvements. Unfortunately, I wasn't able to find this out. I started the race. After running a mile and a half out I realized that the chest congestion and sore throat that I'd be wrestling with was not going to let me run hard. I just couldn't breath on the up hills. So, rather than make myself sicker and ruin my training for a week, I opted to drop out.
The turnaround for the out and back portion of the race was not marked. So, people turned around whenever they realized that they probably had gone too far. I actually ran a little too far myself, but I was about five minutes ahead of the leaders in returning from the out and back. So, the results ended up being skewed with some going way longer than others. Some went a 1 mile to far while others went a 2-3 miles too far. It was said by race personnel that everyone had a map, but I didn't see anyone carrying one.
Still it was a nice day. Andy D ran a great race coming in fourth.
####
Glenn G reports (and sets a new record of 267 words per mile!!!):
The Vail Hill Climb
Prelude:
Left Littleton at 5:30 A.M. The race started at 8:30 A.M. Third time I have run this race. The race starts in the town of Vail, which I believe is about 7,500 feet in elevation. It climbs according to the race description 2,200 feet to the top of Vail Mountain. It covers 7.5 miles.
The Race:
The weather was beautiful for a day in the park, but a little on the warm side for a race. I would estimate at 70 to 75 degrees and climbing. I have ran this race three times before and the weather has always been fourth of July weather, or as they say, hotter than a firecracker on the fourth of July. I overheard another runner making the same comment before the race, that for the last four race he had run, the weather was always clear and sunny. No difference today. I always look forward to going back to Vail and the Avon area. It does have a special effect, especially in the summer for me. Maybe it is that it is close to a holiday, I get to run a race, and the setting is in beautiful Colorado. It is also easy to understand why Cortez named the territory (which later became our state), "color rado," in Spanish, translated into English for you gringos, "color red."
There are always tons of tourists in Vail, in the summer, in fact I think sometimes there are more people that are not from Colorado when I go up to Vail. It is neat to think that this is our state when they are doling out all of the kudos. It also always adds an air of excitement for me, because everyone is always in a festive mood, being on vacation and all, and they also always seemed very impressed and encouraging to the runners that they encounter before and after the race. They make comments like, "what kind of race is this" and "oh you mean you actually run up these mountains?" You have to admit, you could say just about anything and I do believe they would believe you and it does make you feel kind of "stud-ly," at least until the start of the race when the pain begins. But then you can kind of fantasize with the thought while you are doing the race. Anyway where was I?
I arrived early as I had changed my mind about running this race in the middle of the week, opting to do the Peak on Sunday. However at the last minute on Saturday, I reconsidered and decided to keep my original commitment, and to try to do the Peak on Tuesday or Wednesday of this coming week. I always seem to confuse the start of the various races (Vail does a whole series in the summer, and you can find out more about the remaining race by logging in to the web site, <www.vailrec.com>). So I asked a couple of ladies who were walking the same direction I started out from the Lionshead parking lot, who were in running attire (thinking they were entered for the race). They said, "Which race?" To which I replied, "The Hill Climb. Are you not going to run?" "Oh no, we cannot run up any mountain around here we are lucky to be able to walk at this altitude," they answered. See what I mean. Already I was having fantasies of winning this race in their minds and mine.
Anyway, from their last remark and the accent I surmised that they were from the flatlands somewhere back east.
The starting registration was well organized as is usual for Vail Recreation, who sponsors the series. However there were no port-a potties, instead you had to climb the stairs to the visitor center, where the men's room had two stalls and a line out the door. Somehow I felt for the first time in my life what it would feel like being a women in line at a Bronco game back before the restrooms in the old Mile High Stadium had been upgraded for women, several moons ago.
Mike Ortez was still the race director. I recognized one other ICer right before the race started (have not met him, but I think his name is Brad). Since the start was about to begin I did not want to interrupt the race director's last words to the runners. If Matt C. had been there it would have been important, because the beginning of the course had changed from those of you who have run the course before. Fortunately, Mike seemed to know and recognize the elite runners and humorously gave the change of course directions directly to Jeremy W., whom he assumed correctly, would lead from start to finish.
This year the start consisted of a countdown, which I liked because it made the starting of your own watch easier.
Soon enough we were off. And quickly the temperature began to rise. I would estimate at the start the temperature had risen to 80 degrees. I knew I was going to have to hydrate early and often.
My last and best time for this race was in 1996, 1:15.02. I came in 128 overall and 39th in my age bracket then.
I had calculated my splits the night before based upon the 1996 results which I thought would be a good and fair goal for myself (after all I am five years older than I was in 1996).
Well 75 minutes divided by a 7.5 mile race is ten minute splits so I didn't need to write this on my hand. I had already asked where the mile markers were before the start and was told at the two, four and six mile markers.
At the two mile marker I was at 15 minutes, five minutes below my split time of ten minutes (using my prior 1996 time as my base). Well it was still early, too early to tell if this was going to be a meaningful day for me, but I liked the start of my time at the first split. (But the fist mile in town is pretty flat). I took a cup of water at the first aid station at mile two and felt very good at this point.
Then at the four-mile mark my split time was 38 minutes. Two minutes below my calculated split time of forty minutes (calculated using my 1996 prior time as my base). I was starting to feel a little warm and this time at the four-mile aid station I took two cups of water. I did not stop, but drank them as I merely slowed down. I felt a little more of the hill effects on the legs, but no major pain.
This is about where the switchbacks get real steep, for those of you who have also run this race before will also recall. There is especially one major long climb (about a quarter of a mile). At this point the Hydro Hill repeats and the Highway 24 bypass (or what I try to do to mirror these up in Littleton) helped me a lot compared to the 1996 race.
Between the four and the six-mile marker, I somehow managed to pass four pony tails. Two of them I recognized from the Turquoise Lake race, from June 2. They had beaten me in that race and obviously were younger than yours truly. I really didn't expect to be able to hold them off until the end. But then something happened. I knew what they were thinking. The same thing as the last race at Turquoise Lake. I had passed them before on an uphill. The next uphill they challenged me and I could hear several distinct moans and second wind gasps. I knew they were going to try to re-take me on this or the next uphill. With each challenge I thought of Matt C's words to us ICers, "go out hard and when it hurts speed up." Try it I said to myself. I know they are hurting just based upon what I can hear from them. I knew they were in a pain (so was I). But this time I kept saying to myself, "when it hurts, speed up.." Three of the four soon began to drop further and further back. Soon I could not even hear them. The fourth continued to press me. She was right on my shoulder and I knew she wanted like crazy to break me on a hill (she must of remembered that is where she had re-taken me at Turquoise Lake). I kept saying, "when it hurts speed up." Soon the pain was less. I mean it wasn't getting worse, it actually felt better for the "knowledge" of those words sinking into my psyche, "when it hurts speed up." I could hear the last pony tail literally talking to herself, "Oh G-d," and more groans and moans. I knew she was in pain. I just spit and actually was starting to feel a reprieve in my legs. Then suddenly I could see another quarter of a mile level section. Okay I said to myself. She couldn't take me on the hill, now I am going to break her on this flat section for sure. I am going to let her feel the stride of someone who can stretch it out on down hills and flats.
By the time we reached the six-mile mark and I grab a cup of water and merely slowed down. She came to a complete stop. I knew that she had had enough already. Soon her steps were no longer audible. Also interesting thing was that this aid station was manned entirely by children, who always give a lift to my spirits. It was so interesting to hear kids yelling their cheers, "you are almost there."
At the finish I clocked 1:11.59. Three minutes faster than my 1996 time of 1:15.02. My place 89 overall was better by 39 runners (I heard there were about five hundred total runners, so this put me in the top 20 percent, this was disappointing for me) and 21st for my age bracket (compared to 39th in 1996, an improvement of 18 runners). All being five years older now than in 1996.
I was a little surprised when the last ponytail came up to me to thank me for pushing her.
Summary:
The winner for the men was Jeremy W. in 50 minutes, something. Well off Matt C.'s record I believe of forty-some minutes (Matt C. can fill in here.). The winner for the women was a lady from Aurora and second woman was a lady from Boulder, Laura H., I believe.
Overall I dramatically increased my "time" and "age bracket" finish compared to 1996, when I was five years younger.
Fair is fair, I must attribute and credit the Incline Club Sunday workouts that I have attended, Matt C.'s coaching, tips and encouragement throughout the winter and for the last five Sundays, and finally the altitude training on the Peak for the last five Sundays. My hat goes off to the Club and Matt C. for all of your help and advice (Rick, Jonathon, Scott, Steve and Kees have all given me tips and advice as well). Thanks to you all.
Met another Littleton runner who is also a CPA on the trail on Friday before the race and he saw my Incline Club shirt and he already knew and had heard a lot about the club. I then saw him at the race as well. I extended an invite for him to come down to Manitou. His name is John S. He is running the Ascent this year. He has done no high altitude training and I encouraged him to join us for some of that before the race in August. Hopefully we see him.
I guess I can now swear by the results of Incline Club training.
####
Mike F sorta reports:
Indeed I did run the Vail Hill Climb. Time was 1:16:50, three minutes or so behind Bob McA. Don't know how far back I finished in age brkt. Pacing was good. Finished with a little surge at the end, but not much left. Still looking for some speed. Maybe at BTMR. Definitely ran better than at Leadville. Headed in the right direction. P.S. Wore IC shirt. received some favorable comments.
####
www posts:
7/1/2001 47 were all over Pikes Peak again with Elk Park being the main route. There were only 7 steps in snow the whole way and that was mostly gone by the time we finished working on the trail. 18 of us worked our way over our mile doing rock removal and covered 3/4ths of it. As usual a bunch more of old garbage was hauled off! It is looking really good — especially for this early in the year — proof that last year's work paid off.
6/28/2001 52 did 30 minutes of 1 minute hard, 1 minute easy up the Barr Trail. Several then worked on some downhill speed before doing 5 X the Hydro Street hill. This was one of the warmer days we have had but that did not stop some from blowing away their PRs. Four people tied the club record today for the number of club runs in a row — 44!
####
Go out hard, when it hurts speed up...
Matt Carpenter
www.skyrunner.com
Barr Trail Mountain Race
www.runpikespeak.com
---