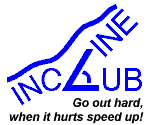 2001 Incline Club V5 TH #15 & #16 LR #34 & #35
---
Incline Club V5 TH #15 & #16 LR #34 & #35
Sent: Thursday, July 19, 2001 3:39 PM
Subject: Incline Club V5 TH 15&16 LR 34&35
Howdy ICers,
Where to start? I am sorry for not getting last week's club mail out and for getting this week's out late. Things are getting back to normal and I look forward to seeing you later today or Sunday for Elk Park:-) Also I have kept all your e-mails (lots of "R" reports) so next week's IC mail should be a big one with both the Summer Round Up and BTMR wrap-ups! While no "R" reports are needed for the BTMR (but they might be fun to read) there are still some "R" reports out for the Round Up. Valerie P was nice enough to help me look for names from the BTMR and together we found 86 who either ran or volunteered. While I realize I am the one that fell behind and therefore am in no position to ask for favors I would simply ask that you check both workout "*" boards and the volunteer board for your Sunday trail-work volunteer hours. I think all 3 boards are now up to date.
Lastly it looks like the AOL problem (AOLers did not get the mail) came up again two weeks ago so I have further divided the list — hope that helps!
####
Thursday, July 19, 5:30 p.m. meet at Soda Springs Park.
Warm-up to Hydro Street. If you raced the BTMR just do 15 minutes of 1 minute hard, 1 minute easy up the Barr Trail. Otherwise do 30mins of the same. Easy down. 5 X Hydro Street hill. Cool down back to park.
Sunday, July 22, 7 a.m. meet at the Pikes Peak Hwy Toll Booth.
Carpool to Elk Park. Run over to Barr Camp then up to the top. 2 — 4.5 hours. Some of us are going to do a GPS recon run to see how the truck in the bottomless pit is doing:-)
####
Kim G writes:
Jonathan Karl Geiger was born July 16th, 4:34pm. He weighted 8lb 9oz and was 21 inches long. It was a easy delivery (if it's fair for me to say that!) with less than an hour of labor and Mom & baby are doing great. They spent the night at the hospital and will be coming home late this afternoon.
####
Keith G writes:
Could you send this out as part of the weekly incline club email report?
Rick H. and myself have been doing some evening bike rides on the Santa Fe trail. We start at the "park and ride" across from Tiffany Square just off the Woodmen Exit on I-25. We plan on doing these rides every Monday evening starting at 8:00pm. We typically ride for an hour out then turn around. Sometimes, we ride all the way up to Palmer Lake. Everyone from the Incline Club is invited to join us, just get to the parking lot a little before 8:00pm.
Brett P. (who does not have a bike), rode on my handle bars one night. He wore his best Sunday dress and his ruby red slippers. It was quite as sight as we rode along in the moon-light. So, don't miss out... if you want some crosstraining, (or cross-dressing in Brett's case), come on out and ride with us on Monday nights.
####
Adam F writes:
I'd appreciate it if you could send out word on the Oh My God race on July 21. It's 8mi from Idaho Springs to Central City, with an 1,800' climb in about 5.75mi. You forwarded a good review of last year's race from someone from your group. I'll have some flyers (yes it's dead trees) with me on Sunday. See you then.
www.rmrr.org
www.active.com/event_detail.cfm?event_id=957381
Also, do you know any fast runners (like Paul DeWitt) who would like a pacer at Leadville? I'd like to run with someone up front for a change. Glen isn't racing this year.
Are there any other LT100'ers in your group that need pacers. I have gotten a lot of interest in pacing from my Thursday night group. I'd like to hook them up with through some sort of connection before I just choose someone randomly from the list.
####
Go out hard, when it hurts speed up...
Matt Carpenter
www.skyrunner.com
Barr Trail Mountain Race
www.runpikespeak.com
---