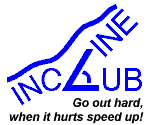 2001 Incline Club V5 3rd set of stories
---
Incline Club V5 3rd set of stories
Sent: Monday, August 27, 2001 8:37 AM
Subject: Incline Club V5 — 3rd set of stories
Hello again,
Below are 7 more Pikes Peak stories and 2 more Leadville reports. After a story is received that person (if they have run with the IC this year) is given an "A" Ascent, "M" Marathon, "D" Double, "L" Leadville or new a "P" for Pacer at Leadville. Quite a few ICers help other runners at Leadville and it is a trail run after all! If you have not turned in a "things done right/things done wrong" report please do so so that I can get caught up on the A,M,D,L,Ps. If you don't want to do a report that is fine but please send me a quick mail telling me you did one those things so you are counted. If you turned in a report and I did not get it I am very sorry. However as many of you know I had some major e-mail bouncing problems last week! Also, if you did not get the first mail with 22 reports or the second with 10 please let me know!
Thanks to all of you who came to the IC party:-) At least 79 showed for an IC party record by over 25 and I think there were about 10 spouses and kids that did not even get counted. If you have a second please look over the Thursday board and see if you can come up with a missed name! 44 club award winners and 2 milk challenges — need we say more?
YES! It seems that I am asking for quite a bit of help above but frankly the club is getting rather large and it is next to impossible to keep track of things without your help. So please take a few moments and look on the club page www.skyrunner.com/incline.htm and see if your info is up to date.
Lastly, for you stats hounds, I have gotten Pikes Peak Central's stats pages up to date. Doublers (3 ICers were in the top 5 of the doublers!!!), marathon results with descent times, a *new* streakers page (quite a few ICers have 15 or more races) a *new* news archive page with newspaper stories going back to '97, state records (12 new ones set this year), age-group records (none set this year but I also track single year age-group records which also had 12 set this year). All that and more is linked to off
of www.skyrunner.com/peak.htm ENJOY:-) When it looks like I have most of the race reports I will also add those to the page as well!
####
If you have not submitted your story please send it in:
(Do not change the format) Name:
Goal:
Result:
General Summary:
Things Done Right:
Things Done Wrong:
Comments on Calculator if Used:
Any Other Stuff
####
Go here for all 55 2001 Pikes Peak Ascent and Marathon "Things done right, things done wrong" stories!!!
####
MORE LEADVILLE REPORTS:
Name: David Wick
Goal: 1st Finish(then maybe look for under 25), try to run a steady pace through out the race or pace myself better (I tend to go out too fast) Result: FINISHED in 28:12:04
General Summary: My first and fore most goal was to finish and anything below that would be bonus. I didn't come with a crew, just my pacer but Carol S offered her crew for me, plus I had met some Texans that I knew from Arkansas Travelers and Rocky Raccoon who also helped me at Winfield and Twin Lakes. I met people at the hostel who gave my pacer a ride out to Twin Lakes. That was great!! I was quite nervous leading up to and during the first couple of miles of the race. I only knew that there were a lot of experienced runners in the club that I can't even keep up with in the Sunday run that had DNF'd Leadville. I didn't have the experience nor the mileage they had and spent most of June in Korea with out any training. I tried to getting my training in 5 weeks, (2 of those I had a slight injury to my calf). I wasn't till I'd gotten to Leadville that I realized that I was going to have some problems with one pair of my shoes. The shoes that I had run my previous two ultras in suddenly felt too small (11.5) and just prior to coming up I bought a size 12. I had decided to save the size 12 for the return from Twin Lakes. I decided to try something that someone had mentioned to me, I cut a slice in the toe box of each shoe hoping that would save my toes on the down hills. Later on that day I joined Neal T, John and Steve and their spouses for a pasta dinner. Good pasta dinner and desert :) , Thanks Genie and Suzie for the invitation!! Time for bed, the last time I saw the clock was 2345 hrs(1145pm) and 0200 people started waking up but I wanted to rest as long as I could. I crawled out of the bunk at 0240 hrs. Not getting the rest made me even more nervous at the start, nothing I can do now, except try my best. I ran the race and felt very good till I was on the return trip and I got caught on top of Hope Pass in a hail storm without my poncho. I started with one but somewhere along the line when I pulled something out of my bag it came out too. Spent 40 min in a tent with my pacer and a Hope Pass person trying to get me warm so I could stop shivering uncontrollably and continue on down the Pass to Twin Lakes. There is probably more that I could say but that is all I will say for now, good race and room for improvement. All in all I am happy with the results!!! I did my best. Thanks Incline Clubers for your support and motivation, Happy trails!!
Things Done Right: Kept going with a positive attitude.
Things Done Wrong: Not training consistently while traveling, unable to clear my mind to go to sleep, not having the proper size footwear prior to the race
Comments on Calculator if Used: ?
Any Other Stuff
####
Reprinted here with permission from Paul
> From: Paul DeWitt
> Subject: Leadville 100 Mile Race Report
>
> As most of you know, I ran my first 100 mile race this past weekend in
> Leadville, and decided to write up a "race report" before I forgot
> everything. There is no way I could thank my crew and pacers (Judy, Scott,
> Jeff, and Jim) enough; they made my finish possible.
>
> Goal:
> My goal was sub 20Hours. After running most sections of the course in
> training, and looking at past splits for sub 20:00 runners, I came up with
> the splits that I thought I'd need to run in the race. I ended up running
> within a minute or two of the splits all day, with the exception of
> outbound HM --> Twin Lakes, which was 5:00 fast, and inbound Sugarloaf,
> which was 5:00 slow.
>
> Race Weekend:
> We drove to Leadville Thursday afternoon and went straight to the race
> pasta dinner, which was a lot of fun. On Friday, we went to the medical
> check in the morning, and then to the race meeting at noon. I don't know
> about the people who have done the race a ton of times, but for me, the
> speech by race founder Ken Clouber was very inspirational and I was ready
> to run right then! Unfortunately, we had to wait till early the next
> morning.
>
> Race:
> I wasn't really nervous, but I still couldn't sleep at all, so getting up
> at 2:45am to eat was no problem. After eating my normal pre-race meal of 2
> pop tarts, a banana, and 16 oz Gatorade, I jogged 2 blocks to the starting
> line to check in, then went back to wait inside till right before the race
> start. At the starting line, I lined up in the 2nd row next to Steve
> Siguaw, who pointed out a few of the top runners to me. The shotgun went
> off and we were off, running down the 6th street hill. I was surprised out
> how fast many seemed to want to start. Just a ways down the road, we
> passed a party in the front yard of a house playing the Rocky theme. It
> was really cool to see so many of the residents up that early watching and
> cheering us as we got started. I went through the mile right at 7:30 and I
> thought for a second about how much slower that mile would be when I was
> finishing!
>
> We turned onto the "Boulevard" and then it sort of dawned on me that the
> waiting was over and I'd be running or walking for the next 20 or so
> hours. I also realized that I don't like running in the dark! Even though
> I had run this section numerous times, it seemed longer and different than
> during the day, and I felt sort of klutzy trying to find the smoothest
> part of the dirt road and avoiding the rocks. On the short section of dirt
> road after Sugar Loaf'n campground (about mile 5), I noticed the runner up
> ahead slowing down and shuffling in a weird, bow-legged manner. As I kept
> running, I realized that he was peeing while still making forward
> progress! I ended up trying this myself several times throughout the race.
>
> On the Turquoise Lake single track trail (miles 6 — 13.5), I had to really
> concentrate on eating and drinking because it took my eyes (and thus, LED
> headlamp) off the trail. I still managed to drink one bottle before the
> first parking lot we ran across, so I stopped and refilled from the
> spigot. A little later, the short run across Tabor boat ramp was great and
> reminded me of the Tour de France where you see the riders going through a
> tunnel of spectators. A few times, I took a quick glance behind me to see
> the long trail of lights bouncing around the lake. Looking across the
> lake, I could see a similar trail of lights from the crew cars heading to
> MayQueen. At MayQueen (13.5 miles, 1:57), I left my headlamp, got a quick
> gulp of water, replenished the GUs in my fanny pack, and headed out with 2
> bottles of Gatorade for the next leg. I also took one or two salt pills at
> each aid station.
>
> I felt really great on the ascent up SugarLoaf, as it is the grade that I
> seem to feel the most comfortable. I'd estimate it is about 5% most of the
> way, and I passed 4 people on this leg. I felt an equal level of
> discomfort coming down the other side of Sugarloaf, due to the steeper
> grade, but got down with no problems and ran into the Fish Hatchery
> feeling very good (23.5 miles, 3:37). It was warming up so I shed my long
> sleeve and put on a hat and sunscreen.
>
> On the road section, I tried to run on the shoulder to eliminate some of
> the pounding, but I'm not sure if it was worth the effort. This section
> seemed much longer than other sections because you can see tree line the
> whole time. On most of the course, you can't see that far up the trail,
> which allows you to just enjoy where ever you're currently running. Just
> before tree line, I pass another runner. I make a quick stop at the crew
> vehicle to put on my camelback for the next leg. I had decided to use
> different fluid systems for different legs, just to break up the monotony
> and make it easier for the crew to have things ready (it takes longer to
> fill the camelback bladder than to just take it off and leave with
> something else, for example). I ended up using a single bottle holder
> fanny pack, hand helds, and the camelback on different legs. I passed one
> more runner before the HalfMoon aid station (30.5 miles, 4:39).
>
> Soon after leaving the HM aid station, I had a moment of terror when the
> course continued past where I had turned in training! I couldn't see the
> next runner ahead, and my mind started to fear the worse (that somebody
> had sabotaged the course markings and I'm going the wrong way). Basically,
> I thought the course went through the Mt. Elbert parking lot and up to the
> CO trail, but it really keeps going up the Half Moon road a little
> further, and then joins the CO trail. This is a great part of the race,
> because it is a real nice, scenic section. There is also a hill that you
> have to walk at the beginning, which is nice since I'd run about 99% of
> the course up to this point (the only lengthy walking prior to this was
> the steep hill at the dam, back at mile 6). On the downhill into Twin
> Lakes, the 2 guys I passed on the Half Moon road pass me back. I always
> hate getting passed on downhills, but am getting used to it. I came into
> the TL aid station for my first weigh-in, and I was a pound up (39.5
> miles, 6:12). My crew was set up in the parking lot that you run through
> before the swamp/meadow, and I took a more lengthy stop here. Here and at
> each of the remaining crew stops, they would wipe me down with a wet towel
> which really seemed to make me feel refreshed.
>
> We had found out the day before that a crew member could go cross the
> river and wait with dry shoes, so I took this option. It was great to have
> dry shoes for the climb up Hope Pass. I should mention that I wore NB 829s
> (light road shoes) for the first 40 and last 40 miles, but switched to
> NB804 trail shoes for this portion, mainly because I didn't want to risk
> any stubbed toes or stone bruises on the 2 Hope Pass descents. The hike up
> Hope Pass went by really fast, and I actually enjoyed the walking. I was
> actually thankful the race was so long that walking is the only sensible
> option, because I'd hate to have to run up that one! The descent down the
> other side was my least favorite part of the race, as it is just so steep.
> The bottom of my feet were burning from the friction, and I started
> worrying about blisters for the first time. I passed Chad Ricklefs going
> the other way right at the bottom of the trail, and after doing a little
> math, realized he was almost about 50 minutes ahead and had probably
> broken the record to Winfield. The section into Winfield allowed me to see
> the runners ahead of me for the first time. I was in 7th place at this
> point (50 miles, 8:53).
>
> I picked up my first pacer here (Jim Adcox) and as we proceeded back the
> way I'd come, we got to see the rest of the runners making their way to
> Winfield. I had envisioned full speed collisions on this part of the
> course, but the exact opposite was the case, as everyone took great care
> to ease by me on their way down. I was able to greet many runners I knew
> on this portion of the course too. As on the other side, it was steep, but
> it really went by pretty quickly, probably due to the effort and the
> concentration required. At the bottom of the hill, the river felt great
> and I was certainly tempted to linger, but quickly got through and on to
> Twin Lakes (60.5 miles, 11:36).
>
> I switched pacers here (Jeff Prata). The pacers would continue to switch
> with each other at each crew access point the rest of the race and serve
> as crew while not pacing, along with Judy and Scott Gorthy. I couldn't
> have finished this race without them. Really. This section of the trail
> went great, even though we had a lot of climbing to do, and we passed a
> runner I didn't recognize as one of the people ahead of me, so I asked him
> if he was in the race. It turned out he was a pacer who had been dropped
> by one of the leaders. Later in this leg, we passed Paul South, who had
> gone out very fast but was now struggling. Before I knew it, we had
> arrived at Half Moon (69.5 miles, 13:35).
>
> We then continued to Tree Line, catching up to and passing Dennis
> Poolheco, who seemed to be sick but still ran strong to the finish. This
> put me in 5th place. At Tree Line, we met the crew again and switched
> pacers for the next short leg to Fish Hatchery. Just as on the outbound
> portion of the race, this road leg seemed to last longer than the actual
> distance of just 4 miles, and I started getting some kind of cramp near
> the outside of my knee. I still was feeling fine otherwise, however. In
> most of my races, I have struggled around 35 miles, but really made an
> effort in this race to eat and drink enough, which obviously helped. I had
> all kinds of food to eat, but ended up sticking mostly to gels, Gatorade,
> and some soup. We arrived at Fish Hatchery in 14:45 (76.5 miles) and took
> a longer break to stretch and massage the leg that was bugging me.
>
> Going up SugarLoaf, I kept hearing motorcycles buzzing around behind us,
> then stopping, then going again. It turned out they were volunteers out
> hanging up glow sticks for the night. The cramping knee was getting worse,
> and we were def. losing time. After being on pace for so long, I could see
> the 20 hour goal slipping away. At the top of the pass, we came upon the
> unofficial aid station, where I promptly sat down and started massaging my
> leg while Jeff refilled our bottles. One of the aid station workers asked
> what was wrong and then said he was a physical therapist. He massaged my
> leg for a few minutes and gave me some flat coke to drink. We headed out
> of the aid station at a slow jog, and I couldn't believe that the cramping
> seemed completely better! My outlook instantly improved and we started
> figuring out how much time we had lost, and if we could still beat 20
> hours. It was starting to get dark, but the descent down
> Sugarloaf/Hagerman's pass road is a fairly smooth road, compared with the
> other, steeper side, so we hustled to make up some time before getting to
> the CO trail. Once on the trail, I recalled the problems I'd had in the
> morning with seeing the rocks. We went much slower down this section, but
> still arrived in MayQueen at 17:11 (86.5 miles), leaving what seemed like
> plenty of time for the final leg. It was raining now, so Jim and I both
> left wearing our rain jackets.
>
> After starting the final leg, I started to feel the distance. My legs
> weren't cramping, but they were just plain tired of moving, and I was
> struggling to remain positive mentally. Between the dark and the tired
> legs, I started thinking about just finishing for the first time,
> regardless of the time. Jim kept telling me to relax and not worry; that
> we were still cruising fast enough to make it, but it just seemed to take
> forever to get to Tabor boat ramp. It had stopped raining now, so Jim put
> both our jackets around his waist, which I'm sure was a pain since he was
> also wearing a fanny pack with 2 bottles. This is what the expression
> "muling" means! Leadville is unique in that they allow pacers to also be
> mules, and I took full advantage of this in the 2nd half of the race. We
> finally got to the dam at about 18:50 and spent the next several minutes
> debating how far it as from there (so we knew what pace we needed to run).
> We decided it was about 6 miles, and then I realized we should be able to
> make it, since the dark wouldn't be much of an issue on this section, and
> there were only 2 short hills left. I'm not sure how far it really is, but
> it worked out fine! Jeff jogged down to meet us on the Blvd (you can have
> as many people as you want run it in with you). Jim and I had earlier
> walked up the hill at the bottom of the Blvd, and now all three of us
> walked up the one on 6th street, but we ran the remainder of this final 6
> miles to be sure to make it under 20:00. When we got to the top of the 6th
> street hill and I could see the finish line, I was finally able to enjoy
> the last little bit, knowing I was done. Before that, I tried not to think
> about the finish, knowing that anything could still happen.
>
> I crossed the line (19:52:32, 4th), hugged Judy, and immediately started
> shivering and shaking uncontrollably. I hadn't felt cold at all while
> running, but it really hit me after stopping. We went into the warm
> medical tent and I became very emotional, realizing I had done what I had
> been thinking about for so long. I'm much more used to setting goals that
> are just out of my reach, and then missing, so this was a great feeling.
> My time makes me the 20th fastest person ever at Leadville, and the 30th
> fastest performance over the 19 years of the race.
>
> Conclusion:
> I think Judy had a great time crewing. She had been stressed about all the
> logistics of crewing, but everything came together fine on race day and
> she enjoyed hanging out with the crews of the other runners who were near
> me throughout the race. I think she is now considering a run at Leadville
> in the future, based on some of her questions to me about the race. That's
> what spending time at this great race will do to you, I guess!
>
> The 2001 LT100 was an incredible experience for me in many ways. I had
> long heard and read about this race, but never really thought I'd do it
> till this year. After completing it, I'm even more in awe of the runners
> who come back year after year to finish 10, 15, even 18 LT100s, because
> they know what they are getting into! I had the advantage of not knowing
> how hard it would be when I signed up. Right now, I don't want to even
> think about doing it again, but I imagine when the aches and pains go
> away, I'll forget the toughest parts, remember the best parts, and send my
> entry in again. I know Judy wants me to do it again, because she's already
> planning what we could have done better during the race!
>
>
> (P.S. — Congrats to all you ChannelPointers who ran the Ascent this
> weekend!) >
####
Gary H writes:
Please include this (I asked a couple of people at the party last night - some are already on a team):
Our team for the Colorado Relay is looking for one more runner! Must be sociable (not too tough for IC members), but you don't need to be fast! The Relay is being held September 14-15th. Please contact Gary Hellenga at (e-mail address removed for www posting).
####
Brett P writes:
ICers,
Congratulations to all of you on your wonderful performances. It was great to see so many of you have your hard work pay off and set PRs and accomplish so many goals.
I know some of you have been wondering why I, Brett P., have stopped showing up for clubs workouts since BTMR. I having been telling people that I'm just frustrated with my lack of improvement(I'm actually getting worse), which is true, but it is only half of the story.
Unfortunately, my already very serious asthma has taken a turn for the worse since May. I have known this was the case for many months, but I was hopeful that it would pass on its own. Since this never happened, I went to the asthma specialist(Dr. Nathan) for the OTC to see what was really going on. The diagnosis was rather grim.
Doctors use a chart based on sex, height, and age to determine where the average sedentary American's lung capacity should be. This number is then benchmarked as 100%. The average Olympic runner's capacity is at 150-160%. The average fit runner is at 130-140%. In May, I was at a manageable 80-85%. Now, however, I'm at 50-60% depending on the day. Needless to say, this has a profound and painful affect on a person's ability to do anything aerobic. At this point, the doctor is very surprised that I am still able to do anything aerobic.
I recently went through a allergy test, a serious of twenty shots and sixty pricks, to determine what it is that is causing this. The results were very disappointing. It seems that I am extremely allergic to over twenty different items all of which, except one, are found outside. The other is cat. So if you or anyone you know is in the search for a new cat, please let Jennie or I know so we can find Shiva a good home.
Right now I'm in the process of trying to get my insurance to approve me for a biweekly series of shots that would last for three to five years so I can build up the antigens necessary to combat the elements that affect me. I'm hopeful that this will be approved and will be helpful in the end.
This has been a very frustrating process, and it has just been easier to step away for a while. Everyone who has been concerned about me, I thank-you very much, and I apologize for not being up front from the beginning. You are a great group of runners and even better people; I optimistically hope to be out again in November with all of you.
####
www posts:
8/23/2001 The IC party record was SMASHED by about 25 people when at least 79 showed and that is not even counting another 10 or so spouses and children who forgot to sign in. 44 club members came to 30 or more workouts for the year thus earning the coveted IC award. The driven award was awarded to those that went the whole year without missing a workout; Brenda C, Mike F and Yvonne C. Also the IC Leadville 100 runners were presented with a special cake to celebrate their great races. All and all it looks like we are going to need to check into a larger facility for next year. However wherever we go needs to have easy outdoor access because two of the younger ICers took on the Milk Challenge. Suffice it to say that the lawn was fertilized!
8/18&19/01 Still compiling (as the "things done right/things done wrong" reports are sent in) but the IC took home 10 more top 10s and 3 more 11th place spots!
####
Go out hard, when it hurts speed up...
Matt Carpenter
www.skyrunner.com
Barr Trail Mountain Race
www.runpikespeak.com
---