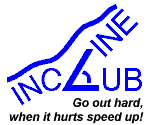 2001 Thanks for your Barr Trail trail work!
---
Thanks for your Barr Trail trail work!
Sent: Tuesday, November 13, 2001 10:22 AM
Subject: Thanks for your Barr Trail trail work!
Hi IC Trail Worker,
I wanted to thank you for the work you did on the Incline Club's adopted top mile of the Barr Trail last season! I think we got a lot accomplished in both clean-up and actual trail work. At the very least we got lots of comments on the new finish/turn around area!
As a special thank you I would like to invite you to the annual Friends of the Peak light buffet supper and awards banquet. Also there will be a slide show by Dr. Steve Jennings titled "Pikes Peak — A Cultural Icon." Finally for those who worked 5 or more hours you will be awarded your Barr Trail Crew Trail Dogs T-shirt:-)
Just The Facts:
Friday, November 16, 2001, 6:30 PM Garden of the Gods Trading Post, 324 Beckers Lane, Manitou Springs Free Food Free Slide Show Free T-Shirt (for those that worked 5 or more hours during the season)
I hope to see you there and if you could let me know if you can make it so we will have enough food! Family members are welcome.
PS To see if I have you down for 5 or more hours check out the club Barr Trail adoption page.
PPS Two or three of you may not know what I am talking about but I could not tell some names by first name/last initial only so when in doubt I just took all the names that matched. Also I think a few of you worked the trail last year but not this year but you are welcome as well:-)
Go out hard, when it hurts speed up...
Matt Carpenter
www.skyrunner.com
Barr Trail Mountain Race
www.runpikespeak.com
---