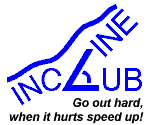 2002 Incline Club V6 LR #2
---
Incline Club V6 LR #2
Sent: Thursday, November 29, 2001 4:09 PM
Subject: Incline Club V6 LR #2
Wow! I don't know about you but the first run of the season has a way of taking the blinders off! I think quite a few of us (including myself) may have spent a little more time on the "off" part of our "off season" than usual. That is what the off season is for however and sometimes that is needed to get rid of some nags and what not so if like me you are feeling a little behind don't worry about it — it comes back quickly:-)
As far as the club goes Sunday was incredible! 62 for the first workout of the year — 17 more than last year:-) It was really neat to see all the oldbies ready for another year. Quite a few said they have already PRd or are very close to it on the Waldo loop while at the same time they felt like they were running easier. Wish we could all be in that boat. It was also neat to see so many newbies! Hang in there — the runs do seem easier after you get the first couple under your belt. Don't become one of those single "*" people that we all like to laugh at as a way to make ourselves feel better as we head up Longs Ranch Road.
For those that may not know the "*" (star) refers to the workout board on the club page at www.skyrunner.com/incline.htm. If you came to the run you should be on the board. Thanks again for coming out and I hope to see you all again Sunday. For those heading down to Pueblo we look forward to some great "R" reports.
####
Sunday, December 2, 8:00 a.m. meet at Soda Springs Park
Run out the Ute Pass Trail and turn left and STAY LEFT and head up Longs Ranch Road which connects back into the Barr Trail at No Name Creek. Run down the Barr Trail back to the park. 2-3 hours. If it would take longer you can go straight at the "J" pipe and cut off some time or just do an out/back.
####
Mike Foster writes:
Great to be out with the group again. Looks like we again dodged the weather bullet.
-I would like to propose an idea to the club that may border on heresy. In the interest of adding some variety to the annual workout menu, I propose adding a C (Cycling) to the workout board for epic cycling events. As I envision it these might include organized Century rides (100+ miles), and races that include 4000+vertical feet of climbing. Such races would include the Iron Horse road race in Durango and the Mount Evans Hill Climb. Both of these races have citizen categories so that USA Cycling licenses are not required. Certainly these events are as demanding as most of the running races allowed and I believe the training effect for mountain running is excellent.
-Don't be afraid to hurt my feelings, go ahead and tell me what you really think ;-)
-Yes, I do have a personal interest. This would allow me to get credit for my annual pilgrimage to Santa Fe in May, and let me dust off the Titanium for another assault on Mt Evans.
(MC adds: OK — our first vote of the season. Send in your "yes" or "no" for a C on the workout board)
####
Gordon Barnett writes (in part):
It was awesome being at the Friends of the Peak Meeting last Friday, seeing the ICers named "top dog" by the Trail Dogs. Gail Allen and her group are truly inspirational — can't wait to work 'our mile' again this summer.
####
Teresa Stephens writes:
....your description of it (UPT) being uphill both ways is quite accurate... but I am a glutton for punishment and will be back!
####
Brian Jones writes:
When will we be able to purchase "INCLINE" T-Shirts? How much will they be?
(MC adds: When Scott Lincoln picks up his shirt from last year — he is the last one! Just kidding:-) Talks are underway with adidas and the Colorado Running Company and we hope to get something together in December.)
####
Margie Stauffer writes:
Another excited runner eagerly anticipating a good year of running with the terrific IC'r's. I will be joining you the second Sunday due to being in Calif. thru the end of November with two of my sons. I've been running each day with this mantra "I'm training to train with the Incline Club.......I'm training to train.........!!!!!!! I'm in the beautiful Sierras ~ but it's not the 'Rockies'. I KNOW I'll get stronger running with your dedicated club. Am so looking forward to my first Sunday in December. Thanks for giving me something to really reach for. Right now the club is an 'End in Itself'.
####
Richard Buell writes:
I too am looking forward to the start of a new season with new goals. My off season brought the arrival of our third daughter, Hannah.
####
Paul Sullivan writes:
QUOTE/UNQUOTE "Only the mediocre are always at their best." — Jean Giraudoux
####
Sue Lloyd writes:
Thought you would enjoy knowing of another ICer highlight. ICer Mike Lloyd (my brother) and our family friend, Mae Horns have been selected to be Olympic Torch bearers. Our family will be traveling to Omaha on January 9th to watch Mike and Mae carry the torch together on the 10th or 11th, depending on when it gets there. Mae's daughter, Janice Klecker was an Olympic runner and Mae has competed in several ultra events over the years. Last year she was diagnosed with Lou Gehrig's disease and is now confined to a wheelchair. We're all looking forward to Mike and Mae carrying the torch!
####
Fred Wright writes:
What a great first day start to the new season on Sunday. It was nice (but tough!), to visit the old "Ute" again. We did miss a few old faces, although I expect to see most in the near future. Two I know of, Gordon B was in California for T/G., and Lindsay R was in Mass. for T/G, and may also miss this coming Sunday due to a Choral Concert on Sat and Sun., but she will be back! I know I'm a bit of a "chicken- s..... ," when it comes to running down trails, but with the snow fall of Sunday and today, will you still suggest returning down Williams on Sunday next? I'm thinking of the ice on the steep rocky sections! Do we have RRCA member insurance yet? Back at the start of the off-season training, on a run, you mentioned the RRCA and some ideas you had on the future of the club — like sharing the work load? Any progress?
(MC adds: As you can see the Sunday run is now up Longs Ranch Road instead of Rampart/Williams. I agree about the ice but am more concerned about it on the Barr Trail and figure we better save the R/W run like last year in case the Barr Trail gets too icy again. The cost of becoming a "real" club with the RRCA is up around $700 and that would mean club dues. I for one like having a free club. Last year when Rick Pearcy broke his wrist he was nice enough not to sue anyone and for now we will just hope that tradition continues. However, just in case let me remind everyone that these runs are sick and you can get hurt. Now everybody is warned — again;-) As far as the workload goes at this point (if we don't become a "real club) the key thing is just for everyone to help pitch in when they see people's results in races so we can get them mentioned. Also try to "adopt" a newbie and explain to them some of the courses and what not. Finally little things like running on the sidewalk when possible on the way up Ruxton can make a big difference as far as the club's reputation goes. Even stopping to let a car turn off Ruxton means a lot. After we hit the trail a few minutes later we can run a little more brain dead. As the season progresses (or if we do need to form a board and committees and what not) I will be asking for additional help in other areas. For example since we have a subset of real whackos Keith Grimes has agreed to head up the Ultra division of the club. Fittingly they will be called the ICU runners which is where a lot of them end up. I am not sure what he has in mind but watch this space. Keith? Also I am always open to other ideas if you think it is for the good of the club!)
####
Nancy Adams writes:
One of the ways we stay connected to the Peak is through the Incline Club. Glad to see the posts starting back up. Here the nettles and poison oak bushes are abating (just a bit) and it's starting to get green. We actually get rain in the fall and winter unlike the dry, dry summers. We've found some new trails to enjoy near our house so it makes it a bit more fun plus we've been out with some running clubs (namely the Dirt Dogs and the Diablo Runners). We ran an Enviro Sports Race a few weeks ago — Stinson Beach 25K through the Muir Woods near the Dipsea Trail. Quite stunning actually. Jeff got a bit of poison oak, I fell down once on a rather smooth section laced with a tree root. He was 10th OA and I was 3rd woman (1st master!).
####
Steve Sargeant writes:
I couldn't make the first run of the season and now I feel guilty that 62 people are a week ahead of me in training. I did fix up my web page recapping the 2001 PPM. Take a look and if you think it is worthy, you can add it to your list of stories about the race. Those stories helped me so I hope mine helps somebody else. dialup.pcisys.net/~sarge/ppm.html
####
Randy Lindsey writes:
I created a little website with photos from my Fuji race. www.lindseyfam.net/fujisan It also has a few links for those who might be interested in pursuing this in the future.
####
"R" reports:
Gordon Barnett reports (and becomes the first to use the new "any out of state race" rule):
Following is my race report from the "Run to the Farside" 10k race held in Golden Gate Park, San Francisco California. Sunday, November 25. Sorry I missed the start to the new season, awesome turn out. Sounds like we may soon need traffic cops!
Weather: 45 degrees at the start with scattered rain showers, humidity 85%
Distance: 10k
Elevation: 110'
Results: 158 Gordon Barnett Colo Spgs, CO 47 M 40-49 42:52.0 6:54/M
This was the 17th annual Run to the Farside 5k and 10k race held every Thanksgiving weekend to help support the California Academy of Sciences. Entry fee includes 'free' admission into the Academy, $100,000 was raised. This is a pretty cool race, as the long sleeved t-shirt and poster (which all runners) receive is designed by Gary Larson who draws the Farside cartoon. There's also a "best costume" category, so there lots of crazy costumes based on Larson characters. Throw in a number elite runners from the area and it made for a rather eclectic adventure. News reports had the total number of runners for both events at 10,000. It was a cool and wet day, but my IC singlet, shorts and gloves were enough. Note: No other IC shirts spotted in the sea of runners.
Both races started together at 8:30 a.m. on a main road just outside Golden Gate park. At the 'gun' everyone was off, and although it was requested that runners line up according to their pace times this just wasn't the case - resulting in a very slow first 1/2 mile. After clearing the congestion at the start, the field spread out allowing me to set a comfortable pace. The course first ran straight out of the park onto a neighboring city avenue on a slight downhill, at about 1.5 miles the course changed directions, turning up one street then back into the park on a parallel avenue now a slight uphill. Coming back into the park the 5k runners split off left and the 10k turned right up into the hills of Golden Gate Park. This is an amazing park, very green and lush with the scent of cedar everywhere. San Francisco experienced very high winds and rain the day before so there was lots of debris on the asphalt-paved trails. During the race the rolling hills take you past bronze sculptures, a Japanese tea house, and beautiful gardens. Unfortunately I didn't see any split times, and no mile markers (until mile 5). The course had one water station.
I wanted a concentrated effort to run a good pace, felt strong throughout - passing a number of runners in the uphill sections. The final 4 miles are all on trails within the park, with the finish line in front of the Academy of Sciences building. Lots of tents and booths with (good and bad) information and free stuff. A R&B band played in the band shell. Overall I was pretty pleased with my results, this was a PR for me beating my time at the Grand Prix Classic this past summer by over 2 minutes. And from what I could tell on the results page, I was the top finisher — from Colorado =:)
See you Sunday.
---
(These are catch-ups from the off-season — feel free to send in your no matter what the race!)
----
Brad Sutton reports:
Ascent
Goal: 4-5 hours
Result: 4:22
695 45/102 Brad Sutton 50 Colo Spgs CO 4:22:27
General Summary:
After living in Colo Spgs for 25 years, I finally did the Ascent. Something I've always wanted to do. It took my older brother from Ohio to talk me into doing it. I thoroughly enjoyed it and plan to go for it again next year. We were in the 2nd wave. My brother walked most of the ascent and I spent most of the lower part of the course with him. I was frustrated with the walking pace because I knew I could be going faster. I ran ahead in the middle section and waited for him for about 10 minutes at Barr Camp. We started out walking again and my feet were cramping up from the walking pace. I left him at that point and just kept going. When I hit treeline, I felt great and kept pushing. Whenever there was an opportunity to pass I took it and was surprised that I was still able to jog. When I finished, I felt good. I rested a little then went back down to find my brother and finished his race with him.
Things done right:
Started training in Feb. slow and easy since I wasn't anywhere close to having a regular exercise schedule. Used a treadmill to get used to inclines. Eventually worked up to intervals at 15% grade. As spring arrived, I moved outdoors and ran hills. Kept increasing mileage (13 miles by Aug). Starting in June, I went over to Barr Trail every Friday after work and kept increasing distance covered on the trail. My last long training run two weeks before the race took me to treeline. After that I started to taper.
Things done wrong:
No high altitude training...it would have paid off above treeline. Training by myself...I started to get burned out running to Barr Camp every Fri. It would have been good to have a running partner.
Comments on Calculator if used:
I printed the chart which shows splits for different ascent times. I carried it with me and was encouraged to hit the Barr Camp split for a 4 hr ascent time. I feel pretty sure I could have done better than I did.
Any other stuff:
Goal for next year... a sub-4hr ascent. Workout with the Incline Club (Thurs are no problem but I can only make about one Sunday run per month). Stay motivated, work to improve.
----
Steve "now in Korea" Bremner reports:
Guess I should submit a report on the PPM.
General Summary:
I ran the marathon with Laila my wife of at the time one day! We got married on top of Mt Princeton on Saturday--the final mtn I was able to complete in the adventure race, Nolan's 14. This is a race across fourteen 14ers in the Sawatch Range. Princeton was number eleven. Four runners finished this year within the 60-hour cutoff for the first time anyone has completed the course. I was with them through two mountains (I was first on top of Massive and 2nd up Elbert) but when I ran out of water an hour before the summit of Elbert I knew I was in trouble. Then though I tried to hydrate before La Plata I ran out of water AGAIN on the way up that mtn. I was desperate and even resorted to asking return climbers for water--no luck. Once you get depleted there is no chance. I halfheartedly went up Huron but had to retreat to Winfield and just plain rest. Next day was a new sunlit day and I was ready to bag more 14ers so I knocked off the next six in 24 hours, took two hours sleep then went up Princeton for the storybook marriage. What a day!
I had told Laila that if I wasn't injured after Nolans that I would run the marathon with her the following day. My legs felt fine so I had no excuses. I had a great time going up, though Laila had problems in the last three miles. Once we turned around we made good progress though. The last three miles Laila was killing me though. I could barely hang with her as she worked to pass as many women as she could. She wound up 2nd in her age group though she ran half an hour slower than last year.
Things done right:
We ran together for a wonderful honeymoon.
Things done wrong:
I have no complaints.
Any Other Stuff:
I am just happy to have found a companion for life who would be willing to do this race with me on her honeymoon to boot!!
----
Brian Jones reports:
Name: Brian W. Jones Dallas, Texas
Goal: 8:00 Hours
Result: 9:16
General Summary:
Very, Very upset with my time. Trained very hard for one year in Dallas running what I call a steep hill (1/2 mile Uphill and Down). I was well informed as to what to expect (thanks to all the great articles from Matt Carpenter and the Incline Club). The articles were awesome. I thought it was much harder to run downhill. Legs were worn out. I kept twisting my ankles. Looking forward to next years race.
Things Done Right:
Hydrated Well, Well Fueled, Spent 12 hours at the summit 2 days before the race. Watched Matt Carpenter win the Ascent. What an Animal he is!!
Things Done Wrong:
Never seen a mountain before. 11% average Incline (My Ass). Try 24%!! Never ran on a trail. Run 5-6 road marathons per year. Should have ran ALOT of Bleachers. Hard to train for Pikes Peak down in Texas. Carried extra shirt for up at the summit. I did not need it.
Comments on Calculator:
Worked great. Was on track for 4:30 Ascent until I hit A-Frame, then the wheels fell off.
----
Jamie McMillin reports:
Name: Jamie M
Goal: 4:15 Ascent, < 7 hours roundtrip
Result: 346 17/34 JAMIE L MC MILLIN 57 COLO SPGS CO 4:20:44 7:44:41
General Summary:
Since we moved to the Springs in August of 1999, running the Pikes Peak Marathon has been my primary running goal. It has consumed my life for two plus years. In 2000 I completed my first; this year, my second. Next year? I'm going flat! I swear. Sign me up for the 2002 American Discovery Trail Marathon. Why? While this year, particularly, I had trained to be in the best shape of my life, i.e. life after 16 years of age, the mountain was still much stronger than me. Last year, I OD'd on grapes — threw them all up coming down just past French Creek. This year, I was done in by cold water at A-Frame on the descent. Before that I was on pace for under 7 hours, my goal. After throwing up for the second time, I took a pretty good tumble, and then developed a muscle cramp in my stomach that was so severe that I couldn't run for those last 6, hot, dusty miles from Barr Camp( -1 mile) to home plate. I was able to brag that I finished with an IV in my arm, just like Matt :-). Anyway, I didn't want to send this email until I was over the initial "never do it again" feeling that I had last year and again had this year immediately after receiving my finisher medal. I waited until I was sure. Take it to the bank. No more PPM for this dude.
Things Done Right:
HRM, IC training, pacing. Felt comfortable until started seeing negative images just before I threw up near summit. Things Done Wrong: Drank too much cold water a A-Frame on the way down - the aid station guy was bragging on how cold it was and I bought in — it was wonderful. Didn't sit well at all on weak stomach having been liberated of my gatorade and GU at the Fred Barr sign going up. Comments on Calculator if Used: Used it as a guideline. Works. Heart rate monitor and ignoring other runners were secret to steady ascent, though. Any Other Stuff: I am awed by the strength, both mental and physical, displayed by my fellow IC'ers. Good luck next year. I'll be driving the van again, but none of the other stuff. :-)
####
www post:
11/25/2001 An awesome group of 62 people came out for the first run of the 2002 season. Last year only 45 made the first run so things are starting off great for the year. Ute Pass Trail did a good job at reminding everyone that it is the only trail that is uphill both ways:-( Waldo was in great shape with only 1 tree down. Several took the bail trail and report that it is all clear. Williams Canyon has seen a lot of work and is in way better shape than it has been in a long time. After the run 8 of us headed to the Subway and got a front row seat to ICer Jonathon Cavner getting a ticket for having expired tags.
####
Go out hard, when it hurts speed up...
Matt Carpenter
www.skyrunner.com
Barr Trail Mountain Race
www.runpikespeak.com
---