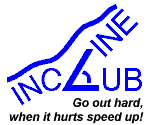 2002 Incline Club V6 LR #4
---
Incline Club V6 LR #4
Sent: Thursday, December 13, 2001 1:31 PM
Subject: Incline Club V6 LR #4
Wow, a record tying 72 runners last Sunday! That was incredible considering that before the run the temperature was less than 20 degrees! However cold it may get one neat thing about this time of year is that the days are about as short as they are going to get. In fact from here on out it will get darker a little later every day. We are still going to lose a couple of minutes in the morning however. To see how many just go here: http://aa.usno.navy.mil/data/docs/RS_OneYear.html.
Thanks again for coming out! The more there are the better the chances of having someone to run with:-)
####
Sunday, December 16, 8:00 a.m. meet at Soda Springs Park
Run out the Ute Pass Trail and turn left and STAY LEFT and head up Longs Ranch Road which connects back into the Barr Trail at No Name Creek. Run down the Barr Trail back to the park. 2-3 hours. If it would take longer you can go straight at the "J" pipe and cut off some time or just do an out/back.
####
Mike Kolesnik writes:
Getting that message about the IC starting up again has intimidated me. Even the beginners will be far ahead of me now :( My only hope now is to abandon California and move to Leadville...
####
Mike Foster writes:
Ok, ok, enough already. If you don't ask..... Perhaps we should discuss Yvonne's "B" (beer drinking) idea tho ;-)
(MC adds: OK, Mike did take a beating on his "C" for cycling request but just to set the record straight he is one of only 4 people who has had a perfect attendance year. He did it last year with 60 club runs in a row!)
####
Teresa Stephens writes:
...but I do like Yvonne C's idea of the "B" for beer drinking...that is one activity I know I can kick butt at, rather than getting my butt kicked by LLR...
####
Larry Miller writes:
I vote yes on the "B" for beer drinking the night before...
####
Dave Sorenson writes:
The Rescue Run is coming up on New Year's Day. Come out and join other runners in Palmer Park and compete in either a 5K or a 10K. The 5K is an out-and-back on paved roads. It's uphill on the way out and downhill on the way back. The 10K is a combination out-and-back and loop course. It's run on paved roads and dirt trails. You'll also get your share of hills in the 10K course. There are some really nice views of the city of Colorado Springs along the 10K course. The t-shirt will be a long-sleeve mock turtleneck, and there will be lots of prize drawings for all those entered and present. You can register at any of the 3 running stores in town, or point your browser to the PPRR web site (www.pprrun.org) to register on-line via active.com.
Volunteers are also needed. Please contact Dave Sorenson at (e-mail address removed for www posting) if you would like to volunteer at the Rescue Run. Volunteers are needed for water stops, course marshals, kids run coordination, registration, packet pickup, an on-course rock band, skydivers, belly dancers, lion trainers, and F-16 pilots to serve as the pace setters (bring your own aircraft). (I may be stretching things a tiny bit on the last few items.) If you are planning to run in the race, but still want to help out, registration and packet pickup works out good for this. That is, you can help with registration and packet pickup and then go chase those F-16 pilots. Thanks!
####
Randy Lindsey writes:
I actually looked over my splits from the first 3 weeks, and found a 30 second improvement each week to the top of Rattlesnake Gulch (the first big hill to the water plant), and I know I didn't feel any worse Sunday. So I guess all this fun stuff has a payoff too.
As Mike, Dan and I climbed through the "No Trespassing" gate Sunday on our way back, someone in a red minivan had just finished locking up. (S)he floored it up the hill leaving us with a spray of rocks, dust and exhaust. We didn't find any bodies so assume they didn't run over anyone ahead of us. You might just watch for "traffic" on that road and don't assume they'll make way for you.
Interestingly, returning past the water plant, Dan and I turned left and went down the easy road, while Mike descended Rattlesnake Gulch to the Incline Depot. We came out onto Ruxton at Miramont Castle within 20 yards of Mike. So I guess either route is about the same in time. Unless Mike cheated by running faster ;-)
####
Glenn Grams writes:
Hey there Steve "I guess I should submit a report on the PPM" Bremner. What a cowboy (like I should talk)!
Anyway it was great hearing from you in the weekly IC report. I for one thoroughly enjoyed your "R" reports last year when I, as a newbie, followed closely all of the weekly reports from IC (got me through the winter until I could manage making the Sun long runs starting in May). I hope you keep writing. I get a lot out of your "R" reports and enjoy your style. Good luck to you and Laila in Korea. Hope to hear some exciting reports from you. Don't lose Sam over there, someone might eat him.
####
Gordon Barnett writes:
This past weekend found me back out in California, I may be there quite often over the next seven months (my wife Carole is working on a project in Santa Rosa until June). In an earlier posting, there was a message from Nancy Adams describing a trail race through the Muir Woods, and mentioned several clubs. Interested, I started some investigation into trail/running clubs in the area.
In Marin County, just north of San Francisco there's a trail group called the Tamalpa Runners (named after a mountain in the area). These guys are a hard-core group that do training runs on hills/mountains and are known to be slightly crazy with many outstanding athletes who hold local, national, and world records... any of this sound familiar =;) This area has an abundance of really cool single track trails, winding upwards from sea level.
There's also a group known as the Diablo Road Runners, in existence since 1978 they are a group of about 200 people ranging widely in age and ability who enjoy running and socializing.
Although they aren't the Incline Club, and it's not the trails on and around the Peak, it's nice to know there's an extended running family out there - when I can't make the IC Sunday runs. I never thought I'd miss Longs Ranch Road! I'm in town for the next several runs, see you Sunday.
####
Chris Benoit writes:
Howdy... I was just hoping to get my own plug on this email. I have only made it to one IC run a couple years ago. I am a Colorado College student who is really psyched on trail running. Yet, I also am psyched on climbing, so my weekends (especially Sundays) are usually held up bashing ice or running up rocks. Nonetheless, I just wanted people of the IC to know that there are people like me out there. I really would love to run with the club and was wondering if there is any way y'all could get a shorter run (because I do my long runs on Mondays) together on the weekdays. If not, ah well, at least know that there are others out there that share the enthusiasm, just not the time.
####
Joy Godbee writes:
Where is the "bail trail"? I think the entire Waldo loop is too long for me.
(MC adds: If you get to the "Y" were the actual Waldo loop starts. Go COUNTER clockwise. About 10 to 15 minutes up the trail there is another little "Y" go right and it heads down to Williams Canyon. This is NOT the apparent "Y" at the top of the hill by a sign but rather you will start down for a little bit and then start back up again before getting to the correct "Y." Once in the Canyon go right and follow the trail. Most of the time it is very easy to follow and crosses the creek many times and goes over a waterfall etc. Just take your time and you will figure it out (you are in a canyon so you can't get lost) then finally it pops out on a dirt road. Go left and down to where it meets the asphalt road which runs into Soda Springs Park. Update: Several of us did it last week and I let a newbie lead it and they had no problem following the trail back to the park. Also Fred Wright is correct in that there are 16 creek bed crossings. However the creek is mostly running under the ground so you will only cross water once:-)
####
Reminder post:
Lynn Hellenga wrote last week:
The Helena's are hosting a Holiday Get together at their house Sunday December 16 form 2pm to 6pm Every one please stop by. Bring a dish (dessert,snack,beverage) to share. Kids, so family and friends welcome. Please e-mail Lynn at (e-mail address removed for www posting) so they can get an idea of how many people are coming.
####
"R" Reports:
Tamara Rogers reports:
RACE: Tucson Marathon
DATE: Sunday, Dec. 9, 2001
ELEVATION: Start — 4700' approx. Finish — 2700' approx.
GOAL: 3:25
TIME: 3:23:20 (PR by 13:34!!)
PLACE: 40th O/A woman (530 total), 14th 35-39 — my NEW age group (109 total), 290th O/A men & women (1600 total)
SPLITS: 10K 0:45:40 1/2Mara. 1:38:51 31K 2:27:50
Tucson is a relatively small marathon — acclaimed for its fast course. Unfortunately, this year we all had to deal with the extremely high winds - with gusts of 20-40 MPH- but I think they were more consistently around 10-15 MPH. It's a point-to-point course so the wind can be a big factor. It was coming from the front but at least it was a cross wind and not a full head on wind — that would have been even more brutal for sure. The course has a pretty significant drop in elevation in the first two miles. I had no idea how fast I was running since I missed the first mile mark and my heart rate monitor for some reason was not reading correctly. I got to the 2 mile mark in 14:09. I was shooting for 7:50 pace so I made a concerted effort to hold back since my failure in the other 3 marathons that I've run has been going out too fast and bonking the last 10K. My heart rate monitor finally kicked in and I just focused on keeping my heart rate in a range that I knew would get me to the finish conservatively. My ultimate goal was to be passing people and finishing strong the last 10K. At the half, I had PR'd my 1/2 marathon time by 2 minutes and still felt great. The course at this point is rolling but still mostly downhill. I made sure that I ate my gels, and alternated between water and Ultima at every aid station (about every 2 miles). I got to 20 miles and still felt strong — a new feeling for me. I was ahead of my goal time by over 5 minutes but I was a little afraid that I might still bonk. The course ends with a pretty significant uphill for .4 mile right before the finish and I wanted to crank it up that hill so I held back a little. I passed 104 people in the last half of the race, 64 of them in the last 7 miles — and better yet — only 2 passed me (usually they're flying past me like I'm going 10 mph on I-25). I was so thrilled — finally a strong finish and in at 3:23:20!
##
Elizabeth Ahola reports:
Event: Honolulu Marathon
Date: 12/9/01
Entrants: 23,513
Starters: 19,415
Finishers: 19,236
Start Time: 5AM with fire works
Timing Device: chip
Course Description:
All pavement with 2 hills (~200 ft. climb in 1/4 — 1/2 mile stretch) with moderate descents. The first hill is around mile 7 and the last is around mile 24.5. Pass by the zoo and smell those elephants. Because the race starts at 5am and sunrise isn't till 6:45am, you miss a lot of the scenery.
Things Done Right:
Flew in the day before the race so that the 5am race with a wake up of 2am felt like a wake up of 5am. Also flying forced me to rest and not walk around. Packed what I was going to eat the day before and the morning of the race so that I didn't have to rely on airplane food and finding restaurants. Took that and all race gear with me as carry-on in case suitcase was lost.
Took the bus to get the race packet and went back to hotel room. Went to bed early. Got lots of fluids.
Drank at all water stations (2-3 miles apart), except towards the end when it seemed they were appearing sooner. Hallucinating or they were every mile or so. Walked through water stops. Maintained running form when tired. Stayed away from the sports drink they were offering and just took in water. Took gels/powder stuff every 45 minutes or so.
Forced myself not to sit down for ~20 minutes after the race and started to replenish food sources. Got a free post-race massage at finish line.
Things Done Wrong:
You've got to love this section. I would say not BARS any more. I packed powder drink stuff, gels, and threw a bar in. Should have stuck to the gels. Trying to eat some of the bar at 23 miles required that I walk a bit more and made it harder to get going again. And then there's this thing about not training and pacing and...
General:
Transportation was offered from the finish line to the starting line the morning of the race. The last bus was to leave at 4am. I got up at 2am (had to with the noise some people were making in the hallways) and grabbed my breakfast and went to the finishing line in the park to catch the bus to the starting line. Once at the starting line it was twiddle your fingers. It started to rain at 4:15am and most people froze. I met a 7K-runner lady in a bush while taking cover from the rain and she had never run more than 7 miles but wanted to run the marathon as bandit. We hooked up. The pre-race material they had in our race packets said that they where going to remove the Starting Line timing chip pads at 5:20am so I suggested we move up a bit to ensure I pass before 5:20am (timing chip attached to shoes) and allow people to pass us. We started at the 2-3hr slot.
Frozen and unable to stretch (packed like sardines), the fireworks went off and the race started. Everyone was more interested at looking at the fireworks than running, but we soon got going.
Before I continue — disclaimer — this was my first marathon and 2nd race (2001 Ascent was 1st). I started running last March 2000 for the Ascent - so I'm a newbie.
For me I ran the 1st half of the race in dark. You had to avoid puddles that you couldn't see and trash bags that people discarded once the rain stopped. Some people tripped and feel. So there were bodies too. The lady I was running with got her feet soaked and made them feel pretty heavy. Me — I couldn't tell.
After posting a ? on the Incline Forum, I set my heart monitor to 75% and was going to take Matt's advice, don't go out fast. Did you notice the WAS. It started beeping from the get go and I ignored it with reasoning that it was the adrenaline. After about an hour, I turned off the beeping.
The first hill around 7 miles was a breeze. It's that attack attitude you get when running around the Peak. I left my running partner at 13 miles while she attended the 'Port-a-Potty'. Because she had a sore foot, I actually think she helped me in not going out faster. We were running 11-minute miles at the beginning.
I was preparing for the crash point (20miles) that I read about in other people's accounts and hit 18 miles feeling good. 20 miles came and felt good. 3 to go and I'm dead. Never during the race did I get winded, it was the lack of muscle/endurance that did me in. My legs REALLY started to get stiff and hurt and I'm thinking I need to start doing squats again.
I broke down and tried eating my energy bar when I just needed 1 more gel. Maybe even some Advil would have been nice. Anyway the bar, it forced me to walk a bit further while trying to chew it. It was hard to get going again. Now I'm picking off runners and concentrating on moving. Don't STOP. 1/2 the way up the 24.5 mile marker hill, I looked at my watch because it was an energy effort to go up it. YIKES new Max HR. by 2 points. So I walked up the rest of that hill. I should of set my HR monitor to capture a new max. The down hill portion was comforting in some odd way. Oh how I wanted to walk to the finish line, but I ran on and on and crossed the LINE.
During the entire race I was realizing that I liked the ups and downs because that is what I'm use to. My legs didn't like the flatlander stuff. Mentally I think running the hills make you tough and I capped that toughness a LOT.
Training program before race:
I signed up for the race 6 weeks before start date and tried to build back a base after taking the late summer/fall off after the Ascent. I did no speed or track work. My long run/walk workouts were averaging 3-3.5 hours and 13 miles or so. I was averaging 30-35 miles a week.
Finish Time:
4 hrs 38 minutes averaging 10.5 minute miles (I believe). Ready for this. My average HR was 158. Taking into account my new Max HR. That would put me at 90% average effort.
##
Gordon Neal reports:
Race report for Rock Canyon Half Marathon, 12/2/2001
26 Gordon Neal 45 6 M 45-49 1:34:18.5 7:12/M
I was pleased with my time considering I have been overtraining since October. I thought it was a nice sized race and a nice course even if it was paved and flat. The weather was pretty ideal for running although I expected it to be colder. I am looking forward to running Waldo this Sunday. Although I have been doing lots of running and racing for the last three months I have done very little on the trails. I'll be joining Keith G's group so I guess I'll be starting early most days but I still expect to see plenty of everyone.
####
Non "R" Reports:
Tom Kelecy reports:
RACE: Sidney Marathon (Running the Blue Line Down Under)
DATE: Sunday, October 28, 2001
ENTRIES: 1500 in the Marathong, 6000 in 10 K
RESULT: You have to read all this to find out
PART I: Preface
I awoke in the middle of the night again, as I had several other times over the past 4 weeks, with that hazy, disorienting sensation of not knowing where I was. In that brief transition from dream-time to real-time, that lost feeling one has when first awaking in an unfamiliar environment gave way to the startling realization that I was at home. It had been nearly a month since Laura and I had departed in late September on our long anticipated 4 week "delayed honeymoon" to Australia, a trip we had been planning since the beginning of the year. Now here it was, the end of October, on our first night back in Colorado Springs, USA, my unsynchronized body clock had my mind racing through a stream of thoughts — like a trailer for adventure travelogue, replaying scenes of tropical rainforest islands, aqua blue water, aboriginal culture, a monolithic red rock protruding inexplicably from the middle of a vast desert plain, a marathon, rolling green hills teeming with sheep, cattle, dead wombats, snow-covered wilderness peaks, endless vineyards, wonderful food, drink and people. [Rewind] A marathon? Did we really run a marathon? It was not on the itinerary. This was supposed to be a self-designated period of rest and relaxation, but if it weren't for the tell-tale sore muscles, our race T-shirts and finisher's medals draped over the dresser, I could have easily attributed the mental marathon artifacts to jet-lag, chronic disassociation and an overwhelming sense of guilt for having not running more than 5-10 miles total since completing the Pike's Peak Marathon way back in August. Not that we weren't well trained for the 42 km event.
TO BE CONTINUED NEXT WEEK...
####
WWW post:
12/9/01 A club record tying 72 came out for what started off as a cold day. However things quickly warmed up for a trip around Waldo Canyon. Williams Canyon also saw quite a few runners today as well. Brian Eldridge made the first significant blood donation of the season and also took home a few small rocks in his knee for souvenirs. About 20 people hung out for an hour or so soaking up the sun after the run. A great day for sure!
####
Fred Wright writes:
This may be of interest to everyone...
From The Baylor Marathon Training Surveillance System:
2002 HYPONATREMIA RESEARCH PROJECT: Request for Volunteers
The Baylor Marathon Training Surveillance System is again conducting a research study on the development, prevention, and treatment of hyponatremia in marathon runners. Hyponatremia occurs when the sodium concentration in your body gets too low. Symptoms include lethargy, fatigue, confusion, vomiting, respiratory distress, and seizures. In severe cases, death may occur. In the past decade, 2 otherwise healthy marathon runners have died of hyponatremia and in Houston we have treated over 40 cases of hyponatremia in the past three years, including several cases that required hospitalization and intensive care.
Phase I of the study revealed that hyponatremia tends to occur in slower runners and particularly when it is warm. It occurs in men and women, but the more serious cases appear to be more common in females. Drinking excessive amounts of dilute fluids continues to surface as main predictor for developing hyponatremia. It is still unclear how much of a role nonsteroidal anti-inflammatories play in the development of this condition.
Phase II of the study will be conducted during the 2002 Houston Marathon. We would like to recruit 125 runners to participate in our "intervention" Project. We are especially interested in those runners who intend to run will finish the marathon in over 4 hours. We will randomly assign runners to one of four groups. Group 1 will hydrate as per their usual custom during the race. Group 2 will be asked to limit intact to no more than 2 cups at every other water station. Group 3 will add 5 oz. Of A specially formulated beverage, containing more sodium than standard replacement beverages, in addition to their usual hydration at four stations. Group 4 will be asked to limit intact to 2 cups at every other water stop and supplement with the high sodium beverage at four stations. Our ultimate goal is to target a definitive solution to this life- threatening problem that is increasing in frequency in marathon runners across the country.
If you are interesting in participating in this important field study, please contact John Cianca's office at (713) 627-3156. Please leave your name, phone number, address, and email address and we will be contacting you soon with more details.
Thank you for your consideration and interest.
Joseph Chorley, M.D., John Cianca, M.D., Jon Divine,M.D., and Tamara Hew, DPM
The Baylor Marathon Training Surveillance System
####
Go out hard, when it hurts speed up...
Matt Carpenter
www.skyrunner.com
Barr Trail Mountain Race
www.runpikespeak.com
---