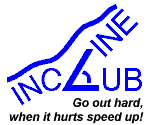 2002 Incline Club V6 LR #5
---
Incline Club V6 LR #5
Sent: Thursday, December 20, 2001 4:24 PM
Subject: Incline Club V6 LR #5
Howdy ICers,
Depending on what website you go to it looks like we could get some real cold weather around here this weekend! Of course that doesn't bother us so I am not sure why I wrote that. At any rate, this will be our 3rd run on Waldo and hopefully it is getting easier or if you are not doing the whole loop you are getting further before you turn around. Remember the best way to go faster is not always to run harder. The UPT is an excellent trail to learn how to pace yourself. Often by going a *little* easier on the first part of the run the whole loop time can end up a *lot* faster.
####
Sunday, December 23, 8:00 a.m. meet at Soda Springs Park
Run out the Ute Pass Trail and turn right and then cross Hwy 24 and do the Waldo Canyon lollipop loop in either direction. Cross back over Hwy 24 (be careful) and return via the Ute Indian Trail. 2-3 hours. If it would take longer do an out/back instead of the whole loop! Also many are finding the bail trail a great option to avoid an out/back.
####
Andy Kovats writes:
A couple things: First, I know several IC'ers who have expressed some interest in picking up cross country skiing as a means of cross training between runs. Over the next couple months myself and a few like minded friends are putting together some Saturday day trips to the Frisco Nordic center for either skating or striding. Rental equipment for skating is $18/day and day passes are $12. If you haven't tried this and want to learn technique, a couple of us can provide plenty of free advice also.
Secondly, at the risk of promoting shameless capitalism, I would like to mention I have a house that will be coming up for sale in Manitou. It is on Pilot Knob, 2BR/2BA, very modern and well situated to all the great trail running. Anyone interested in either of the above can call our home at 685-1958.
(MC adds: Whew, for a second there I thought you were going to ask for an 'X" on the star board for X-country skiing. Now if we are going to be shameless with our capitalistic ventures how about free pizza at a Sunday run if we sell your house?)
####
Matt Carpenter writes:
Despite some rumors to the contrary "The Event," an unofficial race up Pikes Peak in the winter, is still on for January 19th. One item that I have learned since the last post is that each person will be required to carry 1/3 or their body weight!!!
####
Fred Wright writes:
I set out approximately 20 — 25 minutes ahead of the group Sunday, and turned around at ~ 70 minutes (approx. 1 1/2 miles up Longs). I couldn't believe my eyes when some of you appeared on the scene so soon. Great job! Counting as I went back, there was quite a reduction in turnout this week? Christmas/Holidays?
(MC adds: Well actually there was 64 at the start of the run. I guess that means you just discovered how many are turning around somewhere on UPT! If you are one of the ones turning around no worries but see the note up top about trying to get a little further each time.)
####
Nancy Hobbs-Adams writes:
It was nice to see Gordon Barnett's note about running in the Bay Area. Please let him know that there is a group run on January 1 to the top of Mount Tamalpais (the grassy 2,571-foot summit overlooking San Francisco Bay) and back — about 14 miles. There are other clubs that run trails including the Golden Bay Runners — every Saturday they run around Lake Chabot in San Leandro; the Dirt Dawgs — informal group that rotates to a different site each Saturday (Monday nights also in the spring/summer). Jeff and I have run with both these groups as well as with the Diablo Runners who just added Sunday trail runs to their repertoire. Please pass along my email to Gordon in case he's interested in upcoming events when he knows he'll be in the area.
####
Jim Freim writes:
I used the link to the sunrise and sunset. I pasted it into Word, converted the text to a table and then pasted into Excel. I spent a few minutes thinking about how to use the times to calculate the hours of daylight for each day. I wonder if you have done this or thought about it.
(MC adds: I am sure there are better ones out there but I found www.jgiesen.de/astro/astroJS/rsTable/index.htm to compute the length of day a month at a time. I plugged in 38.52 for Lat and -104.55 for lon.)
####
Non "R" reports Tom Kelecy reports (and breaks the words per mile record since he is only on part 2 and has yet to mention the race;-)
RACE: Sidney Marathon (Running the Blue Line Down Under)
DATE: October 28, 2001
PART 2: THE TRAINING
The first phase of our training began with a day of jet-lag recovery in Cairns, a touristy city in the tropical Queensland, on the northeastern coast of Australia. A day trip to the tropical rain forest town of Kuranda which included a visit to the fruit bat lady, and lot's of walking around got us set back upright Down Under. Our recovery continued with 3 more days of rest and recreation on Dunk Island, one of a chain of island resorts that is a boomerang's throw from the Great Barrier Reef. After a sumptuous breakfast buffet, we would spend our days in the water, snorkeling, on the water in sea kayaks or paddleboats, or sun baking by the pool. After these hard days of training, an elaborate dinner buffet, with some great Australian wine, would fortify us for the next day's training. This rather intense regimen was interrupted only twice by a couple of morning runs on a hilly, knarly rain forest circuit track that circled the island. We enjoyed the flora and fauna, and had the opportunity to join the local running club on a fartlek or two. The membership consisted primarily of the ubiquitous turkeys, indigenous to many of the coastal islands. They preferred bushwhacking to the single-track trails. Of course, if we had known at the time that we would be running a marathon at the end of the month, we might have been more competitive with the turkeys. Or the kangaroos, if there had been any in these parts to compete against.
The second phase of training continued with a move to the even more tropical north of Australia and included a fair bit of flies, heat, flies, humidity, and flies. It was in Darwin that we discovered the Tim Tam which, as anyone who has been Down Under knows, is the national "biscuit" (cookie) of Australia. As far as Australian "national foods" go, the Tim Tam is right up there with baramundi, bugs, and vegemite, with the minor difference that not only is it edible, but it tastes good. We spent most of this phase of training in the Kakadu National Park where we ran... not at all. You see, there are many critters in this part of the world that can kill you or worse, and most of these lethal critters are not people either! Crocodile attacks had been in the news recently, though we soon found out that they are always in the news in the Northern Territories. However, roughing it in the Outback was a true-blue experience not to be missed, and this we did via 4WD air-conditioned monster vehicles. Aboriginal culture abounds in this park, and one soon appreciates the longevity of these enduring people, not to mention their extremely high tolerance level to the insanely persistent flies that had a knack for finding orifices even we didn't know we had. Though we certainly had no interest in loosing any of our limbs to the crocks, had we known we would be running a marathon in a little over 2 weeks, the excuse we might have used on our running compatriots back home was that we were not running in order to save our legs (and other body parts) for the 42 km footrace that lay ahead.
We were now beginning to get into the swing of this non-stressful training regimen, the primary foundation of this new race training stratagem being based on the ignorance of knowing you were preparing to whomp your legs for 26.2 miles within the next couple of weeks. This next phase of our adventure took us to the "Red Center" of Australia via Alice Springs and Ayers Rock. This magnificent desert region so characteristic of the Australian outback was so remote, and so desolate, if it weren't for the tour buses containing the masses of pampered, arrogant, overfed, insulated tourists, the back-to-back hotels and resorts, the casinos, and a few hundred "aboriginal owned" souvenir stands selling boomerangs (don't fly these, they'll break), didgeridoos (this mystic instrument, by the way, not indigenous to this particular area), and fake kangaroo poop (butt no kangaroo sightings yet), one could have imagined one's self on the planet Mars. All of the Earthly distractions aside, Uluru (Ayers Rock) was very impressive, a monolith jutting out of the surrounding plains as if God had started to build a major mountain range there, then had second thoughts due to the realization that snow was not very common here. Laura and I opted to hike the 10 km circuit trail around the "Rock" rather than climb it. Climbing was an option mind you, but the local Aboriginal tribe preferred that people did not. You see, they feel a very personal responsibility for human life. You see, if, say, Billy Bobo Smith visiting from Texas, after downing 2 six-packs, decides he wants to climb the Rock in his cowboy boots, a tank-top and a thong with a University of Texas logo emblazoned on the front, and Billy then decides to fall and crack his skull wide open, well, let's just say the Aboriginal folks lost their taste for lawyers a long time ago. And in any case, the view of the rock is best from a short distance from the rock, not on top of it. We did manage one run around the perimeter of Alice Springs, and one part of the route took us up to a hill overlooking the town. The hill contained an Anzac war memorial, Anzac being the Australia-New Zealand Army Corps, the army supporting allied operations during WWII. Every town we visited during our stay had at least one memorial honoring Australian and allied forces that fought and died in wars around the world. Little did we know that we would be doing battle of body and mind in less than 2 weeks on the Anzac Memorial Bridge running across Sidney Harbor. But, for now, we simply stood on the hill overlooking the town called "Alice," reflecting on the cost of freedom, and scanning the horizon to see if we could spot a damn kangaroo somewhere down below.
By this time, we were beginning to loose track of which phase we were supposed to be in which, as previously alluded to, was a key part of the training. No worries. We would have been having too much a good time to be stressed about a big upcoming marathon race had we known we were going to be running one. Adelaide, down in the southern part of Australia, was the perfect place for this phase of the training. This is one beautiful city, and is very well laid out with parks and pedestrian paths in the unlikely event a couple of newlywed American tourists were motivated to get out for a run. We were motivated by the prospect of another breakfast buffet. While running on the path along the River Torrens which graces the city, we started noticing temporary "Km" markers off to the side of the track. Could there be a race going on this morning? Sure enough, we passed the start/finish area where they were setting up. On the return trip more runners were milling about, picking up race numbers, etc., and we stopped for a moment to chat with one of the volunteers. We found out that it was to be both a 5 Km and 10 Km race, and that it was a popular race that usually took place at the airport. However, increased security due to the recent events in New York and Washington DC meant a last minute change in venue. The river course was a route they used frequently for a lot of their club runs. The gentlerunner we spoke with at the signup table asked if we were planning to run. We were nearing the end of this morning run, and had not brought any money with us, and so had sufficient reason to pardon ourselves from that morning's event. Had we known we were to be running a marathon at the end of October, we could have explained we passing on the race so as to not beat up our legs on the hard surface so close to our big event. As it is, we were anxious to make it back to the hotel in time to make the morning breakfast buffet, then write some post cards. We thought about sending some with pictures of kangaroos, but decided not to. The sentiment would have been cheapened by the knowledge that we had yet to see a real, live one in the wild well into our third week of the trip.
We were beginning to think that the kangaroos were a myth, like the Lockness Monster, and so decided to pursue another antipodal myth for a while: the Tasmanian devil. Sooooooo, our next stop took us to the natural place to find these nocturnal, carnivores critters with a nasty reputation for scavenging raw meat by the side of the road: South Nevada Avenue! Ha, ha... just kidding. A little VNI inside joke there. Tasmania was our next stop, way far south in latitude, with it's green, lush farmland being reminiscent of old England. We did encounter some early spring snow in our hikes in the magnificent wilderness area of Cradle Mountain. Not only did we have snow and cold on one brisk morning run, but something we hadn't encountered since leaving our home in Colorado: altitude! With all the elements combines, our hilly out and back 10 km route felt really hard, almost like training for a race. Had we know we would be running a marathon in the near future, we would have been inside our cabin, cozying up by the fire with a glass of Tasmanian wine and a Tim Tam or two. As it turned out we got back on track and ended up spending most of the remainder of our time on this lovely island cozying up to the fire with a couple of bottles of Tasmanian wine, and Tim Tam or two boxes. The day before leaving Tasmania, we hiked the "gorge" in the wonderfully British feeling town of Launceston. Afterwards we sat around the hotel watching the telly, which consisted of quirky prime-time soaps, sheep herding dog competitions, and the ubiquitous political commercials. Everywhere we went, we were subjected to haranguing, mud-slinging, backbiting monologues of competing candidates vying to be the next Prime Minister. It reminded us of some of the PPRR board meetings we had attended. Though the elections were scheduled to take place in November 2001, we are not aware of the outcome, and they may yet still be re-counting the votes. However, my impression of the two leading competing political parties, the Hardly Labour Party versus the Far Left Outback Party, was that both candidates were facing the very real danger of loosing the election to a box of Tim Tam's. I would have voted for any of the candidates who promised us a kangaroo in every Outback.
To make a long story longer, the last week of our training took us back to the southeast coast of the mainland continent of Australia. From Canberra, we drove to the Kosciusko national park with the primary goal of trying a few wines we had somehow missed the opportunity to taste yet. On the drive from Canberra, we saw many dead Kangaroos, but also noticed what appeared to be rather large, stubby rolls of old carpeting someone had abandoned by the side of the road. On closer inspection however, we noticed the rolls of carpet had four little protuberances reaching to the sky and eventually realized the unappetizing reality that these were dead wombats. A wombat is something like a cross between a pig and a bear, only in this case, a dead pig and a dead bear. While staying at the alpine resort of Kosciusko, we happened to notice that the highest point in Australia, Mount Kosciusko, was just outside our door. We considered running up the mountain, but decided to hike instead, so as to enjoy the views, and increase our chances of seeing some live wombats. We worked hard on the trek to the top which included traversing some snow fields, and a chance encounter with another running couple who had also hiked to the top, fresh off the Melbourne Marathon that took place the weekend before. Of course, had we known we would be running a marathon within the next week, we would have driven to the top and hung out in a "final hour" desperation attempt to develop 0.0000012% more red blood cells like some folks try to do before running the Peak.
In a final hour desperation attempt to see a live kangaroo before returning home, we took a detour on to the Tidbinbilla National Park, reported to be a wonderful place to see Australian wildlife in its natural habitat. On our drive to the park, the ancestry of this former British colony became apparent as we passed through towns with quaint names such as Albury, Canberra, and Woollyboollywhamalambathongabongadingdongalong. Tidbinbilla National Park was wonderful. We saw Koalas, wallabies, and glory hallelujah, no fewer than three or four varieties of kangaroo, hopping around in neat, manageable herds. As we left the park later that afternoon, finally satisfied that kangaroos were for real, we saw one just outside the park. Cool. Then a few more. Wow. Driving on slowly, we passed a heard. Hmmmm. Then another, and another and another. Yikes. Before long, the countryside was lousy with kangaroos, thousands upon thousands, milling about in plague proportions. We felt a little silly after it became evident that the reason we had not seen any in any of the places we had been was because they were all here in Tidbinbilla, where the posted speed limit for automobiles was a safe 2.5 kilometers per hour.
We would loved to have stayed to socialize, but now it was show time — time to put all that hard training to the test. It was time to head off to Sydney, the final destination of our trip, and our appointment with destiny along a thin, blue line.
Next week, the third and final part (the race stuff)
####
www post:
12/16/01 64 runners were greeted by cold temperatures and snow on Longs Ranch Road. However that did not stop many from taking off quite a bit of time from two weeks ago. No Name Creek claimed it's first victims today as about 4 people fell on the snow covered ice. Otherwise it was another great day and although not as warm as the first 3 runs it still got above 35.
####
Go out hard, when it hurts speed up...
Matt Carpenter
www.skyrunner.com
Barr Trail Mountain Race
www.runpikespeak.com
---