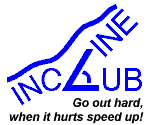 2002 Incline Club V6 TH #9 LR #29
---
Incline Club V6 TH #9 LR #29
Sent: Wednesday, June 05, 2002 5:04 PM
Subject: Incline Club V6 TH #9 LR #29
Howdy ICers,
It's Elk Park time! I always get a few questions about the "why's" of Elk Park and I will try to address them here. My theory is that you can only get so fast by running slow. How is that for profound? As it stands now if we are even doing the top miles on Sunday we are doing them after running all the way up to them from the bottom so it is pretty hard to do them with any sort of quality. Further with such a long run (time wise) we risk not being able to recover for the other important runs during the week (you are running more than Thursdays and Sundays aren't you;-) Therefore we use the Elk Park run to be able to run easy to Barr Camp and then blast the top part of the mountain and work on getting our bodies used to the altitude. While I realize "blast" is a relative term, we have all been working a long time on our long runs and we have also been hitting the bottom part of the course very hard during our Thursday runs. However, only so much can be gained down here and th e biggest improvements from this point out can be gained from working the top miles!
On the other hand, over the last couple of years I have noticed quite a few people who tend to focus only on the Elk Park runs (some even start running with the club when we start them). Despite some great Elk Park runs, many "Elk Park Runners" go on to have pretty bad PPA/M races. Simply I think some forget that no matter how fast you do the top miles when doing an Elk Park run it is different than having to do the top miles after running UP to Barr Camp! Hence there is some serious hurting going on above the A-frame come race day:-(
This year to help combat this problem we are going to alternate between Elk Park and Soda Springs Park so that we can continue to work on getting to Barr Camp as well as the top miles. For those that have been keeping up with the schedule you may have worked up to the point that you can go all the way up and save yourself the pounding from the downhill. While it may be too hard to pull off weekly it may be doable for you every other week. For others you may still only make it to Barr Camp and back. Again since it is every other week now you will be saved from some of the downhill pounding that we have been getting lately. For those running the marathon however it will do you some good to have some Bottomless Pit sign or A-frame and back runs every other week. However, as always, I don't recommend doing out/backs much longer because they are too hard to recover from. The other weeks we can all work the top miles as we start somewhat "fresh" after running over from Elk Park.
Concerning the toll road. Season passes are available from the toll booth that will pay for themselves in short order. Also, as in the past, I will have work passes available for those who are willing to work on the trail after their runs. However because there were several people who abused this privilege last year I have been asked to be more careful when handing them out this year. At any rate, if you want a free work pass and are willing to promise to work 10 hours total for it (which will also get you a "trail dog" T-shirt) please let me know. Otherwise please just buy your pass! I hate to sound that way but for some of us the free work passes are a much appreciated privilege and we don't want to lose it!
Finally, on the issue of trail work I have worked out a "sponsorship" with the summit house. For each bag of garbage we collect we can get 2 free doughnuts and a free drink. (10 cent drink if you don't have your own water bottle). Please wear your club shirt for this so that you can be identified.
###############################################
NEXT RUNS:
###############################################
Thursday, June 6, 5:30pm — Soda Springs Park
Warm-up to Hydro Street. 30 minutes of 1 minute hard, 1 minute easy, up the Barr Trail. Run easy back down to Hydro Street and do 8 Hydro Street hill repeats!
Sunday, June 9, 7:00am — PP Hwy Toll Booth
After going through toll booth, car pool to Elk Park. Run over to Barr Camp and then to summit. 2.5-3.5 hours.
###############################################
ICers WRITE:
###############################################
Joel Jenkins writes:
Late submission but work took me to El Paso on Monday. Many thanks to all the ICers that stopped to make sure I was OK as they saw me limping down the trail last Sunday. It was very evident who the ICers were vs. others, ICers were more friendly and genuinely concerned. Here's the story. I'm one of the guys that Mark referred to that jogs, power walks up then runs down. Well, lately I've been feeling pretty good so I was really cruisin', thinking about how nice it was, what a lucky guy I was to be stationed here, etc, etc when suddenly this HUGE boulder (small rock) JUMPED from the woods (sat like a lump on the trail) and forced my ankle into the most peculiar position (touching the trail with my ankle). Needless to say I was quite a bit slower the rest of the way down and spent the rest of the beautiful afternoon getting my personalized cast and crutches just my size. Because we are both associated with the hospital, Steph insisted that I saved an innocent family from a rabid mountain lion, so if anybody asks.. :-)
####
Ronald Garica writes:
Just to let you know how IC workouts effect other runs. I ran the Bolder Boulder on Monday. I decided to use it as a pace run. My 5k time was 27:10 and my 10K time was 54:27 For the first time my legs were not tired at the end of the race and I had an excellent kick at the end of the race. As I remember each of my splits for Kilometer 1 thru 9 were with 5 -10 seconds of each other. Moral of the story, your pacing philosophy works and my conditioning is better than every. The sad part is I should have set a faster pace and reduced my time. Who says you are never too old to learn a new trick or two?
####
Randy Lindsey writes:
I've had a lot of concern about this (see http://www.inclineclub.com/newsletter/2002/lr28.htm) myself, knowing others who have been similarly victimized at the Waldo trailhead as well. A few thoughts:
1. Don't have your Social Security number anywhere in your wallet, on your checks, etc. This is a major key to identity theft. I (finally, duh!) recently stopped carrying my Social Security card.
2. When I drive to a trailhead for a run, I prefer to leave my wallet at home, and just bring my driver's license, a little cash, and a house key. I can even carry those items with me on the run.
3. How about a lockbox, chained or cabled inside the car so it can't be snatched quickly? I doubt many of these guys carry big bolt cutters. Some vans have such a box under the seat. Or has this been tried already?
####
Lance Thibault writes:
For anyone who's ever been robbed. This was some info that was sent to me a while back. Hope it helps out.
Subject: WHAT TO DO IF YOU LOSE YOUR PURSE OR WALLET:
We've all heard horror stories about fraud that's committed using your name, address, SS#, credit, etc. Unfortunately I (author of this piece) have first hand knowledge, because my wallet was stolen last month and within a week the thieve(s) ordered an expensive monthly cell phone package, applied for a VISA credit card, had a credit line approved to buy a Gateway computer, received a PIN number from DMV to change my driving record information online, and more.
But here's some critical information to limit the damage in case this happens to you or someone you know. As everyone always advises, cancel your credit cards immediately, but the key is having the toll free numbers and your card numbers handy so you know whom to call. Keep those where you can find them easily (having to hunt for them is additional stress you WON'T need at that point)! On a personal note, I remember losing a Master Card and until I got the toll free number from information, etc. I was a wreck.
File a police report immediately in the jurisdiction where it was stolen, this proves to credit providers you were diligent, and is a first step toward an investigation (if there ever is one).
But here's what is perhaps most important:
I never ever thought to do this. Call the three national credit reporting organizations immediately to place a fraud alert on your name and SS#. I had never heard of doing that until advised by a bank that called to tell me an application for credit was made over the Internet in my name. The alert means any company that checks your credit knows your information was stolen and they have to contact you by phone to authorize new credit.
By the time I was advised to do this — almost 2 weeks after the theft all the damage had been done (there are records of all the credit checks initiated by the thieves' Purchases, none of which I knew about before placing the alert). Since then, no additional damage has been done, and the thieves threw my wallet away this weekend (someone turned it in). It seems to have stopped them in their tracks. The numbers are:
Equifax 1-800 525-6285
Experian (formerly TRW) 1-800-301-7195
Trans Union 1-800-680-7289
Social Security Administration also has a fraud line at
1-800-269-0271
###############################################
BARR TRAIL MOUNTAIN RACE NEWS:
###############################################
The race is now 2/3rds full. The price goes up on the 16th so you might want to think about signing up soon. http://www.runpikespeak.com
###############################################
R REPORTS:
###############################################
Rick Crawford reports:
Race = Squaw Peak 50
Location = Provo, Utah
Date = 6/1/02
Distance = 50m
Goal = to finish my first 50m
Results = 50miles : 14hrs5min
General =
- ranked as the 3rd toughest 50m in the nation.
- beautiful and manageable course to run on
- incredible scenery, with exception of BEAR 50 feet off the trail at mile 32 (see me if you want details)
- The highest point of the race Windy Pass speaks for itself. got caught in the worst rainstorm ever in history of the race with high winds, hail, falling trees blocking the course. you could hear the trees breaking and see how recent they had fallen. the storm seem to last for about an hour.
- the last part of the course before the 3.5mile road to finish, DOWNHILL VERY VERY MUDDY and almost impossible to run
Right = All my "ducks" were in line
Wrong =
Other Stuff = The bear did not come after me. THANK GOD!!! WHEW!
####
Lisa Patmor reports
Race = Steamboat 1/2 Marathon
Location = Steamboat Springs, CO
Date = 6/2/02
Distance = 13.1 mi
Goal = To enjoy the race
Results = 2:30
General =
Overall, the race was great — I ran it last year for the first time and fell in love with Steamboat and the course is easy going and the views are beautiful. I plan to run it every year.
Right = I was well hydrated and had a good night sleep the night before. I love this race, so I was able to relax and have a fun run — despite my disappointing time.
Wrong = Too much trail running and not enough "continuous" road running. On Barr Trail, I'm one of the hiker/joggers, so I don't run continuously, and I didn't put in the road miles I needed to for this race. While the Ascent is my ultimate goal, I've been letting my road mileage slip lately and it caught up with me during the race (note the 2:30 time — I was just glad the 1st marathon runner didn't pass me!). Another result of this is the pounding my legs took from not being used to the hard road surface, even though I ran on the dirt shoulder whenever there was one available.
Other Stuff = The weather was almost perfect — I'd hoped it'd be a bit cooler. The water stops are timed perfectly, always with Gatorade, water or GU. Volunteers are awesome. Ice cold cloths just past the finish line were a nice addition this year.
###############################################
WWW POSTS:
###############################################
5/26/02 Sun: 56 learned what it felt like to be a hot dog on the Barr Trail. It was roasting today! While there was some relief above No Name it pretty much stayed hot all the way up! 4 of us got rid of 6 more bags of old metal cans and other assorted garbage.
5/23/01 Thur: 57 showed for a hot Thursday afternoon tempo run up the Barr Trail. However that did not stop some from getting farther up the trail than some of the better weather days. This was also the first day Club shirts were handed out on Thursday so we were looking pretty styling in our matching shirts. Fred Wright was the winner of a T-shirt.
####
Go out hard, when it hurts speed up...
Matt Carpenter
http://www.skyrunner.com
Incline Club
http://www.inclinclub.com
Barr Trail Mountain Race
http://www.runpikespeak.com
presented by Pikes Peak National Bank
Friends of the Peak
http://www.fotp.com
---