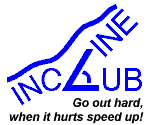 2002 Incline Club V6 TH #10 LR #30
---
Incline Club V6 TH #10 LR #30
Sent: Thursday, June 13, 2002 10:06 AM
Subject: Incline Club V6 TH #10 LR #30
Hi ICers,
As they say a picture is worth a thousand words: http://www.inclineclub.com/photos/p_closed.jpg
Based on some of the mail I have been getting, some of you might be surprised to be getting a club mail this week. Well guess what? The Incline Club did not die when we stopped running on the Incline and we will not die when we are prevented from running on Pike National Forest lands! Sure Pikes Peak is our baby but in our hearts we are all runners and as long as we are putting one foot in front of the other our hearts should be happy. The club runs will continue! Of course we will have to modify just about everything about them but we will be running:-) Thursdays are fairly easy to cover — we will have to get creative for the Sundays!
Looking back on last Sunday I must admit that for the Elk Park runners things started off on a rough note. First we were delayed at the gate and then, as we were heading up the mountain, we could see smoke from the Hayden fire to the North. It was small enough that you actually had to look twice to figure out that it was fire. Next we got stopped at Glenn Cove due to car race practice and were told that it would be another hour before we could get to Elk Park. Indeed a not so fun start! However instead of waiting for the road to open a group of us headed up through the woods for Elk Park and the fun factor instantly returned:-) We stayed somewhat close to the road and we could see the cars racing by — amazing how loud these things are. Elk Park was as awesome as always and so was the run to the top. Several of us managed to do "spring rock cleaning" on the Barr Trail from the summit down to the 16 Golden Stairs sign. Looking good — the day had been saved! However in the 3.5 hours that had passed it is just indescribable how much more smoke was being created by the now obvious fire. Indeed after reading the reports later it turns out that while we were running the fire had pretty much gotten out of hand and had become an "explosion" of flame.
Little did we know that the Elk Park run we just did may be the LAST run on Pikes Peak for the whole summer! My, how that can change one's perspective because I would gladly sit through a delay at the toll gate to get to run up there again. The magnitude of the situation did not really hit me until I was taking the photo in the link above. I for one will be a lot more appreciative of how lucky we are to have these trails in our backyard the next time I get to run on them. However there are several reports saying the closure just might last until the snow flies:-( Further there is legitimate concern as to the status of the Barr Trail Mountain Race and the Pikes Peak Ascent and Marathon. Sure time will pass and the fire(s) will be put out but this closure was put into effect to prevent more fires not because of the fires already burning. We can only hope that we get enough rain that the closures end or that the races are given exceptions to the closure because right now things are not looking good. The rep ort today said it could take three months just to get the Hayden fire under control!
###############################################
NEXT RUNS:
###############################################
Thursday, June 13, 5:30pm — Soda Springs Park
Warm-up out El Paso Blvd. 30 minutes of repeats on the long hill up to the Balanced Rock. Wear your club shirts — Trail Runner Magazine is doing a photo shoot!
Sunday, June 16, 8:00am — Soda Springs Park
El Paso Blvd to Crystal Park Rd to Intemann to section 16 and back or if you prefer run in the Garden of the Gods.
Before and after these two runs we will discuss our options for the season. Possibilities to include meeting at section 16 as well and any other place we can come up with that is still open. Rampart Range Road is closed and I think parts of section 16 is closed as well.
###############################################
ICers WRITE:
###############################################
Eric Gabe reports:
Race = Briana
Location = Home
Date = 6/7/02
Distance = 6 hr. of labor
Results = "Baby girl"
General = This is a "baby report" We were one of the many expectant parents in the club and we are happy to say, she is finally here 7 days late. "Briana Aspen Gabe" 8lbs. 13 oz. and 21.5 ins. long. both baby and mother are doing great!
P.S just like in running Paul S. comes in before me once again! :)
(Matt C adds: Briana was IC 2002 baby #5 of 10. Here is the list:
Births:
Fred & Sarah Wright — 2/6/02 boy Wesley, girl Adabelle 1st & 2nd
Connilee Walter — 4/22/02, boy Payton 1st
Paul Sullivan — 5/8/02, boy Westin 4th
Eric Gabe — 6/7/02, girl Briana 2nd
Still Cooking:
Matt & Yvonne Carpenter — 7/20/02 girl Kyla 1st
John & Marilyn Goodloe — 7/27/02 girl ? 1st
JD VanLancker — 8/2/02 boy Jack 2nd
Robin & Andy Kovats — 8/19/02 boy Julius 1st
Rich Muzzy — 8/24/02 ? Devon or Gabriel 2nd)
###############################################
R REPORTS:
###############################################
It was AWESOME to read all the reports from the Garden of Gods race. I heard from several people (some who were not even ICers) that Incline Club shirts were everywhere:-) If you ran the race and want your "G" please use the R reports page (http://www.inclineclub.com/rreports.htm) to get your report in. Also I heard that quite a few started from the bottom of the Peak and ran Sunday — let me know if that is you so I can get the * board up to date.
####
Fred Wright reports:
Race: GOG 10M
Distance: 10 miles
Goal: Beat last year's time
Results: Failed by over four minutes!
General Summary:
The classic, beautiful, G.O.G's course, rolling blacktop, pretty hot, lots of people.
Things Done Right:
New racing flats didn't blister my feet.
Things Done Wrong:
1.Dehydrated.
2.Lost a lot of sleep the night, and the months before.
3. Ran to the summit of P.P. the Sunday before!
4. Went to the race — rather then do the Club workout.
Any Other Stuff:
- The race organization and volunteers were excellent, as was the after race food and drinks.
- Very nice "T" this year.
- An enjoyable afternoon party given, for I/C'ers and Yvonne and Matt, by delightful hosts Lynn and Gary Hellenga.
####
Daiva Cooper reports:
Race = garden of the gods 10 mile
Location = garden of the gods park
Date = June 9, 2002
Distance = 10 miles
Goal = 2:00
Results = 1:46:07
Website = http://www.pikespeakmarathon.org
General = Garden of the Gods is a beautiful course. It was a pretty hot morning, but the scenery always makes up for the weather. I ran the race with my 2 cousins from Chicago and we had a blast!
Right = 1. Trained very well for the course. Legs felt great the whole race.
2. Drank enough, and dumped enough water on my head to stay cool
3. Paced myself well for the big hills
Wrong = 1. Need to incorporate some speedwork into my weekly running to have a stronger "kick" in the last mile.
####
Glen Ash reports:
Race= GOG 10M
Date= June 9th
Goal= Under 80 min
Results= 80 min 13 sec
General= I felt I was trained for the hills and the distance and finished
strong. I didn't feel like the warm weather affected my
race, although I did stop at all the water stations, well maybe 14 sec.
Need=Start my speed work earlier in the year.
####
Lance Thibault reports:
Race = GOG 10M
Location = Garden of the Gods
Date = 9 June 2002
Distance = 10 Miles
Goal = 75 min and no injuries
Results = 74 min 55 sec
General = Overall, it was a good, first ever, race for me. The temperature was about 30 degrees warmer then I'd prefer, but it's June, so just about every time I run it's warmer then I'd prefer. Found that the ups on the course were a little tougher then I expected, but I'm sure they would have been much worse if I hadn't been running with the Incline Club. Although happy with my results, had all the things in the "Things Done Wrong" section not happened I may have been able to break into the top 100. Oh well...it wasn't goal.
Right = Showed up early enough (6 a.m.) to pick up my shirt and race number while still giving myself time to hydrate, stretch out and wake up. I didn't set any real high goal for this race, because it's not what I'm training for. I went into the race knowing this and tried to keep it in mind while I was running. Although it was tough to pace myself on the ups and down of the course, I kept in mind that race didn't mean a whole lot to me. So I never found myself pushing to hard on the ups, or trying to over do it on the downs and managed to reach my goal time injury free.
Wrong = First thing I realized was that pacing myself on an unfamiliar course wasn't going to be hard enough, so I manage to forget my watch. Second thing was that I stayed up too late watching the Tyson/Lewis fight, then the triple overtime Red Wings game. I probably also spent a bit to much time in the sun Friday and Saturday and was feeling pretty lethargic race morning. Lastly, I found out a week ago that I'm not a big fan of the Power Gels. They seem to make me thirstier than I already am while running. Unfortunately I was out of GUs so I stopped by 7-11 and reluctantly picked up some more Power Gels and of course I got the same result.
Other Stuff = I think the thing that helped me the most, was that prior to the race, I didn't think too much about it. I tried to look at it as just another training day for the Ascent. While I was hanging around the start line I noticed I wasn't real nervous and didn't have much adrenaline rush going on. Which to me, was a good thing. It kept me from going out to hard the fist mile or so. I saw quit a few ICer's out there. Because I forgot my watch, some of them, (probably unknowingly) helped me with my pace. Because I knew what they were shooting for, (assuming they were on their goal pace) I figured I must be close to my pace. I guess it worked pretty good since I crossed the finish line within 5 secs of my goal. Who needs a watch right!!
####
Richard Hedlind reports:
Race = 2002 Garden of the Gods — 10M
Location = Colorado Springs
Date = 6/9/2002
Distance = 10 Miles
Goal = 1.20.00
Results = 1.23.06

General = My first "shorter" race, only done marathon distance before. Therefore it was a challenge to find the right pace. My goal was to do 8 minute miles on average. Close enough. Overall a fun race.
Right = Stayed well hydrated before the race. Also made sure to follow the tips I have gotten from running with the IC. Stayed upright going uphill for easier breathing and to leaned forward downhill to go faster and get less impact on joints.
Wrong = Did not eat right the night before the race. My stomach was a bit upset on race morning and the first miles were therefore more painful than necessary.
I also held back too much and therefore had too much energy left at the finish line.
####
Gordon Barnett reports:
Race = Garden of the Gods 10 Mile Run
Location = Garden of the Gods Colorado Springs
Date = June 9, 2002
Distance = 10 Miles
Goal = To beat my time from last year: 1:24:14
Results = 1:20:45
Website = http://www.pikespeakmarathon.org/Gog_general_info.htm
General = For some reason this race intimidates me, I can't seem to run my marathon pace over 10 miles.
Right = Maintained a steady pace throughout. Felt strong on the uphills and tried to run the downhills harder. Felt strong at the finish, accomplished my goal. (PR by almost 4 minutes).
Other Stuff = Hot for a 7:00 A.M. start. No noticeable smoke in the air from the recent fires. The starter announced that due to drought conditions and water shortages, there would be no water misters on the course.
####
Vicki Martin reports:
Race = Garden of Gods/10 mile
Location = Garden of Gods
Date = June 9th,02
Distance = 10 miles
Goal = To beat time 3 yrs. ago, 1.28.01
Results = 1 hr. 22.09 Yea!

General = I felt really good throughout the race.
Felt strong on uphills and downhills.
Strong enough to still pass runners in last two miles.
Right = Did the usual things to prepare.
Certainly all the Sunday training is the right
thing ;-)
Wrong = I need to push harder, I think later I could have.
Soooo.. maybe more mental work-outs.
####
Stephen Martin reports:
Race = GOG 10 mile
Location = GOG
Date = 6/9/2002
Distance = 10 miles
Goal = 1 hr 15 mins
Results = 1 hr 16 : 37
Website = http://
General = Started out strong the first 2 miles. Then dropped into
a steadier but slower pace. About a minute and a half off of pace at the halfway point, so I knew I was in for a struggle to hit the goal time. Overall felt my cadence was good and my uphill effort was stronger than last year.
Right = Strong first couple of miles. Strong last mile.
Uphill cadence was better.
Wrong = Could have run faster downhill, I felt like I passed more people going uphill, but many caught up to me running the downhills.
9th mile my pace dropped considerably, so maybe went out too fast at the start.
####
John O'Donnell reports:
Race = Garden of Gods 15k
Location = CSC
Date = 06-09-02
Distance = 10 Mile
Goal = Set PR
Results = 1:31:04
Website = http://www.pprrun.org
General = Pushed very hard the last mile. Good to see all the training and going for that PR paid off.
Right = Plenty of fluids and running the course smartly.
Wrong = Partied too much with my son and friends on his 21st birthday.
Other Stuff = Nice to see so many incline club members.
####
Dave Sorenson reports:
Race = Garden of the Gods 10 Mile Run
Location = Garden of the Gods Park, Colorado Springs, CO
Date = June 9, 2002
Distance = 10M
Goal = Ahhh, to enjoy the day
Results = 1:44:54
Website = http://www.pikespeakmarathon.org
General = This was a good day for me. I prepared well for the heat by drinking everything in sight — lots of water on Saturday, 4 cups before the race, and 2 cups at each water stop. Thus surprisingly, I wasn't affected by the heat too much. During the last series of hills from mile 8 to past mile 9, I was the one passing people on the hills. Yes, they were walking, but I still count it as a valid pass.
Right = Ran most of the Tuesday/Thursday training runs in the Garden of the Gods (18 out of 20). There's no substitute for practicing on those hills. I keep plugging away with the Sunday long runs for the endurance aspect of things.
####
John Thompson reports:
Race = Garden of The Gods 10 Mile
Location = Garden of The Gods, CO
Date = 6/9/2002
Distance = 10 MI
Goal = 90 Minutes
Results = 1:35:05
Website = http://www.pikespeakmarathon.org
General = Weather was beautiful around 70 at the start and 80 at the end. There were over 1100 runners. The race was downhill for the first two miles and then up and down for the next 8 miles. The course ran through Garden of the Gods, as usual, the scenery was awesome. I wasn't as fast as I had hoped, but I felt good throughout the entire race and had a great time.
Right = Started at the back of the pack so I would be the one doing the passing throughout the race. Ran for enjoyment, I wasn't going to win so I just plodded along and enjoyed the run with 1100 people Used the downhills to make up my slow uphills. I attribute feeling much better on the uphills to training with the Incline Club.
Wrong = Skipped the 1st water station, I don't think it affected the race much, but it was the only time in the race I wasn't comfortable. I was happy to see the next water station. Breakfast may have been little to small. I took it easy on myself. Never really ran to the point were I felt I needed to slow down.
Other Stuff = Saw lots of Incline Club Tee Shirts.
####
Larry Miller reports:
I believe the Garden of the Gods may have had more Incline Club runners than the
training run on Pikes Peak. I had a rough count of 30. We should get "*"s and you all should have to write the reports! My report is as follows:
I started, I followed, I finished. Darn Andy Kovats out-spirited me at the finish.
####
Rick Pearcy reports:
Race = 2002 Mile High 12-Hour
Location = Chatfield State Park- Littleton, CO
Date = June 8-9
Distance = As far as you can go in 12 hours
Goal = 50 miles
Results = 42.4 miles
Website = http://coachweber.com
General = A 12-hour night run in Chatfield State Park in Denver.
The Mile High 12-Hour course is a 5-mile circuit (2.5 miles out and 2.5 miles back) of which .2 miles is on a paved road and 4.8 miles is on a firmly packed dirt road. The altitude of the course is 5600 feet. The course has 4 short hills per 5-mile circuit.
The racers simply see how far they can run in 12 hours. The race started at 8:00PM on Saturday and finished at 8:00AM on Sunday.
Right = My fluid (about 20-22 oz per hour)and my calorie intake (about 300 per hour) worked fine. I was never hungry or thirsty during the race, and I did not get sick or bonk.
My flashlight (an LED type I purchased through one of my flight magazines) lasted easily throughout the night without difficulties and without battery replacement.
Stayed on my feet and moving the whole time.
Wrong = I was too conservative in my run/walk schedule. I could have ran more and walked less.
####
Bev & Eck Zimmermann report:
Race = Mt. Diablo Summer Trail Run
Location = Mt. Diablo State Park, Clayton, CA
Date = June 8, 2002
Distance = 25K (also included an 8K and 50K)
Goal = To get in a good hill workout and have fun
Results = Bev: 2:30:15; Eck: 2:33:45
Website = http://www.pacifictrailruns.com
General = We found this race on the internet which happened to coincide with a graduation we were attending in Northern CA the same weekend. It was a very small, low-key event put on by a group that sponsors several trail races throughout the year in the Bay Area. The loop course consisted of dirt roads and single-track trail. The start/finish was at the Mitchell Canyon trailhead at the north end of Mt. Diablo State Park (elevation approx. 550 feet), winding up to the top of Mt. Diablo (elevation 3849) and back down. The climbs were extremely steep in sections (including a cruel half-mile section during the descent), and the last two miles of downhill were rough, winding, and vertical!
Right = One of us took all the right turns and didn't get off course.
Wrong = One of us DIDN'T take all the right turns, headed down a steep hill (the WRONG way), had to turn around when he realized his mistake and climb back UP the steep hill to find the course. Lost about 8 minutes and four places!
Other Stuff = The course was marked fairly well (unless you ignore a big orange cone in front of you!); there was one aid station at the 5/10 mile marks which wasn't real obvious so I missed it both times. The scenery was a combination of forests and grassy hillsides, with some nice views of the Bay Area. Overall it was a lot of fun; great to do something different in another part of the country.
####
Carol Sauceda reports:
Race = Squaw Peak 50 Mile
Location = Provo, Utah
Date = 6-01-2002
Distance = 50 miles
Goal = to Finish
Results = Completed 33 miles, AS8
General = Ran well and felt good. Had tummy troubles in spite of everything I did so as NOT to have to deal with it...pit stops cost time. Got to AS8 @ 33 miles. A BIG powerful storm blew through the area with hurricane force winds (turns out this is the worst storm in the history of the race). The winds had blown down trees across the trail, blocking the course. Just as I was leaving AS8 to continue, the RD called and told the AS personnel not to let anyone else leave AS 8. So, they called me back and informed me that I could not leave. My race ended there. I was disturbed by what seemed to be an arbitrary decision at the time. I found out later about the trees and the severity of the storm, and understood that the RD made the call as there was a valid concern for runner's safety on the course, and they had enough runner's to worry about and track already. I went home disappointed, but did enjoy what I was able to do. It is a beautiful, challenging course. I'll be back next year.
Right = I was incredibly well prepared. I had my drop bags at just the right aid stations, with exactly the right stuff in them. I had put extra 'just in case' type of items (gear and fuel)in my drop bags. As it turned out, I did need to access the extra items, as the AS's were not exactly where they were supposed to be between miles 10.5 (AS #3) and 22.7 (AS #5). Also, I had taken with me in my pack, everything I needed in case there was a storm (common in the mountains). So when the storm blew through, I had my jacket, Gortex cap, windproof headband, extra gloves and warm dry clothes if needed + a rain poncho. So I was outfitted to continue the race, even when the storm blew in. Falling trees and other such hazards created by the storm were things simply OUT of MY CONTROL.
Wrong = Not sure exactly why I still had tummy troubles. I thought I had this all figured out. I lost at least ~1/2 hour due to necessary pit stops. I may need to go to a liquid diet, low volume and no fiber at all, for the 3 days before the race. I'll try that next and see if it fixes the problem.
Other Stuff = This is a beautiful challenging kick butt course. This is one that I will probably add to my list of races that I just do every year.
A note on shoes — I ran in a new pair of Nikes that I got at the Colorado Running Co. I forget the name, but these are the shoes that are all black and have bright red shoelaces, with a waffle pattern on the sole of the shoe. I call them the "Michael Jordan" shoes. Anyway, the shoe performed well on this course. I had to tighten up the laces around my ankle for extra stability, but once I did that, my foot stopped wiggling around so much. The shoe was extremely comfortable and light weight. The waffle pattern provided adequate traction, such that I did have confidence running in this shoe, particularly on some tough downhill sections. This Nike shoe is on par with the North Face equivalent shoe that I have been running in. But Montrail's Leona Divide still rules the trail in my experience, and humble opinion.
#########
Non R reports (Saturday in state)
#########
Carol Sauceda reports:
Race = Turquoise Lake 20K
Location = Leadville, CO
Date = 6-08-2002
Distance = 20K (12.4 miles)
Goal = to run well
Results = new PR
General = We had excellent course conditions and perfect weather for running. This is the 3rd time I have run this race. I set my pace to run 'comfortably' hard, at a sustainable level of effort throughout the entire run. This is a challenging course and completely runnable. Pacing is important as there are extended uphill climbs in the first half of the race, and you need your strength to run well on the last half, which is on single track trail. Elevation at 10K+ feet adds another level to the challenge. I felt very strong throughout the run, and the altitude did not really bother me.
Right = Training through the winter and the intense weekend training runs, including Sundays with the Incline Club, are paying off. I dressed just right so as to not overheat, or get chilled, and hydrated well before, during and after the run. No tummy troubles, no pit stops. I did drink H2O at both aid stations, so I did not have to stop and refill my water bottle.
PACING — Set my own hard, but sustainable ,level of effort, and stuck with it. When I got on the trail, I slowly caught and passed a bunch of people, all the way to the finish. They were fading, and I was able to maintain my pace. I did get passed by a few people, but that did not bother me. I finished with a new PR of 2:09. This time is a good indicator that my training and fitness level is on track for a finish at the Leadville Trail 100 this year.
Wrong = Seems like I did everything right this time. However, there is always room for improvement. I probably should have placed my start position closer to the front of the middle of the pack, instead of so close to the back. I also could have taken a few less 'walking' breaks, and pushed a bit harder through the last few hills on the course.
Can't believe that I forgot my orthotics at home. BIG mistake ! So, I just stretched out the bottoms of my feet really well and made sure I was warmed up before the start. It all turned out well, with minimal stress to my feet. Just need to not ever forget the orthotics again...
####
Miles Krier reports:
Race = Turquoise Lake 20km
Location = Leadville
Date = June 8
Distance = 20 km
Goal = sub 2 hours with even splits
Results = 1:55 with 58/57 10k splits
General = The weather was great, the people were friendly, and the trail section was the best part of the whole thing.
Right = I kept the uphill sections under control so that I could press every downhill. This worked well because on the trail section I was able to maintain my stride and pace. It hurt to run around the lake but at least I was able to run.
Wrong = I should have moved from Florida sooner.
Other Stuff = My wife Barbara and I are the new owners of the AnyTrail Lodge located on the north end of Leadville. Our goal is to focus on the athletes that come to this area to train. Since we have been loyal email "members" for over two years, we would like to offer a 15% discount to any ICer that stays with us. email or call (888)486-3155 and we will help guide you to some of the other "runnable" trails in this area.
####
Jim Freim reports:
Race = Mt. Evans Ascent
Location = Idaho Springs
Date = June 1
Distance = 14.5
Goal = Finish & Enjoy
Results = 2:33
General = Non R report, but indicates the value of Sunday workouts. I did no specific preparation for this race. Can't remember when I ran 14.5 miles on roads. Course is gradual up, until about 10 miles, where the incline steepens, switchbacks galore, and crest at about 14,300. First altitude training of the year.
Right = Ran easy and continuously to about ten miles. Then ran and walked, based on steepness.
#########
Non R reports (Bike race)
#########
Diane M. Cahalan reports:
Race = Iron Horse Classic
Location = Durango to Silverton
Date = May 25
Distance = 45 miles
Goal = 5 hours
Results = 5 hours
Website = http://www.ironhorsebicycleclassic.com
General = Pedaling 45 miles is relatively easy unless its over 5500' of climbing and only 2300' of descending! Yet, the passes turned out to be easier than I had anticipated. Scenery was beautiful and especially nice morning of pedaling with the road closed to vehicular traffic.
Right = Rested before race day. Focused on maintaining/controlling breathing and cadence while climbing Coal Bank and Molas passes. Was able to stay in middle ring all the way up Coal Bank! Yet, did shift into granny on Molas to save the left knee. Trail running is my main interest and I find that it has greatly enhanced my climbing out of the saddle on the bike.
###############################################
WWW POSTS:
###############################################
6/10/02 Mon: The Barr Trail is closed! The Pike National Forest as well as the Barr Trail are closed due to the fire situation. There is no information as to how long this closure will last. You can get tons of info at the Forest Service's Hayman Fire page. (http://www.fs.fed.us/r2/psicc/fire/hayman/index.htm) Click on "news releases" for information on the closures.
6/9/02 Sun: Between the Turquoise Lake 20K and the Garden of the Gods 10 Mile only 21 were left for a run out Elk Park. Little did we know that it could have been the LAST run on Pikes Peak for the summer!!! On the way up we were looking a column of smoke to the North. By the time we finished our run and did some trail work we were looking at something that looked like a bomb had exploded. It was unreal how huge the smoke cloud was! Down in the Garden ICers were tearing up the pavement and it was reported that just about anywhere you looked you were sure to see an IC shirt:-)
6/6/02 Thur: A new Thursday club attendance record was set when 68 people came out for 30 minutes of 1 minute hard, 1 minute easy. Well most did that but quite a few were in taper mode for either the Turquoise Lake 20K on Saturday or the Garden of the Gods 10 mile on Sunday. The rest of us had a scorcher of a day with very dry conditions. Newbie Marne Collins was today's T-shirt winner.
####
Go out hard, when it hurts speed up...
Matt Carpenter
http://www.skyrunner.com
Incline Club
http://www.inclinclub.com
Barr Trail Mountain Race
http://www.runpikespeak.com
presented by Pikes Peak National Bank
Friends of the Peak
http://www.fotp.com
---