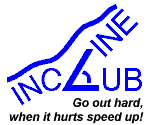 IC Baby #7 / ICer Anita @ Badwater
---
IC Baby #7 / ICer Anita @ Badwater
Sent: Saturday, July 27, 2002 6:44 PM
Subject: IC Baby #7 / ICer Anita @ Badwater
ICer J.D. VanLancker & wife Krista are the proud parents of IC baby #7 for the year. Their second child was born at 11:09 Thursday night (7/25/02) at Memorial Hospital. Jack Henry weighed 7lbs, 6oz and was 20 1/4 inches long. Say hi to Jack at (e-mail address removed for www posting).
2002 IC baby list (club runners listed):
Births:
Fred & Sarah Wright — 2/6/02 boy Wesley, girl Adabelle 1st & 2nd
Connilee Walter — 4/22/02, boy Payton 1st
Paul Sullivan — 5/8/02, boy Westin 4th
Eric Gabe — 6/7/02, girl Briana 2nd
Matt & Yvonne Carpenter — 7/9/02 girl Kyla 1st
JD VanLancker — 7/25/02 boy Jack 2nd
Still Cooking:
John & Marilyn Goodloe — 7/27/02 girl ? 1st
Robin & Andy Kovats — 8/19/02 boy Julius 1st
Rich Muzzy — 8/24/02 ? Devon or Gabriel 2nd
####
ICer Anita Bower Fromm finished Badwater — in an Incline Club shirt — in 54 hours 51 minutes and 25 seconds!
To see pictures of Anita finishing and after the finish head to:
http://www.badwaterultra.com/2002webcast/shows/show34/pages/R0014518.htm
There are six pictures of her so keep hitting the next button (the right arrow above the picture)
Anita's Badwater entry form:
http://www.badwaterultra.com/2002web/entrants/fromm.html
Press Release (Female wins Badwater outright)
http://www.badwaterultra.com/2002webcast/2002pr.html
Race website:
www.badwaterultra.com
####
Go out hard, when it hurts speed up...
Matt
---