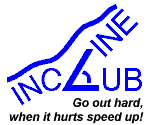 2002 Incline Club V6 - Off Season #1
---
Incline Club V6 - Off Season #1
Sent: Friday, September 06, 2002 5:29 PM
Subject: Incline Club V6 — Off Season #1
Howdy ICers,
For those that remember the new summit trail we worked on the week before the Ascent and Marathon this is the weekend that about 200 volunteers will be working on the section just below ours. (See http://www.inclineclub.com/newsletter/2002/lr39.htm) If you are interested in helping to run food to these volunteers just show up at the Pikes Peak Hwy tollbooth either this Saturday or Sunday at 9:00am. I have passes to get us through the gate. The food will be waiting for us to deliver to the hard working volunteers. After we do that some of us are planning on a little run down to our old friend the 1 mile sign and back up. PS We get fed too:-)
Congrats to those that have been running some great post season races. Some are also doing Imogene Pass this weekend as well. Be sure and send in an R report so we can all read about them http://www.inclineclub.com/rreports.htm. The page is back to normal for none PPA/M/Leadville reports.
###############################################
ICers WRITE:
###############################################
Dave Reily write:
I'm looking for some advice and suggestions from fellow Incline Clubbers on selecting an ultra to run.
The ultra I'm looking for is either a 50miler or 100K- trail ultra, is fairly easy to moderate difficulty, in a fairly scenic location, and its course isn't a double (or more) loop. If it's not too far from Colorado Springs, that would be even better. Any suggestions or recommendations? My goal would be to finish since it would be my first. I've done several marathons, including Boston and also did the PP Marathon this year in 5:33 and am 50 years old.
Thanks for your help!
Dave Reily, (e-mail address removed for www posting)
####
Jonathan Veteto writes:
I am in a possible jam. We have a 'team' for the outward bound relay and we have people dropping out, we need some help in getting a few more runners. I don't know if this is something I can throw out to the club and see what happens or not. Thought I would ask. The captains name is Kate Mittlestadt, she works at USADA. Her phone is 785-2004. My home phone is 685-9540. Anyone who is interested is welcome. We need 4 girls (yeah, lots) and one boy.
###############################################
R REPORTS:
###############################################
Mike Kolesnik reports:
Race: Angel Island 25K 15.5 miles Aug 31, 2002
Goal: No time goal but to finish in the upper 50%
Result: 2:18:20 (8:55 pace) 32nd of 53 9th in age group out of 16.
32 43 4333 Kolesnik Michael 43 M40-49 9 M 25K 2:18:20
Website: http://www.pmevents.com/enviro/AI02OAres.htm
Angel Island sits in the San Francisco Bay and is only accessible by ferry. It is about 1.5 miles across and has a peak that rises to 794 feet. The course is two laps around the Island. You would think the course director would choose the nice easy beach loop but noooo, he has to torture us with the hilly peak one. I awoke at 7am, 1 hour past my alarm time, I have no idea why I did not hear the THREE alarms I had set for 6 am. (This seems to be a re-occurring problem with me, being perpetually late) Even though the race is at 9am the last ferry leaves at 8:20 am — less than 1:20 to get there (about 70 miles). I decided that since I had already paid the $40 I was going to try like hell to get there. Out the door with no shower, no water, no food, get in truck and then decide to go back for food and water. Eat food and drink water en route while keeping one eye on the rearview mirror for cops, one eye on the watch, and one on traffic. (kids don't try this at home) as I got closer and closer to SF my w atch went faster and faster. When I got to the Golden Gate bridge the sinking feeling that I was Not Going To Make It set in. I decided that I was either going to take the next ferry (and the 25+ minute time penalty) or beg a ride off of some sailor. I park in a "1 hour anytime" spot and sprint the 1/4 mile to the ferry building — 10 minutes past the scheduled departure time. There is a huge crowd of people and there is a guy up on a balcony shouting out... my god he's shouting out race instructions!!! The Running Gods have looked down on me and shown some sympathy as the ferry is late. I'm going to race on time after all!
I race thru the crowd to find the registration table and it is still there. I get my number and a very helpful caring race volunteer inquires as to where I parked my car. Then it hits me. "uh, my car is in a 1 hour parking spot, is that a problem?" "Yes it is" comes the reply, "It will get towed for sure." I have no choice but to race back to my car and move it somewhere. The ferry is now loading and once again I am hit with that sinking "I can't believe I'm not going to make it" feeling. I start running back to the car and run past the race director who had seen me come in late. He tells me where to park so off I go at full speed to move the vehicle. I park in a pay lot, grab the ticket and again take off at full speed back to the ferry.
The ferry has still not loaded completely so I take a restroom break and then board. The race director notices me again and is relieved that I made it. Dang, these guys *are* caring. The race director than gets on the ferry PA and give out more instructions: the race will start a little late, the race will not start until everyone has suited up, gotten ready, and gone to the restroom. Is this some race or what! The ride is quick only about 5-10 minutes and then we are on the island. We all get ready and gather in the start area. There are a couple hundred runners, far more than I would have expected for this type of race. The race director asks that anybody from Texas please come up to the table. Texas? About six runners go up and he makes them get up on the table. Then he announces that the Texas runners will lead us in singing the National Anthem. So we all sing the Star Spangled Banner and cheer after it is done.
Is this a great race or what!
The race director then announces that the 12K (one lap) racers will be leaving 10 minutes after the 25K racers. The 25K race starts as the director leads the runners in counting down. We all count down from 10 and then we are off. We make one lap around the start/finish area (the 12K racers cheer us on the whole way) and we are off. It is foggy and you can not see very far, so no great view of the bay. The course immediately goes vertical and I realize that I am going way to fast for a 15 mile hilly course. Even though I feel strong I back off... and get passed by numerous runners. I tell myself that they will certainly crack and I will catch them on the next lap. (it is easy to fool one's self while at LT) I only slow down for a while and then speed back up because I can't stand being passed! (OK, another little problem I need to work on) After 36 minutes of the fastest pace I have run for this distance I am at LT and begin to get tight and then it finally sinks in, I am only halfway thru one lap a nd am already in big trouble. Just then the course levels out and we have a downhill for a short while. I recover and then run the rest of the lap at a hard but manageable pace. On the 7+ mile loop there are no water stops. I take one small bottle and it mostly weighs me down (remember we are running in a fog bank so it is near 100% humidity) I decide to drink it just to reduce the weight. I stop at the end of the lap and have a leisurely 1 minute water refill Gatorade stop. I start off again with the conviction that I will catch and pass all the runners that passed me earlier when just then a runner blasts by me with rapid speed. OK, I tell myself, I'll catch SOME of the runners that passed me... Since I have completed one lap I now know the course. The fog has started to clear and the incredible view starts to open up. We are now running uphill on the same course that the 12K runners are now running downhill on. This creates the usual runner interactions
I know my strengths and end up passing 6 runners on the uphill portion. I nearly crack after passing the final runner. I hold on till the top and look back. No runners for about 400 yards! It is all downhill from here and I crank it up. I see nobody all the way in... well almost all the way. About a mile from the end I look back up the trail and see the first of the six runners I had passed! Not only did she (yes darn it, it was a GIRL) pass the five other runners but she somehow made up the 400 yards I had on her. From far up the trail she sees me look back and I must be telegraphing my worry as she says "keep going, you're doing great" I resign myself to the fact that she is going to pass me but I decide to make her work for it. I try to crank it up one more time but, too late, nothing to crank up as my hamstrings are now too tight and I am really starting to hurt. A huge effort yields nothing. I can neither increase my stride length or speed, I am stuck at a fast plod.
As she approaches and passes I stand aside and tell her "that was a nice recovery" she mentions that the race is not over yet. Is this a great race or what! I really struggle the remaining few hundred yards. The race director calls out my time and says nice job. 2:18. I was expecting somewhere around 2.5 hours so this was real good news. I was very happy with this race as I ran faster than I ever have for this distance and did not walk or crack.
Matt, that Most Improved Runner award for the 2003 BTMR is going to be mine no matter what!!! I am going to blow thru Barr camp like a tornado! I have a whole year to lose the remaining 15 pounds and do the sharpen and speed portion of the plan. See you then.
Things done right:
Signed up the day before the race so no pre-race jitters or injury causing expectations (OK I admit it, I only found out about the race a day before)
Sleep good before the race — too good (see things done wrong)
Paced myself well and ran pretty close lap times (1:07 and 1:11)
Things done wrong:
Slept too good, woke up an hour late and had to scream the 70 miles to the race.
Still too heavy as I had some trouble on the downhills again.
####
Laila Bremner reports:
KOREAN IRONMAN 2002
SOKCHO, GANGWONDO
Rep. Korea
August 25, 2002
Overall time 13:56
Swim 3.8 km (2.4 miles) - 1:34 hrs
Bike 180.2 km (112 miles) - 6:50 hrs
Run 42.2 km (26.2 miles) - 4:48 hrs
Many years ago I set a goal of completing an Ironman, but circumstances and other interests took me on other paths--paths that seemed to prevent me from seeing my goal come true.
When we arrived in Korea in Nov. 30, 2001, my last marathon had been Pikes Peak in August 2001. My husband, Steve, & I had been doing a lot of mountain climbing that year & not as much running, so my Pikes Peak marathon time was not as fast as I would have wanted it. Then we moved to Korea--too many preparations & changes. After our arrival we had new adaptations and areas that needed to be taken care of taking a huge toll on our running. We set a new goal to do a marathon in each country of the world. Out previous goal, which we are still working on, is to complete a marathon in each of the 50 states and Canadian Provinces. The Inchoen Marathon presented a good opportunity for us in March 2002, and a chance to do a marathon here in South Korea. The race was a fiasco. Before the race my longest training run had been only 1 hour 30 minutes. We both did terribly (my time 3:45 & Steve's 3:20). I've never had such a terrible time running/walking/crawling a marathon.
Then during the first week of May I came across an article about the Korean Ironman. I thought, hey maybe here is my opportunity to see my dream come true. I had been a competitive swimmer in my childhood & teenage years, I have completed 32 marathons, 3 ultras and, at least a dozen centuries. Why not put them all together to do my first triathlon & make it an Ironman (hey, kill two birds with one stone, not a bad deal).
I knew I needed to make up my mind soon if I was going to do it. First was convincing the husband for the support. This was the easiest part. Then I went crazy looking on the Internet for training ideas or schedules that could take me there. There were lots of tips from pros but few specifics. When I finally found a nice 13 week schedule I realized I only had one week to commit myself to either go for the cookie or give up the idea for another year. By mid-week I had made up my mind to go for it.
The training was long and arduous. In Korea there is little accessibility to beaches or open clean water like the U.S. I did find a reservoir near Osan AB that simulated the waves found in the ocean. There were some problems however-such as, angry Koreans screaming at me for scaring the fish or having boats kicking me out from areas they wanted to use for water skiing. Worse was the green stuff (who knows what it was, contamination?) stuck in my swimming suit. When I needed to swim for "form," I used Base swimming pools about which I have other funny stories. Biking was easiest for training. There are plenty of areas to bike on--good roads and not so good roads. Here Steve accompanied me the most during my long hours of training.
Running training for an Ironman is quite different from only marathon training. I always felt like I was not doing enough, yet if I had trained as I usually train for a marathon, I would have ended up over training. I trusted the triathlete who wrote my schedule. He seemed to be well known among Ironman triathletes. Unfortunately, things came up and I ended up missing some of the runs…oh boy, did I have to pay for this later.
Ironman events seem to be much more exciting than regular marathons. The race events stretched over four days of festivities. We missed the Friday night loading pasta because Steve had to work-the sixth night of 12-15 hour nights for the week working the mid shift of an exercise. We left at 0500 on Saturday morning after he got off arriving in Sokcho at 0800 to pick up race package, attend a mandatory prerace meeting at 0900, browse around the expo, check in my race bags and get a hotel room. Luckily we found a hotel room facing the ocean close to the race start. Sokcho had a few expensive hotels supporting the race. Most of the competitors due primarily to lack of information were in these hotels. Happily, our hotel had plenty of rooms available.
Race day (Sunday): The day began with swimming. All the age group competitors (nonelites) wore white caps marked "Ironman Korea." We were to do two laps in Cheongcho Lake on a triangle shaped course marked with buoys. I was wearing a just borrowed wet suit (Thanks to Kym Blair & wife I didn't freeze in the water). My arms felt restricted as soon as the gun went off and we started swimming. It was a mess, everyone wanted to swim in the same place. In the competition of gaining space I was hit twice on the same spot of my left eye. One guy kept pulling my bottom to get ahead of me. I just wanted to be able to make it, so I swam very conservatively, finishing the swim without feeling tired and with lots of energy. My eyes, however, were puffy because of the hits and my brand-new goggles (dumb move).
My transition times were the worst. Besides being in my prime women's monthly fun time, the volunteers & I were not always in synch--much Ultima drink was thrown away or didn't get to me.
I did the best in biking. I thought it would be my worst but ended up being my best of the three sports. We had to do three long laps on a highway from Sokcho to Gosoeng. To Gosoeng was easier so I used it to my advantage to gain time from the hills on the way back. I thought it would be boring but really one doesn't have much for thinking. I passed tons of people, except the elites who left me in the dust.
After another long female transition event, I was ready to start running. Some people told Steve that in a triathlon it feels like doing three different activities. This was not the case for me or for many others I observed running. One's marathon time in a triathlon is almost never as good as when one does a marathon by itself. My legs felt wobbly & I moved as slow as a turtle. After two miles they started to feel better and I sped up some, passing several people. I began to think I might make it under four hours. Well, in the last 3.5 to 4 miles I crashed, hit the wall terribly, really moving like an injured turtle. Steve ran with me the last lap after he gave me some Korean tonic that I had never tried before (I was lucky it didn't hurt me at all) but even with him around, I was barely moving. As time went by the "wall" got bigger & bigger, my last mile was a walking & jogging activity and seeing many of the runners I passed passing me and finishing with an awful time of 4:4 8 hrs.
The finish line was heaven. A couple Korean women awaited, holding a robe across the finish line for each finisher. Soon after they awarded me with a nice finishing medal and my "Ironman" towel. We were led to chairs for a welcome shoulder massage, water and slices of watermelon.
Steve was a great supporter and gave me a lot of publicity before/after the race around Osan Air Base. We got published with the local base newspaper, AFN (Armed Forces TV) and Stars & Stripes newspaper (Armed Forces Newspaper). Will I do another Ironman? Sure I will. Read further for changes I would make to have a better race.
Good: I trained and followed a good training schedule most of the time; I hydrated myself well before/during race; all my bags were in order.
Bad (needs improvement): I need to own my own wet suit & do some training with it; don't wear brand new goggles; own a race bike; don't miss running training days; read more about triathlons so I can pace myself better; don't be on women's monthly fun time:-)
Thanks for reading and to all those who supported me and wished me success.
####
Gary Hellenga reports:
Race = Hood-to-Coast Relay (Portland, Oregon — 197 miles)
Date = August 23-24, 2002.
Website = http://www.hoodtocoast.com.
Goal = Finish without injuring myself or compromising my training for
the Colorado Relay, meet or beat my time estimates (about 7:20/mile
pace), help motivate my team to do well.
Results = beat time estimates on all 3 legs by 5 minutes or more.
Picked up about 35-50 places over the 3 legs; was never passed. Team
finished 142nd out of 892.
General = took advantage of gravity on first leg to run fastest 10K in a
number of years (37:09). Was pretty stiff afterwards, but able to
loosen up to run reasonable times for other 2 legs. Loved running at
low altitudes with some moisture in the air, and in cool temps (on last
2 legs, which started at 10 PM and 5:15 AM — first leg at 1 PM was quite
hot at times, though)! It was a fun race, but much more crowded than
Colorado Relay, which I prefer.
Right = did a mild taper during week prior to race, instead of panicking
over lost training time and trying to wedge in "just one more distance
run." Ran barely within myself for my current conditioning — I probably
couldn't have run any faster without burning out on the last leg. Used
our new LED headlamps for night legs — reasonable illumination for
little weight, and very long battery life! Blew by the flatlanders on
the last uphill (supposedly 2 miles, but seemed much shorter) of the
last leg — I just HAD to catch that guy in the Texas flag shorts!
Wrong = team plans were to go to grocery store on way to starting line,
but due to miscommunications, we didn't get to make this stop, so my
food/drink schedule went awry from the start. Ran first leg having only
had a PowerBar in the 6 hours since breakfast, and didn't have fluids
available prior to and during the run. I never seemed to catch up on
the food content, and got cold during the night until I could buy some
sugary muffins and such before my last leg. Didn't get ample
opportunity to stretch out after legs before getting in the van to head
off to next exchange point.
Calculator = One of our team planners estimated leg times for the entire
team before the event. His predicted team time was 25:07. We finished
in 25:01. Pretty good estimates!
Other Stuff = Ran a poor time 2 weeks before event, at Race For The
Cure. The results from this race gave me some confidence back, and I'm
liking our team's chances at the Colorado Relay in September!
###############################################
PPA/M R reports batch #3 (in the order that they were received)
###############################################
The 51 IC Pikes Peak Ascent and Marathon stories are archive here:
http://www.skyrunner.com/story/p_stories_02.htm
####
Go out hard, when it hurts speed up...
Matt Carpenter
http://www.skyrunner.com
Incline Club
http://www.inclinclub.com
Barr Trail Mountain Race
http://www.runpikespeak.com
presented by Pikes Peak National Bank
Friends of the Peak
http://www.fotp.com
---