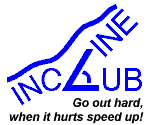 2003 Incline Club V7 LR #7
---
Incline Club V7 LR #7
Sent: Friday, January 03, 2003 2:31 PM
Subject: Incline Club V7 LR #7
Hi ICers,
With the new year it is time to make our runs a little longer. If I have heard one "complaint" about the IC (mostly from non ICers) it is that we run too long of runs. To that I can only say that is why ICers do so well at the races we are training for;-) Further, when one considers that most of us are shooting for the PPA/M I would almost argue that many of us are not running long enough! In fact, if you look over the things done right/things done wrong stories (http://www.skyrunner.com/story/p_stories.htm) the people that were honest with themselves admitted that 2-3 hour runs do not cut it for a race that can take up to 10 hours.
On the other hand, I am not suggesting that we all need to be out there as long as our race is going to take either!!! In fact, I would challenge some of you to instead of going longer try going shorter (or at least stay the same) and work on getting faster. My logic is that if you are taking 4 hours to do routes that some are doing in less than 2, doing routes that are going to take more than 4 hours is not really going to help you. On the other hand, if you are flying through the runs in around 2 hours I think 3 hours running longer and slower would benefit you more.
In short, I am trying to address the scenario I often see unfolding in that the fast people tend to go too fast for too short and the slow people tend to go too slow for too long. This is why I try to not have the slower runners out there for much more than an hour longer than the faster runners even if it means doing slightly altered runs.
Also this is a good time to say that if we were not a trail/mountain club or rather if we did not have available to us the places we train we would have to do things a lot different. I will be the first to admit that spending the time we spend for our runs on the roads would kill almost all of us! We are indeed lucky that we get to spend our time in conditions like we will encounter in the race. For example, it is very hard to get hurt (other than stepping on your tongue) going up Longs Ranch Road. Let this serve as a reminder however to take the downhills with a certain degree of respect;-)
###############################################
NEXT RUN:
###############################################
Sunday, January 5, 8:00am — Soda Springs Park
Run out El Paso Blvd and turn right before Hwy 24. Take dirt shortcut to Crystal Park Rd. Run Intemann Trail until it connects with Section 16. Do the loop and return. 2.5-3.5 hours. See Map! http://www.inclineclub.com/maps/section16.htm
Note: If you have not done this run before PLEASE print out a map or take one run and go slower and go with someone who knows the route!
###############################################
ICers WRITE:
###############################################
It's the holidays... not much writing going on but Gary Hellenga did take the time to tell us about the new family toy:-)
####
Gary Hellenga writes:
Eval 1
Timex GPS toy eval — Lynn and I have tried our new Timex Ironman Speed + Distance toy on runs the past two mornings. Lynn said it took about 20 minutes for it to locate the satellites it needed the first time it was used, but it only took a minute or two to find them this morning, and it stayed in synch the whole time I was running. I only tried the speed and distance functions this morning (haven't played with all the features yet), but it seems to be fairly accurate — while passing thru North Monument Valley Park this morning, I measured the distances between mileage markers along the trail, and the Timex reported a 1-mile stretch as 1.01 miles; another half-mile stretch it measured at exactly .5 miles. The speed function seems to adjust quickly, too, as it almost instantly showed the change from about a 7.5-8.0 MPH pace to about 5.5 MPH when I slowed down to read the numbers. The GPS module isn't noticeably heavy, but it's hard to get the band tight enough on my arm unless I'm wearing a sweatshirt or jacket. There are a couple of issues with the device — I found the display too small to read without slowing down considerably, and finally had to put it in the full-time speed and distance monitoring mode (so the distance readout replaces the time display) — then the distance info was easy enough to read, but the top line (speed) was still too small. It's almost impossible to read the display in the dark, as the Indiglo mode won't stay on long enough to read all the info. Also, we don't care for the band — it's hard to get the watch on and off, and when it gets warm, the band is likely to absorb a lot of sweat — we'll have to see how well it dries out. Still, it's a fun toy to have; now we can accurately measure the distances of the Fall Series races, instead of having to listen to Larry say, "Oh, it's probably between 3 and 5 miles."!
Eval 2
I used our new toy (Timex GPS ) this morning to informally measure a couple of distances on the UPT/LRR route. My GPS receiver didn't synch up until I got off Ruxton and onto the start of UPT, so I had to check the distances on the way back in. I measured about 3.3 miles from the UPT/LRR intersection back to Soda Springs Park, and .33 miles for "kill-hill" — it looks like that agrees with the IC UPT/LRR map (.69 for SSP to UPT, 2.60 from there to LRR = 3.29 miles for SPP to LRR).
####
Bill Ransom writes:
Well I went out to watch the massive AdAmAn fireworks display. Couldn't see a thing due to the cloud cover. Oh well, I got my first run in for 2003.
Happy New Year
Bill Ransom, 1am, 1/1/03
###############################################
R REPORTS:
###############################################
Jonathan Cavner reports:
Race = YMCA Christmas Run
Location = Boise, ID
Date = 12/21/02
Distance = 10K
Goal = 35 minute tempo run
Results = 35:01
Website = http://www.spondoro.com/results/ymcaxmas/2002/reportsFinishOverallFrameset.asp
General = I wanted a little tune up before a trail half marathon that I'm training for in Arizona. I felt ok although I definitely could tell that I had not tapered for this one. I could tell this especially when two people passed me on the "big hill." This hill was about as steep as the road from Manitou to the Cave of the Winds. The 1/2 mile of downhill was steep and muddy. I couldn't go very fast on this due to not tapering as well.
Right = Remembered that this was a tempo run for me and didn't kick it in at the finish line despite being passed at the end. Although this resulted in my first non top ten finish in a race for several years.
Wrong = Moved to Arizona and my training has suffered!
Other Stuff = The event was well run except that it started about 5 minutes late. Nice post race dinner and awards ceremony.
###############################################
WWW POSTS:
###############################################
12/29/02 81 came out for the final Longs Ranch Road solo run. Starting with the new year there will be new, and longer, runs. No Name creek and the spot near the chlorine gas building are their usual icy selves. The work several of us did earlier at No Name only delayed the process. Otherwise it was an awesome day today. Quite a few reported making the LRR loop for the first time! Ronald Garcia won this week's "about me" page scavenger hunt T-shirt.
####
Go out hard, when it hurts speed up...
Matt Carpenter
http://www.skyrunner.com
Incline Club
http://www.inclinclub.com
Barr Trail Mountain Race
http://www.runpikespeak.com
presented by Pikes Peak National Bank
Friends of the Peak
http://www.fotp.com
---