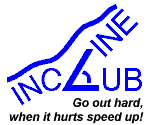 2003 Incline Club V7 TH #11 LR #31
---
Incline Club V7 TH #11 LR #31
Sent: Saturday, June 21, 2003 4:42 PM
Subject: Incline Club V7 TH #11 LR #31
Hi ICers,
Tomorrow, June 22, is the last day to order club shirts. Currently the order count stands at 186. http://www.inclineclub.com/shirt/
The Barr Trail Mountain Race is now 84% full. http://www.runpikespeak.com
###############################################
NEXT RUNs:
###############################################
Thursday, June 19, 5:45pm — Hydro Street
Done - we got very, very wet!
Sunday, June 22, 8:00am — Memorial Park
Run to the Bottomless Pit sign or even the A-frame and back via the Barr Trail. Check the car race practice schedule before doing a summit run!
Elk Park runs start next week…
###############################################
ICers WRITE:
###############################################
Jim Freim writes:
Easter Sunday, 2003
The doctor calls it retrograde amnesia. I can't remember what happened. A kind soul found me sitting in front of the Cog railway; blood from a head wound was dripping over me and I had no idea I was injured until he pointed out my situation. He took me to the Manitou police station where an ambulance took me to the hospital.
I had eighteen stitches in the back of my head, a grade 3 to 4 concussion, and the amnesia. I have no idea who, what, how, etc. I've had several head CAT scans and the swelling and bleeding has gone away. Based on the location of the injuries, the doc now believes that I slipped while walking.
For the first three weeks, my daughter Renee and my wife Sandra provided 24 hour care. After three weeks, I was still very sensitive to light, noise, and the severe headaches continued. I mostly slept — very tired and drugged! I started walking with a cane — my balance wasn't too good. I couldn't read. On the treadmill, I started by walking a quarter of a mile in 12 minutes! Not the two miles I could usually cover in 12 minutes. Whatever it takes, I will start over and return to shape!
6 weeks after the accident, I started to make rapid progress. Now, at 8 weeks out, I can walk for 60 minutes. I started to drive for short trips. The headaches are not as severe, but the buzzing in the ears remains constant. Although I am still sensitive to light, I can read or work at the computer for almost an hour.
No races this year, just recovery.
My very best to all the ICer's.
(Matt C adds: Jim had attended all 22 club Sundays in a row when this accident happened. He went on a run with the club and then went on a mountain bike ride. The last thing he remembers is getting off his bike to push it up the steep hill by the green chlorine gas building near the top of Ruxton. He may never know if this was a bike wreck or a pushing a bike walking accident. Either way, in a rush to get out the door that morning to run with the club Jim did something he says he has never done before - he left his helmet at home. I suspect most of us have done that on occasion. I know sometimes I get about a block away when I remember my helmet and always catch myself saying "it will be OK just this one time." Never again!)
####
Connilee Walter writes:
Has anyone been up or around any 14ers besides Pike's Peak yet this season? Pat and I would like to hike a 14er sometime in the next two weeks and are curious what the snow levels and conditions are out there. If you have any knowledge to share that would be great, please email me at (use the contact a club member page).
###############################################
R REPORTS:
###############################################
Curt Krieger reports:
Race = Aviary Trail Race
Location = Byron, MN.
Date = June 14, 2003
Distance = 10 miles
Goal = To run faster than last year and win my age group.
Results = Two minutes faster than last year and 1st in 50 — 59 group!
Website = http://www.rochestertrackclub.com/2003/events/aviary.html
General = Challenging run along river bottom, bluffs, and highland. There are even switchbacks in this Minnesota trail race! Basically a single-track trail entirely within Oxbow Park, the trails wind through mostly hardwood forest and some open prairie.
Right = Held back during the start of the race to save energy for the steeper sections.
Wrong = Didn't take a very serious taper going into the race weekend. Speed work on Tuesday left my legs a bit stiff and sore through Friday.
Other Stuff = Some mud holes along the trail make for some interesting footwork at times. Portions of the course are very peaceful and quiet, as well.
####
Richard Hedlind reports:
Race = Stockholm Marathon
Location = Stockholm, Sweden
Date = 6-14-03
Distance = 42195 meters
Goal = To finish
Results = 4.16.39
Website = http://www.marathon.se/stockholm
General = This is a nice marathon on the streets of beautiful Stockholm. A chance for sight seeing while enjoying a marathon along with 15,000 other runners. I am pretty sure I was the only runner wearing an Incline shirt ;). Although I met one girl from a running club in Denver. I will do this race again if I get a chance. Very well organized and a big crowd (100,000's) along the streets. The race started off with fireworks and they also had live music along the course. The finish is in the Olympic Stadium from 1912. That was super cool. Served pickles along the course. Wasn't too impressed after tasting those. :)
The weather was perfect with sunshine on the first lap and overcast with some rain on the second lap. I recommend this race if you want to do a city marathon in Europe.
Right = I was very consistent with fluids. Drank one cup of energy drink (a taste that is much better than all other brands) and one cup of water at every aid station. Also walked through most of the aid stations to assure proper drinking. I carried a water sponge in each hand as distraction for other pain. The mental hill training with the Incline Club pays off on a flat course like this too. Resting my knee for five weeks turned out great. I had no significant pain.
Wrong = I hurt my knee on an Incline Thursday run back in May and have not been able to do a single run since then so my training was a bit off which resulted in stiff legs in the later part of the race. I forgot to bring GU and Gatorade (which I have been using on all my runs) on my trip to Sweden. Couldn't find it anywhere so I had to go with different brands.
Other Stuff = The course is very flat and is two laps (not completely identical). The biggest hill gains about 80 feet over a quarter or half mile. Nothing for an ICer. The whole course is on city streets with asphalt, which is hard on the legs. It winds through the city, in a tunnel, through parks and over bridges.
####
David Hendrix reports:
Race = Garden Of The Gods
Location = Colorado Springs CO
Date = 6/8/03
Distance = 10 miles
Goal = 80 minutes
Results = 81 minutes
General = This race started by MCI on 30th st and headed south to the visitor's center, then west into the Garden Of The Gods.
Right = The thing I did right this year was to train a lot on running up hill. I also started out on a slower pace so that I would feel better at finish.
Wrong = The thing that I wish that would have been different was not running on my sore ankle. My ankle has been bothering me for about a month. I think this is due to over-training. Is this common? Any suggestions.
Other Stuff = The last time I did this race was about 10 years ago. I remember it was pretty tough due to the hills. This year it was a lot easier because I was better prepared.
####
John Goodloe reports:
Race = Garden of the Gods 10 Miler
Location = Garden of the Gods
Date = 6/8/03
Distance = 10 miles
Goal = 1:10
Results = 1:05:25 (a PR for this course)
General = I was expecting to do this race more as a training run, due to, well, a lack of training. The weather was perfect, and I had much more fun this year than any other year, until after the race.
Right = Haul butt on every downhill, even early in the race. I passed so many people that were using the downhills to "recover" from the uphills, even when we got to the last long downhill. Otherwise, I didn't do much right (see below), and have absolutely no explanation for how good of race I had.
Wrong = Not trained to run that fast (for me).
Ran 3 days of the previous 10.
Worked in the yard on Saturday, got dehydrated.
Stayed up late on Saturday, not enough sleep.
For all this, I paid dearly after the race (Rick and Keith can attest). I got "the waves" or stomach aches that lasted about 6 hours. But it was worth it, and no injuries!
####
Patrick Leary reports:
Race = Garden of the Gods
Location = Manitou
Date = June 8th
Distance = 10 Miles
Goal = 1:15
Results = 1:14
Website = www.pikespeakmarathon.org
General = My first run in the park, and WOW!
Right = I ran my own race, and forgot about the other runners near me.
Wrong = Should have prepped with more hill repeats to get up those hills
faster.
####
John O'Donnell reports:
Race = Garden of Gods 10 Miler
Location = Colo. Spgs. Colo
Date = June 7,2003
Distance = 10 miles
Goal = Better 1:31
Results = pr 1:28
Website = www.pikespeakmarathon.org
General = Nice day, the best in years. No wind, cool to start and felt good. No party from my sons 22nd. A lot of IC'ers also.
Right = Plenty of fluids and gel packs. Good carbs a few days before.
Wrong = No water stops.
Other Stuff = Felt good and see training paying off.
####
Anita Bower reports:
Race = Squaw Peak 50 mile trail run
Location = Orem, UT
Date = June 7, 2003
Distance = 50 miles
Goal = finish before it gets dark
Results = survived
Website = http://www.hometown.aol.com/jbozung/oasis.htm
General = The SP50 is a difficult loop course with altitudes ranging from 4900 ft. to 9300 ft. There is unpredictable weather, poor footing, some exposure, and difficult ascents and descents, and monsters hiding in the dense shrubbery you run through. For fun the race director likes to paint cougar paw-prints on trees to show the runners where he encountered mountain lions while he was marking the trail. Big fallen trees along the course are the result of micro bursts in the higher elevations that some unfortunate souls have encountered in recent years.
Right = This is one race I refuse to run alone. I'm just not brave enough. So I found a running partner all the way to the finish. I hydrated well, used hammer gel and G-Push to keep me fueled, and used only one S-cap the whole way. Also took in a few cracker sandwiches that had small amounts of fat to help keep the acid level down in my stomach. It worked. After the race I took a litmus test, and my system came up on the alkaline side. I never took in over 300 calories an hour, and my stomach stayed calm. After last years string of injuries, all I wanted to do was complete this course without aggravating old injuries, and make the cut-offs. I did, and made some new friends along the way.
Wrong = Could have gone a little faster.(Yes, even for me this is possible) I also failed to check before I left for Utah if my Camel hydration pack was working properly. The night before the race, I discovered that my precious cat that can do no wrong chewed on the hose of the bladder, putting hundreds of little holes in it, rendering it useless.( I suppose I could use it as a drip watering system) Princess drinks out of coffee cups, and when given the chance will try and get a drink out of my camel. After several failed attempts with duck tape to fix the situation, I ended up carrying two water bottles and used a waistpack too.
Other Stuff = I had a break-through this year at Squaw Peak. I found out that I too can run fast downhill if given the proper motivation. About seven miles from the finish my friend and I heard something in the dense brush that surrounded us on all sides. It was getting dark, and my contact lenses were getting blurry, but not blurry enough to see her eyes get big as she cautiously peered into the forest. Bear! There was nowhere to back up, the trail was too narrow and steep, so we just started yelling like banshees and hauled ass down the hill. Normally when I have to haul ass I need to make two trips, but not this time. We both got down to the meadow, a most welcome sight in this race, with the aid station people wondering what all the commotion was about. Matt Carpenter would have been proud to see such stealth!
####
Patrick Leary reports:
Race = Fort Collins Half Marathon
Location = Fort Collins, CO
Date = May 11th
Distance = 13.1 Miles
Goal = 1:35:00
Results = 1:34:39
Website = www.runnersroostftcollins.com
General = Mostly flat course. I place 1st in the men's 35-39 age group. 45th
overall
Right = I ran every mile at the same pace.
Wrong = Should have gone with just a tank top. I had two layers, and the sun
was beating down on us as we hit mile 2.
###############################################
WWW POSTS:
###############################################
6/19/03 Thur: 48 showed up and got wet. By the end of the 30 minutes of 1 minute hard, 1 minute easy it was really dumping. Hydro Street Hill repeats were cold and wet and the cool-down to the park was really wet. Did I mention that it was wet? What a great run:-)
6/15/03 Sun: 84 ICers were all over Pikes Peak today including some Elk Parkers. Perfect weather for sure. The snow report goes like this: There is no snow until about 1/4 mile before the 2 mile to summit sign. Here there are two patches that took 117 steps total. There are several patches on the first 1/4 mile of the 2 mile traverse. These took 88 steps total. None of the snow to this point presents any problem. The next patch is on the big traverse under the 16 Golden Stairs and remains a mess with people using several routes. The snow is ice packed so trying to go the right way where no one has gone is not advised. Some more small patches just before the 16 Golden Stairs then more before/after the flat traverse. Snow is not really an issue from the Fred Barr sign up. Yes, this report looks very similar to 2 weeks ago. However with the amount of snow that has fallen up there in the last 2 weeks it is amazing to see that there has been good progress on the snow melt front. All and all the snow is in the same places but just less of it:-)
####
Go out hard, when it hurts speed up...
Matt Carpenter
http://www.skyrunner.com
Incline Club
http://www.inclinclub.com
Barr Trail Mountain Race
http://www.runpikespeak.com
presented by Pikes Peak National Bank
Friends of the Peak
http://www.fotp.com
---