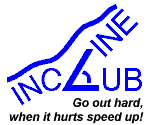 2004 Incline Club V8 TH #2 LR #21
---
Incline Club V8 TH #2 LR #21
Sent: Thursday, April 15, 2004 8:29 AM
Subject: Incline Club V8 TH #2 LR #21
Hi ICers,
I got a great comment about the IC from the COG's parking manager yesterday! Thanks to all of you for making the IC first class:-)
##
Neal and Teresa Taylor have set a tentative date for the VanFeed as April 25:-)))) Start practicing your stupid people tricks!
##
This year's shirt/hat order is going well. Looks like the hat is a hit:-) Remember the deadline to place an order is April 29th. Order here:
http://www.inclineclub.com/shirt/
###############################################
NEXT RUN:
###############################################
Thursday, April 15, 5:45pm — Hydro Street
Meet and warm up from Memorial Park! Leave the park at a time that gets you to Hydro Street on time. Do a 30 tempo run up the Barr Trail or to No Name Creek, whichever comes first. After an easy run back down the Barr Trail do 4 Hydro Street hill repeats. Cool down back to the park.
Sunday, April 18, 8:00am — Memorial Park
Barr Camp and back via the Barr Trail. Longer option is to shoot for the Bottomless Pit sign which will add about 2 miles total.
###############################################
ICers WRITE:
###############################################
Donna Smyth writes:
I have been following the IC workouts from afar (Vermont). I have done the 30 min. , 1 min. hard, and 1 min. easy in the past. One question ... how easy is "easy?" I wear a heart rte monitor, and know what hard is.
In order to get my heart rate down to what I perceive to be easy (in order to run hard in the next intervals, and complete the workout), I find that I may have to jog VERY slowly or sometimes even walk.
I realize that this is very individual, and varies with the steepness of the incline, as well as one's fitness level. Would it be better to truly walk if necessary, but finish the workout, or have it quite so easy, and shorten the overall time? In the past, I have stayed with the plan, but have been sure to get my heart rate down.
(Matt C adds: I tell the Thursday runners before the workout to adjust their easy minutes so that they can do 15 consistent hard minutes. If that means walk then walk. In fact at the beginning of the season that may be the best thing. As the season progresses you will be able to jog or run them all. It is also OK to do a combo like you do - start out jogging and after 10 or so you may find out that you need to walk. Again the goal is to have 15 quality hard ones and those come first do whatever it takes to get rested for the next hard minute! Anything else is cheating yourself and why we have a rule that there can be no passing on the easy minutes.)
###############################################
Brenda Willis Ultra 100
###############################################
Starting point 3/21/04: 307.5lbs
Last club weigh-in 4/11/04: 291 lbs
Another week of progress! Last Sunday Brenda weighed in at 291:-) The big news now is some of the residual effects of her exercise program. She is no longer getting headaches like she used to. She has also feeling more energetic:-)))
Brenda's exercise (walking) progress:
Longer walks and even some Frisbee and lawn mowing (yes, with a push mower) were the highlights this pas week. Will catch up the log next week.
Pledge breakdown as of 4/15/04:
She has now topped $7,000!!!
5 @ .20 per pound
14 @ .25 per pound
10 @ .50 per pound
1 @ .50 per pound first 50, .75 next 50 = .625 per pound
17 @ 1.00 per pound
4 @ 2.00 per pound
Total 52 pledges, $35.625 per pound
Cooperate match will bring that to $71.25 per pound or $7,125 if (when:-)
she reaches her goal.
###############################################
R REPORTS:
###############################################
Jen Taylor reports:
Race = St. Louis Marathon
Location = St. Louis, MO
Date = April 4, 2004
Distance = 26.2
Goal = Run and have fun!
Results = 3:37 (7th in age group)
General = It was a fun race since I'm from St. Louis and am familiar with the city. The weather was great and I just had fun running!
My family always comes to support and cheer me on. This race was even better since they knew the side streets — they showed up about every 2 miles!
Right =
Wrong =
Other Stuff =
####
Daiva Cooper reports:
Race = Rockin K
Location = Kanapolis Lake, Kansas
Date = April 3, 2004
Distance = 26.5 — 27.0 miles
Goal = to finish
Results = finished
General = 4 interconnected loop trails in Kanapolis State Park near Ellsworth, KS. The course was a mixture of horse trails, dirt trails with some downed trees, sand, water crossings, cow paths, and pasture land that appeared to be bushhogged for the race.
Right = 1. Drank enough
2. Ate enough food during the run
3. Ate a gel every hour
4. Took my Succeed caps every hour
Wrong = 1. Should have researched the course better --- the footing was terrible throughout most of the race
2. Should have started my caffeinated gel shots earlier — I resorted to drinking 2 huge glasses of coke at mile 18
Other Stuff =
####
Anita Bower reports:
Race = Umstead 100
Location = Umstead State Park, Raleigh NC
Date = April 3 & 4, 2004
Distance = 100 miles
Goal = finish
Results = 28:19:19
Website = http://ncroadrunners.org
General = The Umstead 100 is a ten mile loop course ten times. Although the loops and footing isn't difficult, there is considerable mental challenge with having to go out again on the same course every ten miles, each time getting more tired. But it is a well organized race, with outstanding aid stations and support.
Right = Took in enough calories the first 70 miles. Good thing, because I couldn't keep anything down but crackers and water for the last 30. Or as I would say, "clean-up on mile 75!"
Went out strong, but not too fast,(like that is ever an issue for me)and didn't spend longer than 3 minutes at an aid station.
Ate a lot of alkaline foods prior to the race to keep my ph level down. And I found an awesome pacer to help me through the 8th and 9th loop.
Wrong = Threw up after 70 miles a lot. Had nothing left but stubbornness to get me through the end.
Other Stuff = Any one looking for a good first time 100 miler should consider Umstead. It is well-organized and the volunteers are great. It is pretty reasonable as far as the entry fee goes as well. The park and facilities are impeccable. The finishers buckle is beautiful.
####
Daiva Cooper reports:
Race = Pemberton Trail 50k
Location = Fountain Hills, AZ
Date = February 7, 2004
Distance = 50k
Goal = to finish my first ultra
Results = 6:33
General = Race consisted of 2 loops on the Pemberton Trail, located in McDowell Mountain Regional Park northeast of Phoenix. Beautiful scenery — saguaro cactus, some desert wildlife, mountains. Great weather — sunny and mild temperatures.
Right = 1. Paced myself well on the first loop — ran the first loop in 3:18 and the second loop in 3:15
2. Walked the uphills on the first loop to conserve energy for the second loop
3. Ate a turkey sandwich at the halfway point, ate a gel every 1 1/2 hours
4. Drank water for the first loop and then switched to sportsdrink for the second loop
Wrong = 1. Reapply chapstick frequently to avoid burning my lips
2. Wear a short sleeve, not sleeveless shirt — my Camelbak chafed my arms near the end of the race
3. I could have pushed the pace more on the first loop
Other Stuff = A fantastic race for my first ultra. I will keep this one on my list of races to run again.
###############################################
WWW POSTS:
###############################################
4/11/2004 Sun: 78 went hopping on the bunny trail for an Easter Sunday run. The fresh snow was incredible and made for one of the best Section 16 runs in a long time. Just enough cushion that the downhill felt like velvet. On the return some of Section 16 was getting a little muddy but nothing to worry about — unless you were wearing new should. Brenda weighed in at 291 today which means another 7lbs are gone!
4/8/2004 Thur: The first IC Thursday run of the 2004 season saw 36 sneak in between rain showers for perfect running conditions. The trail was damp but not soaked for awesome traction, the air was moist and easy to breath and the temperature was cool but not cold. Also there was no snow all the way to No Name creek. The protocol today was 30 minutes of 1 minute easy, 1 minute hard. After an easy run back down the trail we rounded out the day with 4 Hydro Street hell repeats. It was great to get the Thursdays underway and those that stayed home because of the weather really missed out!
###############################################
ACCOUNT SETTINGS:
###############################################
To change your e-mail address or unsubscribe from the Incline Club newsletter go here:
http://www.inclineclub.com/membership.asp
####
Go out hard, when it hurts speed up...
Matt Carpenter
http://www.skyrunner.com
Incline Club
http://www.inclinclub.com
Barr Trail Mountain Race
http://www.runpikespeak.com
presented by Pikes Peak National Bank
Friends of the Peak
http://www.fotp.com
---