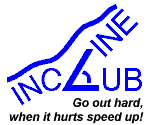 2004 Incline Club V8 TH #12 LR #31
---
Incline Club V8 TH #12 LR #31
Sent: Friday, June 25, 2004 4:26 PM
Subject: Incline Club V8 TH #12 LR #31
Hi ICers,
Sorry for this short and delayed newsletter but in this case with the Elk Park runs starting I thought getting something out was better than nothing.
The car race is this Saturday the 26th. In the past, car race practice has really messed with our attempts at Elk Park runs. Therefore, this Sunday the 27th will be our first official Elk Park IC run. Meet at the Pikes Peak tollbooth by 7am. Pay to get through the gate and park just after the tollbooth where we will carpool to either Elk Park or the summit for those wanting to work on the upper miles.
For those wanting to run from the bottom the start time remains 8am at Memorial Park.
It gets very hard to track everyone this time of year so if you don't get signed in please zip me an e-mail as soon as you can so I don't have to update the * board more than a couple of times.
####
Club Shirts/Pikes Peak Training Guides
I will be at both spots this weekend hoping those of you that ordered shirts and/or Pikes Peak training guides will be at one of the locations to pick up your stuff. If you have an outstanding order please try to show at one location or the other so that Yvonne and I can lighten our load:-)
####
Barr Camp Water Update:
The request for an extension to serve water to the public was denied by the Forest Service. The new water system is sitting downtown waiting for approval from the same Forest Service. Barr Camp will be posting signs about the water shut-off this Sunday at the trailhead and at Elk Park. However, we WILL be able to get water this Sunday!!! The new cut-off date for the water is this Monday the 28th. Stay tuned...
####
See you on Sunday and again sorry for this short one!
###############################################
ACCOUNT SETTINGS:
###############################################
To change your e-mail address or unsubscribe from the Incline Club newsletter go here:
http://www.inclineclub.com/membership.asp
####
Go out hard, when it hurts speed up...
Matt Carpenter
http://www.skyrunner.com
Incline Club
http://www.inclinclub.com
Barr Trail Mountain Race
http://www.runpikespeak.com
presented by Pikes Peak National Bank
Friends of the Peak
http://www.fotp.com
---