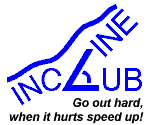 2004 Incline Club V8 TH #13 LR #32
---
Incline Club V8 TH #13 LR #32
Sent: Thursday, July 01, 2004 2:14 PM
Subject: Test: Incline Club V8 TH #13 LR #32
Hi ICers,
PLEASE remember that there is currently NO drinking water available at Barr Camp!!! No real news on that subject other than the new water system has been approved by the health department and is waiting approval from the Forest Service. Pike National Forest personal were nice enough (yea right) to make the camp do a bunch of paperwork and submit it only to tell them that they did not have the authority on the matter and it must go to Denver! Why they could not tell them that up front to speed up the process...
##
Barr Trail Mountain Race (Club run for July 18th):
83% full — register online at www.runpikespeak.com
The race could also use volunteers!
##
See you today and Sunday!
###############################################
NEXT RUN:
###############################################
Thursday, July 1, 5:45pm — Hydro Street
Meet and warm up from Memorial Park! Leave the park in time to get to Hydro Street on time. Do 30 mins of 1 min hard, 1 min easy up the Barr Trail or to No Name Creek, whichever comes first. After an easy run back down the Barr Trail do 10 Hydro Street hill repeats. Cool down back to the park.
Sunday, July 4th, — See below
1) Run to the top from Elk park off of the Pikes Peak Hwy meeting at the tollbooth at 7am or 2) Run to the top via the Barr Trail from Memorial Park leaving at 8am. THERE IS NO WATER AT BARR CAMP!!! To get $2 off of the cost of the toll go here:
http://www.pikespeakcolorado.com/Coupon%20Page.htm
###############################################
ICers WRITE:
###############################################
Michele Vaughan writes:
For those of us who are running with the club for the first time this year, can you give more details in this week's newsletter about what the Elk Park runs are? Drive to Elk Park and run where? I'm not sure where Elk Park is relationship to the trail and how far to the top from Elk Park.
(Matt C adds: To get to the Elk Park Trail you have to drive about 14 miles up the Pikes Peak Highway. This also means you have to pay at the tollbooth. We pay and then we park and carpool. From the Elk Park Trail trailhead it is about 6 miles over to Barr Camp. You start at 12,000' and run down to the camp at 10,200'.)
####
Connilee Walter writes:
I am wondering if you can put this in the next IC newsletter:
Growing family wants to purchase: Twin/double Baby Jogger — preferably Baby Jogger brand- but we are open to others if yours is a proven 'good one' to do some serious running with. Please contact Connilee at (e-mail removed from webposting to prevent spam).
####
Gary Hellenga writes:
We're surprised to hear there were only 4 steps on snow the whole way up Barr Trail a few weeks ago, and that Elk Park is runnable. There are still only some areas here where the snow is melted above 8,500 feet. I got turned back by deep snow on Saturday at only 8,300', on a trail where we were hoping to make it to a peak at 10,300' (hope it melts out soon — we're planning to do a relay over 50 miles on this same trail - most above 10,000!). We aren't getting much altitude training done up here! On the other hand, there's no shortage of water along the trails right now, and the waterfalls are quite spectacular!
(Matt C adds: The 4 steps of snow were gone on the 15th. To see how that stacks up with past years check out http://www.skyrunner.com/snowpeak.htm)
####
Nicki Rosa writes:
Yep — that would be me!!! I got hyponatremia about 10 years ago while running the PPM. Matt's right, no way could you get hyponatremia if you just used the aid stations. I stopped at all the aid stations BUT I filled my bottle, so that I could drink in-between the aid stations. I think my problem was a combination of the following:
1) Too much water
2) Not enough Gatorade (I did drink quite a bit, as well as salty pretzels, but apparently not enough)
3) It was very hot that day
4) My diet was too low in sodium to begin with, so I had no "reserves".
I didn't get hyponatremia nearly as badly as Michelle (in the link above.) I finished the race in just under 6 hours, and felt tired and a bit dizzy. Then I hung around the finisher's tent for a while, and was handed a large bottle of water. I truly believe that if I was handed a large bottle of Gatorade instead, I would have been ok. I should have known better, but was feeling pretty out of it at that point. This was Sunday afternoon. Next thing I remember was waking up in the hospital Tuesday night! And, like Michelle, there are horror stories of me kicking at ER personnel and cussing them out. :-) They kept me in the hospital until Thursday, probably to run every test in the book on me, and rack up a nice big bill. Luckily I had insurance — the bill came to $18,000. And that was for 4 night's bedrest and 4 days of IV. I still fill up my bottle at every aid station, but not with water — only Gatorade. Last year I had to chew out PPM/TCR because they had no Gatorade from Barr Camp on up, despite the fact that they're supposed to have it at EVERY aid station. I already reminded them this year. I also don't worry about eating salty foods — it's only a problem if you have high blood pressure.
###############################################
Brenda Willis Ultra 100
###############################################
Starting point 3/21/04: 307.5lbs
Last club weigh-in 6/27/04: 257 lbs (HALFWAY!!!)
If you haven't heard Brenda entered the Garden of the Gods 10 mile on June 13th 50 lbs lighter than when she started this back in March! She finished the course and only missed the cut-off by 6 minutes. Indeed, she was not even last:-) This was a big goal for Brenda. However, like what happens to most of us, she went through a little post-race funk and her weight as pretty much leveled out for the last two weeks. We are going to up her walking a little to get her back on track and ready for the Summer Round-up 12K on July 11th!
You can track her weight loss (and pictures taken along the way) on this page:
http://www.inclineclub.com/bwu100.htm
###############################################
R REPORTS:
###############################################
Fred Wright reports:
Race = Tour du Lac (Around the Lake)
Location = Bucksport, Maine
Date = June 26, 2004
Distance = 10 miles
Goal = To beat my 2002 time of 91 minutes
Results = 88:12
General = Typical Maine/New England small town race, very hilly, paved and good quality field. Winning time 52 and change, first over 60 runner did 73 plus minutes. Great crowd, well organized and $6 entry. Some of the best trophy's, made of Maine granite and embossed with the race insignature.
Right = Warmed up properly.
Wrong = Too little sleep, this being the weekend of a relative's wedding. Lots of late night parties and too much libations!
Other Stuff = Almost all races in this area will be testing. Even with the altitude training behind you, you will have a good workout, and against a tough bunch of runners. I find that I really have to work on turnover speed as soon as I get here, and I do improve with lots of speed work.
####
Nancy Hobbs reports:
Race = Double Dipsea
Location = Stinson Beach, CA
Date = June 26, 2004
Distance = 13.7 miles/2300' vertical or so
Goal = 2:30
Results = 2:15:09
Website = http://dserunners.com
General = This is a great alternative to the Dipsea, though longer. Best thing...no lottery...no wondering if you're in or not. Plus, no need to drive back to your car...just run. Great to start and finish on Stinson Beach as a backdrop. Views incredible, great trail, lots and lots of steps!
Right = Had a Gu before the race (about 15 minutes prior), took Gu with me and water/Gatorade mix. Hydrated often. Had one Gu 1 hour into the race, remainder at turn around (1:05 and change). Paced myself very well keying on people ahead of me. This is a handicap race so I was in the wave at 8:48, first wave started at 8:15. I was able to pass all but two people and only 4 guys passed me in the last few miles.
Wrong = Should have had some Gu about 1:40 into the race. I was tired for the last few miles and maybe a pickmeup Gu would have helped.
Other Stuff = Single track, trees, dirt, rocky, views, great support.
####
Jason Jungbauer reports:
Race = Estes Park Half Marathon
Location = Estes Park
Date = 6/20/04
Distance = 13.1
Goal = 1hr45m
Results = 1h45m57s: 3rd in age group, 21st overall
Website = http://www.epmarathon.org
General = Beautiful course, nice rolling hills, nothing very steep, but one climb at about 5 miles goes on for approx 1.5 miles. Well organized for its first year, the course runs on the roads around and thru Estes Park.
Right = Got some good rest. Felt fairly good thru the whole race. Trained hard on the hills all year so far.
Wrong = Perhaps went a little too hard on the long climb at mile 5, past about 8 people on the way up, but the legs felt a little tired on the following long downhill into Estes and got past by 3 of the runners I past on the uphill.
Other Stuff = Again beautiful course in my opinion, better scenery than Steamboat which is supposedly one of the prettiest marathons in the country.
####
Kevin Waters reports:
Race = Bighorn Mtn 50K
Location = Dayton, Wyoming
Date = 19 June 2004
Distance = 50K
Goal = Between 5:30 and 6:00
Results = 5:38
General = Terrific set of runs (100 miles, 50 miles, 50 kilometer, and 30 kilometer) in the Bighorn mountains Northwest of Sheridan, Wyoming. The race organization was great and the aid stations are first class (always nice to run a race where they are also running a 100 miler). We lucked out with the weather, which was cool and overcast. The only downside to the race is the last 5 miles, which are along a flat, uninspiring dirt road. That aside, the mountain scenery was spectacular.
Right = Hydrated and ate well. After the first hour (took some time to feel comfortable), found a nice tempo where I was able to run easy for most of the run. My sore back held up well (too bad I can't say that on the Barr Trail). Walked several of the big hills (learning more about this technique to use in other races). Really helps to keep the legs fresh.
Wrong = Went out a little fast, especially on the first few downhills. The quads noticed this later, but it wasn't too bad.
Other Stuff = Almost stepped on a rattlesnake, but he was running faster than me! Saw some moose on the bus ride into the start, really cool. I will say that the Incline Club runs have really helped me adapt to these 'hilly' races.
####
Todd Murray reports:
Race = San Juan Solstice 50 mile
Location = Lake City, CO
Date = 6/19/04
Distance = 50 miles
Goal = Finish (hopefully under 12 hours)
Results = 11:55
General = A tough race I did last year and wanted to try again this year on less training. Very good trails, lots of elevation, beautiful scenery.
Right = Trained enough to get through it. Took in enough calories and hydrated well enough through the race.
Wrong = Can't really complain here.
Other Stuff = I have to think this is one of the tougher 50's out there. It sure feels like one!
####
Ted Bidwell reports:
Race = San Juan Solstice 50
Location = Lake City, CO
Date = 6/19/2004
Distance = 50 miles
Goal = Sub-12:00
Results = 11:40:53 / 1st in my age group
Website = http://www.lakecity50.com
General = A great day for one of the two most difficult 50-milers in the U.S. If the two climbs to 13,000 isn't enough to challenge you, then the short climb to 11,400 at mile 41 will (unless your Matt C). Most of the running from mile 24-35 is above tree line. This is a terrific race, well organized and lots of awards and giveaways.
Right = Tapered for a week. Hydrated with water, instead of beer.
Last year I went out to fast and paid the price going up the last climb at mile 41. So this year I went out 10 minutes slower on each split and finished 24 minutes faster.
I usually do not eat and drink enough during races, so I made a point to eat and drink before I felt I needed to.
Wrong = I fell to many times during the race. Couple on the snowfields and one really good one coming down the switchbacks at mile 47. I brought a lot of trail rash home with me and gave a blood donation to the mountains.
Other Stuff = Thanks to Gordon Barnett and some of Team CRUD, that crewed for me. I usually do not have a crew and it sure helped me in the aid stations and my results.
####
Rick Pearcy/ Kim Kitchen report (sorta):
Race = San Juan 50 mile
Location = Lake City, CO
Date = 6/19/04
Distance = 50 miles
Goal = 15 hours
Results = 14:54
Website = http://www.lakecity50.com
General = Great course: breath-taking vistas, multiple snow fields, beautiful flower-covered meadows, very cold stream crossings, and 12,000+ feet of climbing.
Right =
Wrong =
Other Stuff =
####
Kyla Carpenter reports:
Race = San Juan Solstice 50 Mile
Location = Lake City
Date = June 19
Distance = 50 miles
Goal = Have fun and chase ants!
Results = Had fun and chased ants, deer and horses!
Website = http://www.lakecity50.com
General = We woke up VERY early — no idea why — but I was game. I got to sleep in this little bed without fences and that was cool. I fell off of it at night but was gently put back in bed by someone — did not care — did not hurt. So many, many horses, but was not able to touch any of them. They were always busy eating and totally ignored me. I really enjoyed playing and munching on all this food on the back of the car. I saw Dad twice after he ran away from me in Lake City with all these other people. I tried to catch up but he was going too fast. The first time I saw him again, I tried to fill his bottle but it tasted funny so I started experimenting with some sand to improve the taste and when I looked, he was gone. Next time I saw him, I was making sure the cookies were still good from the trip — they could have spoiled as you know. I sat on his towel and made him a pile of rocks in case he wanted to play a little. I was told he was going to come by any minute. I saw him run towards me and off he went. Mommy held me by the arm and did not let me run after him, not sure why. I was very upset.
Right = -Kept very hydrated
-Was in total control of my toy horses and Cow
-Got to drink pink milk
Wrong = -Was unable to catch Dad every time I saw him
-Was unable to touch any horses I saw on those 3 days
Other Stuff = I wish they would install a horse swing in the park in Manitou — I really enjoyed swinging on that one in Lake City. Go Daddy Go!
####
Yvonne Carpenter reports:
Race = San Juan Solstice 50 Mile
Location = Lake City
Date = June 19
Distance = 50 miles
Goal = Be at the aid stations at the right time!
Results = Was at the aid stations way ahead of time!
Website = http://www.lakecity50.com
General = Kyla and I were the crew team for Matt on the lake City 50 miler. Even though the race lasted ~8 hours for us, it went by real fast. Too bad we can only see the runners in 2 spots, but it was exciting to see the transformation on their attitude and disposition as the miles went by!
Right = -Scooped the area the weekend before and knew exactly where to be and when to be there.
-Managed to keep Kyla from being run over (both aid stations were right by the highway)
-Had all the necessary gear/food available
-Parked very close to the main course (who needs to run a few extra yards in a 50 miler!)
-Covered Kyla with sun tan lotion, head to toe
Wrong = — Did not cover myself with sun tan lotion (got very sunburned)
- Did not wear a hat (got my scalp sun burned!)
Other Stuff = We catered Matt on mile 15.7 and 40. Matt got to the first aid station several minutes ahead of what he told me. He did do as planned though, sitting down, changing shoes and drinking some Boost. All very fast, and off he went. On Mile 40, things were different, even though he was still way ahead of time! He was supposed to relax and drink more Boost and eat something, refill with water/powerbar mix then continue. He literally flew by, tossed the insert of a camelback (don't ask!) in the car, grabbed a plain bottle of water and off he went. Could not have been more than a 3-second-stop. We saw him again at the finish and for the post-race "puke" fest! It was awesome to be there and see him pull this off! Way to go Poo!
####
Matt Carpenter reports (and reports, and reports...):
Race = Lake City 50
Location = Lake City
Date = June 19, 2004
Distance = 50 miles
Goal = In descending order; course record, win, not walk, finish, not dnf
Results = Course record, won, did not walk, finished, did not dnf
Website = http://www.lakecity50.com
General = Lake City is located 55 miles South of Gunnison. Most telling is that if you click on the race website's Yahoo map you get a red star located in the middle of nowhere. Oh, what a hidden gem! A small town with a small town feel not spoiled by the trappings of the ski industry. Fishing seems to be as touristy as it gets. However, I was not there to fish!
I had been debating between the Lake City 50 and the Zane Grey 50 in Arizona as my first 50. One too many people telling me that the Zane course was comparable to running down a creek bed full of rocks convinced me that Lake City would be the better choice. I should say right out that this was not my ultra debut as I won the Doc Holiday 35 miler back in the early 90s.
The Lake City course consists of a large counter clockwise loop with 3 major climbs. A 4,000' plus climb from the start to about 9 miles, another 4,000' plus climb from 15.7 to about 24 and a 1,700' climb from 41 to about 44. For the most part, if you are not running up, you are running down — although there were a few level sections along the Continental Divide at 12,000'. The course map is at http://www.lakecity50.com/sj50course72new.jpg and the elevation profile is at http://www.lakecity50.com/profile.gif
As part of my preparations I picked the brains of several ICers and CRUDers who had done the race in the past. Problem was each person I talked to gave a radically different description and at times I wondered if they were talking about the same course. Because terms like "steep," "rocky" and "runnable" mean different things to different people a recon trip was in order. Yvonne, Kyla and I headed out on Friday the 11th to check out some of the course. I took off on the first 15.7 mile section from the start of Alpine Gulch to the Williams Creek Aid Station. There are about 16 creek crossings in this section which can tend to throw a person for a loop so I wanted to know what I was in for.
Things were going well until about 50 minutes into my run where I came to a section I was not sure about and reached for my map only to find it was no longer in my pocket. I ended up finding most of the course but did have to bushwack the last 4 miles back to the aid station location where Yvonne and Kyla were playing in a creek. Needless to say, getting lost left me a little disconcerted. The next day I bagged my planned section in order to do this section again to find out where I went wrong. I also wanted to try running with lighter shoes and no socks. What a difference — I felt like I was an Indian in moccasins! In fact, these shoes were lighter wet than my other shoes dry:-) I found the rest of the course (and my lost map) which put my mind at ease. Even better was that at a pace I considered my survival pace (a pace I use on new courses so that if I get lost — like the first attempt — I can go a long time) I managed to run 6 minutes under the record split for that section. We drove to a few other sections of the course and I ran a mile here and a mile there. There was nothing else to do.
Race week was fairly tough on my mentally. This is the first race in 4-5 years where I was actually nervous. However, nervous is good and can make for a great race. Indeed, some of my worst races were the ones I went into without feeling much of anything which is the way most of my races have been as of late. From the day I signed up for this race I had been getting all kinds of e-mails and feedback each sending a nice shot of adrenalin through my system. There were both good and bad expectations and the pressure to perform was growing. Although I believed in my training and in my theories of ultra running, until the rubber hit the dirt they were just that — theories. Speaking of rubber, I killed some of the time during the week by tweaking my shoes to make them even lighter. In the end, I got them down to 5.5 ounces:-)
On the 18th we headed back to Lake City. Just outside of Woodland Park we saw a big black bear crossing the road in front of us. I took it as a sign — a sign that things were about to get wild. The pasta feed that night was good and the instructions from the RD were short and to the point. No cutting switchbacks, no littering, if lightning comes get off the Divide! Waking up at 3:45am the next morning turned out not to be as big a deal as I had thought simply because I was not sleeping much anyway. We drove the 5 minutes from our hotel to the race start and checked in. I decided against any form of a warm-up figuring that even a minute spent running now might be one less I could run later.
We set off and within 30 seconds Dan Vega and I were being called back on course after we went straight at the first intersection instead of turning right. In our defense we were going to turn right at the next block and were opting for the all dirt option as opposed to the asphalt option. Alas, we turned around and joined back up in the middle of the pack to less than muted laughs. We had the last laugh however because in about 40 seconds we were back at the front and 20 seconds later I was on my own.
The first section went just awesome with most of it spent telling myself to back off the pace. The few times I got my feet wet I could not even feel a weight difference. As planned, near the top of the climb, at the first aid station, I put on my socks. I did this because I learned in my practice run that if a rock gets in your shoes while sockless it hurts a LOT more. I was in and out just a smidge over my self imposed 1 minute aid station limit. This next section is where I got lost on my first practice run. However, because it was race day the course marking were awesome and I could relax and concentrate on my running which made a big difference over my practice runs. Indeed, when I got to the Williams Creek aid station at 2h32 I was 14 minutes ahead of course record pace.
I went through with a planned shoe change from my 5.5 ounce shoes to a 6.5 ounce version with slightly more cushioning. I did this because of the stories of the "rocks" up on the Divide. In hindsight, I should have stuck with the 5.5s. Yvonne and Kyla had enough food set out for about 6 runners and even a towel on the ground to sit on while I changed my shoes. It was great to see them but the visit was short and at about 1 min 30 would be my longest station stop for the day. I drank a BOOST nutritional energy drink for a quick 360 calories and took off. Between the BOOST, the PowerBars I had dissolved in my water bottles and CARB-Boom! energy gels I was hoping to take in 600-700 calories an hour.
The climb to the 3rd aid station at 22 miles was perhaps one of the harder sections of the course for me. Not physically, but mentally. This was a short section and the course record split was 1h04. I was worried that even though the first 15.7 felt easy perhaps I went too fast and now I was going to pay. Only the split time at the aid station could answer the question. When I got to the station in 58 minutes for a total of 3h30 still feeling somewhat fresh I knew that my pacing, although fast, was fine. I had taken another 6 minutes off the CR pace and was now 20 minutes ahead.
I was too fast in one respect however. The aid station was not set up yet because they were not expecting anyone that early. I could not even get water because they could not find the cups. I took my CamelBak and headed off. With the first sip of my PowerBar cocktail I realized I had made a crucial newbie mistake! I had been drinking the dissolved PowerBar mix for months because it tastes great and it works for me. However, I had never pre-made a mix and let it sit as would be done for this "drop bag" aid station. I don't know what is in a PowerBar to cause this but it smelled like it had fermented and I was able to spit out a bunch of white congealed stuff that looked like (and tasted like) spoiled milk! I shook the mixture to spread out the taste and went from drinking every 10 minutes to every 5 just so I would have to drink less at a time. Not to drink it was not an option at that point. With 9 miles to the next aid station with most of it at 12-13,000 feet I was stuck. I put it out of my mind.
I had decided before the race that this was the section to do the most damage to the course record. There was just no way 9 miles should take 1h59 as the course record splits indicated. When all was said and done I did the section in 1h44 picking up another 15 minutes and putting me 35 ahead of the record. 31 miles were done, 5h14 had passed and over 8,000 feet of the 12,000 feet of climbing were behind me and I was still feeling great! However, another newbie mistake would come back to haunt me:-( In my quest to shed every once of extra weight I had stuffed my 100oz CamelBak bladder in my 70oz pack. While I was drinking some plain old water from a plain old cup the aid station crew pulled the bladder part way out to fill it. There was no way to get the bladder back in the pack even after we dumped half of it out! With my 1 minute aid station limit coming to an end I headed off carrying just the bladder in my hand. I am sure it looked kinda funny but it worked. The next 4 miles went really well and then a big rocky downhill to the 40 mile aid station began.
I hated that downhill! It was not so rocky that you could not run fast but just rocky enough that you had to watch every step. This forced a lot of short steps or hops which started to wear on my legs and for the first time I started to feel beat up. It was also getting hotter (82 by some reports) as I went down. Course record split was 1:12 and I managed a 1:04 to come into the 40 mile aid station at 6:18 well ahead of the 7:01 record pace. However, my quads were starting to tire and I told Yvonne that "things were getting ugly." At the same time, I was charged because I now felt there was a good shot at going under 8 but I did not think I could spare even a 30 second stop. I grabbed some water and off I went. I would later learn that everyone had quite the time trying to figure out why I was running with just the bladder of a CamelBak...
Again, the climb from 41 to 44 gains 1,700'. This is the one everyone warned me about. However, to be perfectly honest, I was so happy to stop running downhill I was actually glad to start the climb! Sure, it was hard, but it did not hurt like every step of the downhill was. This was also some of the best single track on the whole run! I picked up another minute on the record on this section and near the top saw Rick Hessek taking photos. He told me he thought I had a good shot at sub 8 as well. Next, during a rolling section, someone else's pacer followed me for about a mile. This was kinda nice for a change. However, after they stopped I actually gave back a minute on the record during the final 3.5 mile descent. I hit the asphalt thinking it was going to be close. Fortunately, with each step on the road, I felt better and went faster and finished strong in 7:59:44 besting the old course record of 8:43:23.
I was determined not to just stop cold turkey and jogged for about 5 minutes. OK, I also wanted to be able to say I have run for more than 8 hours:-) I then laid down in the shade. Over the next 8 hours I had to throw up about 10 times until I finally felt good again. I am fairly convinced that the bad PowerBar mix was the culprit although I probably went a bit hard the last mile or so shooting for the sub 8. On the other hand, you won't hear me complain about a bunch of trips to the bathroom because it beats feeling good and having to live with a 8:00:01.
Right = 1) Went "old school." In the late 80s and early 90s it was all the rage to tweak our shoes, trim our numbers, cut our tags — whatever it took to shed extra weight. As far as the shoes go its simple math! Lets just use a 10oz shoe, which most would consider a light shoe, as an example. By running with shoes that were 4oz lighter I was saving 1lb every 4 steps. I run with a cadence of 180 steps a minute. That saves me 45lbs a minute. I ran for just about 8 hours or 480 minutes so in the end I saved 21,600lbs!!! Any questions?
2) Training. Did not make the mistake of sacrificing quality for quantity. I found that a really long run (30-40) on the weekend interfered with my Tuesday and Thursday speed sessions. Although I did a few these I mostly went with medium long (20-25) runs back to back on Saturday and Sunday. I found I could run them quite a bit harder and yet still run well on Tuesday and Thursday. Also, running the 2nd day with slightly tired legs better simulated late in the race for me than running one longer where I would feel fresh during most of it. Another mistake I avoided was making my speedwork sessions longer. Simply, it isn't speed if it isn't fast and you can only do so much fast. I kept my speedwork sessions short and fast. If I wanted more I did them in sets so that I could keep the quality the same in each set.
3) Approach. Instead of viewing the 50 as a long run I viewed it as a short week. In a week, a lot of things can happen. You can have a great Tuesday and a crappy Wednesday. Likewise, in the race, I knew that any bad sections could be followed by good sections. Again, I actually looked forward to the final climb:-) To build on this principle I went 6 plus months with no days under 1.5 hours and most even longer. To do this I had to run when I felt good, bad and ugly — just like what could happen in an ultra. Cool thing is, I believe by doing all the bad and ugly in training I did not have to encounter too much of it in the race:-)
Wrong = 1) OK, I messed up big time by not pre-testing letting my PowerBar mix sit out overnight.
2) I was just not thinking straight when it took 15 minutes (and 2 people) to shove that 100oz bladder into my 70oz pack the day before the race. Like how was I supposed to refill it? DUH!
3) I may have blown through the 40 mile station too fast. I figured with "only" 10 miles to go it was OK to start going into a food/hydration debt. However, this was a very long 10 miles because of the 1,700' climb. Had I taken another BOOST could I have made up more time? It's a delicate balance and at the time I just did not feel anything I did at the station could make up for the lost time spent there. It may have made my post race recovery better but I am thinking most of my stomach issues after the race had to do with mistake #1. Further, because I felt strong once back on the flats, I am thinking I was just out of downhill muscles and not out of running energy. I need more time to think about this one.
4) In hindsight, I should have gotten a pacer for miles 40 to the end which was allowed. I sorta settled into a "just get it done" mentality and had stopped pushing the pace. In fact, the only sections of the last 10 miles I did with any effort was a mile or so stretch when someone else's pacer started to run with me and the final mile to the finish where a biker was riding next to me and then a spectator joined in as well.
Other Stuff = Had a great crew in Yvonne and yes, even Kyla. I mean, a towel to sit on while I changed my shoes!!! They thought of everything:-) They were also nice enough to let a few other runners use my station after I had departed. I am very fortunate to have them in my life!
####
Norman Mclennan reports:
Race = west highland way
Location = Scotland
Date = 19 June , 2004
Distance = 95 miles
Goal = to finish
Results = 8th
Website = http://www.westhighlandwayrace.org
General = feeling bad after only 10 miles, struggling I think due to a cold week before race, started to feel better after 50 odd miles, funny enough last 35 miles were fastest.
Right = took it easy early on, didn't feel like it at the time.
Wrong =
Other Stuff =
####
Mary Jo Campbell reports
Race = Garden of the Gods 10 Mile Run
Location = Colorado Springs
Date = June 13, 2004
Distance = 10 miles
Goal = Try to tolerate the pavement
Results = 1:52
General = Came into the weekend with sore shins due to including a few road runs. Had rested, massaged, taken anti-inflammatories, iced, warmed up properly and still considered dropping at Mile 2 because of the pain. Had to walk a lot and stop to rub out the sore spots. Finished strong — (passed 10-15 people in the last mile) but with a pathetically slow overall pace.
Right = Went to all but 2 of the Garden training runs, knew the course from previous years, arrived early on race day to warm up and stretch, stayed hydrated, went out easy.
Wrong = Could have used more speed training. Need better shoes for roads that cushion the pounding.
Other Stuff = Not too hot, weatherwise. Was getting a massage when Brenda Willis crossed the Finish and enjoyed sharing her excitement/exhaustion. Way to GO!
####
Kate Raphael reports
Race = Steamboat Springs 1/2 Marathon
Location = Steamboat Springs
Date = June 6, 2004
Distance = 13.1 miles
Goal = 2:00:00
Results = 1:55:18
Website = http://www.Steamboat-chamber.com/events/marathon.htm
General = Beautiful scenery, gentle rolling hills with net elevation loss of 260 feet. The temperature was perfect for running, however quite cold prior to race starting.
Right = Kept a steady pace, worked on the hills.
Wrong = Caught the first bus to the start, getting me there an hour before race time. Expended too much energy shivering, as did not bring appropriate warmup clothing.
Other Stuff = The race was well organized. Cold wet towels at the finish were a nice touch.
####
Harry Harcrow
Race = Rye By The Sea
Location = Rye, New Hampshire
Date = May 29, 2004
Distance = 10K
Goal = sub 40:00
Results = 38:45
Website = http://www.ryebythesea.org
General = We were in New Hampshire for a wedding and thought that it would be nice to run a local race. This is a beautiful part of the country and nice small town for an event like this. There is a 5k, 10k, and duathlon.
Right = I ran a very consistent pace. I was relaxed and just tried to enjoy the run.
Wrong = Nothing that I can think of.
Other Stuff = This course is a loop starting in town and heading out by the sea and heading down the coast for a few miles before heading back to the start. I had envisioned a beautiful run along side the beach, but instead there is a retaining wall along the beach and you really cannot see the ocean at all. :( With about a mile to go I passed someone and thought that I might have to sprint the final 1/2 mile to keep him from passing me. Then we came upon a hill and I thought that if I could maintain my pace up the hill I would have it and sure enough he fell back.
###############################################
NON R REPORTS:
###############################################
Paul Kirsch reports:
Race = Mount Washington Road Race
Location = Pinkham Notch, New Hampshire
Date = June 19, 2004
Distance = 7.6 Miles up the auto road
Goal = break 1:30
Results = 1:25:05
Website = http://www.gsrs.com
General = This is my 6th time running the race up the auto road. For those who don't know it, the race goes up the 7.6 mile auto road at an average of an 11.5% grade. The first three times I had miserable times all above 1:50. Then the race shortened year and then last year I did a 1:38. I have always felt like I should be able to break 1:30 and that was my goal this year.
Conditions were perfect for me-- it was about 60 and light rain at the start and above treeline it got windier and windier with peak gusts of around 55 mph during the last 1.5 miles. Visibility during the last 2 miles was down to about 10-20 feet.
Right = I did 6 training runs on the road this year. I went up to mile 6 twice, mile 5 three times and mile 4 once.
I changed to a more rigid run-walk strategy this year, forcing myself to walk for one minute at a time, at a minimum of once a mile after mile one. This allowed me time to recover more so than previous years when I would only walk for 10 to 20 seconds.
I stuck to my split times I did in training runs. I wrote them on my arm and even when I had the urge to go a little faster in the first 4 miles, I stuck to my plan. That left me a lot more strength for the last 3 miles.
The last thing I have to say helped me this year was I'm about 10 pounds lighter than last year, some of which I attribute to running on snowshoes 6 days a week this whole winter. It kept in better shape when it was time to run trails again.
Wrong = Looking back, I wished I had pushed it a little more in the last couple of miles and broken 1:25 but that was all gravy at that point. Something to shoot for for next year
Other Stuff = It was cool to have the race be a USATF Mt. Championship and a Teva Mountain Running Team qualifier. What other sport do you get to run in the same race as 20 or so of the greatest mountain runners in the country?
Jonathan Wyatt of New Zealand smashed the old course record with a time of 56:41. It was incredible to think what he might do without the brutal winds in the last couple of miles.
###############################################
WWW POSTS:
###############################################
6/27/2004 Sun: At least 72 ICers were on Pikes Peak today. About half started from Elk Park with the rest starting from either the bottom or the top. The weather held out just long enough for most to get their run in but a few got wet!
6/24/2004 Thur: Some serious rain scared off all but 33 ICers. But as is typical of Pikes Peak weather it cleared up almost totally at the start of the run and quite a few set some PRs:-) 10 Hydro Hell repeats finished off the day.
6/20/2004 Sun: 68 were all over Pikes Peak today. Various reports indicate that it was an awesome day to be on the mountain although it was a little humid and the clouds rolled in about 2 hours into the run. However there is/was NO snow on the trail whatsoever. Of course just wait till these clouds lift!
6/17/2004 Thur: 43 braved rain and hail to do 30 minute of 1 minutes hard, 1 minute easy. However, there was nothing easy about the weather today but the rain is welcome for sure!
###############################################
ACCOUNT SETTINGS:
###############################################
To change your e-mail address or unsubscribe from the Incline Club newsletter go here:
http://www.inclineclub.com/membership.asp
####
Go out hard, when it hurts speed up...
Matt Carpenter
http://www.skyrunner.com
Incline Club
http://www.inclinclub.com
Barr Trail Mountain Race
http://www.runpikespeak.com
presented by Pikes Peak National Bank
Friends of the Peak
http://www.fotp.com
---