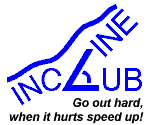 2007 Incline Club News V11 LR #6
---
Incline Club News V11 LR #6
Sent: Wednesday, December 27, 2006 9:55 AM
Subject: Incline Club News V11 LR #6
Hi there ICers,
I am happy to announce that Connilee had a baby yesterday:-) Tessa Grace Walter was born at 4:30pm on December 26 and came into the world weighing 7 pounds 8.5 ounces at 19.5 inches long.
Please send her and the family your best via her club page at: http://www.inclineclub.com/show.asp?name=Connilee%20Walter
While you are at it, tell her how much you appreciate her work with the newsletter! She puts a lot of work into it and if you can believe it was actually concerned about putting out a newsletter today. Now that is a true ICer!
####
This week's run:
Sunday, Dec. 31, 8:00am — Memorial Park
Head out the Ute Pass Trail until it intersects Longs Ranch Road. Take TWO lefts and head UP Longs Ranch Road. Try to smile when you hit Poppa Bear Hill;-) Connect back into the Barr Trail at No Name Creek and run back down to Memorial Park. Take the J Pipe trail before the top of LRR for a shorter run. 2-3 hours, if it would be longer do an out/back.
Not only will this run end the year, it will end our use of just the two loops. In addition to combining Waldo and Longs into one long run (Yikes) we will also add in some other runs. PLEASE be sure to fill out a Cave of the Winds liability waiver (both sides) available at http://www.inclineclub.com/caveofthewinds.pdf and bring it to one of the next club runs so a bunch can be delivered in one trip. Otherwise, you will need to head up there and deliver your own. This waiver is REQUIRED if you are going to run up Rampart Range Road and down into Williams even if you are just connecting into Waldo. When running with the IC I would respectfully request that you respect the wishes of the Cave of the Winds and fill out a waiver! It is awesome that they have this option and I wish other landowners (namely the owners of the Incline) would do similar.
####
Rescue Run 5k and 10k
The 29th Annual Rescue Run will be held on Monday, January 1st at Palmer Park. Race time is 10:00 AM, so you can still stay out late on New Year's Eve and make it to the race.
The race features 5K and 10K courses in Palmer Park. The courses are hilly, but that's no big deal for Incline Club members. Registration is $18 before race day, and $20 on race morning. There are also free kids races.
All proceeds of the race go to the El Paso County Search and Rescue. This group provides free search and rescue operations in our area. They also help out with stranded drivers during severe weather. During the blizzard we had last October, they were out there helping to dig people out and provide safe transport. And Search and Rescue also supports the local running community by providing on-course communication and medical support for the Barr Trail Mountain Race, Pikes Peak Ascent, Pikes Peak Marathon, and Winter Series.
More information on the race can be found at
http://www.pprrun.org/events/RescueRun/main.htm
####
Club pages and e-mails:
Every once and a while I get an e-mail from a shocked ICer who has learned that their club page is public. Please understand that in all likelihood your IC page will come up #1 for your name on most search engines. This has resulted in many people being reunited with lost friends and in some cases lost family or family they did not even know about for a few adopted people. On the other side, I know of at least 2 instances now where people were tracked down by people they did not want to know about them. Bottom line, just give your "about me" page the once over and make sure that what you have there is ok for anyone to see!
On a related note, I have done some tweaking to the backend code of the club site as far as preventing automated spam via spam bots from getting to you. If you ever got or get a spam message (or just a message from a jerk which sometimes happens as well) via the club site I apologize. Rest assured your e-mail address is never given out!
Spam, is a never ending war and you can help make things smoother by making sure you have (e-mail removed to prevent spam) added to your OK/white/non spam list or whatever your mail host calls its list. Just because you got this newsletter does not mean your mail host will not change something. We have been having on and off issues with both Yahoo and AOL accounts. Some mail hosts filter e-mail fairly hard and something as simple as a URL they don't like (from a R Report to a race website for example) could stop your mail from being delivered if (e-mail removed to prevent spam) has not been pre-approved.
####
www post:
12/24 Sun: At least 70 ICers must have had their holiday shopping in order because that is how many came out the day before x-mas. It was down right balmy compared to last week:-) Waldo was in good shape, although quite a bit slower due to the snow. But the big news was Elaine with Marigold's was back with some goodies. Anita Bower also brought some homemade cookies so it was a heck of a feast:-)
####
The calendar, birthdays and other aspects of the club newsletter will return next week. Again, I thank Connilee for the amount of time she puts into our newsletter!
See you Sunday,
Go out hard, when it hurts speed up!
Matt Carpenter
PS To change your e-mail address or unsubscribe from the Incline Club newsletter go here:
http://www.inclineclub.com/membership.asp
Remember, you signed up for this newsletter and can unsubscribe just as easily. Please be considerate of other ICers that may share your domain and don't tag the newsletter as spam just so you won't get it in the future. Again, you can nuke yourself from the list in about 5 seconds using the link above without impacting your fellow runners!

---