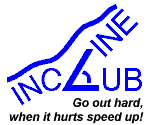 2007 Incline Club News V11 LR #14a - Reminder About Race Registration
---
Incline Club News V11 LR #14a - Reminder About Race Registration
Sent: Tuesday, February 27, 2007 4:42 PM
Subject: Incline Club V11 LR #14a - Reminder About Race Registration
Hi Incline Clubbers!
What are you doing at 8 AM on Thursday, March 1?
That is less than two days from now, and if you are planning to run the 2007 Pikes Peak Ascent or Marathon this year, you should already be preparing to register for your race. Remember, last year was the first year of online registration and both races filled up within hours on March 1. Don't be left out.
Read this page very carefully: http://www.pikespeakmarathon.org/entry.htm
Some helpful tidbits:
*If you are signing up for the Ascent, decide NOW if you should be in Wave 1 or Wave 2
*If you are signing up for the Ascent Wave 1 or the Marathon, have your qualification criteria (race name, year, time, and a *link to your results*) ready to go before registration begins!
*The links to active.com registration pages are now active. Find YOUR race and bookmark it for Thursday
*Read through all the registration information on active.com prior to March 1, so that you can submit your registration as efficiently as possible
*Then, at 8 AM *sharp* on Thursday, make sure you have your credit card and a good internet connection to the registration page for YOUR race. Get ready to fly through your registration.
Train hard, and register for your race on time. :*)
Connilee
---