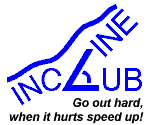 2007 Incline Club News V11 LR #18
---
Incline Club News V11 LR #18
Sent: Wednesday, March 21, 2007 3:37 PM
Subject: Incline Club V11 LR#18
ICers,
Pikes Peak Registration
Of the many ICers at Sunday's run, everyone indicated that they'd gotten into the race of their choice. Way to go!
If, by chance you are still wanting to get in, there are openings for the Ascent Wave 1 Wait List, and the Triple Crown Series Wave 1 and Marathon options.
As well, don't forget that for some folks, the 1/2 Price 2006 Age-group Awards entries and Comp 2006 Overall Awards are open until April 1. Competitive Entry Requests are open until July 20.
Complete entry information is at: www.pikespeakmarathon.org
***
Encouragement On An IC Run
I have a confession to make: I have not made it out to many IC runs this season. Between the whole baby thing :) and family schedules, it just hasn't happened (does it count that I'm always there in spirit?!).
But last weekend was different, I had an hour to go for an IC run..I chose the lesser of several evils :*) and ran out the Ute Pass Trail.and let me tell you I suffered out there! However, I was so encouraged by the many people who said hello, or offered a gracious word.
I love this about the Incline Club: that we are all out there to improve our running, but have a sense of community and camaraderie too. (It's ok to get sappy and sentimental once in a while, right?:* ) Keep up the good work in training, and in encouraging each other!
***
Train hard and train smart,
Connilee
***********************************************
NEXT RUN:
***********************************************
Sunday, March 25, 8:00am — Memorial Park
***********************************************
THIS WEEK'S QUOTE:
***********************************************
"If your goal is realistic, your chances of success are greater"
~Training for the Ascent and Marathon on Pikes Peak by Matt Carpenter and Jim Freim
***********************************************
ICers WRITE:
***********************************************
New Race to Benefit Education and Environmental Initiatives
Shannon Galpin writes:
Please join us, June 24th for the 1st Inaugural Race for the Mountains trail race in Breckenridge. Consider it a great prep course for the Barr Camp race in July. This is a great incline course — up, up, with a little more up! At altitude. In addition this is a trail race with a cause — this race is presented by Mountain to Mountain www.mountain2mountain.com), a Breckenridge organization working to promote education and environmental initiatives through racing and the outdoors in our mountain communities that benefit other mountain
communities around the world. This year's recipient is the Central Asia Institute (www.ikat.org) which builds schools in remote mountain villages of Pakistan and Afghanistan. Cost is $45 for the long course (10 miles) or $35 for the short course (5km) and a kid's race/treasure hunt. 100% of the race entries go to CAI with the race being run by the generosity of our sponsors. Come for the race and stay for the great post race expo — over twenty exhibitors giving
away raffle prizes and free schwag, live music, free BEER, and lots of great prizes! Sponsors include Wild Oats, REI, Isis, Breckenridge Brewery, Oasis 9600, North Face, and many, many more! Please be part of making this a successful first year trail run that is sure to please trail runners and their families! Registration is with active.com please contact Shannon Galpin or visit the website at www.mountain2mountain.com for more details or to get involved!
***
Barr Trail Conditions (from the Incline Club Message Board)
Matt Carpenter wrote: Those that did it yesterday 3/19 were getting bloody shins by Bobs road and turned around at the 7.8 sign. But the reports are that it is very nice up to No Name and is melting fast. Won't be long:-)
***********************************************
IC BIRTHDAYS: 3/21/2007 — 3/27/2007
***********************************************
Bill Walz:
http://www.inclineclub.com/show.asp?name=Bill%20Walz
Bradley Holbrook:
http://www.inclineclub.com/show.asp?name=Bradley%20Holbrook
Gene Kozowski:
http://www.inclineclub.com/show.asp?name=Gene%20Kozowski
Jack Cotton:
http://www.inclineclub.com/show.asp?name=Jack%20Cotton
Jonathan Veteto:
http://www.inclineclub.com/show.asp?name=Jonathan%20Veteto
Kevin Huff:
http://www.inclineclub.com/show.asp?name=Kevin%20Huff
Kita Alvares:
http://www.inclineclub.com/show.asp?name=Kita%20Alvares
Kreighton Bieger:
http://www.inclineclub.com/show.asp?name=Kreighton%20Bieger
Lesley Mace:
http://www.inclineclub.com/show.asp?name=Lesley%20Mace
Linda Ronas:
http://www.inclineclub.com/show.asp?name=Linda%20Ronas
Patrick Aird:
http://www.inclineclub.com/show.asp?name=Patrick%20Aird
Pete Brey:
http://www.inclineclub.com/show.asp?name=Pete%20Brey
Ryan McWhorter:
http://www.inclineclub.com/show.asp?name=Ryan%20McWhorter
Tim Allison:
http://www.inclineclub.com/show.asp?name=Tim%20Allison
***********************************************
NEW IC MEMBERS: 3/14/2007 — 3/20/2007
***********************************************
Billy Krause:
http://www.inclineclub.com/show.asp?name=Billy%20Krause
Jazmin Beattie:
http://www.inclineclub.com/show.asp?name=Jazmin%20Beattie
Shannon Galpin:
http://www.inclineclub.com/show.asp?name=Shannon%20Galpin
***********************************************
UPDATED ABOUT ME PAGES: 3/14/2007 — 3/20/2007
***********************************************
Bob Mishler:
http://www.inclineclub.com/show.asp?name=Bob%20Mishler
Brian McCarrie:
http://www.inclineclub.com/show.asp?name=Brian%20McCarrie
John Garner:
http://www.inclineclub.com/show.asp?name=John%20Garner
Laura Kelecy:
http://www.inclineclub.com/show.asp?name=Laura%20Kelecy
Mark Schulz:
http://www.inclineclub.com/show.asp?name=Mark%20Schulz
Steve Kandrach:
http://www.inclineclub.com/show.asp?name=Steve%20Kandrach
Tim Barnes:
http://www.inclineclub.com/show.asp?name=Tim%20Barnes
Tim Steffens:
http://www.inclineclub.com/show.asp?name=Tim%20Steffens
William Keller:
http://www.inclineclub.com/show.asp?name=William%20Keller
***********************************************
"R" REPORTS:
***********************************************
Catalina Marathon — Santa Catalina Island. Avalon, CA — March 17, 2007
Tim Steffens reports:
Distance: 26.2 miles
Goal: Under four hours
Results: 4:08:12
Website: http://www.pacificsportsllc.com/CatalinaMarathon/athlete.htm
General Summary:
My first marathon!! The day stated by getting up at 3:30 am and catching a boat
from Avalon to Two Harbors where is where the race starts. I felt really good in
the first nine miles, but by mile nine I began to cramp. I was able to overcome
the cramps by mile 13 and I just continued to keep my focus.
We couldn't have asked for better weather! It was overcast and foggy. The
humidity kept it really cool, but from about mile 18 to mile 21 or so we came
out of the clouds and the sun and heat were relentless.
What a great place to run my first 26.2! Most of the views were covered by the
clouds but there was a couple of ocean views that were just spectacular!
Thanks "coach," John, Scott, Clark, Tony, Brian and all of the Tuesday and
Thursday winter running crew. Without all of you this wouldn't have been
possible! Your companionship on this journey was fantastic!
Things Done Right:
Trained hard, tapered, and stayed healthy!
Things Done Wrong:
I need to figure out my diet and work on taking care of my "business" before the
race!! 2.5K loops.
***
Run Through Time (Turret) Marathon — Salida, Colorado — March 17, 2007
Tom Kelecy reports:
Distance: 26.2?
Goal: Finish on 2 legs
Results: Finished on 1.9 legs (4:10:15)
Website: http://www.salidarec.com/ccrc/results/2007-Turret-Marathon-Results.htm
General Summary:
Found out about this race on Wednesday, made the decision to run it on Thursday,
tapered on Friday, ran it on Saturday — a training run (for SJ50) I told myself
- spent Sunday hobbling up and down the several thousand feet of stairs in our
house. A little cool at the start (upper 30's low 40's), but warmed up nicely
for a beautiful day. The race started and finished in Salida which has an
elevation of around 7000'. The net elevation gain was about 2000', but the
cumulative was 3800'+. The outbound leg was to the old mining town of Turret,
and after a little climb back out of the valley the town resides in, we branched
off for an alternate route back to Salida with around 9 miles to go. This last
9 miles had some pretty good climbs, not much snow but some judiciously placed
mud, and some very steep and rocky down-hills over the last 22-24 miles. Tried
kicking off the tip-top inch or so of a billion tons of Rocky Mountain on the
down-hill so I wouldn't have to lift my legs so much, but couldn't get them to
accommodate. Hobbled in the last half mile or so to the finished on the same
section we started on. There were 96 starters (I finished 15th overall), with
the top male finishing in 3:09:21, and the top female finishing in 3:55:51.
Things Done Right:
Kept a good, reasonable pace for most of the race. Did the Ute-Waldo-LRR double
the previous Sunday, rather than the day before the race. Does swimming chest
deep in snow count as cross-training? No weeks of pre-race anxiety by deciding
to run it 1-2 days before the event.
Things Done Wrong:
Bonked a little at the end, in spite of the whole day of rest I got. The 3 gels
I downed were probably not enough, and I should have drunk more fluids along the
course.
Any Other Stuff:
A wonderful, small town atmosphere, with lot's of nice runners and volunteers.
Though the age group awards went only to the top person in each category (I
finished 3rd in mine), I did win a $15 coupon to a local pizza parlor at the
raffle. Lucky wins out over good, yet again!
***
Catalina Marathon — Catalina Island, CA — 03/17/2007
Michael Shafai reports:
Distance: 26.2 miles
Goal: P.R. and sub 3:30
Results: P.R., 3:34:21
Website: http://www.pacificsportsllc.com
General Summary:
This was my 7th consecutive Catalina Marathon, and each year I forget how tough
the hills really are. Runners World recently dubbed it the best trail marathon
in the country, and its been hailed as the toughest sea-level marathon. I don't
know if that's true, but it's always a humbling experience for me. This year, I
had the pleasure of bringing out 3 first-time marathoners (fellow IC-ers Tim
Steffens & Scott Perry, as well as my brother-in-law), along with 2 other
experienced runners (fellow IC-ers John Gardner & Clark Sundahl), and we had an
absolute blast. The race also coincided with St. Patrick's Day, which added to
the revelry. We spent about 11 hours "re-hydrating" after the run. :)
Things Done Right:
The weather was perfect for a marathon... overcast and cool until about mile 19.
I thought I had hydrated well, although I had some minor leg cramp issues in the
final few miles. This caused me to slow down my pace and sacrifice my sub 3:30
goal time, but I was happy with the overall race. I still managed to eek out
3rd place in my age group and Clark took 2nd (with a time of 3:21). I bested my
P.R. for this marathon by 10 minutes.
Things Done Wrong:
May have gone out too fast, but I think I would have hurt at mile 23 regardless.
So, in essence, I heeded the first part of the Incline Club motto. Go out fast.
Problem is, when it hurt, I couldn't go faster. I also ate a greasy, nastily
delicious In&Out Burger (Double Double, animal style) the day after the race.
In hindsight, this was a bad idea.
Any Other Stuff:
The bars in the town of Avalon on St. Patrick's Day are out of control. Since
the town is about the size of a college campus, there's no need to drive, hence
people tend to get a little wild. The highlight of the weekend was watching a
rather robust, middle-aged white dude at the karaoke bar doing the greatest
rendition of "Funky Cold Medina" I've ever heard. I'm hoping he'll be back next
year. I know I will.
***
Run Through Time Marathon — Salida, CO — March 17, 2007
Laura Kelecy reports:
Distance: Trail Marathon
Goal: Finish before the awards ceremony at 2 p.m.
Results: 4:23:21; 3rd woman
General Summary:
Gorgeous day for a run in the mountains. Nice, low key event, great awards (hand
drawn framed art by the race director), friendly runners & volunteers. Very
challenging course — lots of climbing and lots of tricky downhill. Nice shirt,
good door prizes.
Things Done Right:
Had no real expectations going into this race, except to get in a good training
run in preparation for the San Juan 50. Did some long-ish runs on all kinds of
terrain, so figured I could finish.
Things Done Wrong:
No taper, can't run downhill on loose rocks, need 1/2 size bigger shoes &
gaiters (my feet got a wonderful exfoliation)!
Any Other Stuff:
We decided to run this race 2 days before; it just sounded like it would be a
fun event and a good way to see what kind of shape I'm in. We ran with the half
marathoners until their turnaround point, which was mostly uphill. They turned
around and we continued on to the ghost town of Turret. There continued to be
plenty of climbing and at one point we crested this hill and the most
magnificent view of the Collegiate Peaks opened up and I felt like singing (OK
everybody: The hills are alive...)! At the 17-ish mile aid station we took a
trail that was pretty rolling, with lots more uphill than I expected — it just
kept coming! Then the trail started downhill, steeply, on some really loose
rocks. I had been 2nd place woman until then, but because I run like a girl on
that stuff, I got passed by one woman, and several men. We finished back at the
park where we started. I was excited to see the finish line! I was very proud of
Tom who ran an excellent race!
***
Salida to Turret Marathon — Salida, CO — 03/17/2007
Anita Bower reports:
Distance: 26.2 miles
Goal: 4 hours
Results: 5:33:48 time to taper!
General Summary:
A low-key marathon, the course reminded me a lot of the Collegiate Peaks races
in May. No frills, spartan aid stations, well organized, nice volunteers, a good
taper run before the Umstead 100 in two weeks.
Things Done Right:
Took it easy, obviously with a time of over 5 1/2 hours.
Things Done Wrong:
Took it too easy. The slow pace I was moving at made me tired. Took too much
caffeine before race,( I didn't think I could do that). I drank a can of Spike,
that contained 300mg of caffeine, along with 6 cups of coffee, trying to wake up
while driving out the morning of the race. I bonked pretty bad 7 miles into the
race. I also forgot my Little Debbies. However, from the looks of things, Dr.
Rocket and his partner in crime must have been downing lots of Little Debbies,
as they both finished in respectable times.
***********************************************
NON — "R" REPORTS:
***********************************************
None
***********************************************
WWW POSTS:
***********************************************
None
***********************************************
CALENDAR:
***********************************************
Current version of the Incline Club calendar
***********************************************
NEWSLETTER SUBMISSIONS:
***********************************************
Additions to Incline Club News from IC members are welcome and encouraged. Submit a Newsletter Item at:
http://www.inclineclub.com/newsletter.htm
***********************************************
WEBSITES:
***********************************************
Training for the Ascent and Marathon on Pikes Peak
http://www.skyrunner.com/guide/
Barr Trail Mountain Race
http://www.runpikespeak.com
presented by Pikes Peak National Bank
Incline Club
http://www.inclineclub.com
***********************************************
ACCOUNT SETTINGS:
***********************************************
To change your e-mail address or unsubscribe from the Incline Club
newsletter go here:
http://www.inclineclub.com/membership.asp
---