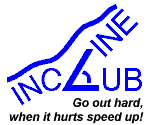 2007 Incline Club News V11 TH #5 LR #24
---
Incline Club News V11 TH #5 LR #24
Sent: Wednesday, May 02, 2007 4:08 PM
Subject: Incline Club News V11 LR#24
Good afternoon!
Well another week has nearly 'run' past me! Here is this week's news!
***
Train hard and train smart,
Connilee
***********************************************
NEXT RUN:
***********************************************
Thursday, May 3, 5:45pm — Hydro Street
Warm up from Memorial Park in time to get to Hydro Street. Do 30 minutes of 1 min hard, 1 min easy up the Barr Trail. Run easy back down the Barr Trail do 5 Hydro Street hill repeats.
Sunday, May 6, 8:00am — Memorial Park
Head out the Ute Pass Trail until it intersects Longs Ranch Road. Take TWO lefts and head UP Longs Ranch Road. Try to smile when you hit Poppa Bear Hill;-) Take Bobs Road to the Barr Trail. Run to Barr Camp and then head back down via the Barr Trail.
***********************************************
THIS WEEK'S QUOTE:
***********************************************
If one could run without getting tired, I don't think one would often want to do anything else. — C.S. Lewis
***********************************************
WWW POSTS:
***********************************************
4/29/2007 Sun: At least 66 headed out on various runs today. Waldo was popular but so was the Barr Trail. About 10 of us made it to Barr Camp:-) There is still a little snow left in the last 1/2 mile but after that it is nothing but snow!
4/26/2007 Thur: 49 ICers did a 30 minute tempo run up the Barr Trail. Conditions were perfect. Even the Hydro Street hill repeats did not seem so bad...
***********************************************
IC BIRTHDAYS: 5/2/2007 — 5/8/2007
***********************************************
Andy Kovats:
http://www.inclineclub.com/show.asp?name=Andy%20Kovats
Bruce Vollmer:
http://www.inclineclub.com/show.asp?name=Bruce%20Vollmer
Jeff Platt:
http://www.inclineclub.com/show.asp?name=Jeff%20Platt
John Dietrich:
http://www.inclineclub.com/show.asp?name=John%20Dietrich
Jon Parker:
http://www.inclineclub.com/show.asp?name=Jon%20Parker
Karen Monk:
http://www.inclineclub.com/show.asp?name=Karen%20Monk
Ken Holmes:
http://www.inclineclub.com/show.asp?name=Ken%20Holmes
Kevin Houghton:
http://www.inclineclub.com/show.asp?name=Kevin%20Houghton
Lee Moss:
http://www.inclineclub.com/show.asp?name=Lee%20Moss
Martin McCloud:
http://www.inclineclub.com/show.asp?name=Martin%20McCloud
Nathan Chan:
http://www.inclineclub.com/show.asp?name=Nathan%20Chan
Sarah Murphy Case:
http://www.inclineclub.com/show.asp?name=Sarah%20Murphy%20Case
Scott Farrell:
http://www.inclineclub.com/show.asp?name=Scott%20Farrell
Scott Perry:
http://www.inclineclub.com/show.asp?name=Scott%20Perry
Steve Sargeant:
http://www.inclineclub.com/show.asp?name=Steve%20Sargeant
Tom Selke:
http://www.inclineclub.com/show.asp?name=Tom%20Selke
Vlad Umanskiy:
http://www.inclineclub.com/show.asp?name=Vlad%20Umanskiy
***********************************************
NEW IC MEMBERS: 4/18/2007 — 5/1/2007
***********************************************
Dustin Birdsong:
http://www.inclineclub.com/show.asp?name=Dustin%20Birdsong
Ed Shute:
http://www.inclineclub.com/show.asp?name=Ed%20Shute
Roy Fatur:
http://www.inclineclub.com/show.asp?name=Roy%20Fatur
Sharon Burton:
(About Me page was not filled out)
Sheryl Wilcox:
http://www.inclineclub.com/show.asp?name=Sheryl%20Wilcox
Shiela Harrell:
http://www.inclineclub.com/show.asp?name=Shiela%20Harrell
Susan Mopper:
http://www.inclineclub.com/show.asp?name=Susan%20Mopper
Travis Trampe:
http://www.inclineclub.com/show.asp?name=Travis%20Trampe
***********************************************
UPDATED ABOUT ME PAGES: 4/18/2007 — 5/1/2007
***********************************************
Marc Wulfkuhle:
http://www.inclineclub.com/show.asp?name=Marc%20Wulfkuhle
Sarah Murphy Case:
http://www.inclineclub.com/show.asp?name=Sarah%20Murphy%20Case
Susan Thornton:
http://www.inclineclub.com/show.asp?name=Susan%20Thornton
***********************************************
"R" REPORTS:
***********************************************
Screamin Snowman 10K — Eldora, Co — Feb 11, 2007
Doug Laufer reports:
Distance: 10K — snowshoe
Goal: Do a double — have fun
Results: 1:29:41 (Rufus T Firefly in the results)
Website: http://www.racingunderground.com/ssresscreamin07.html
General Summary:
Snow shoe races are FUN!! Great way to get good workout at altitude in the winter. Racing Underground does a good job putting on snow shoe races — interesting courses, good swag. For this race goodies included a light weight Cool Max winter running cap — looks cool and very light weight, have found it very useful.
Things Done Right:
I did PPRR winter series race #3 the day before (in the snow, slush and mud) then did the snow shoe race. I ran hard both days so got my double. Also I had LOTS of fun rumblin' and stumblin' through the snow.
Things Done Wrong:
Waited too long to file this race report. Did not do another snowshoe race this season.
***
Lakewood Mug Run 10K — Lakewood, CA (not CO) — March 10, 2007
Doug Laufer reports:
Distance: 10K — flat & fast course
Goal: Qualify for a bib that starts with B at Bolder Boulder 10K. Get from downtown LA to Lakewood, CA time
Results: 45:12
Website: http://www.runnersimage.com/showresults.php?race_id=748
General Summary:
I had to go to LA for a conference — thought it would be a great chance to do a race at sea level on a flat & fast course. It was the week after the LA Marathon so pickings were limited but the Lakewood Sheriff Mug Run 10K fit the bill. Flat as a pancake course. The race started and ended at a shopping mall, most of race was on the roads of Lakewood. Event was well organized. There must have been a screw up on marking miles 3 & 4. After doing miles 1 & 2 at just under 7:20 I
was shocked when my split for mile 3 was 6:45. I tried to ask the couple runners by me about the odd split, but they were "tuned out." Mile 4 was "slow" by an equal amount so someone just screwed up placing the mile 3 marker...meanwhile I started looking around and realize I was the only one running without an iPod. I thought "Oh my god this is an iPod 10K, I am going to be DQ'ed." Seriously I would guess 70+% of the runners had iPod's; welcome to the Southland aka SoCal.
Things Done Right:
I left the hotel in downtown LA and headed for the freeway on ramp with the lyrics from Jerry Jeff Walker's song in my head:
"Pack up all your dishes, make note of all good wishes
Say goodbye to the landlord for me, Sons of *** always bore me
Throw out those L.A. papers, moldy box of vanilla wafers
Adios to all this concrete, gonna get me some dirt road back street...
If I can just get off of that L.A. freeway without getting killed or caught down the road in a cloud of smoke for some land that I ain't bought..."
I got to the race with time to spare.
I ran even splits with a time that qualifies for a BA bib for the up coming Bolder Boulder.
Things Done Wrong:
In my log it says "A+ effort" so I guess I got all I could for where I was at; that said, I could have done more speed work, I could train more consistently, I could be 10 pounds lighter or 20 years younger.
Any Other Stuff:
I wore my Incline shirt for the race (I always wear an incline shirt at out of state races — you never know what interesting discussions it might lead to!!! BTW: Sure could use some new cool max Incline shirts (hint hint). Anyway through the Incline shirt met Dan & Vicki Adams who had "successfully" entered the Peak March 1 and were planning their tactics for early the upcoming Tuesday morning when we did it all again — I have not checked to see if they got in. I also met a couple trail runners and a 50 state runner due to Incline shirt — one was a massage therapist — nice bonus!
***
Roma Marathon — Rome Italy — March 18, 2007
Doug Laufer reports:
Distance: Marathon: 42.195Km
Goal: Do a 26.2 mile (42.195 km) running tour of Rome. Complete marathon #90;
29th year in a row to do one
Results: 3:53:34
Website: http://www.tds-live.com/wtrpg/race.jsp?id=1254&locale=2057
General Summary:
I was planning to run a March marathon and was already registered for the National Marathon in Washington DC, but my wife wanted to go to Italy for her 60th birthday. Sounded fun to me, so I looked for a different marathon in March, possibly just before we planned to go — imagine my delight when I found that the Rome (Roma) Marathon was scheduled during the time we planned to be in Italy.
So I did a marathon through the streets of Rome: start and finish in front of the Coliseum, ran past all the tourist spots — Circus Maximus, Pantheon, Vatican/St. Peters Basilica, Trevi Fountain, Spanish Steps, etc. etc. etc. It was a big city marathon, over 12,000 starters, streets closed — NO traffic issues, very well organized. Runners in Italy approach aid stations like they drive, no queuing, just blast in and blast out — he who hesitates gets bumped in the rear!!
Things Done Right:
I ran a marathon in Rome, Italy, WOW it was awesome!! My first marathon of 2007, my 29th straight year of running one or more marathons and my 90th marathon overall (do not count the Peak — it is a lot of things — a marathon is not one of them).
The marathon went well, settled into pretty even pace once I quit thinking about miles (only Km's marked on course — 42 of them, plus an extra .195 Km — blame the Queen of England). I had slightly negative splits (1:57:34/1:56:00). I spent the rest of the day after the marathon wandering around the Forum, Coliseum, and Palatine Hill — lots of walking, time on feet. My wife was very impressed — I told her it was much easier than a doubling :-). I think all that walking actually cut muscle soreness from race in the days that followed
Things Done Wrong:
I did not learn my Km pace chart. I was not focused on a specific time, but I did not want to go too fast or too slow. Early in the race I was trying to figure out what my km splits worked out to in miles — I was confused!!!
I probably did not prep for race properly: the days before the marathon I was in tourist mode, lots of time walking and standing (my legs ached), I probably did not get enough sleep, I included Italian wine in my hydration routine, sometimes I had no idea what I was eating, but hey how often do you get to Rome!!
Any Other Stuff:
I wore my Incline shirt for the race (I always wear an incline shirt at out of state races — you never know what interesting discussions it might lead to!!!). Only one person commented on the shirt/Peak — a Yank with ties to Colorado. That is by far the fewest comments — well maybe there were other comments but "Non capisco Italiano" (or German, French, etc.)
***
Greenland Trail — Greenland Open Space (N. of Palmer Lake) — April 14, 2007
Tom Kelecy reports:
Distance: 50K
Goal: Finish in less than 5 days
Results: finished in 0.2159722222222222222222222222 days
Website: http://www.greenland50k.com/
General Summary:
Others have provided a pretty good description of the course and weather description in their previous R reports. I was hoping to run more even paces than I did (first 2 fast, the third slower, the fourth a forced march). I definitely noticed when I exceeded my longest previous run of the season (26 miles). The concept of training like you plan to race certainly has some merit, at least as much as possible/practical where distance is involved.
Things Done Right:
Took a gel at each of the 2 aid stations (one at 3.5 miles and the other at around 7 miles). Used a handteen bottle which made it easier to drink more regularly, something I knew I needed to work on doing from previous longer races.
Things Done Wrong:
Probably ran the first 2 laps too fast. Might have done a little better spacing a few well placed walking breaks earlier. Ended up walking 1-2 miles of the last loop. Should have done more training on the course ahead of time. Also, should have used sunscreen on my arms.
Any Other Stuff:
Nice shirt, and there was a lot of good food afterwards, though I didn't have much of an appetite (too full of gel).
***
Boston Marathon — Boston — April 16, 2007
Craig Hafer reports:
Distance: 26.2 miles
Goal: Finish in the top 10 overall; backup goal — finish faster than last year
Results: 4571st place; I achieved the second goal, time 3:26:12, 5 minutes
faster than 2006.
Website: http://www.bostonmarathon.org/
General Summary:
It was a dark and stormy night...
The forecast for Monday's run was not much better.
The most up-to-date weather forecast calls for a predicted Spring storm on Monday, including heavy rains (potentially 3 to 5 inches), with the start temperatures in the mid to upper 30's. Wind will likely be East (in the face of the participants for most of the race) in the 20 to 25 mile per hour range, with gusts to as much as 50 miles per hour. This will produce a wind chill index of 25 to 30-degrees Fahrenheit.
There was a steady hard rain all day Sunday, Sunday evening and Monday morning walking to and waiting for the bus. On the bus ride to Hopkinton we went through a heavy downpour. By the time I got off the bus, the rain had slowed down some. A large number of us huddled under a large tent in an attempt to stay dry and warm before the race. It was still raining during the walk to the starting line and during the wait for the gun to sound. However, by the time the race started, the rain had slowed to a light drizzle. And shortly into the race, the rain stopped! It only lightly sprinkled a couple times during the
first half of the race. The road was dry by the end of the race! The
temperature was in the low 40's. Nearly perfect running conditions. There must have been a head wind since the lead Kenyan was off of his time by 7 minutes from the previous year. Still I was 5 minutes faster than last year.
It was another dark and stormy night...
It rained very hard Tuesday in the Boston area.
Wow. What a great time!
Things Done Right:
I dressed properly for the weather. I was able to stay warm and dry before the race. I was able to strip down to a comfortable level for the near perfect running weather. My shoes felt dry during the entire race!
Things Done Wrong:
I set my primary goal to big.
Any Other Stuff:
Although the crowd was still out in large numbers, I concentrated on the run. Boston is a tough course with the hills. My legs were trashed the last four miles. A great experience. I will be back next year.
***
The Pueblo Chieftain's 29th Annual — Pueblo — March 4, 2007
Craig Hafer reports:
Distance: 10 miles
Goal: 70 minutes (up to 70:59
Results: 71:00
Website: http://www.chieftain.com/springrunoff/
General Summary:
The weather was beautiful for this race. It was cool, sunny, and no wind. The course is basically flat. However, there is a significant portion of the race on concrete.
Things Done Right:
This was an excellent short, fast training run for my marathon training. I had a close to even split — 35 minutes for the first half and then 36 minutes for the second half.
Things Done Wrong:
I was fooled by one of the mile markers and may have slowed down too much the next mile.
Any Other Stuff:
This course was much faster than the 10m GOG and the third race of the Winter Series (the only other 10m runs I have done).
***
Springs Desert Ultra — Fruita, Colorado — 04/21/2007
Anita Bower reports:
Distance: 25 miles
Goal: 5 hours
Results: sucked!
General Summary:
Scenic course. Great trail run, if you like technical rocky trails.
Things Done Right:
Found lots of good food out on the trail! One of my many stupid coping
mechanisms for dealing with a race course I struggle with is not to eat during the race. That way I can hopefully feel so bad that I quit. But I don't quit, so this is a really stupid, pointless thing to do. I got so hungry and wasted that I ended up picking up food that other runners dropped on the trail, which really helped my energy levels. It is amazing what you can find if you are running along at a snails pace. For example, I found bunches of dark chocolate M&M's around mile 14. Judging by the colors of them, they were obviously left-over
Easter candy that some evil parent probably robbed from some poor child's Easter basket. I poured a little water on them to get the sand and grit off, and they were just fine. I'd say I had about 200 calories of M&M's during the race, that I found on the ground. Later though, I really hit the jackpot. Sharkeys! I love Sharkeys, and there were four in perfect condition laying besides the trail just a mile later. A little spit to get the dust off, and down the hatch. But the trail gods weren't done bestowing their blessings on me yet. As I neared the
final aid station, I spied something red lying in a clump of grass. Was it a broken piece of a bike reflector, or could it be a Jolly Rancher? You guessed it...it was a Jolly Rancher, and cherry flavor, my favorite! A passing cyclist looked at me as I bent over and picked it up, with a look on his face that said, "you're not actually going to eat that are you?" I asked him if it belonged to him, and he said no. Then I ate it.(the Jolly Rancher, not the cyclist). Now all
I wanted was some Gold Fish crackers. I also wanted five million dollars in my bank account, a 23 inch waist, and peppy 36C's but I couldn't find any of that on the last six miles of the race, so I probably won't be running this race again!
Things Done Wrong:
Have you ever had one of those races where you try and cover up your running number as you approach the finish so that the announcer can't tell who you are and say your name over the speakers for all of humanity to hear just how bad you sucked? That pretty much sums up my race.
***
Copper Crawl 13K — Miami, AZ — April 22, 2007
Jonathan Cavner reports:
Distance: 13K
Goal: Course Record
Results: 55:30 (CR)
Website: http://www.miamiboomtownspree.org
General Summary:
The Copper Crawl races are a part of the Boomtown Spree local to Miami, AZ. Miami is a town adjacent to Globe, AZ known for its copper mining. The Boomtown Spree has 3 running events, the Copper Crawl 5k and 13k and the Keystone Stair Climb. Since all three were scheduled to start at the same time my plan was to run the 13k. The 13k gains 1500 ft above the town of Miami and then drops back down to the city. The 5k does the first 1.2 miles of uphill on the 13k course and then travels along the ridge for a little while before dropping back down into the town for the finish.
I left on Friday night due to a 7:15am start the next morning. Camped outside of Superior, AZ at the Oak Creek Campground in Queen Creek Canyon. The next morning I woke and it was pouring rain! I assumed the races would be run rain or shine, so I arrived at 6:15am at the staging area.
I joined the race organizers huddled underneath a canopy discussing whether to postpone due to the rain. I was rather shocked about this considering that I had never run a race that was canceled/postponed due to weather, especially rain. The word was that it would be postponed until 1:30pm. I figured this might turn out ok, because I could run the Keystone Stair Climb that traditionally was run during the same time as the Copper Crawl. While waiting for the stair climb I decided to run some of the course to get a sense of what the first couple miles would be like. I was impressed at the grade as the first mile went from a start at 5% gradually increasing to around 10% with an eventual
15% grade as it left the paved road.
The stair climb, postponed till 10:00am, only gains a couple hundred feet and the record was 45 seconds. It's essentially stairs in the town that climbs up a hill to access homes further up on the hill instead of having to take the switchbacks on the road. The record for my age group, 30-39, was 55 seconds. It's run as a time trial, one person at a time. I figured I would take a shot at it since I had the time. I took a strategy of a moderate effort to half way and
all out for the rest of the time. When my turn came around I followed the plan and towards the top pushed to the limit. This execution ended up giving me a 48 second time. This was enough to break the age group but not the course record.
Finally 1pm came around and I started warming up for the 13k. The course record for the 13kat the staging area was advertised at 57:58. The 5k and 13k started off together with the firing of a pistol. A local track and cross country runners took the lead from the start. We started heading up the road. When the 10% grade started Adam Hunt took the lead. Adam is a local Phoenix runner that specializes in hill/mountain runs marathon and under. I followed
directly behind. Adam put on surge and I let him gap me about 15 yards. He when we left the road and began our 15% grade Adam faded. Sensing weakness I kept the same pace passing him and gapping about 20 yards. The 5Kers were behind a ways at this point. After the 5k turnoff the course went back to around 6%. Adam maintained about a 20-30 yard deficit. I had a real issue concentrating at this juncture, but I knew that I needed to put the race away on the uphill. Finally after about a mile of 6% I was able to focus and start pushing hard. I ended up
putting at least a minute on Adam by the turnaround. The downhill was fast and furious and I ended up adding to the lead. Past a few 5Kers at the bottom and finished at 55:30. This was good enough to break the course record. Adam came in two minutes later also under the course record. Third place was a local track runner slightly above the course record, but underneath an hour.
Things Done Right:
Race preparation, training
Things Done Wrong:
Went a little fast at the beginning
Any Other Stuff:
Received a $50 gift certificate to REI for 1st place
***
Free State Trail Runs (26.2m/40m/100k) — Lawrence, Kansas — 4/28/07
Darrell Weaver reports:
Distance: 26.2 mi.
Goal: Finish
Results: I finished (4:09:16)
Website: http://psychowyco.com
General Summary:
Three trail races were run simultaneously on a 21 mile loop course.
Single-track trail through dense woods, winding along a lake shore. A lot of up and down, short-steep stuff. The trail was well-marked and over all, a little rough: fist-sized rocks and roots and a lot of slippery, shoe-sucking, sticky clay mud, often ankle-deep. Some water crossings. Weather was sunny and warm.
Things Done Right:
I hadn't run a marathon in 12 years or over 15 miles in the last year, so I took it out slow and tried to run with even effort overall.
Drank a lot, pushing the fluids, 4-5 water-bottles, since it was very warm.
Things Done Wrong:
I considered this a training run (in conjunction with a family trip-to get my Sunday IC*) so I guess nothing went wrong, although my finish time was pretty miserable. On the other hand, it was good to get a reminder early in the season how much the Ascent will hurt, so I can prepare for it.
Any Other Stuff:
Contrary to common belief, Kansas is not all flat, and there are some pretty gnarly trail runs back there. Check out Bad Ben's psychowyco.com website.
***
Platte River Half Marathon and Buckhorn Exchange Relay — Littleton, Colorado -
April 1, 2007
Diane L. Repasky reports:
Distance: 13.1 miles
Goal: 1:51:30
Results: 1:51:37
Website: http://www.platteriverhalf.com
General Summary:
Race run along the Platte River from Littleton to the Buckhorn Exchange
Restaurant. Mostly bike paths, mostly flat course.
Things Done Right:
Training going as planned. Used this race as a long run for Boston and to see how my training was going. Right on target, hoping for a 3:45 in Boston. Dressed for the weather, carried the right amount of gels.
Things Done Wrong:
Could have drank more water this week and carbed up better but felt good after
the race.
Any Other Stuff:
I know it is a public bike path but there were a lot of close calls with bikes going way to fast and runners trying to pass and almost getting taken out.
***
Boston Marathon — Boston, Ma. — April 16,2007
Diane L. Repasky reports:
Distance: 26.2
Goal: 3:45:00 before I saw the weather report
Results: 3:56:26
Website: http://www.bostonmarathon.org
General Summary:
It's Boston! Hopkinton to Boston. It's amazing all 26.2 miles of it!
Things Done Right:
I trained hard and I trained smart all thru this nasty winter and spring. I ran lots of miles on the treadmill and just as many out in the cold and snow. I carb-loaded and drank lots of water. I ate a good diet.
Things Done Wrong:
Mother Nature! You can't change the weather so you just get out there and do the best you can. It was better than predicted and I probably overdressed but was glad I had a wind/water resistant jacket. The wind and rain mostly had stopped by the start of the second wave but picked up again around Natick. It was nasty for about 15 minutes or so and the jacket came in handy. The wind got increasingly stronger as you approached Boston. The hills I am used to but it's where you hit them in Boston, miles 16 to about 21 when you get to the top of
Heartbreak Hill. That's a great feeling getting to the top of that. Then it's mostly downhill into Boston but by then your hamstrings and quads are aching and the cold and dampness has made them not want to work like they should. Athletes Village had several inches of standing water out on the fields so you were wet from the start. My feet felt like 2 ice cubes for about the first mile or so. Hard to get stretched out and warmed up. My first time so it was all kinda overwhelming the way they herd you to the start. Afraid of missing a port-a-potty opportunity, trying to find my corral, etc... Stayed on the busses as
long as they would let us.
Any Other Stuff:
Boston is amazing, the crowds of people cheering you on makes it all worthwhile.
I did a Marathon tour the day before so I knew what landmarks to look for which was fun. The Wellesley Girls are so much fun, you can hear them cheering so far out and it seems to go on forever. The ground actually trembles from their cheers. It was a hectic weekend with weather on both ends, flight delays and almost cancellations(getting there),worries about race day, possible hypothermia with earlier reports of the weather. Now that it is over I can't wait to go back
and do it again. It was very emotional, I fought tears as I crossed both the start and the finish lines. Tears of happiness because I never thought I would make it to Boston.
***********************************************
CALENDAR:
***********************************************
Current version of the Incline Club calendar
***********************************************
NEWSLETTER SUBMISSIONS:
***********************************************
Additions to Incline Club News from IC members are welcome and encouraged. Submit a Newsletter Item at:
http://www.inclineclub.com/newsletter.htm
***********************************************
WEBSITES:
***********************************************
Training for the Ascent and Marathon on Pikes Peak
http://www.skyrunner.com/guide/
Barr Trail Mountain Race
http://www.runpikespeak.com
presented by Pikes Peak National Bank
Incline Club
http://www.inclineclub.com
***********************************************
ACCOUNT SETTINGS:
***********************************************
To change your e-mail address or unsubscribe from the Incline Club
newsletter go here:
http://www.inclineclub.com/membership.asp
---