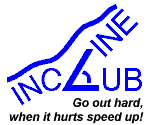 2008 Incline Club News V12 - Feedbag this Sunday
---
Incline Club News V12 - Feedbag this Sunday
Sent: Thursday, April 03, 2008 7:21 PM
Subject: Feedbag this Sunday, April 6
ICers,
First of all, if you missed the first Thursday workout tonight, you missed out indeed. It was a great workout. Barr Trail was covered with beautiful light fluffy spring snow. It was not too cold at all. Of course, all the white stuff will probably be gone again by Sunday!!!
And because we had some confusion over last week's feedbag, and in celebration of stellar spring weather this weekend, we are going to do a feedbag this coming Sunday, February 3. The first Sunday of the month is our *normal* feedbag day, after all!
If your first name starts with "O" through "S" then please bring enough food and drink for you and 3 other people. We will once again stick the food in the back of a car and have at it after the run. As a reminder by food, we mean if you like a banana and a Gatorade after your run then bring 4 bananas and 4 Gatorades etc.
Anything goes!
~Connilee
***********************************************
ACCOUNT SETTINGS:
***********************************************
To change your e-mail address or unsubscribe from the Incline Club
newsletter go here:
http://www.inclineclub.com/membership.asp
---