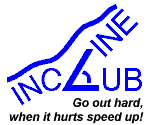 2008 Incline Club News V12 TH #8 LR #27
---
Incline Club News V12 TH #8 LR #27
Sent: Wednesday, May 21, 2008 11:59 AM
Subject: Incline Club News V12 TH#8 LR#27
Good afternoon!
Wow wow wow this spring weather is great. For those who are wondering or pondering a run up the Peak, here's a trail report from my run yesterday: It is clear to Barr Camp with only a few small, very old patches of snow. I didn't go beyond Barr, but it looked like the trail was clear for quite a ways past it and I would guess that I could have run quite a bit further without encountering any notable snowy obstacles. Sure would have loved to go higher; maybe next time.
Y'all are always welcome to send in trail reports so that we can all benefit from knowing trail conditions! Hope you have some great spring running this week, ICers!
Train hard and train smart!
~Connilee
***********************************************
NEXT RUN:
***********************************************
Thursday, May 22, 5:45pm — Hydro Street
Warm up from Memorial Park in time to get to Hydro Street. Do a 30 minute tempo run up the Barr Trail. Run easy back down the Barr Trail do 5 Hydro Street hill repeats.
Sunday, May 25, 8:00AM — Memorial Park
Waldo/LRR double! Run the UPT and then head over and do Waldo Canyon — clockwise. Next, head up LRR and return via the Barr Trail. 3-4 hours, if it would be longer just do Waldo or LRR.
***********************************************
THIS WEEK'S QUOTE:
***********************************************
Misery is a relative thing. — Lance Armstrong — Tour de France 2005
***********************************************
ICers WRITE:
***********************************************
Congratulations to Newlywed ICer Pablo Najera!
Fred Wright writes:
Saturday May 17, 2008, was the wedding day for I/C member Pablo Najera and his lovely bride Jennifer Hernandez. The weather was great, as was the service and the reception. The happy couple were joined by a large group of family and friends, including a gaggle of IC'ers, almost unrecognizable in suits, ties and dresses. Ummm ! We clean up good !
Congratulations to the Bride and Groom, Happy Honeymoon, and lets all make sure Pablo gets the really tough work outs on his return.
***********************************************
NEWS:
***********************************************
5/11/2008 Sun: For many of the 59 who showed today it was either Waldo/Longs or both — the Double. It was a perfect day for whatever one did.
5/8/2008 Thurs: 45 more came out today. This time it was the 30 minute Tempo run followed by 5 Hydro Hell repeats.
5/4/2008 Sun: 55 showed for the scheduled run of Section 16.
5/1/2008 Thurs: 45 ICer did 30 mins of 1 min hard, 1 min easy. Afterwards, we moved up to 5 Hydros since it is the 5th month.
***********************************************
"R" REPORTS:
***********************************************
Greenland 8m — Greenland Open Space — Apr 19 2008
John Mills reports:
Distance: 8 miles
Goal: 1:10
Results: 1:20
General Summary:
An increasingly popular race, it is capped at 500 runners and filled 2 weeks before the race date. A cramped start but wide open double track after that.
Things Done Right:
Trained, tapered, hydrated.
Things Done Wrong:
Probably not as aggressive at the start. It took 20 seconds to shuffle to the start line.
Any Other Stuff:
Great course.
***
Salida Marathon — Salida Colorado — 03.15.2008
Anita Bower reports:
Distance: 26.2 miles
Goal: training race
Results: 6:38:12
Website: http://www.salidarec.com
General Summary:
Used this race as a training run for several upcoming 100+ mile runs later in the season. Hilly, low key, no frills kind of run.
Things Done Right:
Bought knee high gaiters for the miles of knee high snow. Only cussed a few times when I slid on my butt on the icy sections. Stayed upright on the muddy sections. Finished even though I wanted to quit.
Things Done Wrong:
Got passed by too many people.
Any Other Stuff:
Lots of deep snow, ice, and mud. Totally different than last years near perfect weather, and clear trails.
***
Grasslands 50 mile Ultramarathon — Decatur TX — 3/22/08
Anita Bower reports:
Distance: 50 miles
Goal: win
Results: won 9:02:35
Website: http://www.nttr.org
General Summary:
The race director strongly advised to go find the start before the race. No !**#. This race was out in the middle of nowhere. But despite that, a large number of runners turned out and were welcomed with good weather, and a well organized race.
Things Done Right:
Hydrated well, and fueled early on. This paid off during the last two miles when I duked it out with a woman who all the volunteers said was behind me, but I discovered ahead of me less than six miles from the finish. I could hear her talking with some French guy until I finally pulled away. Had she stopped talking, she probably would have beat me because I wouldn't have know and therefore been motivated by the fact she was right on my tail.
Things Done Wrong:
Being more familiar with the course would have helped. I got lost a few times.
Any Other Stuff:
This was a clover leaf shaped course, and very confusing for the directionally challenged like myself. The four different loops were marked with different colors, but sometimes you retraced segments of the same loop. (huh?!) Great aid stations and volunteers. Lots of horses and sand.
***
Bataan Death March Memorial Marathon — White Sands Missile Range, NM — 03/30/2008
Anita Fromm reports:
Distance: 26.2 miles
Goal: training race
Results: 4th overall female 4:04:18
General Summary:
This race commemorates the Bataan Death March survivors of WWII. Truly one of the most moving and memorable races I have ever done. This race is run in White Sands Missile Range, and is pristine and scenic and isolated. If you are looking for something different to run, I highly recommend this unique event.
Things Done Right:
Stayed hydrated and carried my own water bottles. I was nearly last, because the start was VERY congested, (over 4000 people participated) but ended up passing all but three women. It is always a mistake to underestimate the desert. The winds picked up later in the race, and this added to the demise of the ill prepared.
Things Done Wrong:
Could have pushed harder, but held back with a 100 miler in 6 days. Wish i would have employed my "go out like an idiot and pay for it later" tactic and finished second or third overall.
Any Other Stuff:
Very well organized from start to finish. There were several divisions: military light, military heavy,( requiring 35 pounds of gear to be carried in full combat gear) civilian heavy and light. To see the thousands of men and women in full BDU's marching for 26.2 miles in the desert was amazing. Even more moving was to see the veterans of the Bataan Death March at the start of the race, sitting in chairs, there to greet all the runners. Not many dry eyes at the start. They were also there to greet the runners and marchers at the finish. There was also a jet fly over at the start, and many veterans of the current Iraq war, who were maimed in combat. A record crowd of over 4000 participated, ironically and sadly the death toll in the Iraq war had just reached that number.
***
Umstead 100 — Raleigh NC — 04/05/08-04/06/08
Anita Bower reports:
Distance: 100 miles
Goal: PR
Results: not a PR (27:28:36)
Website: http://www.umstead100.org
General Summary:
I've run in all sorts of conditions, including, but not limited to, blizzards, sand storms, 50+mph winds, hail, lightening, sudden heavy downpours, tornados and funnel clouds, 135 degree heat,and humidity, several feet of snow, mud, ice, bears, mountain lions, but never rain for 100 miles nonstop. This was what the runners of the 2008 Umstead 100 were treated to.
Things Done Right:
Did the first half under 10 hours, giving me plenty of much needed time for the last half. Bought the world's most ugliest drop bag so it would stand out amongst the 200 other boring black and navy ones. (think yellow with orange and pink polka dots and squares)Got my pacer to carry it in with him to my car (don't ask...) so I wouldn't have to get it after the race.
Things Done Wrong:
Despite doing the first 50 under 10 hours, due to terrible blistering from the rain and humidity the last 50 took me over 17 1/2 hours. I simply could not run. But I hate quitting at any race, so I ended up making new friends, and picking up trash the last few loops. Ended up finishing 5 hours slower than last year. Time to put the Little Debbie's away.
Any Other Stuff:
Great course, great aid and volunteers as usual.
***
Greenland 50km — Greenland Open Space CO — 04/19/2008
Anita Bower reports:
Distance: 50km
Goal: sub 5 hours
Results: 5:29:58
Website: http://www.greenland50k.com
General Summary:
I would have liked to have gone under 5 hours, but I also would like 5 million dollars in the bank, a 24 inch waist, and peppy 36C's. Each year there seems to be more climbing at this race.
Things Done Right:
Five minutes faster than last year!
Things Done Wrong:
Fell apart the last two loops. I tried to catch ICer and ultra-goddess Gina Harcrow, but when she looped me breast feeding her new born child, I knew my feeble efforts were fruitless. Thanks Gina.
***
Frederick Half Marathon — Frederick, MD — May 05, 2008
Douglas Smith reports:
Distance: 13.1
Goal: 1:38
Results: 1:39:16
Website: http://www.frederickmarathon.org
General Summary:
A half marathon on the historic streets of Frederick, Maryland (founded 1745). Was returning for my brother in laws wedding, and thought I'd do the half marathon through my old home town. The wedding was cancelled two weeks before, but went anyway!
Things Done Right:
Beat my previous PR at PF Chang's in Phoenix (1:40:16).
Things Done Wrong:
Didn't get enough sleep. Had to run into a vicious headwind in the last two miles.
***
Sky Mesa Pass Trail Marathon — Gateway, CO — May 17, 2008
Barry Oelrich reports:
Distance: 26.2
Goal: Finish on banged up knee
Results: 6:07:33
Website: http://www.gatewaycanyonsbikerace.com/skymesapasstrailmarathon.html
General Summary:
One Incline tank top represented the club at the inaugural Sky Mesa Pass Trail Marathon. The folks at Gateway Canyons Resort did a nice job putting this race on. They mapped out a great course with a monster climb and decent. Climb 4,000 feet to 13 miles and 4,000 back down, the downward spiral had the added benefit of 85 degree temps in the canyon. Next year there will be additional aid stations and a better system for getting racers to the start line.
Things Done Right:
Ran my new Crosslites to the 15 mile point then changed into my Vittesse's for the screaming downhill. Ran the downhill and didn't trash me knee again.
Took a Gas-X pill prior to the race, no lower GI issues this time...
Gained 3 places coming down the hill.
Stayed well hydrated
Things Done Wrong:
Tried to protect my knee too much across the top section, ended up losing 8 places.
Any Other Stuff:
Cool goodies, fleece instead of a t-shirt, finishers cap, post race BBQ and drawings.
***********************************************
IC BIRTHDAYS: 5/21/2008 — 5/27/2008
***********************************************
Anita Bower:
http://www.inclineclub.com/show.asp?name=Anita%20Bower
Bruce Barrell:
http://www.inclineclub.com/show.asp?name=Bruce%20Barrell
Bruce Wacker:
http://www.inclineclub.com/show.asp?name=Bruce%20Wacker
Doug Salvino:
http://www.inclineclub.com/show.asp?name=Doug%20Salvino
James Cox:
http://www.inclineclub.com/show.asp?name=James%20Cox
Joe Wright:
http://www.inclineclub.com/show.asp?name=Joe%20Wright
Lauren Goulding:
http://www.inclineclub.com/show.asp?name=Lauren%20Goulding
Ryan Morgan:
http://www.inclineclub.com/show.asp?name=Ryan%20Morgan
Todd Murray:
http://www.inclineclub.com/show.asp?name=Todd%20Murray
Zelda Floriet:
http://www.inclineclub.com/show.asp?name=Zelda%20Floriet
***********************************************
NEW IC MEMBERS: 5/7/2008 — 5/20/2008
***********************************************
Brian VanIwarden:
http://www.inclineclub.com/show.asp?name=Brian%20VanIwarden
Durga Pandey:
http://www.inclineclub.com/show.asp?name=Durga%20Pandey
Mary Toman:
http://www.inclineclub.com/show.asp?name=Mary%20Toman
Mike Jones:
http://www.inclineclub.com/show.asp?name=Mike%20Jones
Phil Goulding:
http://www.inclineclub.com/show.asp?name=Phil%20Goulding
Scott Hosie:
http://www.inclineclub.com/show.asp?name=Scott%20Hosie
Sheila Huss:
http://www.inclineclub.com/show.asp?name=Sheila%20Huss
Stephanie Parks:
http://www.inclineclub.com/show.asp?name=Stephanie%20Parks
***********************************************
UPDATED ABOUT ME PAGES: 5/7/2008 — 5/20/2008
***********************************************
Christoph Zurcher:
http://www.inclineclub.com/show.asp?name=Christoph%20Zurcher
Jon Teisher:
http://www.inclineclub.com/show.asp?name=Jon%20Teisher
Marc Wulfkuhle:
http://www.inclineclub.com/show.asp?name=Marc%20Wulfkuhle
Michael Phan:
http://www.inclineclub.com/show.asp?name=Michael%20Phan
Rick Susak:
http://www.inclineclub.com/show.asp?name=Rick%20Susak
Rienet Vanderlinde:
http://www.inclineclub.com/show.asp?name=Rienet%20Vanderlinde
***********************************************
NEWSLETTER SUBMISSIONS:
***********************************************
Additions to Incline Club News from IC members are welcome and encouraged. Submit a Newsletter Item at:
http://www.inclineclub.com/newsletter.htm
***********************************************
WEBSITES:
***********************************************
Training for the Ascent and Marathon on Pikes Peak
http://www.skyrunner.com/guide/
Barr Trail Mountain Race
http://www.runpikespeak.com
presented by Pikes Peak National Bank
Incline Club
http://www.inclineclub.com
***********************************************
ACCOUNT SETTINGS:
***********************************************
To change your e-mail address or unsubscribe from the Incline Club
newsletter go here:
http://www.inclineclub.com/membership.asp
---