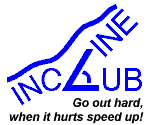 2010 Incline Club V14 LR #17 — PPA/M Registration Starts
---
Incline Club V14 LR #17 — PPA/M Registration Starts
Sent: Wednesday, March 17, 2010 8:23 PM
Subject: Incline Club V14 LR #17 — PPA/M Registration Starts
Good Evening Incline Club!
Registration day is upon us. For those who have stepped up to the plate and already registered.... Congratulations, you have joined the few, the proud, the slightly insane (especially the marathon folks).
For those still on the fence: Act now, the limited supply of slots is almost all gone. And if you want to run in the marathon your options are now limited.
--john
***********************************************
NEXT RUN: Waldo/LRR Double!
***********************************************
Sunday, March 21, 8:00am _MDT_ — Memorial Park
Waldo/LRR double! Run the UPT and then head over and do Waldo Canyon — either way. Next, head up LRR and return via the Barr Trail. 3-4 hours, if it would be longer just do Waldo or LRR
***********************************************
THIS WEEK'S QUOTE:
***********************************************
It is not the critic who counts; not the man who points out how the strong man stumbles, or where the doer of deeds could have done them better. The credit belongs to the man who is actually in the arena, whose face is marred by dust and sweat and blood; who strives valiantly; who errs, who comes short again and again, because there is no effort without error and shortcoming; but who does actually strive to do the deeds; who knows great enthusiasms, the great devotions; who spends himself in a worthy cause; who at the best knows in the end the triumph of high achievement, and who at the worst, if he fails, at least fails while daring greatly, so that his place shall never be with those cold and timid souls who neither know victory nor defeat.
--Theodore Roosevelt , The Man In The Arena
***********************************************
Pikes Peak Ascent and Marathon Entry
***********************************************
As of right now, here is the status of the various fields/waves/options/etc:
2010 Entry Status
General Registration:
Ascent Wave 1 — Open
Ascent Wave 2 — Open
Marathon Field 1 — filled in ~ 50 minutes
Marathon Field 2 — filled in ~ 5.5 hours
TCR Series General Registration:
Ascent Wave 1 — Open
Ascent Wave 2 — Open
Ascent Wave TBD by GOG10M — Open
Marathon Field 1 — Open
Marathon Field 2 — Open
Wait lists:
Ascent Wave 1 Wait List — Not needed yet
Ascent Wave 2 Wait List — Not needed yet
Marathon Field 1 Wait List — Open
Marathon Field 2 Wait List — Open
So, if you did not already register and want to run the Marathon, your choices are either the TCR Series or the Wait List. If you Want to run the Ascent there are still a few slots left. See the entry page at http://www.pikespeakmarathon.org/entry.htm for the latest updates.
***********************************************
Barr Trail Conditions Report:
***********************************************
Last week we had ice, slick ice, really slick ice, ice covered in dirt, dirt, more ice and then some not so nicely packed snow from noname to Barr Camp. This week we are going to get hit by a few small storms so the trail conditions are subject to change with little notice.
***********************************************
Weather Report:
***********************************************
As of right now, Sunday appears to be aiming for a cold start in the mid 20's but warming up nicely to the low 40's by end of the run. It should be mostly sunny for the morning run. That said, a system is moving in on Friday and Saturday so all bets are off if that thing decides to stick around a bit longer or move through a bit faster than currently expected.
***********************************************
Race Reports:
***********************************************
This week, two slow folks (to submit race reports) continue to whine about having to walk up a flight of stairs, Andrea plays the role of princess, Andy and Donald try to run through time, Tracey decides that she is sick of the cold weather we've been having in Colorado and goes to California so she can run "in shorts with no screws in the sun with the ocean breeze and all the lush plants" (yeah, rub it in). Finally, Mike shows that folks who sit at a desk all day long can also finish a race.... In this case the annual PPA Entry.
(2) Fight For Air Stair Climb — Denver — 02/28/2010
Disney's Princess Half Marathon — Disney World Orlando Florida — 3/7/2010
(2) A Run Through Time — Salida — 03/13/2010
Catalina Marathon — Catalina Island, CA — 03/13/2010
Pikes Peak Ascent Registration — Active.com — 03/17/2010
***********************************************
Fight For Air Stair Climb — Denver — 02/28/2010
James Armenta reports:
Distance: 56 Floors
Goal: 00:09:00
Results: 00:09:06
General Summary:
I had the privilege of being on a team deep with talent. Our team won 1st place overall in this event, which goes to show just how good we were on race day. My teammates were: Mike Everson, Ed Baxter, Fred Baxter, Shawn Erchinger, Randy Triplett, Jill Suarez, Sandi Yukman, David Haney, and Pat Naughton.
Congratulations Team!!
Things Done Right:
I did a lot of speed work to get ready for the race.
Things Done Wrong:
I finished the race with a little more energy in the tank than I would have liked. I didn't push as hard as I could have because I messed up on the floor count.
Any Other Stuff:
I highly recommend this race. It is a well organized event that gives out great shirts and medals, but most of all it is a great cause too!
***********************************************
Run the Republic — Denver — 02/28/2010
SHAWN ERCHINGER reports:
Distance: 56 stories:)
Goal: PR
Results: No PR:( but finished in a good time.
Website: http://www.runtherepublic.com
General Summary:
The Republic Building in downtown Denver is the tallest building in the city and thus it's the venue for the American Lung Association's annual fund raising event. The race itself climbs 1,098 stairs over 56 floors. There's a team competition as well as individual. It's truly a fun race:) You are required to raise $56 or $1 per floor in order to help the American Lung Association in it's battle to fight lung disease.
Things Done Right:
I trained with Fred and Eddie Baxter on the Incline as often as I could and thus I was in fair condition on race day. We also scheduled training sessions in the Univ. of Phoenix building and climbed the 13 floors in the building as often as we could. There are just over 200 steps that turn to the left as you ascend. The race itself turns to the right. We usually did repeats and tried to get to the top as fast as we could. Another thing I did to train for the race was to join "QuickGym," www.quickgymcs.com I think that helped me with the cardio and the strength training I needed to have a pretty good race.
It's an awesome workout and it only takes 4 minutes:)
Things Done Wrong:
The main thing I did wrong was not figuring out a way to check out the stairwell before the race. Eddie was more persistent then I and managed to get into the stairwell to climb the stairs and I never found a way to get in to check it out before the race. This is important because when the race started I managed to get up the first two or three flights of stairs before running into a locked door. Thus I had to go back down and they had to restart the race. I used up a lot of energy blasting up those first flights and felt flat the second time the race started. I also forgot to take any gells with me to Denver and I would have liked to take one before the race.
Comments on Calculator:
Any Other Stuff:
The course record is held by Rickey Gates. He's been a member of the U.S. Mountain Running Team and the record time is 5:50. One of these days we hope that Matt Carpenter might consider joining our team, the Colorado Springs Incline Fanatics, so we can bring that record to an Incline Club member:) What can we do to convince Matt to join us?....well...a no cost entry into the race, a ride with some great guys to Denver and home (the Baxters), lunch after the race at a restaurant of his choice, and possibly another record to add to his running bio? Please help our team by asking Matt if he's gonna help some good old boys (we are old) to set a team record that could stand forever:) and take a stab at going sub 6 minutes! Rickey ran the course in 2009 and I believe he double stepped the entire way. I combine running with power hiking and try to double step but can't seem to make it up all 56 floors skipping a step.
Our team took first place and we had a great margin of victory...over 1 minute. Fred Baxter tied for 2nd place overall by tying with a youngster 20 years his junior. Great job Fred! Eddie was close behind his twin bro! Another one of our team members David Haney managed to go from 11:03 down to 8:57 over the same course. WOW...congrats David. What's your secret? I'm guessing hard work!
You can view the race results at the website:)
PLEASE consider joining our team next year for a great workout and a fun time. Cindy O'Neil was on our team last year and won the event in record time. We missed you this year Cindy:( It's a great race and it's for a good cause. It's well worth the time to try a stair race if you've never attempted one.
***********************************************
Disney's Princess Half Marathon — Disney World Orlando Florida — 3/7/2010
Andrea Cichosz reports:
Distance: 13.1
Goal: goal 2:10 wish under 2:00
Results: 2:02
Website: http://espnwwos.disney.go.com/events/princess-half-marathon/
General Summary:
Second annual Disney's Princess Half Marathon Weekend.
I went my two younger kids, my loyal running partner Kate Raphael and her two lovely children, Alex and Sam. The kids ran the 5k on Saturday. That day we found out that there was not going to be any recorded time. Somewhat cheap for a race with a $45.00 price tag.
The Half marathon is advertised as a course trough two of the Disney Theme park. Good advertising job. The course runs through the "Magic Kingdom" for less than a half mile and skims the Epcot Center near the finish line. The rest is on the endless roads connecting various parks. Somewhat disappointing. People get really into the Princess theme, almost all women wore at least a tiara, a lot of them some form of costume and some wore full length dresses. One of the 400 participating men had been talked into by his wife to run in a pink tutu with a crown. I don't know what he was doing penance for, but he looked good.
Things Done Right:
Started Training in November, did plenty of long runs and speed work. I ate well the day before. Kate and I managed to be at the very front in our starting group. Learned from the poor souls who froze in the January event and brought clothes along that I ditched at the start. Next time I'll bring even more it was really cold, 34 degrees with humidity. Took a potty brake at the right time, even though that will also show up in the things done wrong category.
Things Done Wrong:
The biggest mistake was probably the fact that we got up at 6:00 am on Saturday for the kid's race and afterwards schlepped around Disney Animal Kingdom all day. On race day the fact that we had to get up at 3:00 didn't help. And despite numerous attempts, my digestive system was not awake yet. That changed dramatically around mile 6. I normally don't stop for bathroom breaks during races, but this one was not to be ignored or something very unprincess like was bound to happen. So, my time goal was unfortunately sacrificed for a "clean" race.
Any Other Stuff:
I am still trying to figure out whether I would recommend this race or not. There were a number of things I was not impressed with:
. The course is boring and asphalt
. Overall an expensive endeavor
. Having to get up at 3:00 am Florida time 1:00am Colorado
. Standing around in the corals for over an hour
. The frigid temperature at 5:30
But then there were a number of things that were done exceptionally well:
. Disney does crowd control like no other and people are happy with the way it is done
. Standing in the corals, they kept people busy and moving until the start
. A lot of girls got REALLY into the princess theme
. Very friendly crowd of runners
. Entertainment and music along the entire (boring) course
So I'll leave it up to you to pick and choose and decide for yourself. Just remember to bring your pocket book and have a "Magical Day" .
***********************************************
A Run Through Time — Salida — 03/13/2010
Andy Wooten reports:
Distance: 26.2
Goal: Have a decent day. Under 5 hours
Results: 5:31:37 Had an okay day.
Website: http://www.salidarec.com/ccrc/Run-Through-Time-Marathon.htm
General Summary:
The race is sort of an out and back from Salida to the old mining town of Turret. There is a half marathon option and a full marathon option.
Things Done Right:
All the normal stuff, hydration, fueling, rest, etc... Went lighter than I ever have sans double bottle fanny pack and lbs of stuff and that was nice. Ran with and made a couple of friends that I will be seeing again next month at another race. Soaked at the hot springs after the run.
Things Done Wrong:
Expecting to be able to do as well as last year given the conditions of the course THIS year then getting frustrated. Got hurt a little bit. I forgot just how steep and nasty the last few miles of the course can be.
Any Other Stuff:
For me this is just a tough course... Eight miles of uphill followed by pretty much four miles of downhill in the mud with four more miles uphill in the mud after that. Two smooth clear downhill miles then six miles of snow, slush and mud mostly on a steep, very steep and rocky downhill most of the way. The last two miles were clear. At mile 18 I was done with the course... however, it was not done with me yet. Even though the course conditions were less than optimal (for me) the weather was outstanding! :)
***********************************************
A Run Through Time — Salida — 03/13/2010
Donald Hawkins reports:
Distance: Marathon
Goal: 4:00 ish
Results: 4:46
Website: http://www.salidarec.com/ccrc/Run-Through-Time-Marathon.htm
General Summary:
I ran the half last year which is a climb up from just above 7000' in Salida to the turn around at just under 9000'. The road for the half course last year and this was great, gravel at the start a couple miles of pavement then dirt until the turnaround and back down. And barely any MUD.
The marathon course continues rolling up and down getting above 9000' about 5 times and very quickly got muddy and stayed that way for several miles. We ran to the old ghost town of Turret (MUD, MUD, MUD) and headed back to the last aid station at mile 17. This one even had PBR! From this point until we got to about 22 or 23 we were in snow. We then turned off the main road and to the last 9000' point at around mile 18 and started a gradual rolling descent. At around 22-23 the descent got steeper and was pretty much all downhill. We hit roads at around 24.5 and back to the finish.
Things Done Right:
Ran the Sunday runs with the IC.
Saw plenty of ICer's which was cool!
Ran with my NB 100's. It was nice having lightweight shoes with all the mud. They got wet quick, but also dried back out quick. I don't think any of my trail shoes would have stayed dry!
Used John O'Neill's advice and sprayed Pam on the shoes. Not sure if it helped, but I never had mud build up on them. Thanks John!
Went up the day prior with my 8 year old son and went sledding, made snowmen, and broke through (with vehicle) the snow from mile 18 until it was dry at around 23. It was deep in spots (knee to waist) so running through without tracks would have been rough. This also allowed my to check out the course.
Only got passed by two people after mile 17, and one of those was in my sights at the finish. Passed quite a few (10ish) in that time.
I think I hydrated better than normal during the race and ate well too.
Things Done Wrong:
Didn't really train for it.
Walked more than I should have.
Looked at my HR monitor at the start and it was pegged, so I kept slowing down trying to get it down. Finally adjusted the strap and that was it. This has happened before, you would think I would figure it out! Never really was able to pick it up after that.
I don't think I recovered from the 10 mile race 6 days prior.
Any Other Stuff:
I had heard some complain about the lack of aid after mile 17, but I had two 10 oz bottles and was fine. I watched one guy grab snow several times.
I wish I could have done better, but I am happy with my results as I know I did my best. I was DONE at the end.
Original goal was to run a somewhat good pace up the first hill to the half turn around then pick it up a little until we started heading downhill at 18 then hammer it down. That goal never did work to well.
***********************************************
Catalina Marathon — Catalina Island, CA — 03/13/2010
Tracey Anderson reports:
Distance: 26.2 miles
Goal: finish my first marathon in one piece and smiling
Results: 4:23 12th woman/4th in AG/86th overall--with a smile
Website: http://www.pacificsportsllc.com/
General Summary:
26.2 miles of rolling dirt roads from Two Harbors to Avalon, CA across Catalina Island, replete with ocean views and the heady scent of tropical flowers.
Things Done Right:
Let Louise talk me into running this race in the first place.
Listened to Mike Shafai's training advice.
Fueled, hydrated and took salt almost perfectly.
Ran my own race on HR.
Did not succumb to the karaoke festivities at El Galleon post race.
Things Done Wrong:
Didn't catch the woman ahead of me at the end.
Any Other Stuff:
Everyone kept telling me this was a sick choice to run my first marathon, but since my first one was originally going to be the PPM, my mental health is clearly a moot point.
The views on this course are drop-dead gorgeous, and unlike a lot of the races in CO, you can actually look up and enjoy them without taking a header into a rock. There are plenty of hills, but all of them will look familiar to anyone in this club and all are runnable.
The ferry to the race start on the other end of the island went fine until we got into the harbor. There was a boat already docked whose lines were tangled. They cut off our engines and we sat there rocking in the ocean until they got some divers there to untangle the lines and get that boat out of our way. I was fine, but not everyone was. A few of our IC club friends were green and hanging their heads out the window. Since there were 500 or so racers waiting on the boat, the race start had to be delayed. We should have had about an hour between docking and the race start, instead, we had 15 minutes. Not everyone recovered from their sea sickness by the time the gun went off.
Since I had never run this race before and it does have 4310 feet of elevation gain, I decided to run it on heart rate. I've been monitoring my HR for a year, but haven't really done much actual training or racing with those parameters. Based on what my HR was during other races and long runs, I used the highly scientific Woman's Intuition to calculate my HR for this race. Lucky for me, my intuition played well. I kept my HR 160-165 for the first 10 miles, even though I really wanted to go faster, especially on the downhills. I'm glad I didn't because at around the 10 mile mark, my legs started to feel a little "used" and I was worried. Because there is so much more oxygen, the temptation for me was to get to that slightly breathless point that I am used to. The problem with that is if you do get breathless at sea level, you are going to be running WAY too fast and your legs will burn out long before your lungs will. Still, it's nice to have one less thing burning.
The second 10 miles I let my HR rise up in the 165-170 range. This coincided with my least favorite part of the race, an area called Middle Ranch. It feels flat after 12 miles of hills, but it isn't. There is a gentle rise to it, kind of like the Santa Fe trail when you run north. It was also a little warm in there and the views disappeared. I made good time in this section even though I was not having much fun. My legs were in a kind of transition period--they weren't fresh anymore, but they weren't tired and we weren't near the end, so it was a no man's land all the way around.
At about mile 16 I got a second wind. My legs had that pleasant numb feeling of auto pilot like you could go all day. We had come up some hills to the top by now and the cold ocean breezes were bracing and refreshing. We had one more big hill and a few smaller ones before the 3 mile downhill finish. I had planned to hold this HR until mile 20 and then kick out as best I could for the last 10k. I was chomping at the bit to go faster because I really was feeling just great. I was also worried about putting out too much too fast. I negotiated with myself and let myself go just a little, started passing people, but conservatively, until Pumphouse hill. I rode this up at a decent clip, but I didn't push. That topped out at 18.5 or so and then I decided it was safe to kick early. From here to the finish I turned up my music and concentrated on pushing and passing. By the time I got to the long downhill section, I let 'er rip. I had been holding back on all the downhills in the first 18 miles and now was m y chance. I steadily passed people the entire final 8 miles. The last mile and a half are on pavement coming into town. The road levels, but is still going downhill thankfully because at mile 25, the lactose hit critical mass and I could feel my calves threatening to cramp up. I kept willing myself to go as fast as I could to try and outrun the cramp that was coming. As an added incentive, there was a woman ahead of me, who I saw clearly when we hit the pavement. She could be my age group. She had a quarter mile on me, probably. I ate away at her lead, but she was kicking too. I could see her arms pumping hard. I could not catch her and she WAS in my age group. agh! I missed moving up a spot by 20 seconds.
This is a great early race for Coloradans. Running in shorts with no screws in the sun with the ocean breeze and all the lush plants is just the ticket after our winter and soaking in the Pacific Ocean after this race is even better than soaking in Monument Creek after the BTMR.
***********************************************
Pikes Peak Ascent Registration — Active.com — 03/17/2010
MICHAEL F EVERSON reports:
Distance: 13-20 clicks or double clicks
Goal: Get Registered!
Results: Got Registered
Website: http://www.active.com/framed/event_detail.cfm?CHECKSSO=0&EVENT_ID=1839069
General Summary:
Huge turnout with no one in sight. Outside temperature at the start of the race was 61 degrees. Inside, 68. No wind to speak of. This is a race I've competed in for years and I'm getting the hang of it.
I took off from PPM website at 12:30. Course layout was similar to last year and it was easy to navigate through to the active part of the course. Once there, I only got lost once. I indicated I wanted to donate some $ to SAR and discovered that Active adds a percentage to the fee for donation. I decided to remove donation and just give money directly to SAR. When I did this, I got booted off the course and was forced to start over (PICKY!!) I lost at least 3 minutes on this section. Once I got back to the payment page, a skipped the donation part and followed the trail to the payment section of the course.
This turned out to be the most technical part of the race. I left my wallet in my car. So I quickly jumped out of my chair and ran down the hallway to the dreaded THREE DOORS SECTION of the building. This is an out and back section, and proved to be a little tricky on the way back (more in a second). I ran up the steps to the asphalt parking area and made it to the car in about 1 minute. I then discovered my keys were still in the building next to my computer. I grabbed my cell phone from my pocket and called my office manager (the rules didn't indicate this was illegal) and I called her. I asked her to grab the key on my desk, point it toward the window and press the unlock button. IT WORKED!!! I had to save at least 20-45 seconds using this technique.
Instead of using the sidewalk to get back to the THREE DOORS, I jumped the fence and ran down the river rock landscape to save time. One small ankle twist but no serious injury and I think I cut another 10-15 seconds off my time.
As I approached the THREE DOORS I had to prepare for the terrain. It went from Cement to Ceramic Tile, to Office Grade Carpet in a matter of 12 feet. That combined with the double switchback caused me to lose balance and take a digger in the hallway. I little carpet burn, but nothing to keep me from finishing the race.
I got the payment section done in 24 seconds and received my finishers certificate via email 2:14 later.
Things Done Right:
Emailed my QLink to myself so I could do the old "Copy & Paste" to save precious seconds. Got plenty of sleep. Took two gels the day of the race. Warmed up by walking my kids to school to get the old heart ready for anything that might happen.
Things Done Wrong:
Wore the wrong shoes. Rockports are not good shoes for running on river rock and carpet. Probably should have used the door stops on the THREE DOORS section on the out portion so as not to have to deal with opening them on the way back.
Found out the gels I took for pre race were hair gels (ughhhh!).
Any Other Stuff:
Once again, the course was well marked and easy to navigate. Not many problems, and no real pressure to finish really fast this year.
Some of this report is embellished and some of it actually happened. {:-}-<
***********************************************
IC BIRTHDAYS: 3/17/2010 — 3/23/2010
***********************************************
Adam Homoki:
http://www.inclineclub.com/show.asp?name=Adam%20Homoki
Anita Kvasnak:
http://www.inclineclub.com/show.asp?name=Anita%20Kvasnak
Becky Regal:
http://www.inclineclub.com/show.asp?name=Becky%20Regal
Christina Baker:
http://www.inclineclub.com/show.asp?name=Christina%20Baker
Christoph Zurcher:
http://www.inclineclub.com/show.asp?name=Christoph%20Zurcher
Jessica Griffiths:
http://www.inclineclub.com/show.asp?name=Jessica%20Griffiths
John Thompson:
http://www.inclineclub.com/show.asp?name=John%20Thompson
Joshua Mietz:
http://www.inclineclub.com/show.asp?name=Joshua%20Mietz
Linda Ronas:
http://www.inclineclub.com/show.asp?name=Linda%20Ronas
Lisa Hubchik:
http://www.inclineclub.com/show.asp?name=Lisa%20Hubchik
Marny Scalard:
http://www.inclineclub.com/show.asp?name=Marny%20Scalard
Matt Laubhan:
http://www.inclineclub.com/show.asp?name=Matt%20Laubhan
Megan Higgins:
http://www.inclineclub.com/show.asp?name=Megan%20Higgins
Ryan Mcwhorter:
http://www.inclineclub.com/show.asp?name=Ryan%20Mcwhorter
Sean Long:
***********************************************
NEW IC MEMBERS: 3/10/2010 — 3/16/2010
***********************************************
Allen Schrieber:
(About Me page was not filled out)
Jaclyn Carman:
http://www.inclineclub.com/show.asp?name=Jaclyn%20Carman
Liz Cady:
http://www.inclineclub.com/show.asp?name=Liz%20Cady
Serena Cone:
(About Me page was not filled out)
***********************************************
UPDATED ABOUT ME PAGES: 3/10/2010 — 3/16/2010
***********************************************
Barry Oelrich:
http://www.inclineclub.com/show.asp?name=Barry%20Oelrich
Doug Salvino:
http://www.inclineclub.com/show.asp?name=Doug%20Salvino
Fredrich Schrank:
http://www.inclineclub.com/show.asp?name=Fredrich%20Schrank
Jayme Ramson:
http://www.inclineclub.com/show.asp?name=Jayme%20Ramson
Michael Foster:
http://www.inclineclub.com/show.asp?name=Michael%20Foster
***********************************************
NEWSLETTER SUBMISSIONS:
***********************************************
Additions to Incline Club News from IC members are welcome and encouraged. Submit a Newsletter Item at:
http://www.inclineclub.com/newsletter.htm
***********************************************
WEBSITES:
***********************************************
Incline Club
http://www.inclineclub.com
Barr Trail Mountain Race
http://www.runpikespeak.com
Presented by Pikes Peak National Bank
Pikes Peak Ascent and Marathon
http://www.pikespeakmarathon.org
***********************************************
ACCOUNT SETTINGS:
***********************************************
To change your e-mail address or unsubscribe from the Incline Club newsletter go here:
http://www.inclineclub.com/membership.asp
---