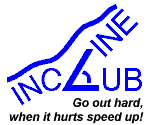 2010 Incline Club V14 TH #3 LR #22 — Spring is here
---
Incline Club V14 TH #3 LR #22 — Spring is here
Sent: Wednesday, April 21, 2010 9:41 PM
Subject: Incline Club News V14 TH #3 LR #22 - Spring is here
Good Evening Incline Club!
Spring is upon us and that can only mean one thing: It's almost time to register for the Barr Trail Mountain Race. If you only run one race this year, it should be the BTMR. It's that good.
We also have an invite from Friends of the Peak about an upcoming Trail Evaluation Training class and then to top it off we have an actual letter from an IC'er, along with the actual response.
--john
***********************************************
Next Run: Interval (Thursday) Barr Camp (Sunday)
***********************************************
Thursday, Apr 22, 5:45pm — Hydro Street+
Warm up from Memorial Park in time to get to Hydro Street. Do a 30 minutes of 1 min hard, 1 min easy up the Barr Trail. Easy back down the Barr Trail. Do 4 PI hill repeats
Sunday, Apr 25, 8:00am — Memorial Park
Run to Barr Camp and back via the Barr Trail or do and out/back on Rampart Range Road
***********************************************
This Weeks's Quote:
***********************************************
What kind of crazy nut would spend two or three hours a day just running?
--Steve Prefontaine (at age 13)
***********************************************
Trail Evaluation Training:
***********************************************
Mike Cotter writes:
Friends of the Peak is getting ready for the 2010 season and one item we want to make the Incline Club aware of is a new Trail Evaluation Training. This training is a two part training that will cover evaluating a trail, assessing potential fixes and implementing those fixes. We do not expect everyone to jump at the chance to do trail work, but if we can get more people reporting issues in a timely and consistent fashion it will help us correct items that much faster. The training dates are Wednesday, May 5, 6 pm — 8:30 pm and Saturday, May 8, 8 am — 3 pm. You can visit fotp.com for more details or call me at 473-0158. Thanks for your time and keep the race reports coming so I know the best races to run next year!
***********************************************
Barr Trail Mountain Race:
***********************************************
Registration for the 10th annual Barr Trail Mountain Race is less than two weeks away.
For those who have run this race in the past, you know that this is one of the best organized races in the country. To make it even better, the BTMR is not one of those "portion of proceeds" gimmick races. Instead all race entry fees (yes, 100%) are donated to area non-profit/volunteer organizations. To make it more interesting, several local high school track teams will be battling for $6,000 in prizes for the best aid station. Over the past 9 years this race has donated $158,909.21 to folks like El Paso County Search and Rescue, Friends of the Peak and others.
Registration starts May 3rd at 3am MT. Register before 3:30am and you can get in for only $15. After that the price goes up to $30. The race is limited to the first 425 folks, so don't delay.
Remember that the person who donates the largest sum gets Bib #1, with bib #2 goes to the 2nd highest donor. I'm proud to say that last year, those two numbers went to IC'ers (but the 2nd guy got off easy compared to the cost of #2 in '08). I hope to see us continue the trend again this year.
http://runpikespeak.com/entry.htm
***********************************************
An actual email from an IC'er:
***********************************************
Dear Abby,
The Thursday workout used to be run hard/walk easy, but now seems to be run hard/stop. I found the old way to be a better workout, but our competitive compadres might vote me off the island as a cheater if I do that. What's a runner to do?
On another note, there is a club member that can't seem to pass without making contact with others. Is this a sign of aggression, low self esteem, or just a need to touch people?
Signed,
Faster, Faster
************
Dear Faster,
The old way is the old way. The new way is the new and improved way.
Much like the world has moved on from bell bottoms, ford pintos and men's running shorts with 1" inseams, we have moved on in our workout protocol.
The main problem with the old way was that folks were going too hard on the 'off' minute and that detracted from the 'on' minute. The new way eliminates any reason to make the off minute any more than an off minute.
Besides, if you are going hard enough during the 'on' minute then you should be using one of those fence posts along the trail to prop you up during the 'off' minute. Folks who can keep moving or, heaven forbid, actually talk, during the 'off' minute just aint going hard enough during the on minute. If you really want to keep moving during the off minute, you can simply walk/jog back down the trail and then back to their previous stopping point again. There are one or two folks who keep walking forward during the off minute. We all look at them kinda funny, as if they drove up in a ford pinto and are wearing really short shorts.
As for the other club member with the tactile feedback issue, there could be a few things at work here:
1) They are going so hard that they can't say 'on your left' without sounding like a deranged lunatic (the club has a few), so the touch is their way of saying "hey, I'm here, please don't make a sudden shift to the left."
2) They have a need for human contact that results from deep emotional issues that go back to an incident when they were 12 months old.
3) They assume everybody over the age of 40 was in attendance when The Who played at The Valley, and thus deaf. (see #1)
4) They think you are cute.
Signed,
Abby
***********************************************
Weather Report:
***********************************************
Thursday: Low 50's, 50% chance of light rain.
Sunday: Low 40's to start, Low 50's to finish.
***********************************************
Race Reports:
***********************************************
Feast or famine with race reports. This week we have a flood after last weeks drought. Charles reports from the largest 10k in the biggest state on a map. Tim and Sean file reports from Fruita where Sean decides to run it twice. Michael decides that a run that ends at a brewery is a good idea while Anita takes 1st in a short race (for her) in Washington.
33rd Annual Capitol 10K — Austin, TX — 04/11/2010
Desert RATS Trail Run — Fruita, CO — 04/17/2010
Desert RATS 50-mile Trail Run — Fruita, CO — 04/17/2010
Horsetooth Half Marathon — Fort Collins, CO — 04/18/2010
WSU 100km — Pullman, Washington — 04/18/2010
***********************************************
33rd Annual Capitol 10K — Austin, TX — 04/11/2010
Charles Scheibe reports:
Distance: 10K
Goal: Under 53:00 — beat last year
Results: 50:43
Website: http://www.statesman.com/cap10k/
General Summary:
The largest 10K in Texas. Over 20,000 participants this year. Course runs through downtown Austin, around the Capitol building, and finishes on the shores of Town Lake. Several
hills in the first 3 miles then relatively flat to the finish line.
Things Done Right:
Paced well! Last mile was the fastest! Ran with old running buddies. Completed my 33rd consecutive Capitol 10K ... all of them!
Things Done Wrong:
Raced in new style and brand of shoe after only a couple of short, slow training runs ... uncomfortable in quads on downhills.
Any Other Stuff:
Very humid ... cross between drizzle and fog ... slippery roads.
***********************************************
Desert RATS Trail Run — Fruita, CO — 04/17/2010
Tim Virgo reports:
Distance: 25 miles
Goal: A. Finish B. Not screw up
Results: 6:57:20 (Goal A: yes, goal B: no)
Website: http://www.geminiadventures.com/DesertRATS.html
General Summary:
Beautiful 25m trail run up and down mesas and canyons. 3500' of ascent. First half felt fine, not fast, not breathing hard, just gradually passing people. It was too fast. My
muscles shut down at 13 miles. The rest of it was...quite unpleasant.
Things Done Right:
Kept to schedule on eating and drinking.
Things Done Wrong:
Everything else.
Not enough training runs close to the distance. (I'd trained close to the time I expected, but not at the distance.) Started too fast. Did not have reliable feedback mechanism to tell me my pace was too fast. Did not learn lessons from last year's Collegiate Peaks. I wonder why not — it's not rocket surgery. Never mind. Try again, fail again, fail better.
***********************************************
Desert RATS 50-mile Trail Run — Fruita, CO — 04/17/2010
Sean Kute reports:
Distance: 51 miles
Goal: 10 to 11 hours
Results: 11:50
Website: http://www.geminiadventures.com/DesertRATSfestival.html
General Summary:
25.5 mile loop course run clockwise and then counterclockwise through canyon country. 8000+ vertical gain/loss. Mid 70's, sunny, hot, dry, no shade. Very pretty course.
Things Done Right:
Very little... At least I finished.
Things Done Wrong:
Parked truck in wrong place and had to move it right before race start. Didn't eat enough salt tabs early on resulting in cramping on 2nd lap. Not enough hill training. Long training runs on relatively flat courses do not prepare you for mountain races (Duh!).
Any Other Stuff:
My friend Brooks Williams finished in 11th place.
***********************************************
Horsetooth Half Marathon — Fort Collins, CO — 04/18/2010
Michael Foster reports:
Distance: 13.1
Goal: 2:15:00
Results: 2:20:00
Website: http://www.horsetoothhalfmarathon.com/
General Summary:
A hilly 1/2 marathon starting at CSU's Hughes Stadium, and finishing at the New Belgium Brewery. Almost 1000 feet of gain in the first few miles, all lost on a few hills, then a gentle downhill to the Brewery.
Things Done Right:
Took the first hills slow enough, and maintained a good pace through the middle miles. Brought the right amount of water and gel as well, I have seemed to have that part figured out at least.
Things Done Wrong:
Took the first hill a bit too slow, then had to catch up in the next 2 miles. Despite the race profile showing up on the shirt, I forgot about the hill in the 8th mile, which threw me off my rhythm.
Any Other Stuff:
The first 4 miles of the course is amazing. Running on the ridge between the Horsetooth Reservoir and Fort Collins, with a good view of each, it was excellent.
***********************************************
WSU 100km — Pullman, Washington — 04/18/2010
Anita Fromm reports:
Distance: 100km
Goal: sub 10 hours and 30 minutes
Results: 10:24:41 (phew!) 1st woman, 3rd overall
Website: http://www.palouseroadrunners.org
General Summary:
This was my second attempt at this race in an attempt to run a sub 10 hour and 30 minutes 100km race, which is a requirement to run the 150 mile Spartathalon in Greece, which is a goal of mine. It is a beautiful course, but hilly, especially at the end. Last year I missed the 10 1/2 hour goal by just 5 minutes and 18 seconds. I was very determined not to let that happen again.
Things Done Right:
Went out faster. Ran the first 50km in 4:46:24. Not my fastest 50km time, but I still had 50km to go after that! I simplified my diet, taking in just Hammer Gels, Fig Newtons, and Bananas, E-Caps, and a little peanut butter for fat and protein to help keep down sugar spikes. I ate light the day before. No stupid carbo loading or fatty mac and cheese and steak for me the night before. It never ceases to amaze me how many runners eat heavy crap the night before, then whine about stomach and digestive issues during their race, which they have spent so many hours and dollars to prepare for, amongst other things. ANYWAY..........
I also remembered to fuel better at mile 40 this year, until about mile 58. A 100km is a lot different than a 50 miler. I love 50 milers; they are much easier mentally for me than a marathon, or a 100 miler. But with a 100km, you have almost a half marathon to go, after running 50 miles at race pace, so you are pretty spent, and all your organs are stressed.
Fortunately, the simple( albeit boring) diet paid off, and I had no issues this year, and was able to go under 10 and 1/2 hours.
I also had a well organized race plan and pace chart for my crew. The way I see it, if I am going to fly all the way to run a race, pay the entry fee, motels and car rentals, and take my friends and families time to get me to the finish line, then I am going to respect their efforts by having everything well planned out so that things are run smoothly and efficiently, and I can do my best. I don't know who was more happy, my husband and crew, for reaching my goal, or me.
Things Done Wrong:
As usual, obsessed way too much about the weather, which was perfect. I still think I ran my last half too slow. Perhaps I need to lose a few pounds.........
Any Other Stuff:
Great course, nice community, but save something for the hillier last half. The last 1/2 mile is all climbing, except for the last few feet into the gym. I have some pictures on my primitive blog.
***********************************************
IC BIRTHDAYS: 4/21/2010 — 4/27/2010
***********************************************
Abby Ruby:
http://www.inclineclub.com/show.asp?name=Abby%20Ruby
Barbara Dahl:
http://www.inclineclub.com/show.asp?name=Barbara%20Dahl
Barry Whited:
http://www.inclineclub.com/show.asp?name=Barry%20Whited
Becki Tooley:
http://www.inclineclub.com/show.asp?name=Becki%20%20Tooley
Eric Morland:
http://www.inclineclub.com/show.asp?name=Eric%20Morland
Gina Perenchio:
http://www.inclineclub.com/show.asp?name=Gina%20Perenchio
Harold Hays:
http://www.inclineclub.com/show.asp?name=Harold%20Hays
Kent Gneiting:
http://www.inclineclub.com/show.asp?name=Kent%20Gneiting
Larry Miller:
http://www.inclineclub.com/show.asp?name=Larry%20Miller
Mike Foster:
http://www.inclineclub.com/show.asp?name=Mike%20Foster
Payton Walter:
http://www.inclineclub.com/show.asp?name=Payton%20Walter
Randall Coan:
http://www.inclineclub.com/show.asp?name=Randall%20Coan
Rita DeHart:
http://www.inclineclub.com/show.asp?name=Rita%20DeHart
Ronald Garcia:
http://www.inclineclub.com/show.asp?name=Ronald%20Garcia
Tom Everson:
http://www.inclineclub.com/show.asp?name=Tom%20Everson
Trish Hagan:
http://www.inclineclub.com/show.asp?name=Trish%20Hagan
***********************************************
NEW IC MEMBERS: 4/14/2010 — 4/20/2010
***********************************************
Arthur Cooke:
http://www.inclineclub.com/show.asp?name=Arthur%20Cooke
Christopher Knott:
http://www.inclineclub.com/show.asp?name=Christopher%20Knott
Enrique Rhoden:
http://www.inclineclub.com/show.asp?name=Enrique%20Rhoden
***********************************************
UPDATED ABOUT ME PAGES: 4/14/2010 — 4/20/2010
***********************************************
Phil Goulding:
http://www.inclineclub.com/show.asp?name=Phil%20Goulding
Sean Kute:
http://www.inclineclub.com/show.asp?name=Sean%20Kute
Willie Alexander:
http://www.inclineclub.com/show.asp?name=Willie%20Alexander
***********************************************
NEWSLETTER SUBMISSIONS:
***********************************************
Additions to Incline Club News from IC members are welcome and encouraged. Submit a Newsletter Item at:
http://www.inclineclub.com/newsletter.htm
***********************************************
WEBSITES:
***********************************************
Incline Club
http://www.inclineclub.com
Barr Trail Mountain Race
http://www.runpikespeak.com
Presented by Pikes Peak National Bank
Pikes Peak Ascent and Marathon
http://www.pikespeakmarathon.org
***********************************************
ACCOUNT SETTINGS:
***********************************************
To change your e-mail address or unsubscribe from the Incline Club newsletter go here:
http://www.inclineclub.com/membership.asp
---