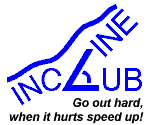 2010 Incline Club V14 TH #6 LR #25 — Upcoming races
---
Incline Club V14 TH #6 LR #25 — Upcoming races
Sent: Wednesday, May 12, 2010 8:37 PM
Subject: Incline Club News V14 TH #6 LR #25 — Upcoming races
Good Evening Incline Club!
We had a rather nice turn out for Mothers Day this past week as the weather was beyond nice. For those who went the distance, the food at the end just made it all the better.
--john
***********************************************
Next Run: Tempo (Thursday) Barr Camp (Sunday)
***********************************************
Thursday, May 13th, 5:45pm — Hydro Street+
Warm up from Memorial Park in time to get to Hydro Street. Do a 30 minute tempo run up the Barr Trail. Easy back down the Barr Trail. Do 4 PI hill repeats.
Sunday, May 2, 8:00am — Memorial Park
Waldo/LRR double! Run the UPT and then head over and do Waldo Canyon — either way. Next, head up LRR and return via the Barr Trail. 3-4 hours, if it would be longer just do Waldo or LRR
***********************************************
This Weeks's Quote:
***********************************************
Most people run a race to see who is fastest. I run a race to see who has the most guts.
--Steve Prefontaine
***********************************************
Upcoming Races:
***********************************************
With the summer running season rapidly approaching, now is the time to start thinking about what your race options are.
First up is the Garden 10 miler on June 13th, only one month away. While not a trail race, the scenery can't be beat. http://www.gardentenmile.com/entry.htm
Then we have the Summer Roundup Trail Run on July 11th. Registration is limited to the first 750 folks, so don't delay. http://www.summerroundup.com/entry.htm
The following weekend is the BTMR. There are still a handful of slots available but don't expect them to last another week. See http://runpikespeak.com/entry.htm
Finally is the Pikes Peak Ascent and Marathon on Aug 21st and 22nd. Depending on your qualifications, there are still ways to get into the marathon via the TCR series and the 1st wave of the ascent: http://www.pikespeakmarathon.org/entry.htm
***********************************************
Weather Report:
***********************************************
Spring was back, and it looks like it went on vacation for a few days but will be back again.
Thursday: Mid to low 40's, 20% chance of light rain.
Sunday: Low 50's to start, Mid 60's to finish.
***********************************************
Race Reports:
***********************************************
This week Gordon and Phil G. recount their jog through the Collegiate Peaks, Andy goes international, Larry goes on "vacation" in Hawaii and Phil R. goes north.
(2) Collegiate Peaks Trail Run — Buena Vista Colorado — 05/01/2010
Globus St Wendel Marathon/Half Marathon — St Wendel, Germany — 05/02/2010
H.U.R.T. Trail Series "Run With A View" — Waimalu, Hawaii — 05/08/2010
Colorado Marathon — Fort Collins — 05/09/2010
***********************************************
Collegiate Peaks Trail Run — Buena Vista Colorado — 05/01/2010
Gordon Barnett reports:
Distance: 25 Miles
Goal: Didn't have one
Results: 4:37:35
Website: http://www.collegiatepeakstrailrun.org/Page.aspx?PageID=3419
General Summary:
Great weather, ideal conditions, in spite of the doom and gloom forecasts. Trail was dry and in great condition.
Things Done Right:
Kept a consistent pace. Saw a bunch of friends, ran with other friends.
Things Done Wrong:
Wasn't really wrong but...
Not quite 2 weeks out from Boston, my legs felt 'heavy' for most of the race. Right quad felt like it was going to seize at any moment — but never did.
Any Other Stuff:
New brew pub called the Eddyline... check it out next time you're in BV.
***********************************************
Collegiate Peaks Trail Run — Buena Vista Colorado — 05/01/2010
Phil Goulding reports:
Distance: 25 miles
Goal: 4:15
Results: 4:18:41
Website: http://www.collegiatepeakstrailrun.org/
General Summary:
I ran this race with a couple goals in mind and I mostly accomplished them. My first and second half were just a few minutes apart so I was close to that goal and I wanted to run under 4:15, and I was close to that. The most important goal was to not cramp up during the race and I met that one.
Things Done Right:
I took electrolyte pills every hour and drank a cup of Heed and water at every aid station. I maintained a steady effort throughout the race.
Things Done Wrong:
I probably took too much time in the aid stations but I can't seem to speed that up yet. Breathing or drinking--a hard choice. I also carried a complete set of storm gear that never saw the light of day. I should have ditched the hydration pack for a fanny pack at the beginning, but I was overly cautious.
Any Other Stuff:
This is a good course over rolling hills with about a 3500 foot overall elevation gain. The big hill from 14-18 is the reason for the not quite negative split. The organizers made a good decision to have snack food available at the end so those of us not ready to eat lunch could get some fruit in us while our bodies settled down. A nice addition. The course was completely dry and in great shape. A little wind at the top of the hills but the temperatures were perfect. I'll do this race again.
***********************************************
Globus St Wendel Marathon/Half Marathon — St Wendel, Germany — 05/02/2010
Andy Kovats reports:
Distance: 13.1M
Goal: low-mid 1:30's
Results: 1:34:29, 28/216 in M45 Age Class
Website: http://www.sankt-wendel.de/en/sports/worlds-mtb-marathon/
General Summary:
While in Germany on business, I figured why not see some countryside and test myself against the locals? The small town of St Wendel is in SW Germany and is a very picturesque setting. Typical German cool, rainy weather felt good except for a few spots fighting the wind and a heavier rain last 5K or so. The course was surprizingly flat given how hilly the surrounding area is, but very crowded at the start which probably cost me half a minute or so the first 5K. About 2 dozen bands played and even with the rainy weather the spectators were enthusiastic and plentiful. About 3000 runners participated, most in the half marathon. I noted only one other person showed up in the results from the USA however.
Things Done Right:
Paced well, each of the 5K "splits" I took were within 20 seconds of each other, cold rain the last 5K helped diffuse the pain and prevented my usual fade. I find it hard to stay hydrated while traveling, and usually I have tight or cramping calf muscles as a result, and wearing compression socks definitely helps this.
Things Done Wrong:
Foolishly ignored a small hole in my sock while putting my shoes on, and by 5K noted my left big toe knuckle was bleeding from abrasion. I had actually considered running the marathon in this race but bailed after deciding the course was not Boston certified (though I am confident the course was very accurate). While on the fight over to Germany a flight attendant had banged one of my knees with one of those stupid "Duty Free" carts in the middle of the night, and I decided if it was bruised, a marathon would be a long time to suffer with a sore knee. Fortunately the knee was fine, but it would have still been a long day to run a marathon with jet lag and a sore toe so I'm glad I opted for the 1/2.
Any Other Stuff:
Races in Germany seem set up to be spectator friendly and usually start and finish in the narrow streets of the center of town, so one must arrive EARLY in the start area to get properly placed. In this case 10 minutes was not enough time so I spent a lot of the first 5K passing people.
***********************************************
H.U.R.T. Trail Series "Run With A View" — Waimalu, Hawaii — 05/08/2010
Larry Rosenkranz reports:
Distance: 8.59 miles
Goal: To Have Fun
Results: 1:23:10
Website: http://www.hurthawaii.com
General Summary:
This was an awesome trail race put on by Hawaii UltraRunning Team (HURT) on the island of Oahu. It was very challenging with steep hills, mud, single track ala tree roots, head bonkers, and spectacular views if you could take your eyes off the trail long enough to catch them. The post race feedbag was great with gatorade, soda, watermelon, bananas, oranges, banana bread, pasta salad, and brownies. I really got my monies worth for the $10 entry fee. I got to run with a hard core group of very fast runners, found new trails to run on Oahu, and met some nice folks.
Things Done Right:
Had a Clif Shot before the race start since I skipped breakfast for the early morning 7:00 am start.
Things Done Wrong:
I totally forgot the pre-race warning to stay on the wide path coming down and not veer off onto the numerous single tracks. I followed about 4 runners down a steep single track for what seemed like eternity before they realized the mistake and we had to trudge back uphill, which turned an 8 mile race into a 8.59 mile race. The funny part was that the lead runner who goofed has done this race 4 times!!!
Any Other Stuff:
This was the most unofficial race start I ever experienced. After finishing the pre-race briefing the race director dropped the colored ribbons and said, "you can go now!".
***********************************************
Colorado Marathon — Fort Collins — 05/09/2010
Phil Redinger reports:
Distance: 26.2
Goal: 3:45
Results: 3:54
Website: http://www.thecoloradomarathon.com/
General Summary:
This is a very fun race. For the most part it is well done. It is an almost all downhill course with one 'hill' to navigate at mile 19. The last few miles seems to be fairly flat but easy. A very pretty start for the first 16 miles or so, then farmland and trails through Fort Collins to the finish. Altho I didn't get my goal time it is still a PR for me for the Marathon distance. Overall a great weekend.
Things Done Right:
Training: I think I did a good job getting ready for this race. Of course that meant not runnig with the IC as much, but I wanted to spend more time of paved roads and less up hills.
Attitude: I went to have a good time. While I had a goal time in mind, I just wanted to have fun and run with a few friends.
Things Done Wrong:
Rest: I didn't get much sleep the days before the race and I had been fighting a head cold. I'm sure this hurt me on some level, even though on race morning I didn't feel too bad.
Nutrition: I probably started out drinking too much during the first 1/2 of the race and had to make a pit stop at mile 13.1 While this didn't really cost me much time, it was still frustrating.
Any Other Stuff:
The only negative to this race would be the finish line. It is very congested and it doesn't seem very well set up. Everyone funnels into the same place. It is a very small finish area and it gets confusing very quickly. Or maybe I was just real tired :-)

***********************************************
IC BIRTHDAYS: 5/12/2010 — 5/18/2010
***********************************************
Alex Nichols:
http://www.inclineclub.com/show.asp?name=Alex%20Nichols
Amy Moore:
http://www.inclineclub.com/show.asp?name=Amy%20Moore
Antonio Eppolito:
http://www.inclineclub.com/show.asp?name=Antonio%20Eppolito
Gregory Stock:
http://www.inclineclub.com/show.asp?name=Gregory%20Stock
James Wagenschutz:
http://www.inclineclub.com/show.asp?name=James%20Wagenschutz
Jessica Minnich:
John Reardon:
http://www.inclineclub.com/show.asp?name=John%20Reardon
Karri Buckley:
http://www.inclineclub.com/show.asp?name=Karri%20Buckley
Katy Delker:
http://www.inclineclub.com/show.asp?name=Katy%20Delker
Kevin Lovell:
http://www.inclineclub.com/show.asp?name=Kevin%20Lovell
Martina Ritchie:
http://www.inclineclub.com/show.asp?name=Martina%20Ritchie
Paul Montville:
http://www.inclineclub.com/show.asp?name=Paul%20Montville
Paul Moore:
http://www.inclineclub.com/show.asp?name=Paul%20Moore
Roger Villmow:
http://www.inclineclub.com/show.asp?name=Roger%20Villmow
Tom McKernan:
http://www.inclineclub.com/show.asp?name=Tom%20McKernan
***********************************************
NEW IC MEMBERS: 5/5/2010 — 5/11/2010
***********************************************
Brianne Pierson:
http://www.inclineclub.com/show.asp?name=Brianne%20Pierson
Jennifer Econopoul:
(About Me page was not filled out)
Scott Swandal:
http://www.inclineclub.com/show.asp?name=Scott%20Swandal
Tom Jackson:
http://www.inclineclub.com/show.asp?name=Tom%20Jackson
***********************************************
UPDATED ABOUT ME PAGES: 5/5/2010 — 5/11/2010
***********************************************
Duane Rorie:
http://www.inclineclub.com/show.asp?name=Duane%20Rorie
Teresa Brown:
http://www.inclineclub.com/show.asp?name=Teresa%20Brown
***********************************************
NEWSLETTER SUBMISSIONS:
***********************************************
Additions to Incline Club News from IC members are welcome and encouraged. Submit a Newsletter Item at:
http://www.inclineclub.com/newsletter.htm
***********************************************
WEBSITES:
***********************************************
Incline Club
http://www.inclineclub.com
Barr Trail Mountain Race
http://www.runpikespeak.com
Presented by Pikes Peak National Bank
Pikes Peak Ascent and Marathon
http://www.pikespeakmarathon.org
***********************************************
ACCOUNT SETTINGS:
***********************************************
To change your e-mail address or unsubscribe from the Incline Club newsletter go here:
http://www.inclineclub.com/membership.asp
---