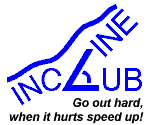 2010 Incline Club V14 TH #10 LR #29 — GoG10M Race, Incline Management Meeting
---
Incline Club V14 TH #10 LR #29 — GoG10M Race, Incline Management Meeting
Sent: Wednesday, June 09, 2010 10:04 PM
Subject: Incline Club News V14 TH #10 LR #29 — GoG10M Race, Incline Management Meeting
Good Evening Incline Club!
The Garden of the Gods 10M race is upon us. If you are not yet registered, what are you waiting for? It is by far the most scenic race you will ever do on pavement.
For those who are torn between running or volunteering in the GoG race and getting in their long run for the week. Now you can do both. The club will have an alternate run on Saturday morning at 8am for those who want to do both.
And last but certainly not least, the first public workshop seeing input for a Manitou Incline management plan will be held on June 24th. See below for details.
--john
***********************************************
Next Run: Tempo (Thursday) Barr Camp or RRR or Section 16 (Saturday)
Garden of the Gods 10 Mile Run (Sunday)
***********************************************
Thursday, June 10, 5:45pm — Hydro Street+
Warm up from Memorial Park in time to get to Hydro Street. Do a 30 minute tempo run up the Barr Trail. Easy back down the Barr Trail. Do 6 PI hill repeats.
Saturday, June 12, 8:00am — Memorial Park
(If not running GOG tomorrow)
To Barr Camp (or higher) and back
Or do an out/back on Rampart Range Road
Or do Section 16
Sunday, June 13, 7:00am — Memorial Park
Garden of the Gods 10 Mile Run
***********************************************
This Weeks's Quote:
***********************************************
...I find the important rides of my year are the ones where I carry the lantern, rather than the ones where I feel strong. In strength, I can revel. I can smile. I can feel the power coursing through my veins. But I seldom learn anything about myself at that end of the ride.
--Padraig (Patrick Brady) http://redkiteprayer.com/?p=2676
***********************************************
Volunteers Needed:
***********************************************
As many of you know, it takes a lot of volunteers to make sure that races like the GoG10M are a success.
If you or somebody you know is able to volunteer for this or any of the TCR series races, go to http://www.thetcr.com/volunteer.asp and fill out the form. Even if you are running there are opportunities to volunteer before and after the race with things like packet pickup and race tear down.
***********************************************
GoG 10 Mile Run:
***********************************************
It is not too late to enter the GoG10M run! You have through June 11th to register online. For those who are real procrastinators and like to spend more, there is also a race day registration option.
And unlike some of those more expensive races up north, this one includes a real shirt :-)
See http://www.gardentenmile.com/entry.htm for details.
***********************************************
Manitou Incline Public Workshop
***********************************************
Want to share your ideas for the future of the Manitou Incline?
The first in a series of workshops seeking input for a Manitou Incline management plan will be held at 7pm on Thursday, June 24th at Manitou Springs City Hall.
***********************************************
Weather Report:
***********************************************
Thursday: Low 80's (ugh) with a 2% chance of rain/thunder.
Sunday: Low 50's at the start, warming up to the upper 50's. Mostly cloudy with a 40% chance of light rain. Excellent racing weather.
***********************************************
Race Reports:
***********************************************
To get everybody into the racing mood, Anita reports on her double marathon, Melisa and Larry have fun at the golden gate, Mike gets high (in elevation), Michael goes to play in Vail while Anita continues to be a racing machine and uses a short marathon as a chaser for her previous weekends double.
Rocky Mountain Double marathon — Laramie, WY — 5/30/2010
(2) Golden Gate Dirty Thirty — Golden — 06/05/2010
Turquoise Lake Half Marathon — Leadville — 06/05/10
Vail Pass Half Marathon — Vail, CO — 06/05/2010
Steamboat Marathon — Steamboat Springs CO — 06/06/2010
***********************************************
Rocky Mountain Double marathon — Laramie, WY — 5/30/2010
Anita Fromm reports:
Distance: 52.2 miles
Goal: 10 hours
Results: 10:03:46 second woman
Website: http://www.angelfire/wy2/marathon
General Summary:
I think this was my fifth time running this race. Although it is all on paved and gravel road, the wind and long hills, remoteness and lengthy times alone can create for a challenging ultra.
Things Done Right:
Finished strong, once the gatorade was out of my system.
Things Done Wrong:
Accidentally filled my water bottle with gatorade at mile 22, which created for some major gastro intestinal issues for the next 20 miles. Could have easily went under 10 hours if I weren't in the bushes or alongside the interstate every mile or so.
Any Other Stuff:
Each time I run this race, there seems to be a growing number of FUV's, opps! I mean ATV's, tearing up and down the road for no apparent reason other than to irritate people and kick up dust. I also saw a moose on the course, which was pretty cool.
***********************************************
Golden Gate Dirty Thirty — Golden — 06/05/2010
Melissa Eichers "M" reports:
Distance: 12 miler
Goal: have fun
Results: third in my age group
General Summary:
Great race! FUN! Good course! super goody bag and technical tee. Great prizes and sponsors! live band. Small town/community feel. only 250 racers. Just as great as the BTMR. all that Training with the incline club and its members proved to be an asset during the run. I had to ask myself "What Hill?" Saw several of incliners smoking the trail. At least 4 of us did place!
Things Done Right:
Training on the local trails consistently. (m-loop, section 16, waldo, williams and barr) Tapering for the week prior. Eating light for the week until the night before-bring on the carbs. Hydrating with a fortified sports drink hours before race. Carpooling with other incline members thanks Jessie, Keri, and Brian. Pressed on when things went bad. Had great friends to cheer me on in the end. Still placed third in my age group.
Things Done Wrong:
oh my... did I do wrong! Cost me winning first woman to win!!! Ugh- that's ok I will try again next year! so it went down like this. had a good start picked my pace fot the single track, steadily ran on passing all women-even La Sportiva Girl- untill mile 2-I blasted through the first water crossing hit a rock and the ankle turned a complete opposite direction it was meant to. Ouch ouch. Imagine that. There was no sand just rocks at the bottom of the creek. What was I thinking or not thinking that was the problem. oh well pressed on and held 1st place till mile 5. "Sportiva Girl." them Mile 9 another female and mile 10 all the rest(That sucked) I was good uphill could use my forefoot to propel me up, however I had no speed or technical ability for the down. And how much fun that would have been. Missed out for this year.
Any Other Stuff:
Going back next year-watch out. For now I am
resting up for the Garden. I am glad I have Spent my time training well leading up to the race season. I will need it! Matt Say's "when it hurts speed up"-well Matt I couldn't speed up but I sucked it up and. Never knew how comforting the song "Wheels on the bus go round and round" could be. I kept going-it served me well. See ya all on the trail -M-
***********************************************
Golden Gate Dirty Thirty — Golden Gate Canyon State Park, CO — 06/05/2010
Larry Rosenkranz reports:
Distance: 12 miles
Goal: About 2 hrs estimated time
Results: 2:12:06
Website: http://www.goldengatedirtythirty.org/
General Summary:
Great trail race in the foothills west of Golden, CO at elevations ranging from 7600 ft. to 9000 ft. Mostly single track with 4500 ft. ascent/descent, multiple creek crossings, and awesome views of snow-capped high country from windy peak. Very well organized race, course was flagged and staffed with volunteers, great post race party with excellent food, live music, and post race massage.
Things Done Right:
Lots of hill training gave me endurance for the climbs and speed on the downhills.
Things Done Wrong:
Can't think of anything.
Any Other Stuff:
Carpooled with 2 other runners which made the trip more fun and assisted with limited parking availability at trailhead.
***********************************************
Turquoise Lake Half Marathon — Leadville — 06/05/10
Mike Sandlin reports:
Distance: 13.1 miles
Goal: Finish without losing my lunch!
Results: 1:39:15 (8th overall)
General Summary:
This race begins with of about 7.5 miles of road and finishes on single track trail around the east side of Turquoise Lake. The race elevation is around 10,000 feet. The course is rolling hills with only a couple climbs that were about 1 mile in duration. There were no mile markers, so I did not know exactly how far along the course I was at any time. I was thinking I had at least one mile to go when the finish line appeared.
Things Done Right:
Even pace considering my lack of altitude training.
Things Done Wrong:
Nothing really. I was not concerned with splits, I just wanted to get some quality training in at elevation.
Any Other Stuff:
This is a fun, low key race. I would do it again.
***********************************************
Vail Pass Half Marathon — Vail, CO — 06/05/2010
Michael Foster reports:
Distance: 13.1+
Goal: 2:45
Results: 2:50
Website: http://www.tevamountaingames.com/?page_id=187
General Summary:
Figured having a long, sustained climb at the end of a half marathon would be great training for the Ascent, and it certainly turned out to be. Some great views of the Gore range to start helped to beat the early morning heat. The worst part is seeing the course climb up and up for miles in front of you running up the pass.
Things Done Right:
I took it easy the week preceding the race, and that definitely helped my energy level towards the end of the race. The first 6 miles are rolling hills, so I took advantage and pumped out some quick miles, which didn't seem to hurt me later on. I guess training does in fact work.
I was also able to run almost all of the pass, except for one terribly steep section, and part of the "bonus mile" after hitting 13.1. I kept a steady pace, and figured out how to take a gel and a drink while only missing a few steps.
Things Done Wrong:
Not running the "bonus mile," it was hard mentally to push for an extra mile, I wasn't prepared for that portion of it. Knowing that extra mile (or so) is there, I would be able to knock it out.
Any Other Stuff:
Part of the Teva Mountain games, a half marathon which includes 6 miles through Vail, then 8 miles (or so) up Vail Pass. They said it was a bit longer than 13.1, but it was closer to 14 miles in total.
Pretty cool race overall, the bonus mile wasn't the most fun I've ever had. The Teva Games in general had a great atmosphere and was great to be a part of.
***********************************************
Steamboat Marathon — Steamboat Springs CO — 06/06/2010
Anita Fromm reports:
Distance: 26.2 miles
Goal: finish in top three women
Results: 3rd place woman/3:31:56
Website: http://www.steamboatmarathon.com
General Summary:
Great race! Very well organized, all road. Although it is touted as a mostly downhill race, another ICer told me it was rolling. She was right. I had the good fortune to sit by a veteran race official on the bus ride out, who told me the last six miles were slightly uphill. He was right. I loved the warmer than average temps on this beautiful course.
Things Done Right:
Listened to the people who ran it and volunteered at it on the bus! I was in twelfth place, with six miles to go, but fueled and hydrated accordingly, and passed all but two of the leading ladies. The heat seemed to get to some, but I took my ecaps, and brought a handheld for the first 20 miles, which I ditched with just a 10km left, and with what I felt was a safe lead from those I passed earlier. Didn't carbo load, rested, and despite having slightly tired legs from the 52.4 mile race the week earlier, felt fine.Those Tuesday night jogs seem to be paying off.
Things Done Wrong:
Ran a 52.4 mile race 7 days earlier. I was only about 90 seconds behind second place, and was gaining on her, but just couldn't bridge the gap. I ran the first half in 1:41:40, almost exactly what I did at ADT, and seem to be stuck in a rut with marathon times at around 3:36:00 to 3:40:00.
Any Other Stuff:
I also won my age group, but I guess at some races if you finish first, second or third overall, you don't get an age group award, which I don't understand or agree with.
***********************************************
IC BIRTHDAYS: 6/9/2010 — 6/15/2010
***********************************************
Andrea Cichosz:
http://www.inclineclub.com/show.asp?name=Andrea%20Cichosz
Bill Lueck:
http://www.inclineclub.com/show.asp?name=Bill%20Lueck
Brian Jones:
http://www.inclineclub.com/show.asp?name=Brian%20Jones
Danio Gracin:
http://www.inclineclub.com/show.asp?name=Danio%20Gracin
David Hatfield:
http://www.inclineclub.com/show.asp?name=David%20Hatfield
Donna Schneider:
http://www.inclineclub.com/show.asp?name=Donna%20Schneider
Elizabeth Drummond:
http://www.inclineclub.com/show.asp?name=Elizabeth%20Drummond
Jeff Warren:
http://www.inclineclub.com/show.asp?name=Jeff%20Warren
Jenni Leppert:
http://www.inclineclub.com/show.asp?name=Jenni%20Leppert
John Goodloe:
http://www.inclineclub.com/show.asp?name=John%20Goodloe
John Vohland:
http://www.inclineclub.com/show.asp?name=John%20Vohland
Laura Kelecy:
http://www.inclineclub.com/show.asp?name=Laura%20Kelecy
Lisa Czelatdko:
http://www.inclineclub.com/show.asp?name=Lisa%20Czelatdko
Michael Hampton:
http://www.inclineclub.com/show.asp?name=Michael%20Hampton
Michael Shafai:
http://www.inclineclub.com/show.asp?name=Michael%20Shafai
Mike Robbert:
http://www.inclineclub.com/show.asp?name=Mike%20Robbert
Nick Lynch:
http://www.inclineclub.com/show.asp?name=Nick%20Lynch
Pamela Penfield:
http://www.inclineclub.com/show.asp?name=Pamela%20Penfield
Sean Kute:
http://www.inclineclub.com/show.asp?name=Sean%20Kute
Steve Mischel:
http://www.inclineclub.com/show.asp?name=Steve%20Mischel
Teri Hedgpeth:
http://www.inclineclub.com/show.asp?name=Teri%20Hedgpeth
Trudy DeCoronado:
http://www.inclineclub.com/show.asp?name=Trudy%20DeCoronado
***********************************************
NEW IC MEMBERS: 6/2/2010 — 6/8/2010
***********************************************
Brian Bain:
http://www.inclineclub.com/show.asp?name=Brian%20Bain
C Mason:
http://www.inclineclub.com/show.asp?name=C%20Mason
Courtney Stahl:
http://www.inclineclub.com/show.asp?name=Courtney%20Stahl
Javier Lopez:
http://www.inclineclub.com/show.asp?name=Javier%20Lopez
Wyatt Hornsby:
http://www.inclineclub.com/show.asp?name=Wyatt%20Hornsby
***********************************************
UPDATED ABOUT ME PAGES: 6/2/2010 — 6/8/2010
***********************************************
Adam Feerst:
http://www.inclineclub.com/show.asp?name=Adam%20Feerst
Dale Schauer:
http://www.inclineclub.com/show.asp?name=Dale%20Schauer
Jackie Smith-Hill:
http://www.inclineclub.com/show.asp?name=Jackie%20Smith-Hill
Julian Smith:
http://www.inclineclub.com/show.asp?name=Julian%20Smith
Melissa Eichers:
http://www.inclineclub.com/show.asp?name=Melissa%20Eichers
Michael De Sordi:
http://www.inclineclub.com/show.asp?name=Michael%20De%20Sordi
Nell McCaffery:
http://www.inclineclub.com/show.asp?name=Nell%20McCaffery
***********************************************
NEWSLETTER SUBMISSIONS:
***********************************************
Additions to Incline Club News from IC members are welcome and encouraged. Submit a Newsletter Item at:
http://www.inclineclub.com/newsletter.htm
***********************************************
WEBSITES:
***********************************************
Incline Club
http://www.inclineclub.com
Barr Trail Mountain Race
http://www.runpikespeak.com
Presented by Pikes Peak National Bank
Pikes Peak Ascent and Marathon
http://www.pikespeakmarathon.org
***********************************************
ACCOUNT SETTINGS:
***********************************************
To change your e-mail address or unsubscribe from the Incline Club newsletter go here:
http://www.inclineclub.com/membership.asp
---